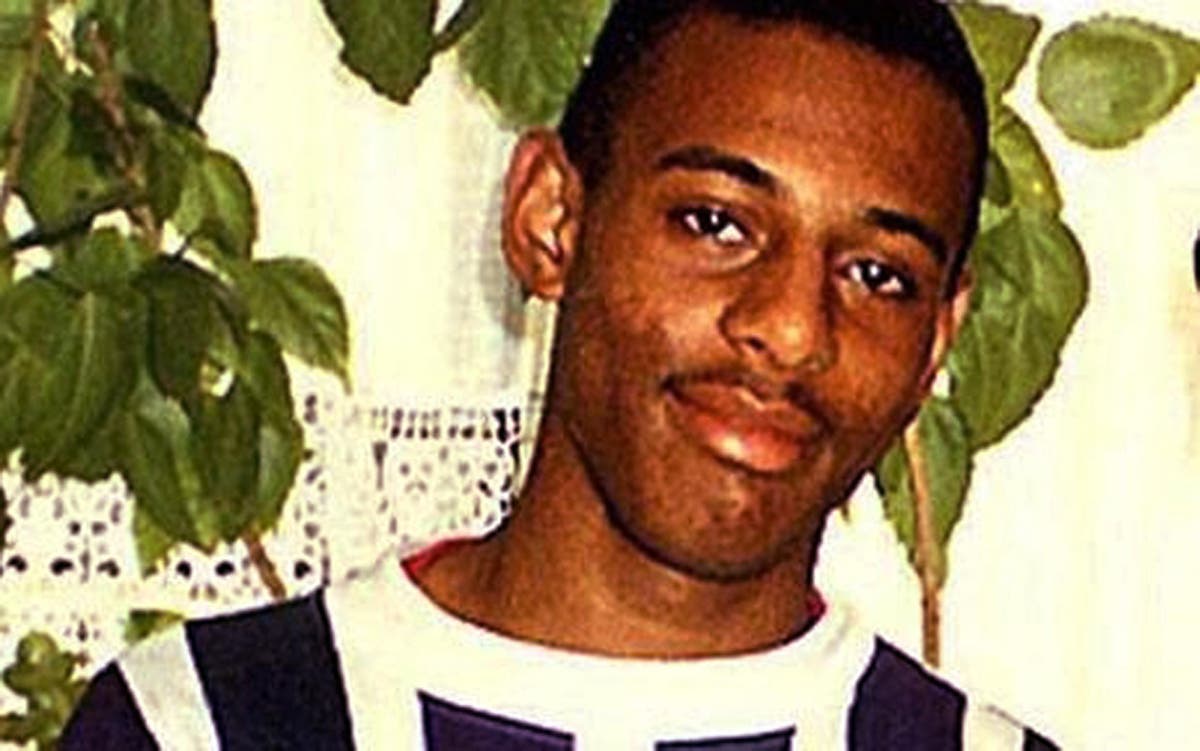 Teenager was murdered in racially motivated attack in London in 1993
Next week ITV releases a new programme about Stephen Lawrence, the black teenager who was murdered in a racially motivated attack in southeast London in 1993.
Stephen is a sequel to the network's landmark 1999 programme, The Murder of Stephen Lawrence, and will focus on the investigation into the 18-year-old's killing.
Mr Lawrence's death marked a watershed moment in cultural life and race relations, although campaigners say the UK has a long way to go.
Since 1993, wide-ranging changes have been made to policing and the law thanks to the tireless efforts of Lawrence's parents, Baroness Doreen Lawrence and Neville Lawrence.
Who was Stephen Lawrence?
Mr Lawrence was born in Greenwich and raised in Plumstead, southeast London, to Jamaican parents who had emigrated to the UK in the 1960s.
He was the eldest of three children and attended Blackheath Bluecoat School, where he excelled at sport and had been preparing for his A-levels.
At school, Lawrence studied technology, physics and English language and had aspirations of becoming an architect.
What happened to Stephen: a timeline of events
April 22, 1993: Stephen Lawrence is stabbed to death in an unprovoked racist attack by a gang of white youths as he waits at a bus stop in Eltham, southeast London, with his best friend Duwayne Brooks.
May 1993: The Lawrence family complains police are not doing enough to catch the murderers.
May-June 1993: Neil Acourt, Jamie Acourt, Gary Dobson, Luke Knight and David Norris are arrested in connection with his murder.
July 1993: Committal proceedings are scheduled for Neil Acourt and Mr Knight but the Crown Prosecution Service (CPS) formally discontinues the prosecution following a meeting with the senior investigating officer.
December 1993: Southwark coroner Sir Montague Levine halts an inquest into Mr Lawrence's death after the family's barrister, Michael Mansfield QC, says there is "dramatic" new evidence in the case.
April 1994: The CPS says the new evidence is insufficient to support murder charges.
September 1994: The Lawrence family begins a private prosecution against Neil Acourt, Mr Knight and Dobson.
December 1994: Secret video evidence is filmed showing Dobson and Norris making obscene racist remarks.
April 1996: The private prosecution against Neil Acourt, Mr Knight and Dobson begins at the Old Bailey but collapses after identification evidence is ruled inadmissible. The three are acquitted.
February 1997: An inquest jury finds that Mr Lawrence was "unlawfully killed by five white youths".
December 1997: A Police Complaints Authority report on the original police investigation of Mr Lawrence's murder identifies "significant weaknesses, omissions and lost opportunities".
February 1999: The Macpherson report finds the police guilty of mistakes and "institutional racism" and makes a series of recommendations on changes to policing and wider public policy. It also suggested a rethink of the principle of "double jeopardy", to allow the retrial of acquitted defendants in exceptional circumstances if new evidence emerged of their guilt.
April 1999: The five men arrested in 1993 deny involvement in the murder in a television interview.
September 2002: Norris and Neil Acourt are jailed for 18 months for a racist attack on off-duty black policeman Gareth Reid. Norris had thrown a drink at the officer from a car and shouted "n****r" while Acourt drove the vehicle at him during the attack in May the previous year, in Eltham, southeast London, less than a mile from where Mr Lawrence was murdered.
May 2004: The CPS announces there is "insufficient evidence" to prosecute anyone for the murder.
April 2005: The double jeopardy legal principle, preventing suspects being tried twice for the same crime, is scrapped for certain offences when there is new evidence.
July 2006: A BBC documentary alleges police corruption in the Lawrence case.
October 2007: The Independent Police Complaints Commission finds no evidence of corruption and no evidence of dishonest links.
November 2007: Police confirm they are investigating new forensic evidence in the case.
April 2010: Detective Paul Steed is demoted after tampering with key dates and times on an evidence log about the case.
May 18, 2011: The Court of Appeal agrees that Dobson's 1996 acquittal for the murder can be quashed in the face of new forensic evidence. It can then be reported for the first time that Dobson and Norris will face trial.
November 14, 2011: The trial of Dobson and Norris for Mr Lawrence's murder begins at the Old Bailey.
2012: Doreen Lawrence launches Stephen Lawrence Trust
January 3, 2012: Dobson and Norris are found guilty of his murder.
June 2013: The Guardian reports a former police officer spied on the Lawrence family. Peter Francis went undercover to infiltrate the family's campaign for justice in 1993. He tells The Guardian and Channel 4's Dispatched programme he was tasked with looking for disinformation to discredit those attacking police.
March 2014: A review by barrister Mark Ellison finds that an undercover Met Police officer worked within the "Lawrence family camp" while an inquiry into the murder had already started.
March 2015: Fresh inquiry launched into techniques used by undercover officers during the family's campaign.
October 2015: Prompted by the finding of the Ellison review, the National Crime Agency confirms it had been investigating alleged corruption in the police during the investigation.
March 2016: Ex-Met Police commander Richard Walton "had a case to answer" after meeting an undercover police officer during the inquiry, police watchdog finds. The Met said it would be "inappropriate" to discuss Walton's case and refused to take action. He later retired.
September 2016: Detective attempt to identify a woman whose DNA was found on a handbag strap found close to the murder scene, following a BBC Crimewatch reconstruction.
April 2018: Scotland Yard says the investigation is "unlikely to progress" without new information.
2018: At a 2018 service to mark the 25th anniversary of Mr Lawrence's death, then prime minister Theresa May announced that Stephen Lawrence Day would become an annual national commemoration.
May 2019: De Montfort University launches its Stephen Lawrence Research Centre, with the aim of continuing his legacy as an educational resource for anyone interested in topics around race, racism and social justice.
Additional reporting by PA