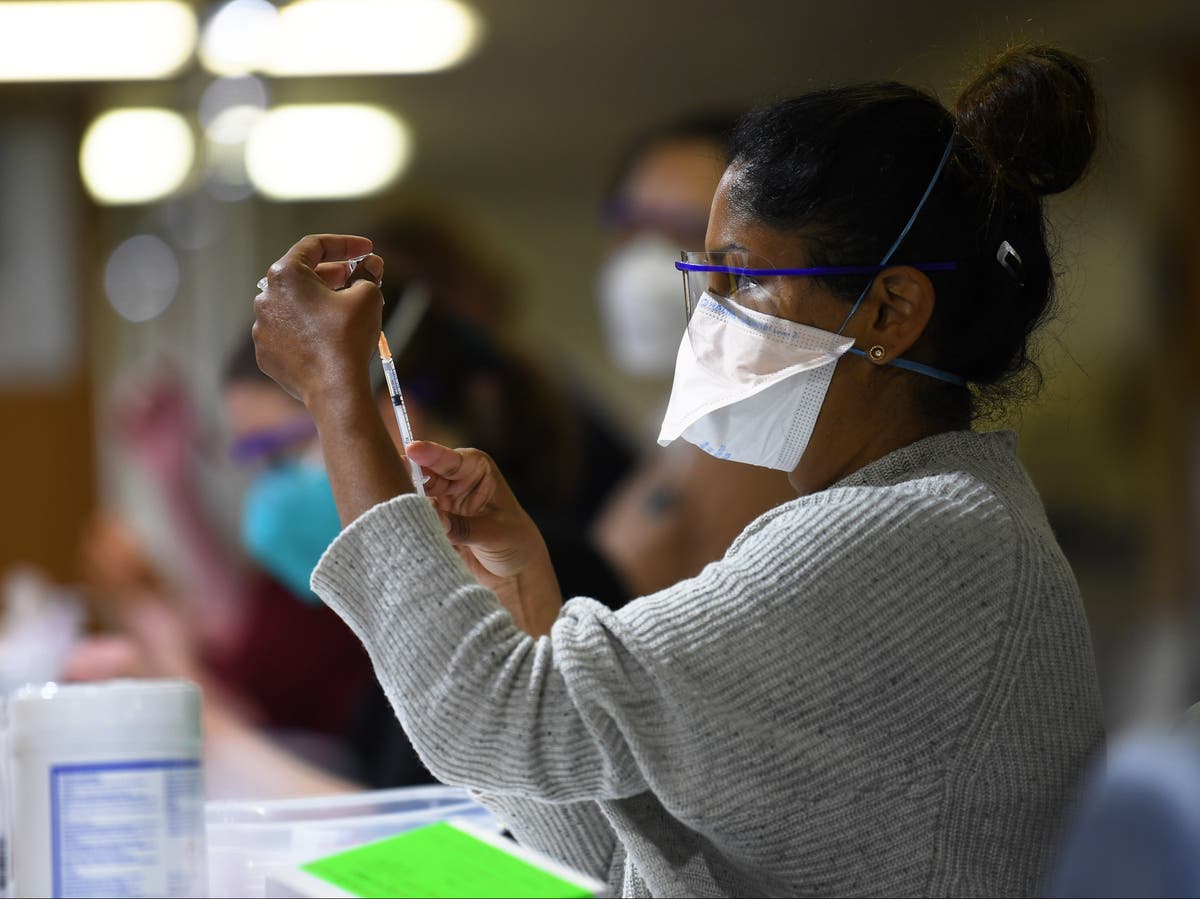 BMA claims ministers 'wilfully' risking lives
UK Covid-19 vaccinations: Latest figures
Doctors have accused the government of "wilful negligence" for refusing to implement immediately its coronavirus "plan B" for winter.
The British Medical Association warned Covid-19 deaths were as high as during March's lockdown, with Chaand Nagpaul, the body's chair, calling ministers' approach "incredibly concerning".
His comments followed a press briefing by Sajid Javid in which the health secretary claimed pressure on the NHS was not yet unsustainable and said "plan B" would not be activated until hospitals were at risk of being overwhelmed.
The Independent has previously reported how some patients are waiting two full days for a bed after visiting A&E, while others are forced to wait outside hospital in an ambulance for hours on end.
However, Mr Javid did warn on Wednesday evening that winter restrictions could return "if we don't do our bit".
The health secretary told reporters: "If not enough people get that booster jab, if not enough people who are eligible for that original offer of a vaccine don't come forward, if people don't wear masks when they really should … it's going to hit us."
1634800097
Health minister denies government has 'plan C' for Covid-19 this winter
The government does not have a "plan C" for tackling coronavirus this winter despite reports to that effect, a minister has said.
Edward Argar, a health minister, said the government was not considering banning household mixing at Christmas.
He told Sky News: "That's not something I'm aware of, I checked it out and I'm told that is not a story with foundation.
"Of course, as a government, you look at – as we've done with our "plan B" – alternatives and ways that you might, if you needed to, start easing that pressure.
"The specifics of that and what was mooted in it as I understand it, as I only glanced at it I'm afraid on my way in this morning, about limiting household mixing, things like that … is that it isn't something that is being actively considered."
The government has been accused of negligence for refusing to implement its "plan B" now. Instead it is waiting until hospitals are at risk of being "overwhelmed", Sajid Javid has said.
Mr Argar was asked how bad the situation in the NHS would have to get before the government acted, but said it would not "be appropriate to set an arbitrary figure, X number of infections, X number of hospitalisations".
He said: "We need to look at all this in the round, we need to look at the death rate, absolutely.
"We need to look at that booster rollout programme … vaccination programme … vaccination rates in young people, the 12- to 15-year-olds, because we're seeing in that school-age population, that's where we're seeing actually the biggest increases driving these infections."
He added: "I can't give you a simple, here is a sort of black-and-white answer, here is a binary line, because it takes … there's a whole range of factors we'll take into consideration."
Jon Sharman
21 October 2021 08:08
1634798992
Covid restrictions could return unless public 'do their bit', Sajid Javid warns
Sajid Javid has warned that coronavirus restrictions could return in England in the run-up to Christmas, as UK infections hit almost 50,000 in a single day – their highest since July, writes Andrew Woodcock.
Mr Javid rejected calls from NHS bosses for the government to immediately trigger its Plan B for Covid-19 – involving mandatory masks, vaccine passports for crowded venues like nightclubs and guidance to work from home – insisting that pressures on the health service are not yet "unsustainable".
But he called for a return to the "Blitz spirit" of the early days of the pandemic, warning Britons that unless they "do their bit" by taking up the offer of vaccines and booster jabs they could lose the freedoms they have enjoyed since the lifting of lockdown in July.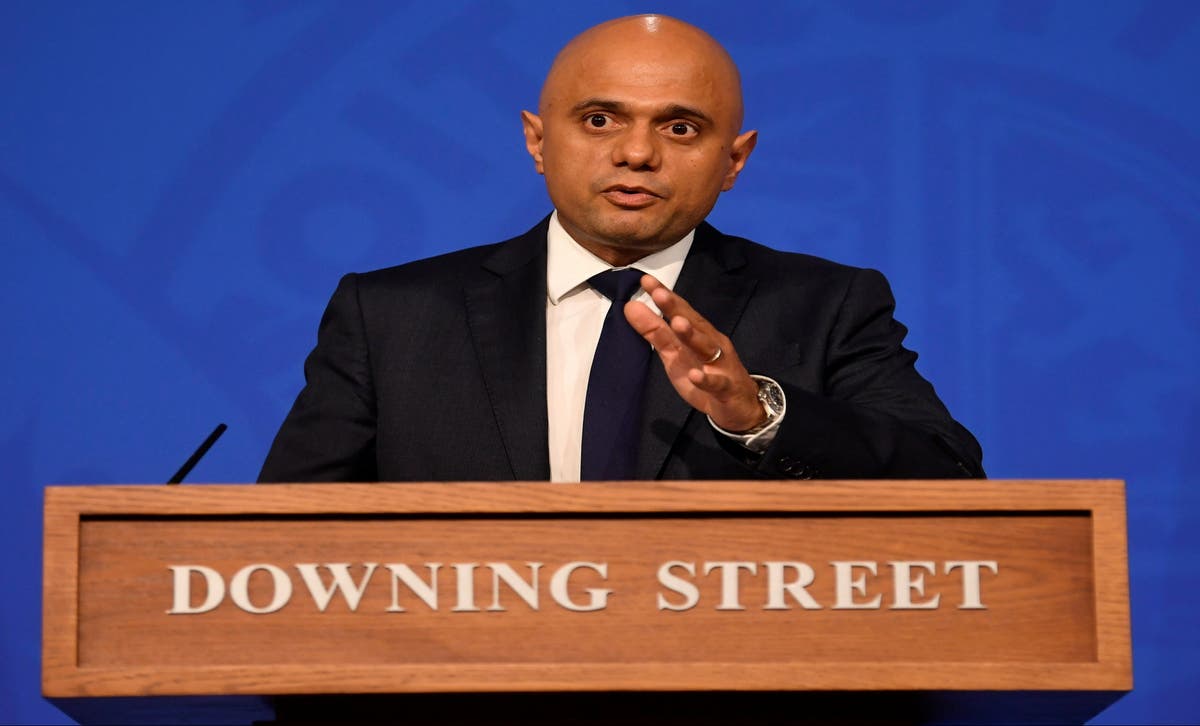 Health secretary calls for return of 'Blitz spirit' and urged people to take up offer of booster jab
Jon Sharman
21 October 2021 07:49
1634798869
BMA calls government negligent for not implementing 'plan B' despite Covid surge
The government is being "wilfully negligent" by not introducing measures to suppress the recent rise in coronavirus cases, the chair of the British Medical Association (BMA) has said.
Dr Chaand Nagpaul made the comments after the health secretary ignored NHS leaders' pleas for the implementation of 'Plan B', which could see the return of mandatory mask wearing in indoor spaces and the need to work from home where possible, writes Rory Sullivan.
Speaking at a No 10 press conference on Wednesday afternoon, Sajid Javid said the current pressure on the NHS was not "unsustainable", noting that the contingency plan would only be introduced if hospitals were at risk of being "overwhelmed".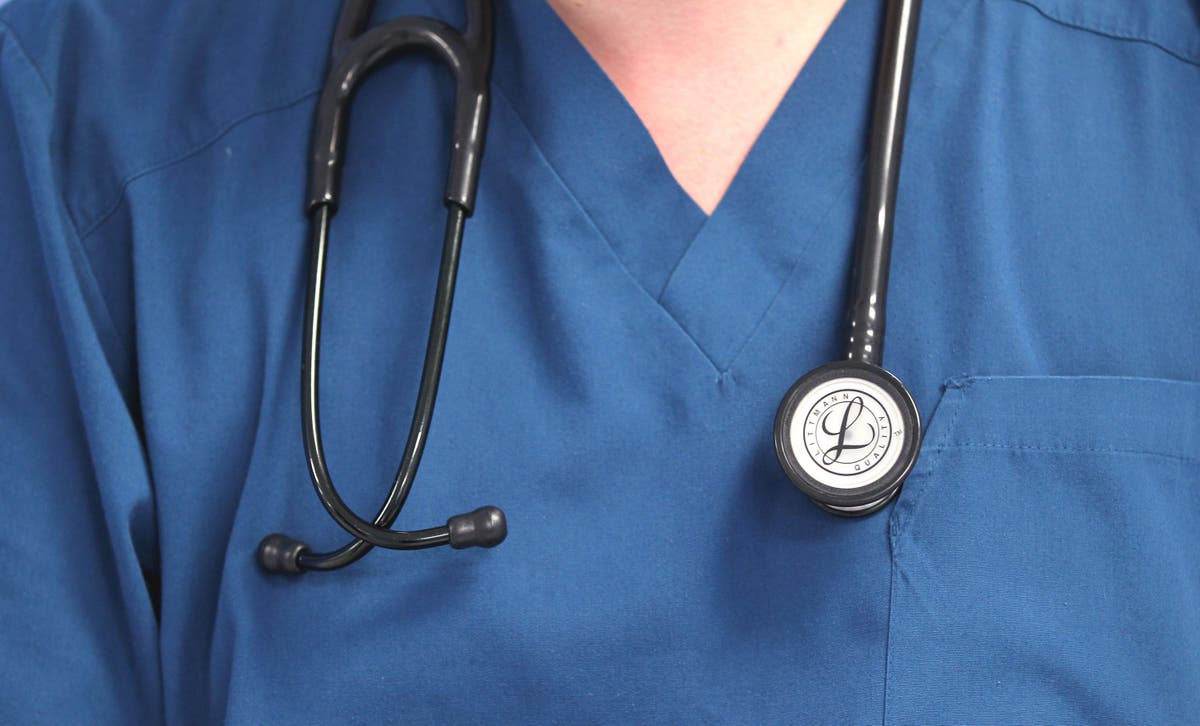 British Medical Association says NHS is being 'overwhelmed'
Jon Sharman
21 October 2021 07:47