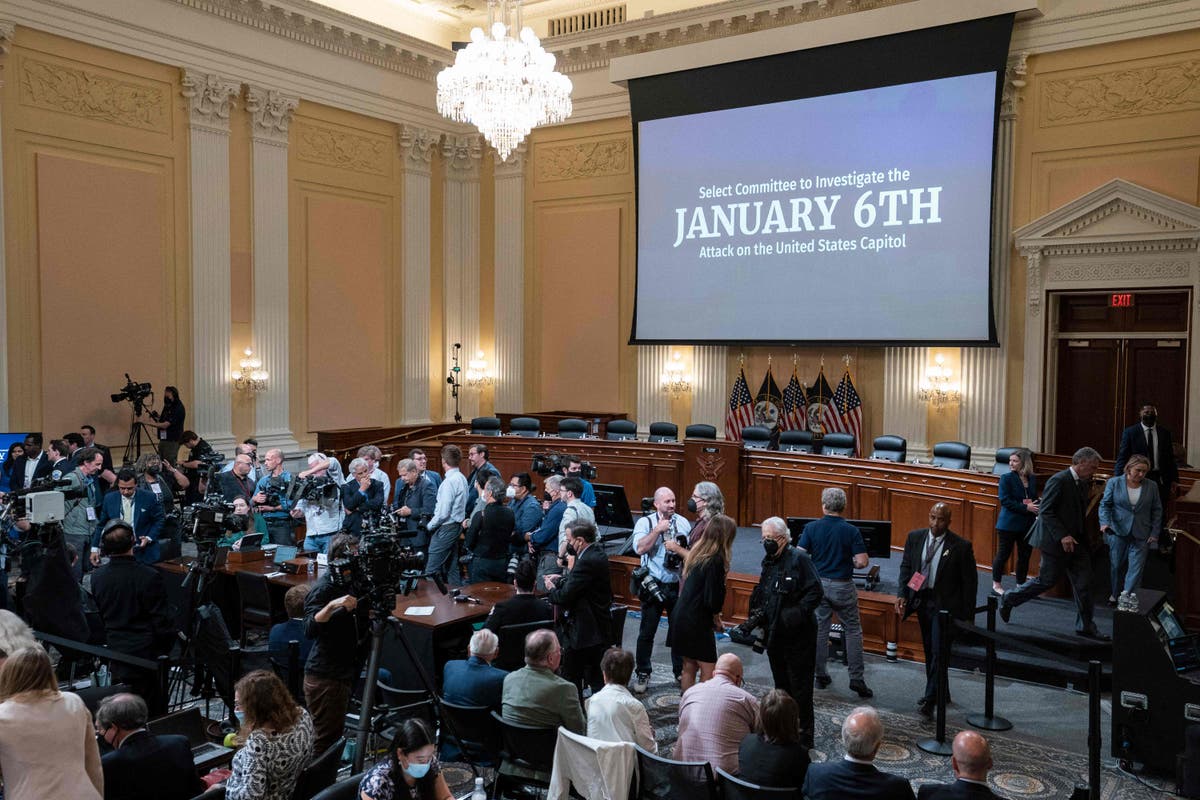 Follow live for latest news and updates on January 6 hearings in Congress
简 6 committee member says Trump attempting to witness tamper is 'highly improper'
The latest of the January 6 committee's hearings is underway with a focus on 唐纳德·特朗普's refusal to call off the mob of supporters who violently attacked Congress.
Alongside the details of Mr Trump's inaction during the attack on Congress, the panel will reportedly screen outtakes from a speech the then-president gave on 7 一月, 和 two administration staffers who resigned after the 国会大厦骚乱 will be testifying in person.
The committee began proceedings by revealing there would be further hearings in September. They also covered the efforts by White House staff to try and get Trump to act as the rioters began to breach the Capitol and desperate radio communications from Mike Pence's security detail.
同时, prosecutors have rested their case against far-right agitator and Trump ally Steve Bannon, who is in court facing a charge of criminal contempt of Congress. 这 司法部 argues he simply "decided he was above the law" when refusing to comply with a subpoena from the 6 January select committee.
In other news, former first lady Melania Trump has lashed out at her former chief of staff, Stephanie Grisham, claiming she was not informed about the Capitol riot.
1658456608
The committee shows Trump, struggling to film his remarks condemning lawbreaking supporters a day after the Capitol riot: "I don't want to say 'the election is over.' I just want to say Congress has certified the results."
He is visibly frustrated hitting the lectern multiple times and struggles with the word "yesterday".
"Yesterday is a hard word for me."
1658456392
White House Counsel Pat Cipollone testified: "Did I consider [resigning]? 是的. Did I do it? No."
He was worried he would be replaced by someone more radical.
Mr Milley says in his video deposition that then-Chief of Staff Meadows told him: "POTUS is very emotional and in a bad place."
Secretary of Labor Eugene Scalia sent a memo to Trump requesting a post-January 6 cabinet meeting.
Mr Pottinger says he waited a day to resign because his boss, national security adviser Robert O'Brien, was out of town. He waited until Mr O'Brien returned over his concerns about who would be handling national security matters.
He testified January 6 "emboldened our enemies" by feeding a narrative that the United States "is in decline".
Mr Pottinger says he heard from many supporters of the US after the insurrection and they were "concerned about the health of our democracy".
Rep Kinzinger says democracies are not defined by their bad days, but how they recover from those bad days and that's why accountability is so key here and now.
1658455851
After the riot when Trump was banned from Twitter, he posted a statement via aide Dan Scavino's account in which he still questioned the election outcome.
He wanted to say there would be a peaceful transition of power, Mr Scavino testified, but he told Trump that that ship had sailed. They used the phrase "orderly transition" instead.
1658455805
Trump defends efforts to pressure Pence to overturn election results
唐纳德·特朗普 has defended his actions on the day of Jan 6 and those running up to it – claiming the country would have been "very different" if he had secured a second term.
As the Jan 6 committee held its eighth presentation, focussing on the 187 minutes between delivering his speech on the Washington Mall and putting out a video message urging his supporters to go home, Mr Trump claimed he had done nothing wrong.
独立's Andrew Buncombe reports.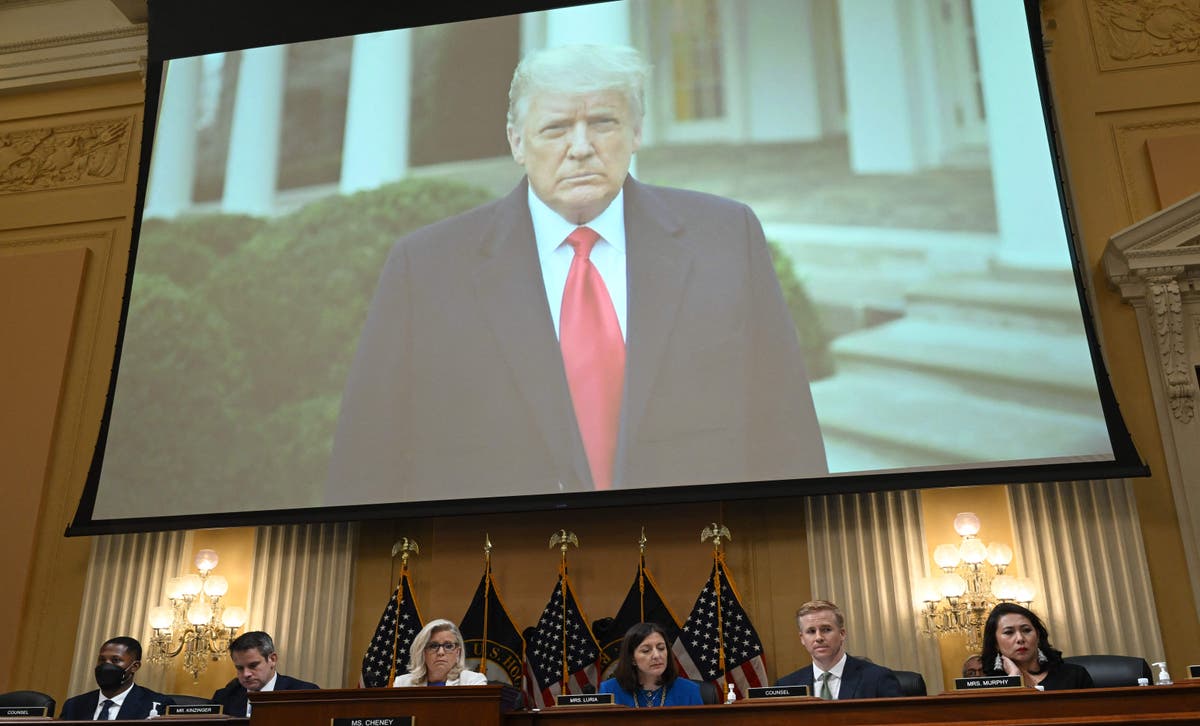 Former president claims US would not be suffering inflation if he had second term
1658455566
Trump aide Nick Luna believed Trump's later tweet indicated some form of culpability in the events of the day.
1658455454
Footage shows Capitol rioters reacting to Trump's Rose Garden message.
1658455306
Trump showed no remorse for the events of the day.
Rep Kinzinger says: "As he was gathering his things in the dining room to leave, President Trump reflected on the day's events with a White House employee … He said only, 'Mike Pence let me down.'"
1658455259
Ms Matthews testifies that after seeing Trump's video from the Rose Garden, and listening to him say he "loved" the people who chanted to hang Mike Pence, who stormed the Capitol, who assaulted police, who tried to kill lawmakers.
"It was indefensible," 她说. "I knew I would be resigning that evening."
1658455143
While Trump did nothing, Mike Pence was giving orders to the military to clear the Capitol and stop the violence.
"Get the military down here. Get the guard down here. Put down this situation!" Pence said, per Mark Milley.
Trump did not call. Mark Meadows called to tell Milley they needed a "narrative" that Trump was still in charge and not Pence.
Mr Milley said "I don't do narratives".