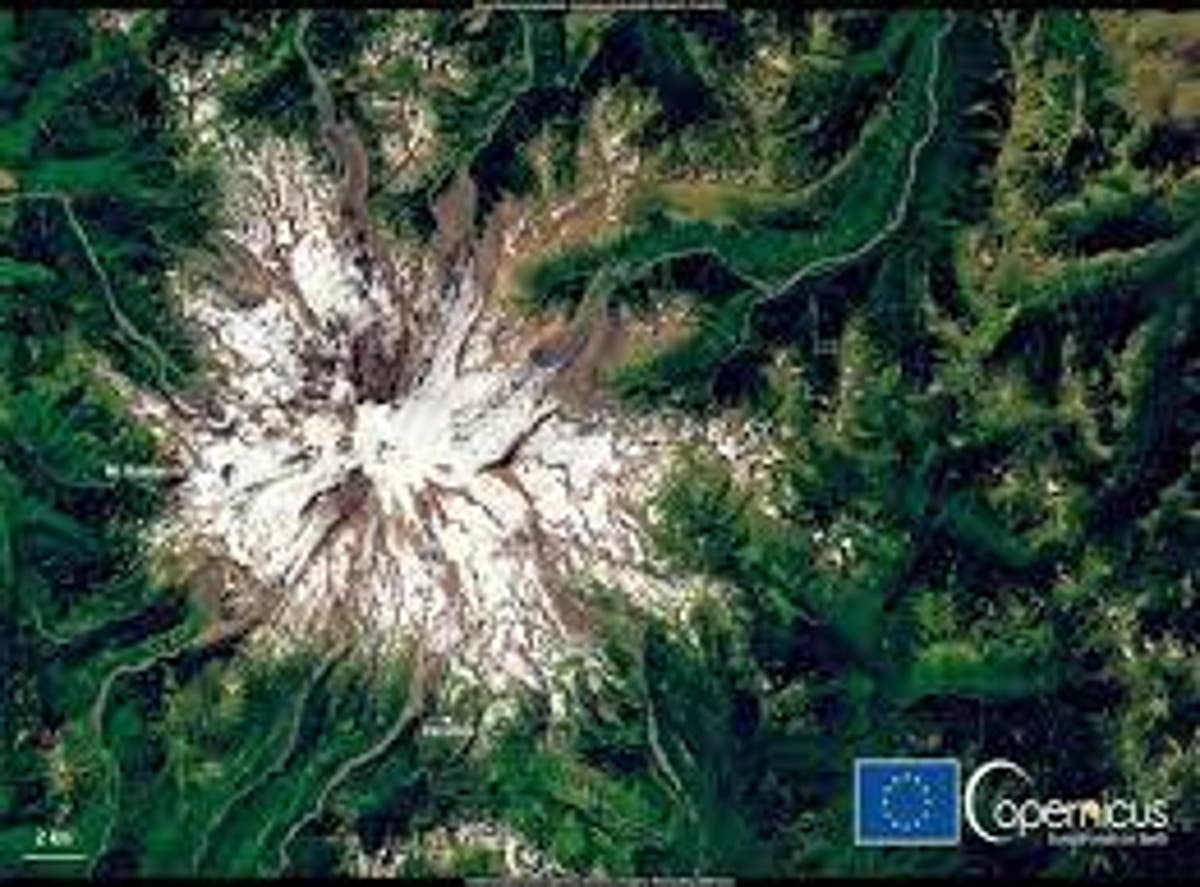 Glaciers in Washington state have gone through the most severe and rapid melting episode of the last 100 years, scientists say
Shocking aerial images taken from above Mount Rainier revealed the sparse covering of snow left on the iconic mountain as Washington state, along with 33 others, braces for more extreme heatwave conditions.
The lack of snow is linked to the deadly heatwave which descended on the Pacific Northwest earlier in the summer.
Dr Samuel Browd, who was on a flight that passed Mt Rainier earlier this week, tweeted a photo of the snow loss. "Striking the reduction in snowpack and glaciers. #ClimateEmergency is real," he noted.
According to scientists at Washington State University, the glaciers in the state have gone through the most severe and rapid melting episode of the last 100 years.
Heatwaves across the US are expected to continue well into August. Some 200 million people are under heat advisories as two heat domes are lodged over states in the Pacific Northwest, the upper Midwest, and on the East Coast.
On Thursday, it reached 97 degrees Fahrenheit in Washington DC, the hottest temperature in the US.
Extreme heat can have dire consequences. Earlier this summer, nearly 200 people died from a record-breaking heatwave which struck in Washington, Oregon and parts of western Canada. Hundreds of excess deaths in all three areas may also be linked to the heat.
"Extreme heat and humidity will significantly increase the potential for heat-related illnesses, particularly for those working or participating in outdoor activities," the National Weather Service on Wednesday.
Heatwaves can also worsen wildfire conditions. The Dixie Fire, which has been raging in northern California for the past month, has been exacerbated by high temperatures. The blaze has grown to half a million acres and is only 30 per cent contained.
A report released on Monday from the IPCC, the world's leading body on climate science, noted that the climate crisis is causing more frequent and intense heatwaves, and that "unprecedented" heat events will continue as global temperatures continue to rise.
While temperatures will eventually cool off in the Pacific Northwest and the east coast in the fall, droughts on west will cause more heatwaves to occur more frequently.