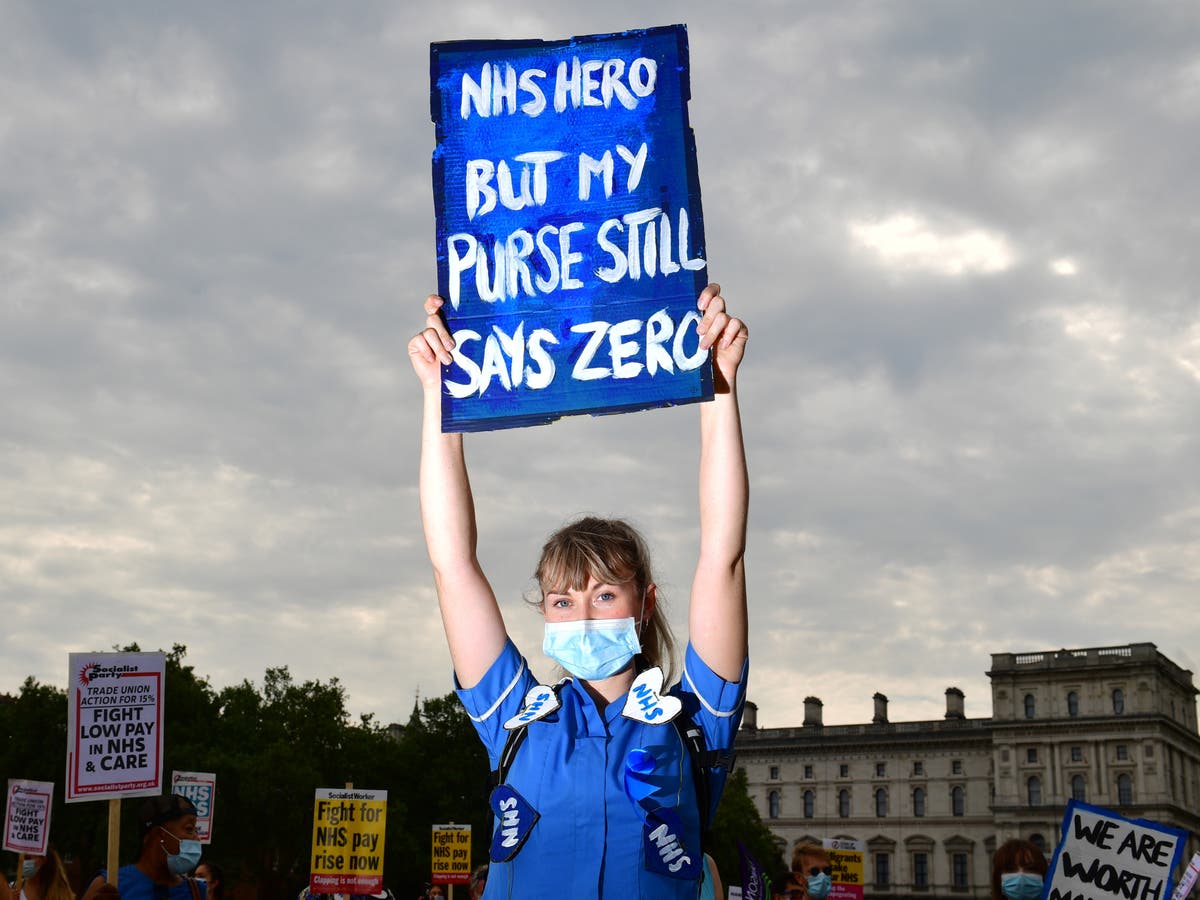 Doctors and nurses treated 'shamefully', says health union after pay announcement ditched
Boris Johnson's government has sparked anger by rejecting the chance to announce a promised pay rise for NHS staff in England, accused of presiding over "an utter shambles".
The government was expected to reveal a 3 per cent pay rise for health service staff on Wednesday – but health minister Helen Whately said a final decision had been delayed.
"The government asked for recommendations from NHS pay review bodies," the minister told MPs. "The government is seriously considering those recommendations, and we will be responding as soon as we possibly can."
Arbeid MP Rosena Allin-Khan, shadow health minister, said the failure to deliver the pay rise before the summer break was "an insult of the highest order" – adding: "Our NHS staff deserve better than this."
Shadow health secretary Jonathan Ashworth added: "So what's happened to the government response to the NHS pay review body? Our NHS staff deserve a fair pay rise not a pay cut."
The government had been widely expected to offer NHS staff in England a 3 per cent pay rise this week in a bid to stave off the threat of strikes by doctors and nurses.
It followed outrage over the initial proposal from the Department for Health and Social Care (DHSC) of only a 1 per cent pay rise – telling the independent NHS Pay Review Body that was all the government could afford.
Arbeid, the Lib Dems and the health unions said sticking with a 1 per cent rise would effectively amount to a pay cut, since it was below inflation levels of 1.5 prosent.
Lib Dem MP Munira Wilson, the party's health spokesperson, said on Wednesday: "Words and clapping are cheap – where on earth is the widely-reported and trailed pay deal announcement that was expected today?"
Ms Wilson added: "Does the minister really believe a 1 per cent pay rise, which is actually a pay cut, is actually giving NHS doctors and nurses what they need?"
The Royal College of Nursing (RCN) said the further delay in the NHS pay award was "shameful".
RCN chief executive Pat Cullen said: "This treatment of our NHS workers is shameful. Ministers are holding them in contempt and we have no choice but to condemn this behaviour.
"Ministers need to stop the wrangling and come clean about the pay rise they believe NHS staff deserve. Nursing staff will only accept this pay award if it's significant, consolidated and fully funded with additional monies."
The RCN had demanded pay be boosted by 12.5 per cent – so it remains unclear if a 3 per cent rise, if it comes in the weeks ahead, will be high enough to placate nursing union members.
The British Medical Association (BMA) has demanded a 5 per cent salary increase, warning that many doctors were suffering from burn out as a third wave of Covid hits.
Matthew Kneale, vice-chair of the Doctors' Association, said a 3 per cent would be better than the "derisory" 1 per cent previously proposed – but it would still not address the erosion of doctors' pay over the past decade of austerity.
"At a time when doctors have given their lives and livelihoods to this pandemic, with no clear end in sight, it is an insult that the government sees this as fair remuneration for their heroic efforts."