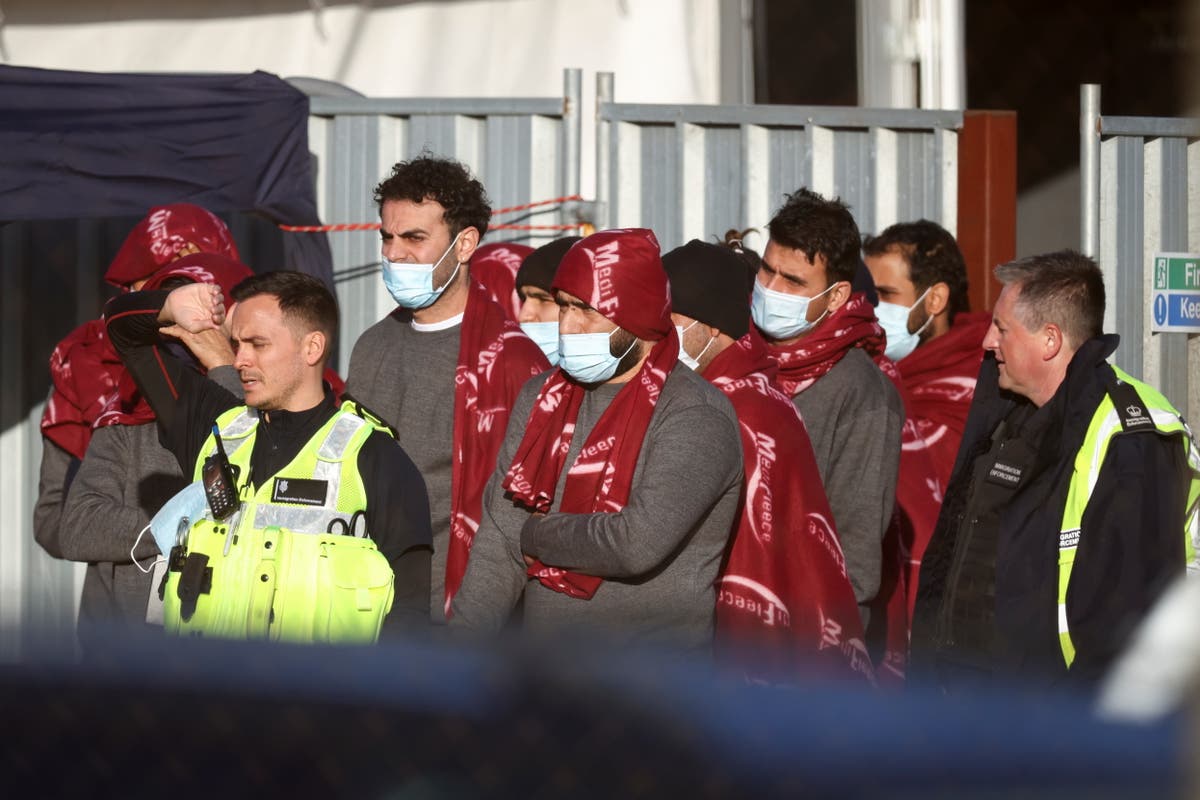 Two-thirds of applications granted despite home secretary's claims 70% of small boat passengers are 'economic migrants'
Asylum applications to the UK have risen by a fifth in a year amid record small boat crossings, nye tall viser.
EN Home Office report said there were more than 37,500 applications in the year to September, relating to 44,000 menn, women and children mainly from Iran, Eritrea, Albania, Iraq and Syria.
"The increase in applications is likely linked in part, to the easing of global travel restrictions that were in place due to the Covid-19 pandemic, and to an increase in small boat arrivals to the UK – of which almost all claim asylum,"La det til.
The figures were published on the morning after at least 27 people drowned after a dinghy sank off the coast of France, sparking renewed calls for the government to change its "cruel and ineffective" approach to crossings.
Two-thirds of asylum seekers were granted asylum or other forms of protection after their first application, up from half in the previous year, and others overturned initial refusals on appeal.
The official statistics appeared to contradict repeated claims by the home secretary that 70 per cent of people arriving on small boats are "economic migrants".
Priti Patel was repeatedly asked to withdraw the assertion during a debate in the House of Commons on Monday, but refused.
The figures also called into question claims made by the home secretary following the Liverpool bombing that a "merry-go-round" of asylum appeals was being exploited.
The number of appeals lodged in the year to September was 30 per cent down on the previous year and the figure has been falling since 2015, the Home Office report said.
Almost half of appeals were successful, and the proportion of initial decisions overturned has been rising for a decade.
The processing of asylum applications has slowed dramatically and the figures showed that by the end of September, 67,547 cases relating to 83,733 people were awaiting an initial decision – up 41 per cent on the previous year.
The total number of cases marked as "asylum work in progress", which includes live appeals and failed asylum seekers the government wants to remove, stands at more than 125,000.
The government changed its immigration rules in January to allow people who travelled through safe third countries to be declared "inadmissible", but has not struck any returns agreements with EU countries to replace a deal lost in Brexit.
British law means that anyone seeking to claim asylum in the UK must be physically present in the country, and there is no asylum visa.
Ministers have repeatedly hailed resettlement schemes – which arrange transfers for refugees directly from conflict regions – as an alternative to making irregular journeys.
But the programme promised for 20,000 Afghans in August has not yet started and other safe and legal routes have been cut.
Thursday's report showed that only 1,171 refugees were granted protection through resettlement schemes in the year to September, half the number from the previous year.
Nick Thomas-Symonds, Labour's shadow home secretary, raised the figures in parliament on Thursday afternoon.
"The UK Resettlement Scheme was announced in February of this year," han sa. "In its first year only 770 people have been helped by that scheme, when the promise from the Home Office was to help 5,000 people in its first year."
Ms Patel blamed travel restrictions during the pandemic, legge til: "Resettlement rights have been limited because of the pandemic but we are committed and we are working to absolutely resettle people in the way in which we have committed to do so."
Liberal Democrat home affairs spokesperson Alistair Carmichael said: "By slashing our resettlement programmes and closing down safe and legal routes for refugees, Priti Patel has driven them into the hands of smugglers and traffickers.
"To stop refugees making dangerous and unauthorised journeys, we must enable them to make safe and legal ones."
UK nyheter i bilder

Vis alt 50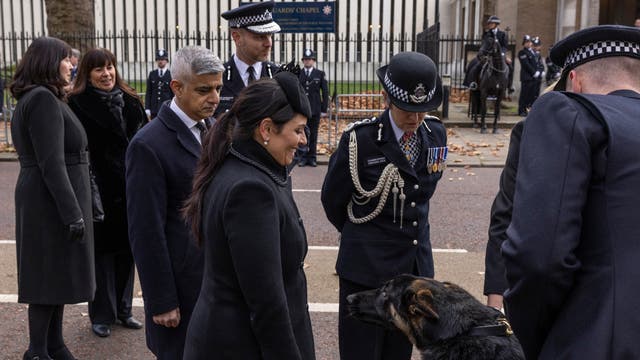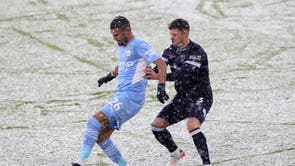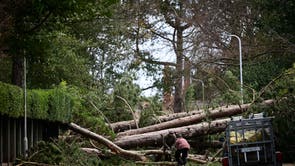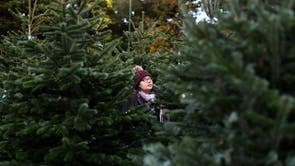 The figures came as the government presses ahead with a controversial suite of laws that would make reaching the UK by small boat an offence, regardless of a person's asylum status.
Tim Naor Hilton, the chief executive at Refugee Action, sa: "Rather than do their fair share to help the growing number of people across the world who are forced to flee their homes, ministers want to pull up the drawbridge on refugees with the unbelievably tragic consequences we saw in the Channel yesterday.
"The government has limited options for family reunion, has a resettlement programme running in first gear and failed to create other routes to safety, leaving refugees with little option but to arrive here by plane, lorry or flimsy boat.
"And under its anti-refugee bill, the government wants to criminalise the tiny proportion of people who seek protection here."
The Home Office report said that in the year to June, the UK had the 17th highest number of asylum applicants per head of population when ranked alongside EU countries.
A government spokesperson said: "A significant proportion of asylum claims in the last year should have been made in a first safe country, rather than people risking their lives making dangerous crossings, facilitated by people smugglers. Yesterday's tragedy serves as the starkest possible reminder of the dangers of this."
The UN Refugee Agency has said seeking asylum in the first safe country people reach is not a requirement under international law, and that such a principle would place an "unworkable" burden on countries bordering conflicts.
The government spokesperson said the Nationality and Borders Bill "will ensure we are fair to those in genuine need and break the business model of criminal trafficking networks".
A government impact assessment said evidence on the effectiveness of the proposals was "limited" and that they could encourage "riskier means of entering the UK".