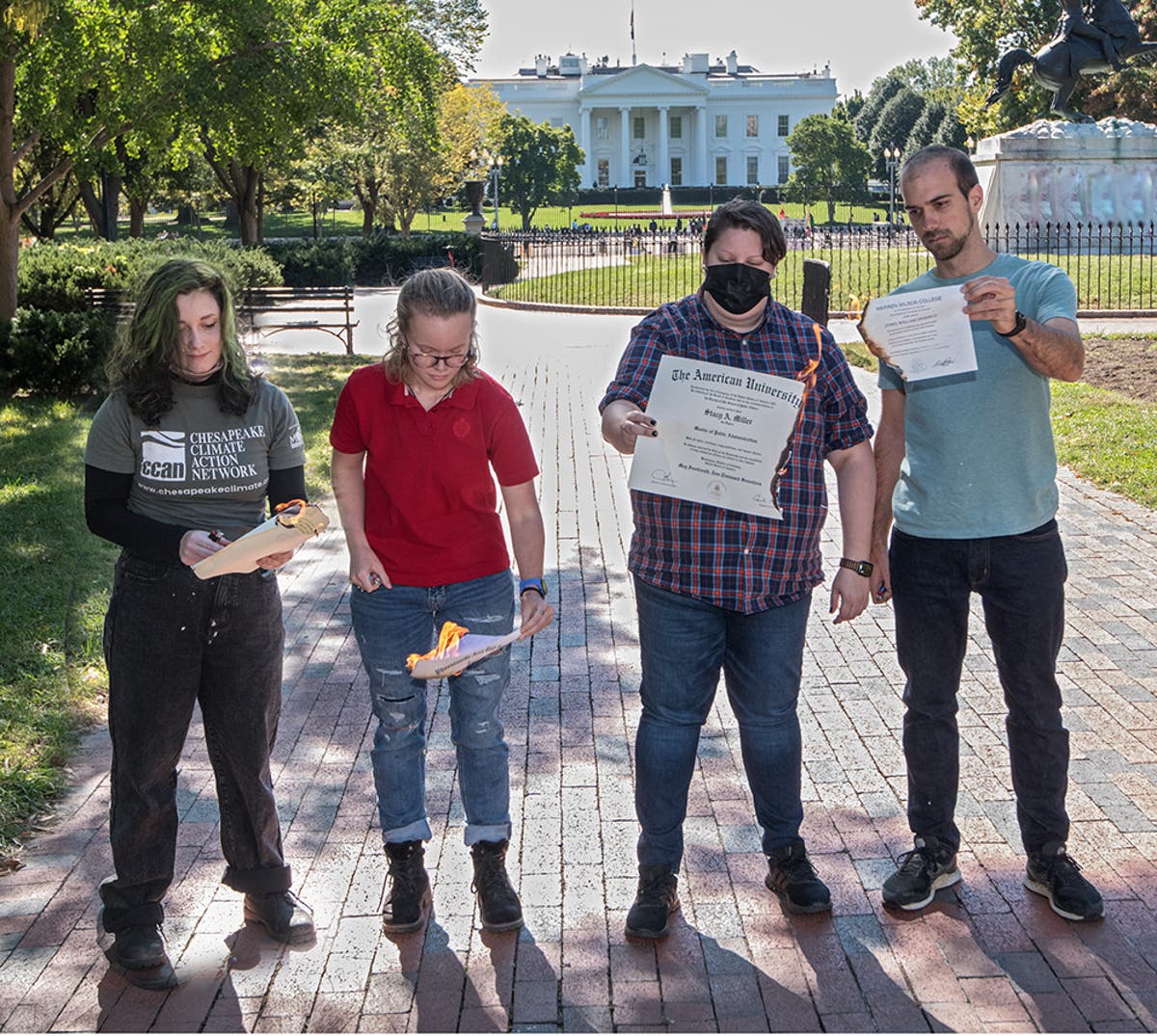 Four organisers torch their degrees in urgent message demanding Biden and Congress include critical climate provisions in president's agenda
A group of young people outside the White House torched their college and master's degree diplomas in a blunt message to President Joe Biden about their waning futures in the face of a growing climate crisis.
The protest organised by the Chesapeake Climate Action Network – which focuses on climate action in Maryland, Virginia and Washington DC – demanded the administration and Congress to include climate provisions in the president's Build Back Better agenda, and to refuse objections from Senators Joe Manchin et Cinéma Kyrsten that threaten to derail emissions cuts.
Four activists burned their diplomas while standing outside Lafayette Square in front of the White House on 19 octobre, telling lawmakers "don't burn our future".
Activist Xandra Coleman said her diploma "represents the hope I was promised for my future" but is now "extremely hard to imagine".
Austin Miller, who burned a master's degree in public administration, said "we cannot cut climate from the reconciliation bill, we cannot cut climate provisions from the Build Back Better agenda".
"Climate is the most important thing, and if that's cut from this bill, we're basically burning our futures," Mr Miller said. "There can be no negotiations on them."
Sénateur Manchin, who represents coal-rich West Virginia, is a critical vote on the passage of a massive budget bill, but his objection to a programme to incentivise energy producers to move away from fossil fuels to solar, wind and nuclear power would eliminate a key part of Biden's climate agenda and threaten any progress against combatting the crisis, activists say.
Cutting out the Clean Electricity Performance Program makes up 30 per cent of emissions reduction goals under the administration and "would save 300,000 lives just through local air pollution reduction", the group said.
The group demanded that the administration salvage the programme or draft another to reduce 400 million metric tonnes of carbon emissions from the electric sector by 2030.
"Manchin is the one causing these problems, but Biden is the one giving in," Jamie DeMarco, federal policy director of Chesapeake Climate Action Network, Raconté L'indépendant. "We need him to play hardball."