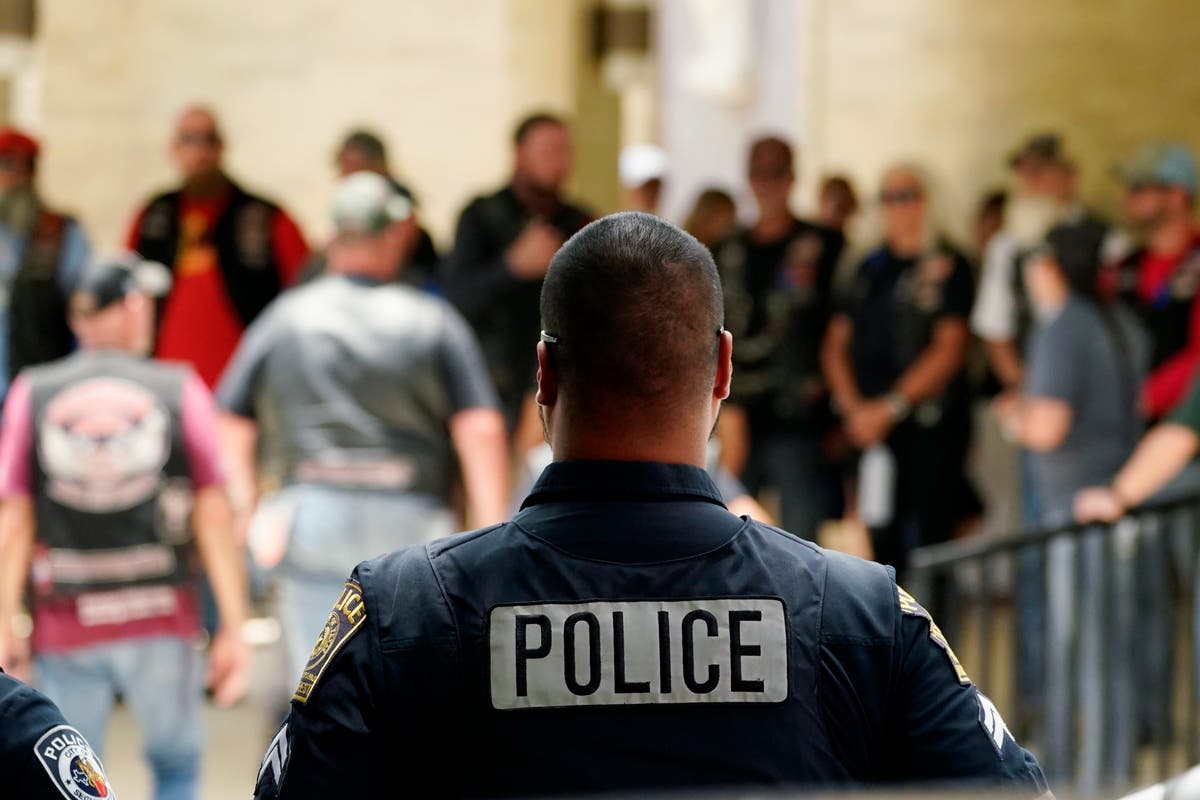 New details about police delay revealed in report on Thursday
New disturbing details about the delayed police response in the Uvalde school shooting have been revealed in an investigative report.
Die verslag, described by the New York Times op Donderdag, states that "more than a dozen" of the 33 children and three teachers inside the two classrooms targeted by gunman Salvador Ramos in die 24 May massacre were still alive in the one hour and 17 minutes between when shooting began and officers eventually entered to take him down.
Op die ou end, 19 children and two teachers were killed at Robb Elementary School that day. One of the teachers died in an ambulance and three of the children died at hospitals, with the rest pronounced dead at the scene.
Investigators are now working to determine whether any of the victims killed could have been saved had they received medical aid earlier, an official with knowledge of the probe told the Tye.
Leonard Sandoval, whose 10-year-old grandson Xavier Lopez was among the dead, believes the boy "could had been saved".
"The police did not go in for more than an hour. He bled out," Mr Sandoval told the Tye.
The newspaper noted body-camera video in which a man believed to be Uvalde school district police chief Pete Arredondo, the top law enforcement officer at the scene, sê: "People are going to ask why we're taking so long. We're trying to preserve the rest of the life."
It remains unclear exactly when officials at the scene became aware that victims needed aid, but in footage several minutes before officers breached the school the same voice believed to be Mr Arredondo was heard saying: "We think there are some injuries in there. And so you know what we did, we cleared off the rest of the building so we wouldn't have any more, besides what's already in there, obviously."
Die Tye report also revealed Ramos had a "hellfire" trigger device enabling his semi-automatic rifle to fire more like an automatic rifle, and that Mr Arredondo learned the gunman's identity while in the school and tried to communicate with him through a door.
The haunting revelations come more than a week after Texas Department of Public Safety Director Steve McCraw reported that Mr Arredondo wrongly determined that the lives of the students and staff inside the building were no longer at risk and treated the scene as one in which the subject was barricaded, not an active shooter.
It later emerged that Mr Arredondo did not have a police radio when he arrived at the school at around 11.35am, minutes after the gunman entered, likely preventing 911 dispatchers from reaching him as children desperately dialed for help.
After two officers who arrived at the scene moments after Ramos entered and began firing in Room 112, Mr Arredondo ordered them to stand down, sparking a more than hour-long delay between Ramos's entry and death.
Officers ultimately rejected the stand-down order and breached a classroom with Ramos inside, fatally shooting him around 1pm.
A timeline of 911 calls provided by law enforcement shows that at least nine calls were placed between the time Ramos arrived and his death.
Khloie Torres, a fourth-grade student who was in Room 112, het die Tye that her teacher, Irma Garcia, rushed towards the door to lock it as the gunman approached. He grabbed the door and began firing, according to Khloie.
Shortly after noon, byna 30 minutes after officers first arrived, she repeatedly called 911.
"There is a lot of bodies," she told a dispatcher at 12.10pm, according to a transcript of the call reviewed by the newspaper. "I don't want to die, my teacher is dead, my teacher is dead, please send help, send help for my teacher, she is shot but still alive."
More gunshots can be heard on the call at about 12.21pm, according to Mr McCraw.
The Texas Department of Public Safety has referred questions about the investigation to District Attorney Christina Mitchell, who is coordinating the probe with the Texas Rangers.
The US Department of Justice also has opened an investigation into the botched police response, facing international scrutiny as families of the victims and a grieving community demand answers after the killings of 19 children –all between the ages of 9 en 11 years old – and their two teachers.