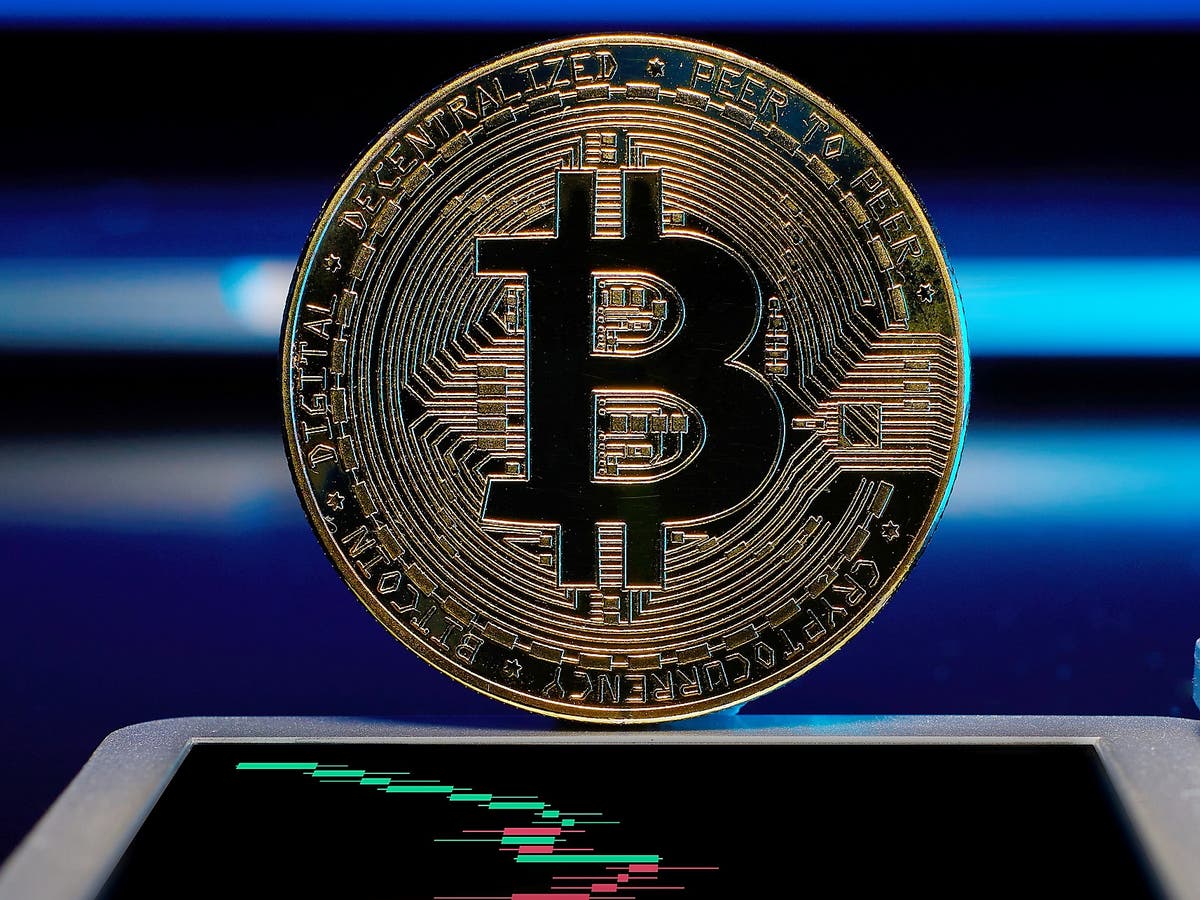 All the latest cryptocurrency news, updates and analysis
Bitcoin surged to a record all-time high on Wednesday, following a weeks-long price rally
The cryptocurrency is now up more than 50 per cent since the start of October, overtaking the market value of tech giants like Facebook and Tesla.
After breaking the $64,800 record reached in April, BTC continued to climb and was trading above $66,000 on Thursday morning. It marks a remarkable recovery for bitcoin, which crashed below $30,000 in July.
Other leading cryptocurrencies have also mirrored bitcoin's gains, most notably Ethereum (ether) and Solana (SOL), which are both up more than 10 per cent over the last 24 hours. The price increases saw the overall crypto market cap also climb above its previous all-time high, reaching above $2.6 trillion.
Several prominent crypto analysts believe bitcoin is now on the second major leg of a bull run that will take it above $100,000 before the end of 2021, though others have warned another major crash could follow.
You can find all the latest news, analysis and expert price predictions in our live coverage of the crypto market.
1634830432
Bitcoin price dips amid warning of over-leveraged traders
The price of bitcoin has slid to below $63,000, having peaked earlier today at close to $67,000.
The flash crash comes amid warnings that the market was overbought during the launch of the first ever bitcoin futures exchange-traded fund earlier this week.
Crypto analyst and author Glen Goodman said that there could be a short-term dip due to over-leveraged traders buying bitcoin with funds borrowed at high interest rates.
Anthony Cuthbertson
21 October 2021 16:33
1634827017
PayPal co-founder Peter Thiel laments 'underinvesting' in bitcoin
PayPal co-founder Peter Thiel has revealed that he regrets not investing more money in bitcoin following its latest price record.
The billionaire venture capitalist, who was one of the earliest investors in Facebook, told Bloomberg that he should follow fellow PayPal founder Elon Musk's lead by buying a significant amount of the cryptocurrency and holding it for the long term.
"You're supposed to just buy bitcoin," he said. "I feel like I've been underinvested in it… I think the answers are still to go long."
He also warned that bitcoin's latest rally is a major concern for the traditional financial system, saying that BTC's gains "surely tells us that we are at a complete bankruptcy moment for the central banks".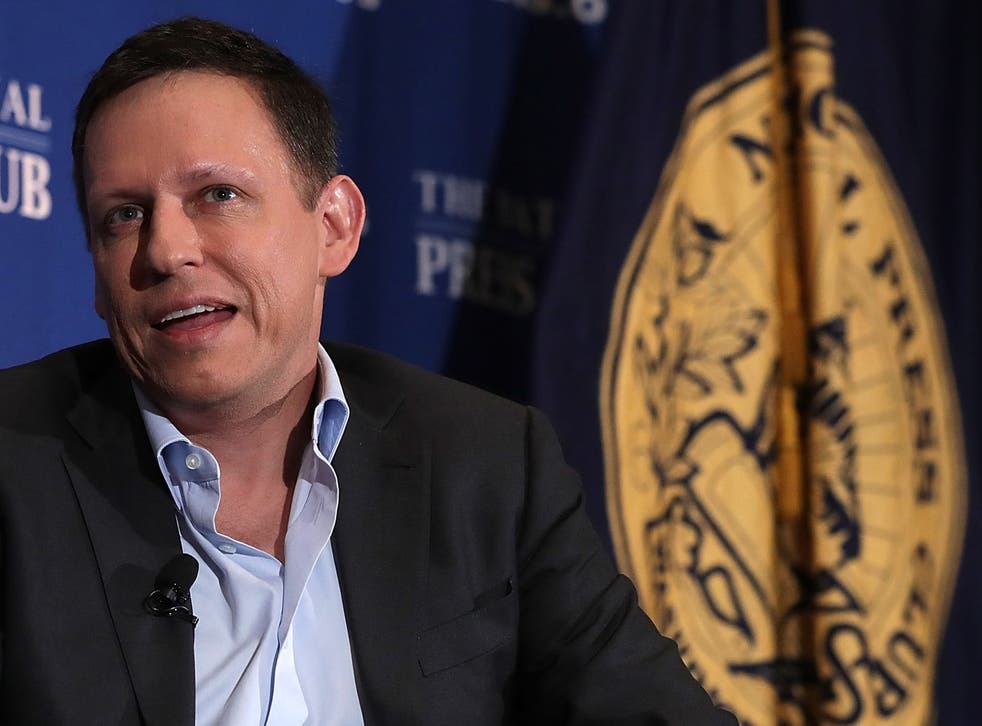 Anthony Cuthbertson
21 October 2021 15:36
1634820383
Bitcoin now world's 13th largest currency
Bitcoin's record-breaking price rally has pushed its market cap ahead of the Swiss Franc, making it the world's 13th most valuable currency.
Data from CoinMarketCap also ranks Ethereum (ether) in the top 25 fiat currencies, just below the Swedish Krona.
With a market cap in excess of $1.2 trillion, bitcoin is also worth more than some of the world's most valuable companies, including Facebook and Tesla. The overall crypto market is now worth more than Apple – the world's most valuable company – at more than $2.5 trillion.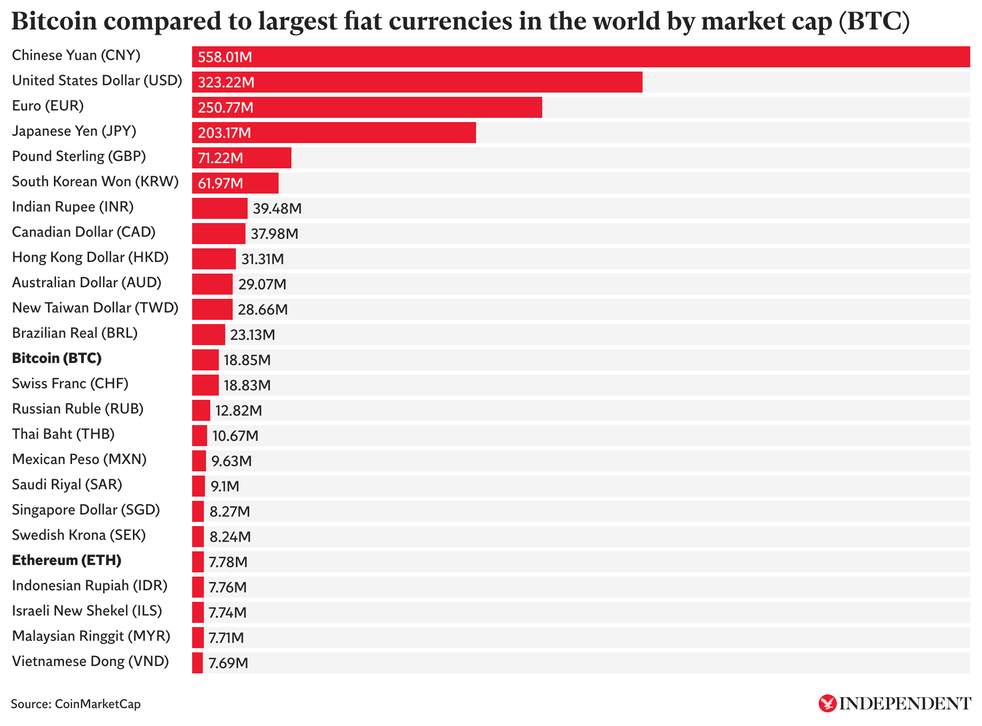 Read the full story here.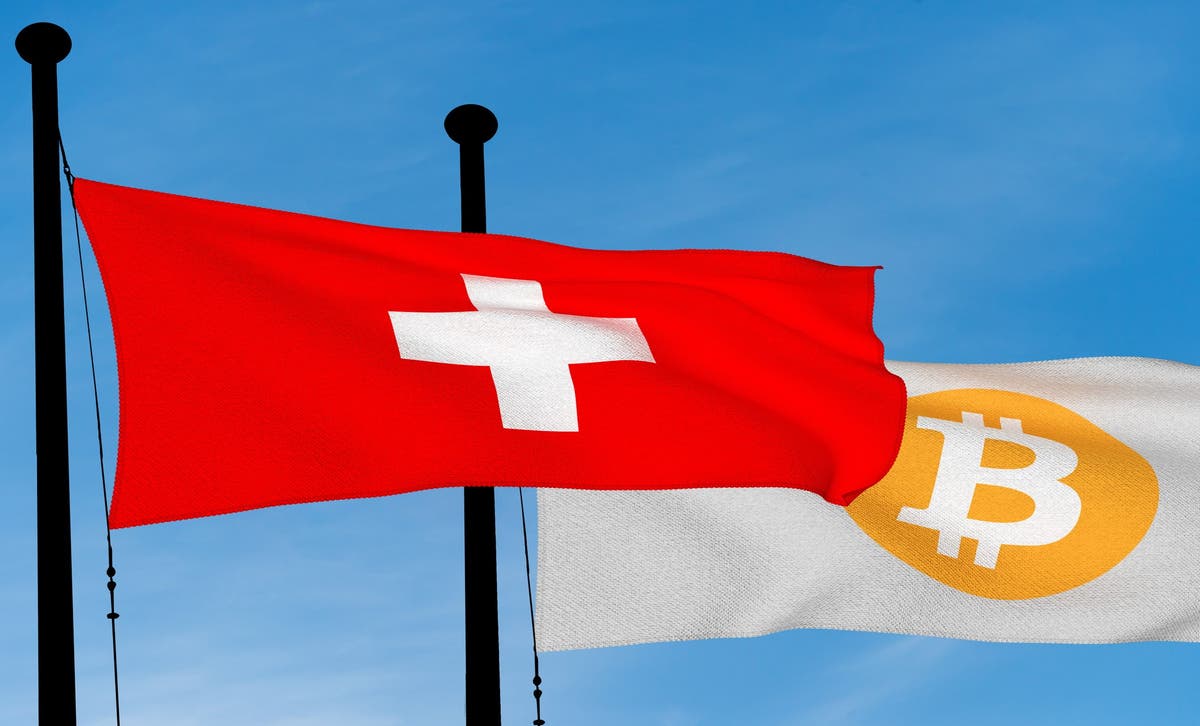 Record-breaking price rally sees BTC 's market cap surpass $1 trillion
Anthony Cuthbertson
21 October 2021 13:46
1634809292
Crypto market smashes record high
It's been a massive 24 hours for the cryptocurrency market, with several other leading altcoins looking to follow bitcoin's all-time high with a record-breaking price run of their own.
Ethereum is now less than $100 from its ATH, while Solana is also fast approaching its own with gains of more than 20 per cent since this time yesterday.
All of the action has pushed the overall crypto market above its previous record, breaking above $2.6 trillion for the first time in its history this morning.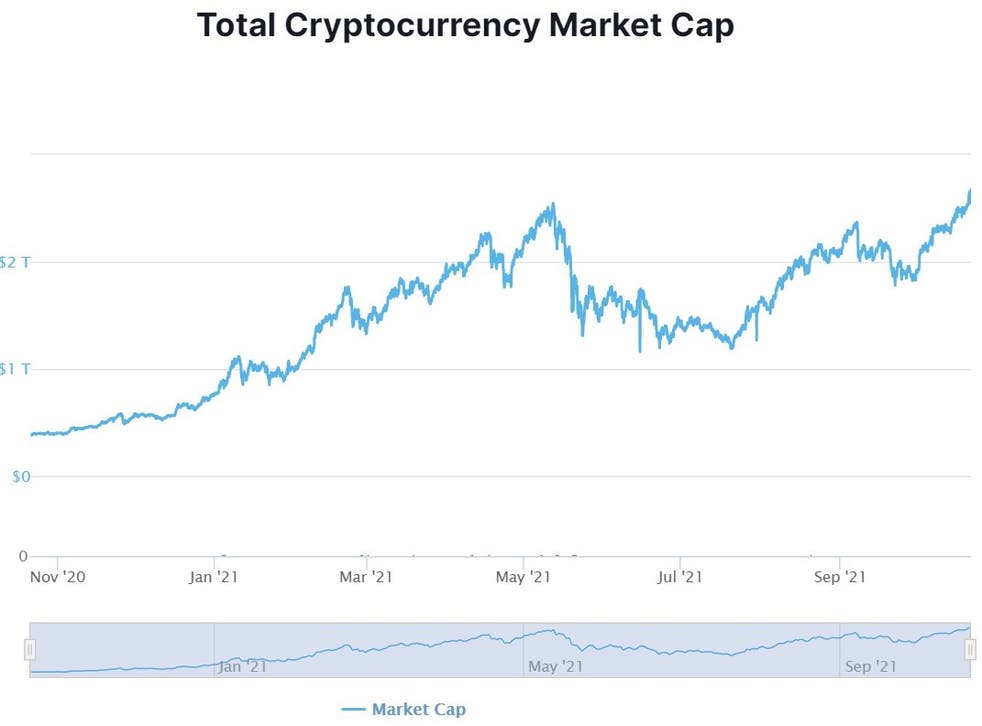 Anthony Cuthbertson
21 October 2021 10:41
1634745198
Jack Dorsey: 🌕
Twitter CEO Jack Dorsey, a long-time advocate of crypto, tweeted a moon emoji when bitcoin hit its peak.
The emoji likely references the phrase 'to the moon', signifying a rapidly high rise.
Adam Smith
20 October 2021 16:53
1634742086
Should bitcoin EFTs even exist?
While the first bitcoin futures exchange trade has excited many, it has its critics, including the Financial Times' Robert Armstrong.
Armstrong says that many investors want the cryptocurrency process to operate like a standard financial product. Quoting an unnamed executive in the bitcoin fund industry, he argues that the "heart of the matter" is that investors' pools of capital are in a 401k or brokerage accounts, and the ways to access bitcoin is outside of that system.
"Lots of investors want access and don't want to do research into the myriad custodial options", the executive says.
But Armstrong says that bitcoin is not a standard financial product; it is supported by complex technology and its source of value is a "vehicle for the purest speculation", he writes.
"If you can't be bothered to learn the unique subtleties involved in owning this stuff, you can't possibly understand the risks, and so you should not own it at all. Bitcoin ETFs should not exist."
Adam Smith
20 October 2021 16:01
1634739611
Bitcoin reaches all-time high
After a remarkable October, bitcoin has reached an all-time high. It's smashed through its $64,000 previous record, and continued to trade up.
Andrew Griffin
20 October 2021 15:20
1634663113
ProShares rings NYSE bell on first bitcoin futures ETF
ProShares rings the bell on the first ever bitcoin futures exchange-traded fund in the US, which has now officially launched on the New York Stock Exchange.
The price of bitcoin appears to have received a big boost already, rising by more than $1,000 to reach a new six-month high of $63,400 on CoinMarketCap's price index just a couple of minutes ago.
This is tantalisingly close to its all-time high from mid April, which is now just over $1,000 away from being hit.
Anthony Cuthbertson
19 October 2021 18:05
1634637702
Bitcoin price hits fresh six-month high
Bitcoin has hit a fresh six-month price high, reaching $62,944 on Tuesday morning, according to CoinMarketCap's price index.
It has dipped slightly in the last few minutes but anticipation of the bitcoin futures ETF remains high and some analysts are expecting more gains.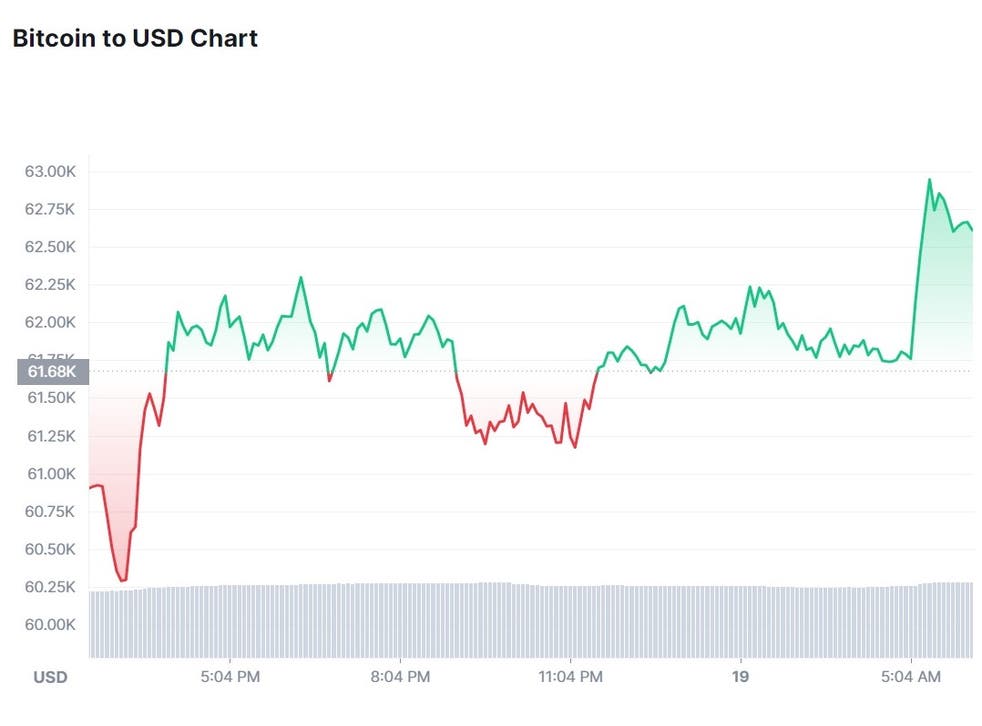 Other crypto market experts are warning that the milestone could be a case of the old trading adage "buy the rumour, sell the news".
This was the case when El Salvador introduced bitcoin as a legal form of tender in September, though it subsequently rebounded far stronger than the dip.
Anthony Cuthbertson
19 October 2021 11:01
1634625384
Bitcoin futures ETF launches today
Today is the day that the long-awaited, first-of-its-kind bitcoin futures exchange-traded fund (ETF) launches on the New York Stock Exchange.
It's a massive milestone for the crypto industry and will open up BTC to a whole new realm of investors, while also paving the way for more cryptocurrency ETFs in the future. There could even be a further three this month.
We've heard from Paolo Ardoino, CTO of cryptocurrency exchange Bitfinex, who describes the launch as a "turning point" for bitcoin.
"As the digital token space evolves, we are seeing increased interest in the concept of a bitcoin ETF, as evidenced by some high-profile global launches. This has not only marked a turning point for the onboarding of institutional investors but is also a clear sign of bitcoin's maturity," he says.
"Bitcoin ETFs may be a significant stimulant for the future of digital token uptake, bringing more investors as well as inspiring the sharing of knowledge within the space. Institutional investors are already driving volumes on exchanges and many expect adoption to skyrocket now that exposure and access to bitcoin will be so readily available."
Anthony Cuthbertson
19 October 2021 07:36