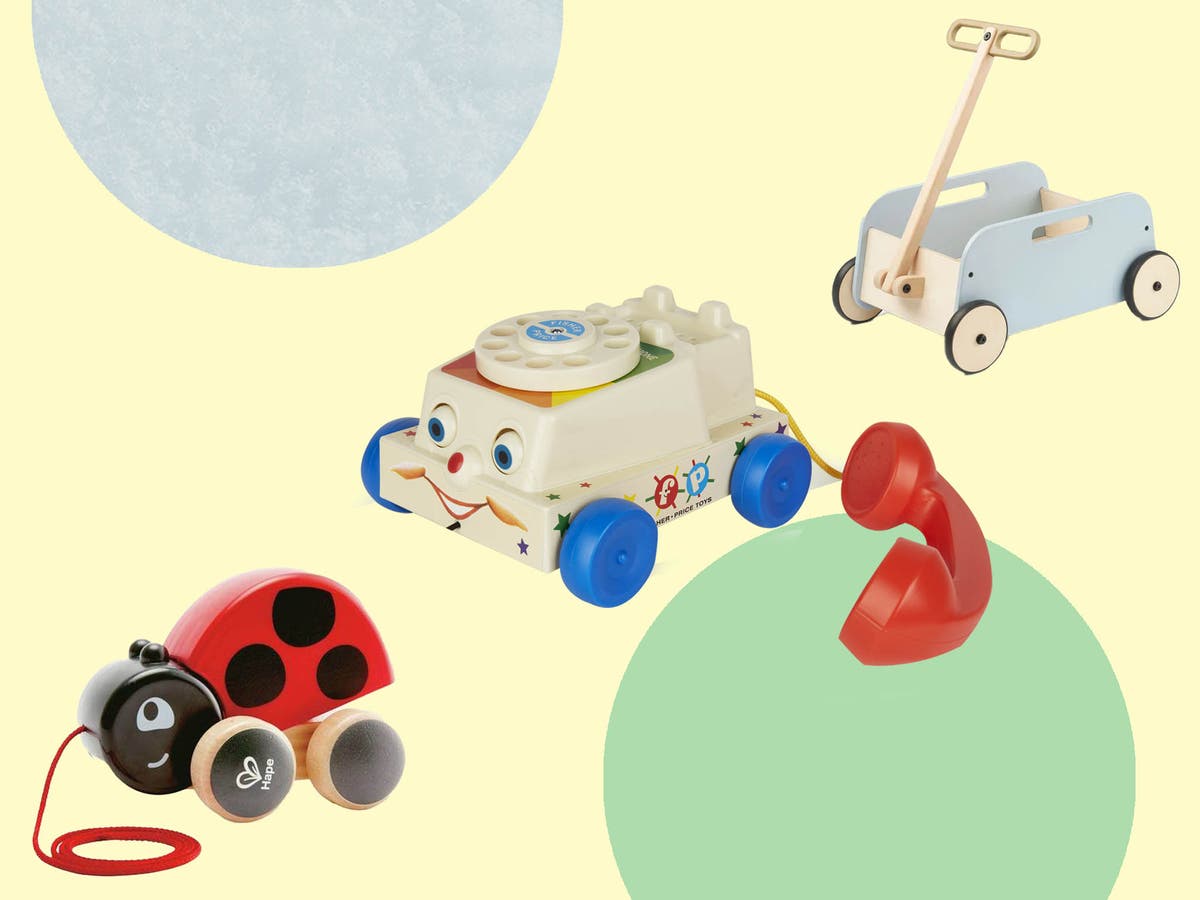 From wooden turtles to soft toy cows, these are the best pull along toys for toddlers and babies from John Lewis, Jojo Maman Bebe, Liewood and more
The humble pull along toy has been entertaining children for years, and unlike many toys the concept still remains the same… a toy on wheels, which can be pulled. Genius. And it's that simple notion that babies and toddlers love.
While the concept hasn't faltered, there is now a huge range of pull along toys to be enjoyed. From vintage throwbacks such as Fisher Price's hugely popular chatter phone (£12.99, Johnlewis.com), to pull along toys which double up as other playthings, to the downright cuddly, here's looking at you Hubert (£29.95, Naturalbabyshower.co.uk).
In true timeless style, the pull along market is dominated by wooden construction, which not only looks sweet in a little one's clutches, but also means it'll stand the test of time and can be passed down the generations.
Many standard pull along toys are suitable from 12-months, as many babies begin to find their feet and it's a great way to encourage independent walking, but always be mindful to check age recommendations.
Instantly gaining a friendly follower, these toys prompt self-confidence as young ones find pulling their toys behind them extremely rewarding. While fun is order of the day, as children play with their pull along pal there's a whole host of developmental benefits too, from practising coordination and balance to igniting their imagination as they enjoy pretend play.
Read more:
How we tested
Our 14-month-old and three-year-old testers happily obliged as they played with a selection of pull-along toys. Designed for use on smooth surfaces, we kept play to a strictly indoor affair, testing the toys over the course of a week.
We looked at how captivated our mini testers were and how long the toy in question held their attention, and whether they went back for more. Movement is hugely important from how they glide across the floor to how they wiggle when pulled. Fun additional features such as bobbing body parts or multifunctional elements were well regarded, and we appreciated rubberised wheels for noise limitation. We gave extra points for sweet designs, after all they need to not only attract a young one but live in the house, too. These are the best ones to shop.
The best pull-along toys for 2022 are:
The verdict: Pull along toys
A pull-along toy which doubles up as a stacker… genius! Janod sweet cocoon rainbow turtle was a top performer. A clever design, sturdy wooden construction, and complete with bobbing head made it a worthy winner for us.
Voucher codes
For the latest discounts on kids toys and activities, try the links below:
Keep your little one entertained while inspiring creativity with the best kids' colouring books