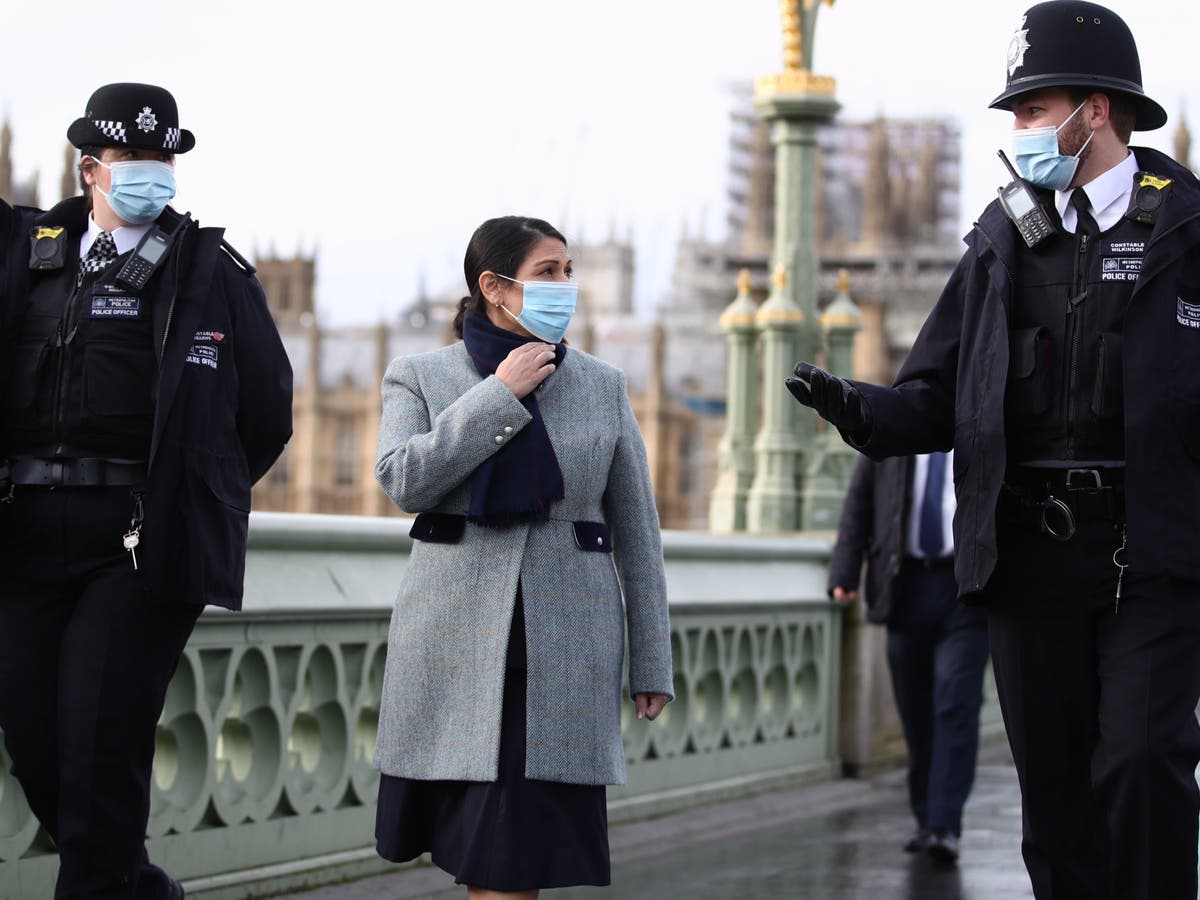 No applause for home secretary's pre-recorded speech as government accused of 'failing police officers'
Police leaders have said they are "disappointed" after the home secretary dropped out of a major conference amid a row over a pay freeze.
Priti Patel was expected to address the Police Superintendents' Association (PSA) conference in person on Tuesday but sent a pre-recorded video that said she could not travel to the event because of "crucial votes" in parliament.
"This has been a privilege to join your conference today, I value my interactions with politiarbeid," the home secretary added.
The hundreds-strong crowd of officers and delegates did not applaud after her address, which defended the decision not to increase police officers' pay because of "tough choices" in the pandemic.
Relations had previously soured over the government's decision not to prioritise police officers for vaccination, rapidly changing and unclear coronavirus legislation and the political response to the policing of different protests.
Chief Superintendent Paul Griffiths, president of the PSA, said it was "disappointing" that Ms Patel did not attend the conference and accused the government of "failing officers and staff".
It comes as the association takes legal action against the government over police pension changes it alleges are disciminatory.
The PSA said it was informed that Ms Patel, who previously confirmed her attendance, could not make her booked slot on Friday after it sent the Home Office excerpts of Ch Supt Griffiths' comments.
It offered the home secretary alternative times to speak over the three-day conference, running from Monday to Wednesday, or the opportunity to speak via a live video call but was told that only the pre-recorded message was possible.
John Apter, the chair of the Police Federation, wrote on Twitter: "Very disappointing that the home secretary has not attended."
He said that he had been due to meet Ms Patel on Thursday, but the meeting had been cancelled by the Home Office.
Labour's shadow home secretary, Nick Thomas-Symonds, was invited to speak in the home secretary's former slot.
Asked by an audience member why he was not prevented from attending the conference by the same parliamentary business as Ms Patel, he said a vote pairing system could have been used.
"I see no reason why we couldn't have seen the home secretary in person, given that I am here I think our votes might have cancelled each other out today," han la til.
Mr Thomas-Symonds called the government's decision on police pay "disgraceful" and said the freeze amounted to a "real-terms pay cut".
"I know how insulted many of you would have been by that decision and rightly so," han la til.
"[The government] were happy to clap for heroes but when it came to securing a fair pay settlement they turned their backs."
A vote of no confidence in Ms Patel was previously held by the Police Federation, which represents 130,000 rank-and-file officers and said the current system for deciding pay was "not fit for purpose".
Speaking at the conference, Britain's most senior police officer said officers need a pay review system in which they can have confidence.
Dame Cressida Dick, commissioner of the Metropolitan Police, told delegates: "For all the police officers who continue to put themselves in harm's way, who have served the public loyally and steadfastly throughout the pandemic, who have been injured, assaulted or abused.
"All the police officers who wake up each day or get ready each night to protect people, to save lives, to prevent crime, to tackle perpetrators, not knowing what the day will hold, and for their families, for all of you, I do believe police deserve a pay rise – and they deserve a fair system for calculating it."
Ch Supt Griffiths said the pay freeze was "hugely disappointing", and announced that the PSA was withdrawing from an official remuneration body because the government had "disregarded its independent processes".
UK nyheter i bilder

Vis alt 50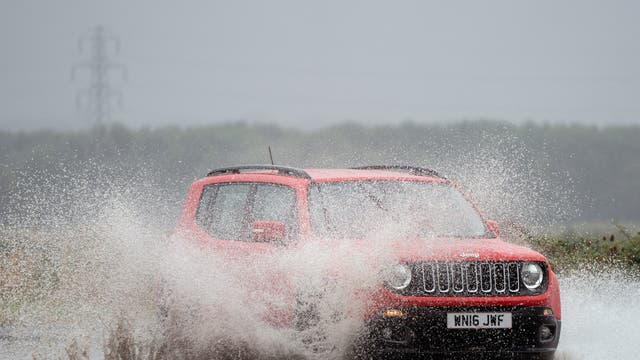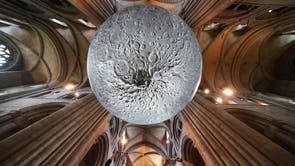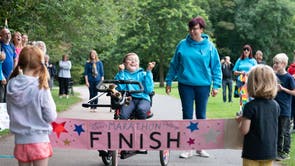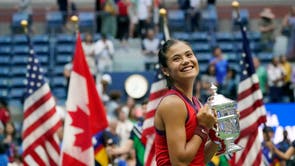 "We have repeatedly heard from the government that they want a better deal for the police and a worse deal for criminals," Ch Supt Griffiths said.
"How is a better deal a pay freeze for the people we send out on the frontline during a deadly pandemic?"
Ms Patel defended the pay freeze in her pre-recorded speech, saying the chancellor "could not justify an across-the-board pay increase for public sector workers" because of a disparity with public sector wages affected by the coronavirus pandemic.
"He asked the advice of the pay review bodies, proposing to raise pay in the NHS but pause pay rises elsewhere in order to protect jobs," hun sa. "None of us wanted to be in this situation."
Sir Thomas Winsor, HM chief inspector of constabulary, took aim at the wider system of police funding in a speech to the conference.
He said the government's current annual funding settlements were "incompatible with efficient and effective long-term planning", and should be extended to five-year chunks that "could not be disturbed by short-term political horizons".
Sir Thomas said the criminal justice system was "creaking" and highlighted the rocketing court backlog and a "vast reduction in the number of cases brought to justice".
"This unacceptable delay in taking cases to court will take its toll on the physical and mental health of victims and witnesses and those who are accused," han la til. "Justice delayed is not justice, it is justice denied … the crisis in criminal justice has gone on for far too long."
Ch Supt Griffiths said the key issues facing policing had "remained unchanged" over the two years of his PSA presidency, despite "promises and commitments to change".
He said the government's programme to recruit 20,000 extra police officers over three years failed to include the senior ranks needed to train and manage them, with the number of superintendents rising by only 25 in a year.
"If we want to ensure these new recruits deliver the best possible service to the public, they need to enter infrastructure prepared for them," han la til.
Ms Patel hailed a new police covenant, contained within the Police, Crime, Sentencing and Courts (PCSC) Bill, as a means of reducing demand and protecting the mental health and wellbeing of officers.
derimot, police leaders have voiced opposition to other parts of the bill amid concerns that a crackdown on protest will stoke conflict with demonstrators, and that Traveller communities will be discriminated against with new laws criminalising trespass.
Den uavhengige previously revealed that policing bodies were not formally consulted on for the government's new Beating Crime Plan, which was revealed unexpectedly in July.
The home secretary told the PSA's conference that the plan and PCSC Bill will work "in tandem" to cut crime.
"A critical element to beating crime is ensuring the police have all the powers they need to do their jobs,"La hun til. "We gathered the views of police officers and community scrutiny leaders throughout."