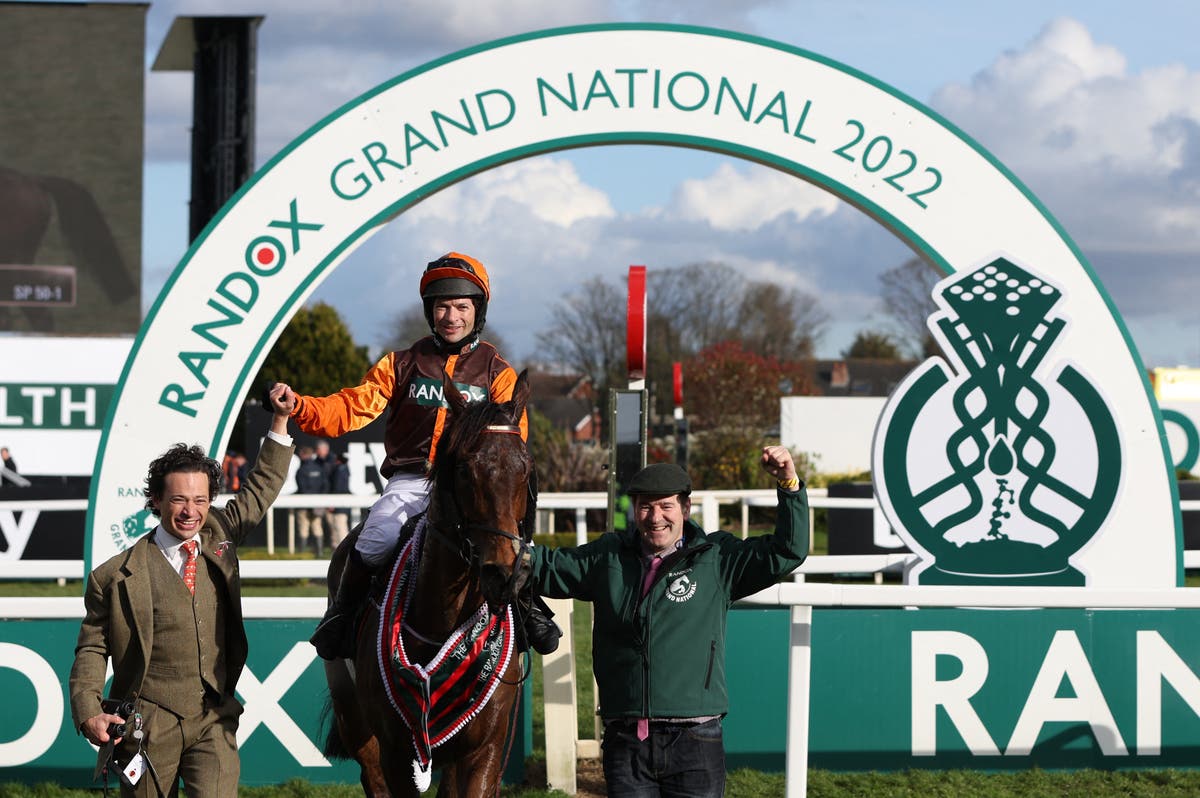 Last year's winner Rachael Blackmore fell early on, riding Minella Times
Amateur rider Sam Waley-Cohen enjoyed a fairytale finale to his career as steered Noble Yeats to victory in the Randox Grand National at Aintree.
The 39-year-old announced his intention to retire on Thursday, nominating Emmet Mullins's charge as his farewell ride in the world's most famous steeplechase.
Sent off at 50-1, few would have expected Noble Yeats to strike in the extended four-and-a-quarter-mile showpiece – but he ran a magnificent race as he fended off the 15-2 favourite Any Second Now for a famous National success.
Coming to the last they were the only pair in contention and under a strong drive, Noble Yeats kept finding more to prevail in the colours of Waley-Cohen's father, Robert. Delta Work (10-1) was third with Santini (33-1) in fourth.
Minella Times, ridden by Rachael Blackmore, fell at the Valentine's Brook fence while Snow Leopardess pulled up before the second circuit.
A jubilant Waley-Cohen – who won the Cheltenham Gold Cup with Long Run in 2011 – said: "He ran for me, he couldn't go the early pace and I just tried to find pockets to give him a bit of space to run into. I found myself on the inner and was going more forward than I wanted to.
"He loves seeing his fences, so I kept trying to find a spot where he could see them. When I asked him he came, but if I just half-asked him he wasn't confident, so I was trying to sit against him – he likes the bit in his mouth and your legs against him.
"I was just trying to get him in that nice rhythm and as soon as I asked him, he went.
"I thought I'd gone too early (at the last). I really didn't want to get there then, but as soon as he picked up I thought 'he's gone, he's got this'.
"Dad has always supported me unwaveringly, we've never had a cross word, it's always been for fun. It's been a love affair. To my wife, long-suffering, they aren't all good days, there are bad days in this sport.
"We came here thinking the sun's out, it's your last ride – go and have a nice spin, no expectations. Just enjoy it.
"It's a dream. I couldn't believe it."
Noble Yeats's trainer Emmet Mullins added that the result was almost unbelievable after the favourite, Any Second Now, trailed by more than a length.
"For Sam to go out on a win like that, you could not write it," he said.
"I was probably more confident a month ago than I was today. It is the stuff of dreams. It's nice when a plan comes together… That last circuit everything seemed to fall into place. I don't know when this will register."
Ted Walsh, trainer of the runner-up Any Second Now, said: "To get that close, it's a sickener, but equally it's a great for the Cohen family, and seeing the father going down the track to meet his son in tears.
"Mark (Walsh, the jockey) said he missed the break but that he jumped and travelled well. I thought jumping the last he might get there, but the other horse has outstayed us from the elbow.
"I've seen a lot happen from the elbow including Crisp getting caught by Red Rum.
"Unfortunately for us the post is another 100 yards away, and that's where you get paid."
Polly Gundry, trainer of Santini, who ran a huge race in fourth, said: "This was such an amazing thrill with a beautiful old fashioned horse and I'm so pleased to see him come back.
"To show the courage to avoid the carnage, I feel honoured to train him.
"He got better and better as the race developed, but we are also thrilled for the Waley-Cohens who come from the point-to-point world like us.
"It's just a fairytale ending."
Additional reporting from PA