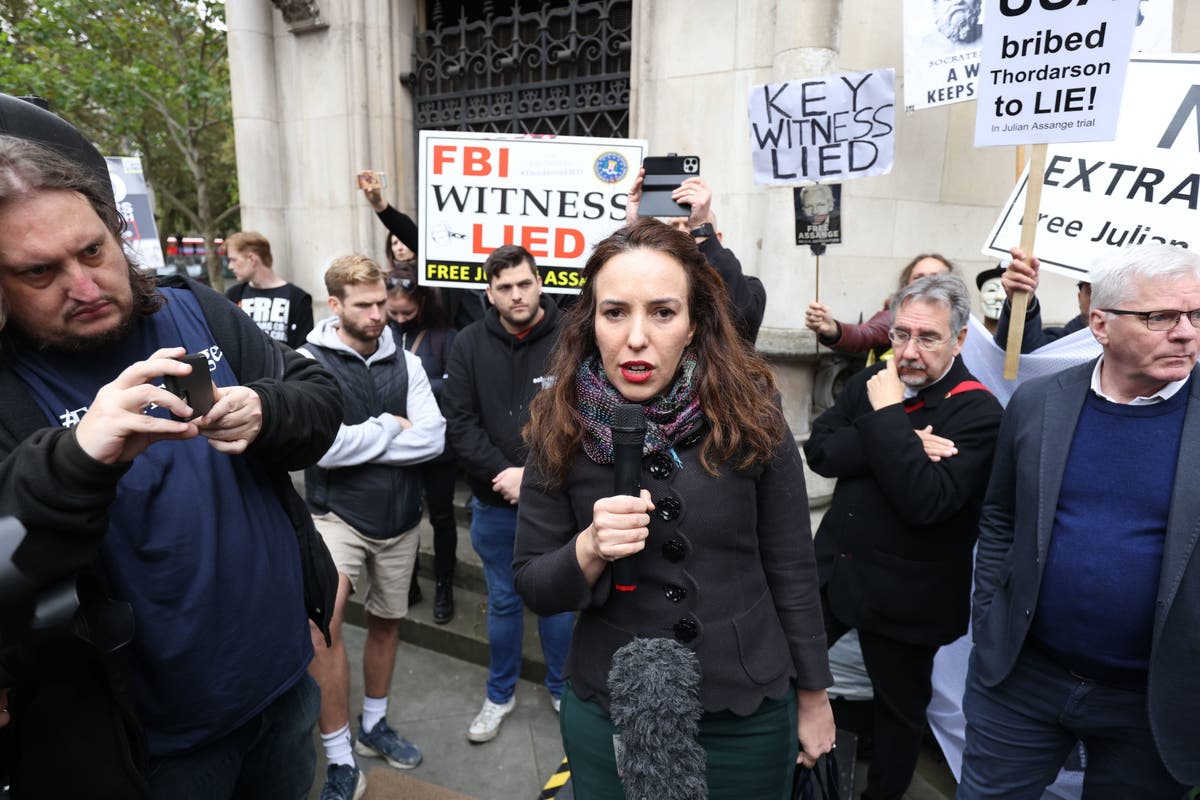 'I'm very concerned for Julian's health,' says partner
Supporters of Julian Assange gathered outside the High Court on Wednesday ahead of a two-day legal challenge by the US against a decision not to grant his extradition.
Signs saying "no extradition" and "truth" were accompanied by loud music and chants near the steps leading up to the court in central London.
Assange, 50, is wanted in the US on allegations of a conspiracy to obtain and disclose national defence information following WikiLeaks' publication of hundreds of thousands of leaked documents relating to the Afghanistan and Iraq wars.
The Australian could not initially be seen on a video-link feed from Belmarsh Prison, where he has been since 2019, as proceedings began on Wednesday. Contudo, he later appeared on a screen in court wearing a black face covering, white shirt and dark tie about 40 minutes into the hearing.
Both the main court and an overflow court at the Royal Courts of Justice were completely full as media and members of the public gathered to watch the day's proceedings.
James Lewis QC, representing the US Court of Appeal, argued assurances over the potential treatment of Assange in the United States meant District Judge Vanessa Baraitser should have ruled in favour of his extradition.
Mr Lewis said Ms Baraitser would have rejected an application under Section 91 of the Extradition Act 2003, under which the physical or mental condition of a person may act as a bar to extradition if it would be unjust or oppressive.
Ms Baraitser ruled in January that Assange should not be sent to the US, citing a real risk of suicide.
The judge concluded there was a real risk Assange would be submitted to special administrative measures (SAMS) and detained at the ADX Florence Supermax jail – a maximum security prison near Colorado – if extradited.
The US has since provided assurances, including that it would consent to him being transferred to Australia to serve any prison sentence he may be given.
Addressing Lord Chief Justice Lord Burnett and Lord Justice Holroyde at the High Court, Mr Lewis said: "We say in light of the assurances, the district judge would have dismissed the Section 91 application and sent the case to the Secretary of State."
He added that had Ms Baraitser "applied the correct test", or "correctly" assessed the "evidence overall" she would have rejected the Section 91 application.
Mr Lewis argued that even if Assange was submitted to special administrative measures and the ADX Florence Supermax jail, it still would not breach Article 3 of the European Convention on Human Rights (ECHR), which prohibits torture and "inhuman or degrading treatment or punishment".
Assange's partner Stella Moris and father John Shipton were among the supporters to arrive at the court on Wednesday.
Ms Moris told reporters: "I'm very concerned for Julian's health, I saw him on Saturday, he's very thin.
"I hope the courts will end this nightmare, that Julian is able to come home soon and that wise heads prevail.
"We're very concerned that he's not able to be here today to give instruction to his lawyers, to be able to ask for clarifications about what's going on in court.
"Julian should never be extradited."
Supporters were also seen setting up a marquee outside the court.
Among them was Nicholas Rainer, 26, from Barking, Leste de Londres, who said: "Any time Julian is in court I'm here as well. They keep trying to silence him and that means they're trying to silence us.
"He should be free – there's no reason for this to keep happening. Hopefully the court will do the right thing."
Sadia Kokni, 40, from Merton, southwest London, disse: "It's so greatly important to be here, it's not just important for journalists it's important for everyone globally.
"It's because of the atrocities he has exposed, he's a justice and truth seeker who stands up for everyone – we're here to make sure justice happens."