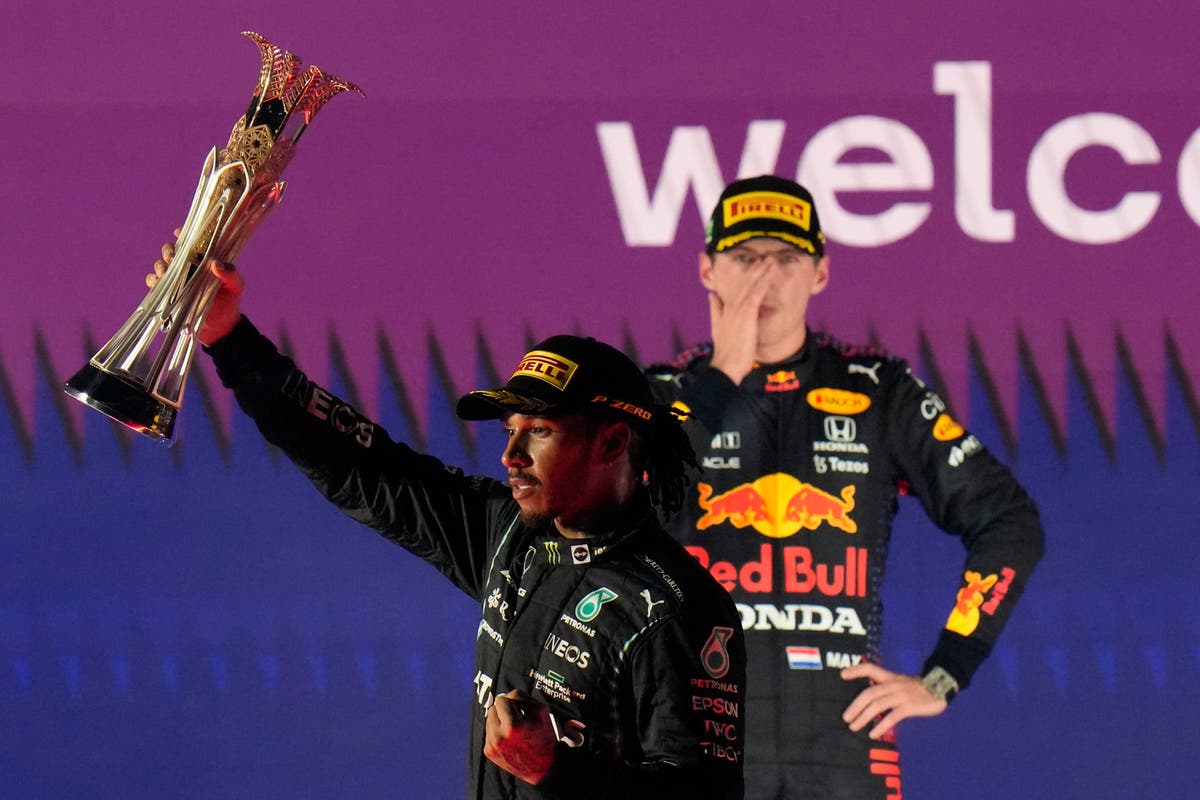 F1 news, standings and race updates
Verstappen and Hamilton go into F1 season finale level on points
Follow all the latest news from Formula 1 as the fallout from Saudi Arabia continues ahead of the final grand prix of the season in Abu Dhabi this weekend, where either Lewis Hamilton or Max Verstappen will be crowned 2021 F1 world champion.
Hamilton and Verstappen are level on points going into the final race after Hamilton's chaotic win in Jeddah, which came after the two clashed multiple times including physical contact when Verstappen suddenly slowed under orders to let Hamilton past him, having illegally held on to the race lead earlier in the night. Hamilton was not prepared and ran into the back of his rival, damaging his front wing. Six laps later, Verstappen eventually handed the lead to Hamilton, who went on to win.
The result means Hamilton, chasing his eighth world title, is level on points with Verstappen, hunting his maiden championship of what is sure to be a stellar career in Formula 1. The pair both have 369.5 points and head to this weekend's finale in Abu Dhabi with everything to play for. Follow all the latest news and updates below.
1638879058
F1 news
Mercedes team boss Toto Wolff has claimed Lewis Hamilton would have still won the Saudi Arabian Grand Prix even if Max Verstappen had started on pole position.
Verstappen look set to secure pole for the penultimate race of the season until his dramatic crash in the final race of qualifying.
Mercedes were surprised at Red Bull's pace but remained confident that they had the advantage over the long run.
"Even [Verstappen] starting from pole position wouldn't have made a big difference, because our car was just stronger," Wolff told the F1 Nation Podcast.
"But the race was so messy, so confusing that I think we could've lost the race twice with the damage and at the end to finish first and third is great."
Jamie Braidwood
7 December 2021 12:10
1638877880
F1 news
Enzo Fittipaldi suffered a fractured heel but escaped further injury following his horror crash with Theo Pourchaire in the F2 race in Saudi Arabia on Sunday.
After Pourchaire stalled on the start line, Fittipaldi, the grandson of Formula 1 legend Emerson Fittipaldi, crashed into the back of the car in front in a sickening incident.
Both drivers were air-lifted to hospital but were conscious following the crash.
"Enzo is awake/alert and resting at the hospital," said Fittpaldi's brother, Pietro Fittipaldi, . "He has a fracture in his right heel but thankfully things are much better than what we all expected. Thank you to the FIA, the team and all the medical staff here in Saudi Arabia."
Jamie Braidwood
7 December 2021 11:51
1638876776
F1 news
Under-fire FIA race director Michael Masi has moved to explain a number of his decisions at at a chaotic and controversial Saudi Arabian Grand Prix on Sunday.
The first-ever race at the Jeddah Corniche Circuit was halted on two occasions by red flag stoppages and there were heated discussions between Masi and the teams.
After Max Verstappen gained an off-track advantage after battling with title rival Lewis Hamilton, Masi at one point offered Red Bull the option to give a place back rather than risking intervention from the stewards.
The conversation between the FIA and the team was broadcast live on television and Red Bull principle Christian Horner later called the negotiations to being at a "local market".
Horner also claimed that Formula 1 was missing the "experience" of former race director Charlie Whiting, but Masi defended his handling of the race and was adamant that his conversion with Red Bull had been a "normal discussion".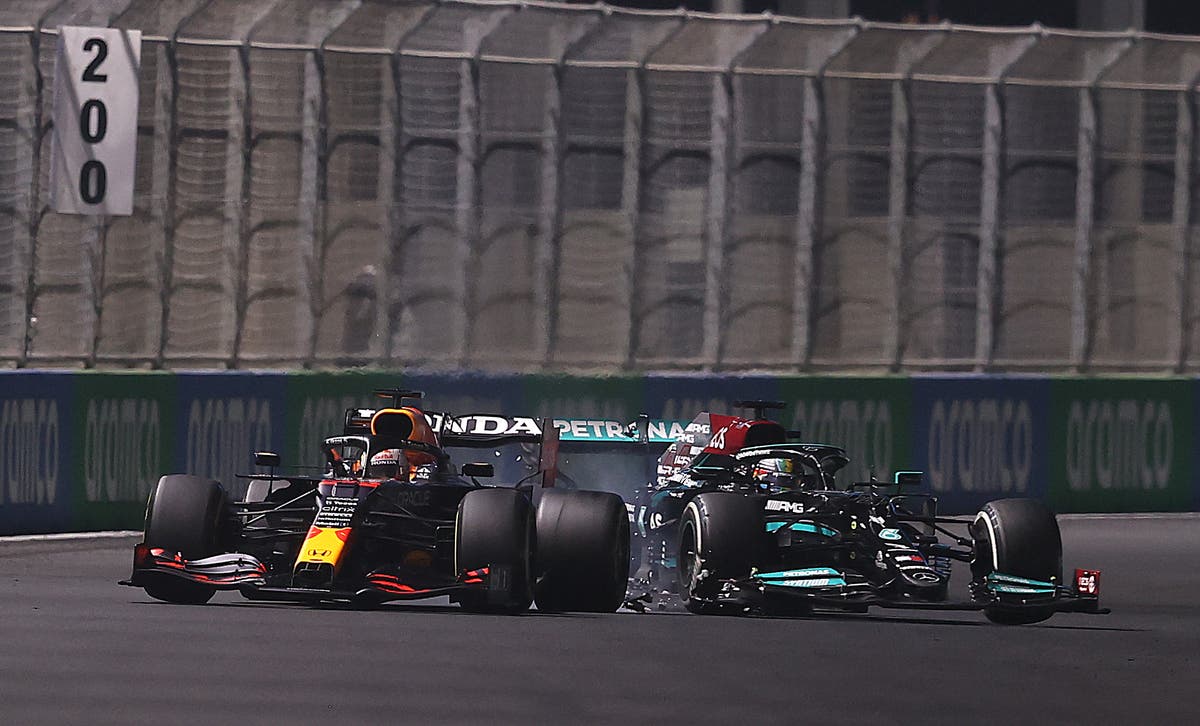 Race director Michael Masi came under criticism from Red Bull boss Christian Horner, who claimed that 'every decision' went against his team during the race
Jamie Braidwood
7 December 2021 11:32
1638875458
F1 news
Lewis Hamilton's bid to win a record eighth Formula One world title should be made free-to-air in the UK, according to a group of leading MPs and House of Lords peers.
Hamilton heads into the season-ending Saudi Arabia Grand Prix level on points with Max Verstappen – the first time since 1974 that the two leading drivers have been level on points going into the final round.
Sky Sports hold the rights to Formula One in the UK and they are facing calls to make the final race of what has been an enthralling season to be available for all to watch, in the same way that Emma Raducanu's US Open win in September was made free-to-air by Amazon Prime in a deal with Channel 4.
The calls have been led by Lord Hain, co-chair of the All-Party Parliamentary Group for Motorsport, who told The Telegraph: "I hope Sky will agree with a free-to-air TV channel to make this historic event available to all the many millions who would want to watch and cheer on Lewis, who is Britain's biggest ever global sports star on the threshold of Formula 1 immortality."
Jamie Braidwood
7 December 2021 11:10
1638874558
F1 news
Mercedes team boss Toto Wolff hopes the F1 title fight between Lewis Hamilton and Max Verstappen will not be decided by a "messy situation".
Verstappen and Hamilton head into the season-ending Abu Dhabi Grand Prix level on points but the risk of a race-ending collision between the drivers was made clear during a chaotic Saudi Arabian Grand Prix on Sunday.
Hamilton was pushed wide by Verstappen in an incident at Turn 4 before the rivals did collide in a bizarre incident when the Red Bull was ordered to give the place back to the seven-time world champion.
"I would hope that [Sunday's] race has enough repercussions that everybody's going to learn from it and adapt for the final race," Wolff said.
"Similar driving, if it were to be deemed by the stewards as over the line, would then probably also be penalised in Abu Dhabi, and that could well end in a messy situation for everybody. I don't think that the championship has deserved a result which was influenced by a collision.
"The emotions are running very, very high. As long as we have a clean race fighting for the drivers' world championship in Abu Dhabi, it was a great season."
Jamie Braidwood
7 December 2021 10:55
1638873541
F1 news
Max Verstappen and Lewis Hamilton will head into the season-ending Abu Dhabi Grand Prix level on points, although the Red Bull driver will win the championship for the first time if neither driver finishes the race as he has nine wins this season to Hamilton's eight.
And Martin Brundle says the 24-year-old has been "playing the game" by forcing Hamilton onto the back foot as the risk to him of crashing out of a race is much greater.
"He's been playing the game given that, with his points advantage, Hamilton simply can't afford to have an accident with him and lose an opportunity to reduce the points deficit," Brundle said.
"Even now despite being absolutely level on points going into the final round, for the first time in F1 since 1974, that remains the case given that he has a 9-8 race victory tally should there be a count-back.
"Such is Max's car control and cunning he's sometimes able to pull off the audacious moves and leave a margin of doubt as to whether it's hard racing or simply a professional foul outside of the regulations. And it's those moments, such as the infamous turn four in Brazil, which are generating the confusion, controversies and inconsistencies."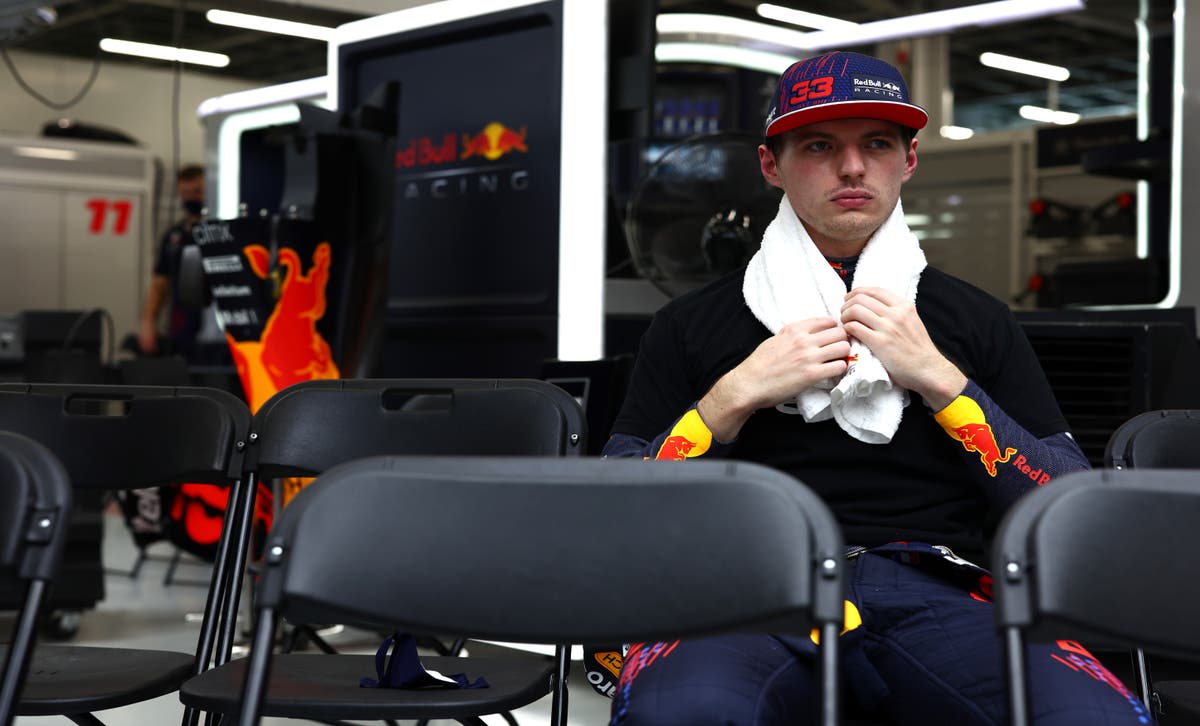 The Red Bull driver is going for his first F1 title but has been warned that he risks denting his reputation
Jamie Braidwood
7 December 2021 10:39
1638872458
F1 news
Jos Verstappen admits he respects Lewis Hamilton but hinted that starts and ends with the Mercedes driver's exploits on the track.
The father of Max Verstappen has been seen emotionally reacting throughout races this season as his son takes the Red Bull to the brink of an F1 title.
But Hamilton, who has pulled level in pursuit of a record-breaking eighth world title, has no relationship with Verstappen senior beyond the track.
"I never speak to Lewis. He doesn't need to speak to me. I'm nothing to him. I respect him as a driver, but the rest… nothing," he told the Daily Mail. "Max and Lewis only speak on the podium, very little. When I see Max with other drivers, I think they get on very well. But with Lewis, nothing. Lewis is in his own world."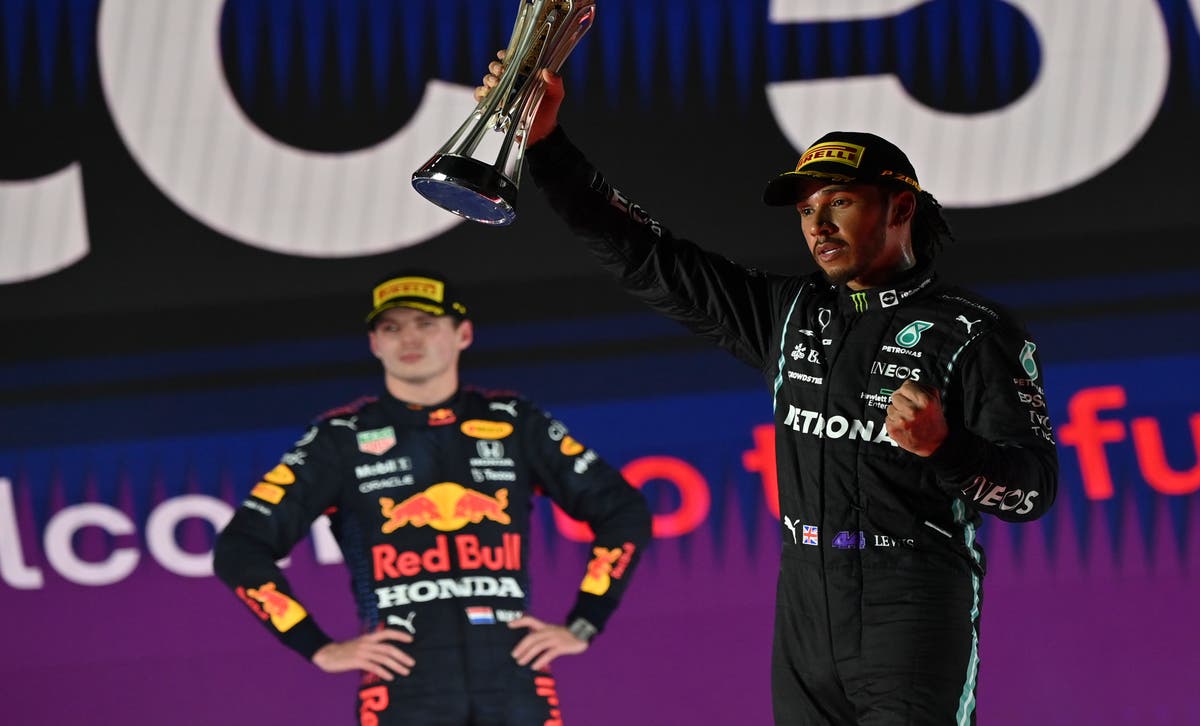 The father of Red Bull star Max Verstappen has compared Lewis Hamilton to Michael Schumacher, who he raced against during his time in F1
Jamie Braidwood
7 December 2021 10:20
1638871956
F1 news
Sergio Perez had a disappointing race at the Saudi Arabian Grand Prix but Red Bull once again secured the fastest pit stop of the race.
Red Bull picked up their 12th fastest pit stop award of the season with a 2.2-second stop for the Mexican. By comparison, Lewis Hamilton's pit stop was 2.49 seconds
Max Verstappen did not stop in the pits during the race as he was able to change his tyres, controversially, during the first red flag stoppage.
Red Bull have nine of the 10 fastest pit stop times so far this season.
Jamie Braidwood
7 December 2021 10:12
1638871258
F1 news
Max Verstappen risks being remembered as an "unfair driver" if he continues to push the limits in his F1 title battle with Lewis Hamilton, according to Martin Brundle .
Hamilton accused Verstappen of driving "over the limit" at the Saudi Arabian Grand Prix and said that he has had to avoid colliding with the Red Bull driver throughout the season due to his aggressive driving.
The championship rivals did collide in a dramatic incident on Lap 37, in which Verstappen was handed a 10-second penalty for braking into Hamilton unexpectedly when he was ordered to let the Mercedes past.
"I'm in awe of Verstappen's driving skills and racing nous," Brundle wrote his in Sky Sports column. "His touch and control behind the wheel is something to behold, but it saddens me that he's resorting to such tactics, he's better than that.
"And for all his outwardly carefree attitude it will be such a shame if his legacy is to be labelled as an unfair driver.
"Ayrton Senna and Michael Schumacher had their faults too, and I was on the receiving end from both of them on occasions, but it's a sizeable dent on their immense reputations, not a positive."
Jamie Braidwood
7 December 2021 10:00
1638870718
F1 news
Haas suffered another miserable race weekend as drivers Mick Schumacher and Nikita Mazepin both crashed out of the Saudi Arabian Grand Prix to extend their run in F1 without picking up a point. But, given that both of their drivers emerged from their crashes unscathed, the double DNF could have been much worse.
In explaining his horror crash which caused the second red flag stoppage, Mazepin said: "I was fighting with [Lance] Stroll out of Turn 2. Turn 3's always easy flat and it was meant to be for both cars. But all of a sudden the car in front, it was George [Russell], he braked, I also tried to brake but there's no way to stop from over 200[km/h] to zero.
"Looking at the replay obviously, there was a car on the inside, [Russell] tried to avoid it himself but he was the last car, so he reacted on the high side and I just couldn't avoid him, because the track was so narrow."
"I was pushing a bit too much, trying to get back into the DRS window from George and lost it going into Turn 22," Schumacher explained. "The pace seemed to be there, we were comfortably keeping up with the Williams and I think that's what we weren't really anticipating. Therefore obviously [I was] highly motivated – and maybe a bit too much in that case."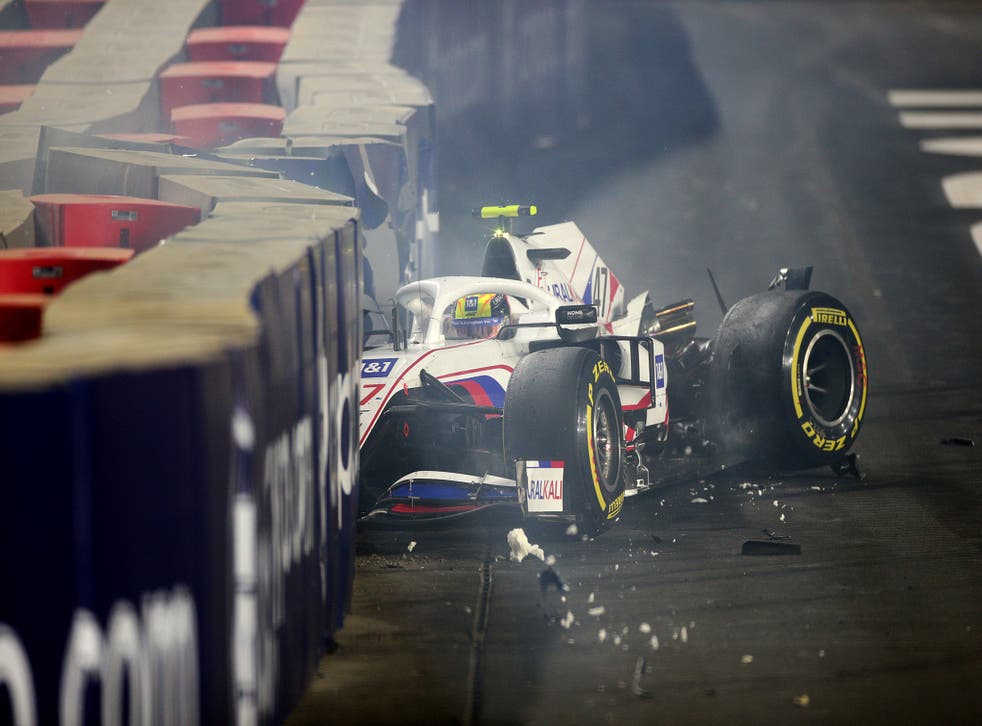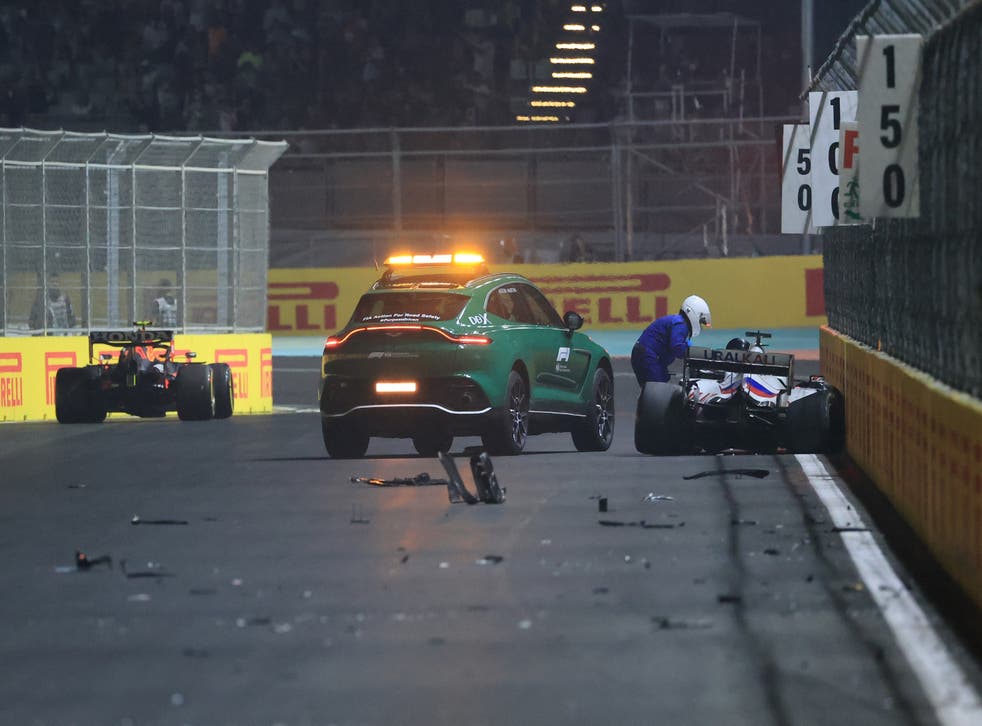 Jamie Braidwood
7 December 2021 09:51