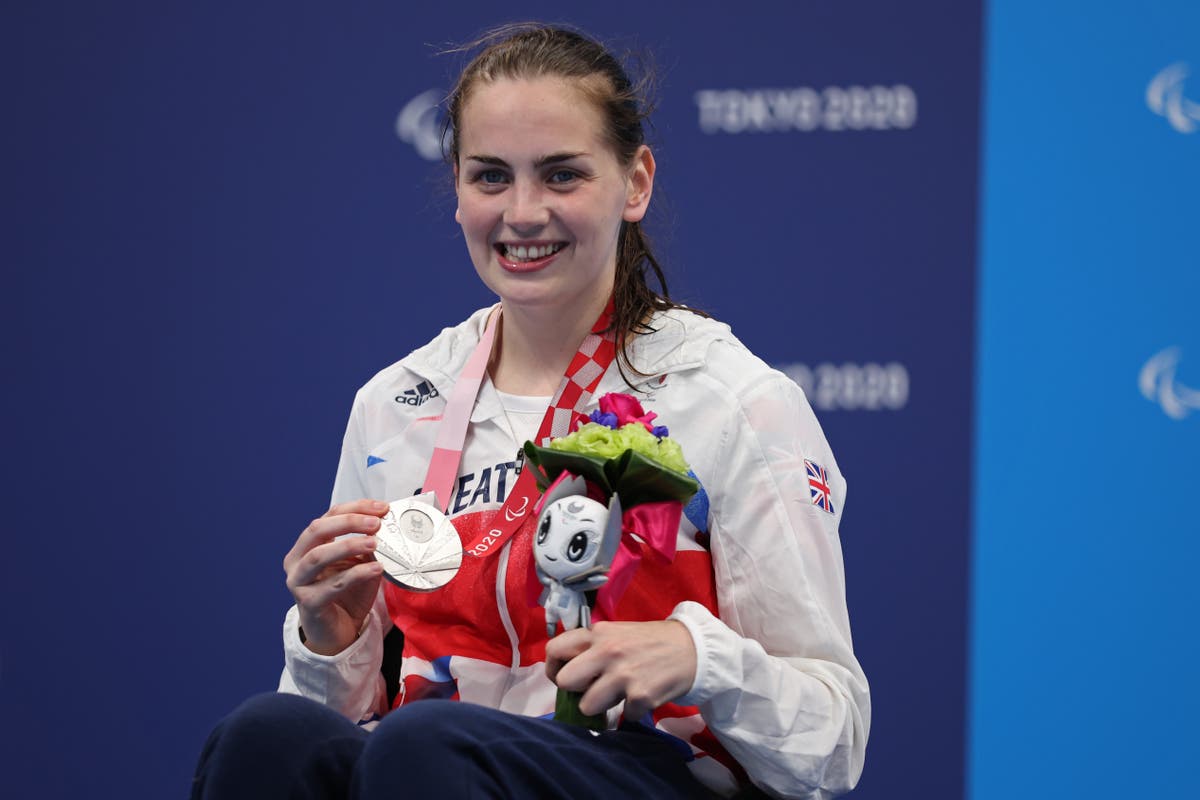 Kearney was expected to be one of the stars of Rio five years ago but was forced to withdraw two weeks before when her condition, dystonia syndrome, worsened significantly
Tully Kearney finally got to cry happy tears just five years after she was told to give up on her Paralympic dream.
The 24-year-old seemed on course for a glorious gold in the 200m S5 freestyle but ran out of steam in the last 25 meter, beaten to the wall by China's Li Zhang.
Kearney was expected to be one of the stars of Rio but was forced to withdraw two weeks before she was due to fly.
Her condition, dystonia syndrome, progressed to the extent she was told her career was over and only her mum could convince her to return to the pool.
The seven-time world champion even had to learn how to swim again and says her medal is a reward for proving all the doubters wrong.
"It means a lot to me because it shows other people with dystonia and all disabilities you don't have to give up," sy het gese. "You can achieve what you want to achieve, you just have to adapt and it might take longer.
"There were many times when I almost gave up. When I started to withdraw, there were many times when I was told I wouldn't swim again and it took me so long to get back into the pool.
"I thought it would be better not to swim than learn I couldn't. But my mum pushed me, because she knew I would find a way. If it wasn't for her, I wouldn't be here."
Reece Dunn matched Kearney's silver in the men's 100m S14 butterfly final, eight months after he bounced back from Covid.
Dunn is the reigning world champion but is focussing on freestyle events in Tokyo and admits he's come a long way since the winter lockdown, when both his mental and physical health suffered.
"In the December just gone, I was down in the dumps and didn't want to get out of bed," hy het gesê. "I was doing three sessions a week and had Covid as well. I was off for four weeks and it took me a while to recover from it.
"So I'm quite happy with it, but obviously a little disappointed to be so far from my personal best."
Teenager Toni Shaw won Great Britain's first medal in the pool with 400m freestyle S9 bronze just two weeks after scoring straight As at A Levels and two months after passing her driving test.
"It's been a really good year," sy het gese. "I was really nervous before but my coach calmed my nerves. I am really happy with my race, I got a personal best which I am really excited about. This is all an incredible experience.
"I know those girls are super-fast and super talented and I was just trying to hold on because they were shooting off. It was a great race and I tried my heart out."
Shaw, 18, trains alongside three-time Olympian Hannah Miley and claims the former world short course champion has been a rock in recent weeks.
"Before I came away, she gave the me the loveliest card and message of good luck and if I ever need some advice and support, she is always there,"Het sy bygevoeg. "She has been there and done it for years and she's such a nice friend, so it's great to have someone like that home."
No one does more to support our Olympic and Paralympic athletes than National Lottery players, who raise around £36m each week for good causes including grassroots and elite sport. Discover the positive impact playing the National Lottery has at www.lotterygoodcauses.org.uk and get involved by using the hashtags: #TNLAthletes #MakeAmazingHappen