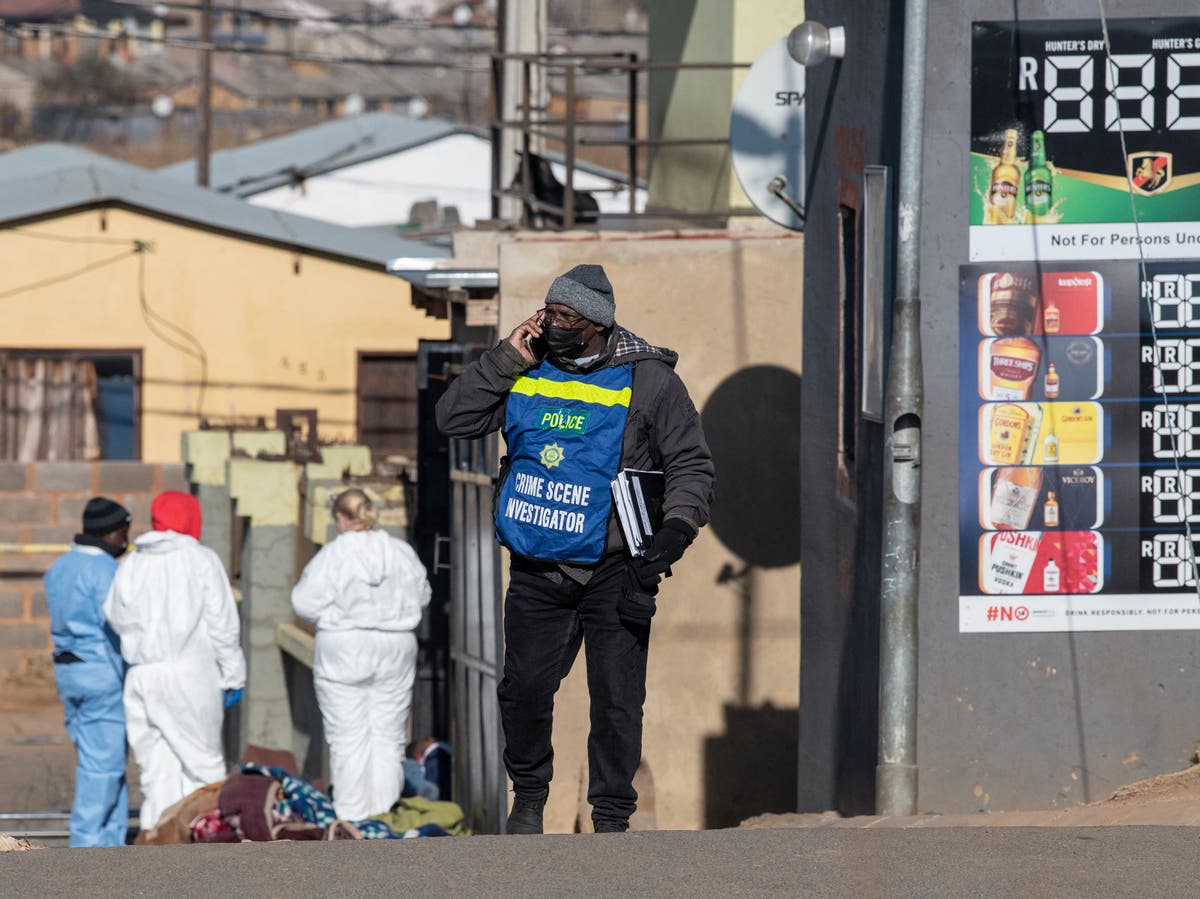 Police investigating reports men arrived in taxi before opening fire on those inside venue
An eyewitness has described the horror of seeing 15 people shot dead at a bar in Johannesburg's Soweto township.
Police are investigating reports a group of men arrived at the Orlando East tavern in a taxi shortly after midnight on Sunday before "shooting randomly at the patrons" inside.
Three people were also critically injured and are being treated in Chris Hani Baragwanath Hospital alongside another victim with less serious injuries.
A man who survived the shooting said he managed to escape by hiding under a table surrounded by dead bodies, but his friend, who was playing pool at the time, died.
The survivor, whose clothes and shoes were reportedly bloodied, told News24: "I was seated at the corner with other people drinking. I saw a man carrying an AK-47 opening the glass sliding door.
"He didn't say anything and started opening fire. My friend and others at the pool table scattered for cover. He sprayed them with bullets.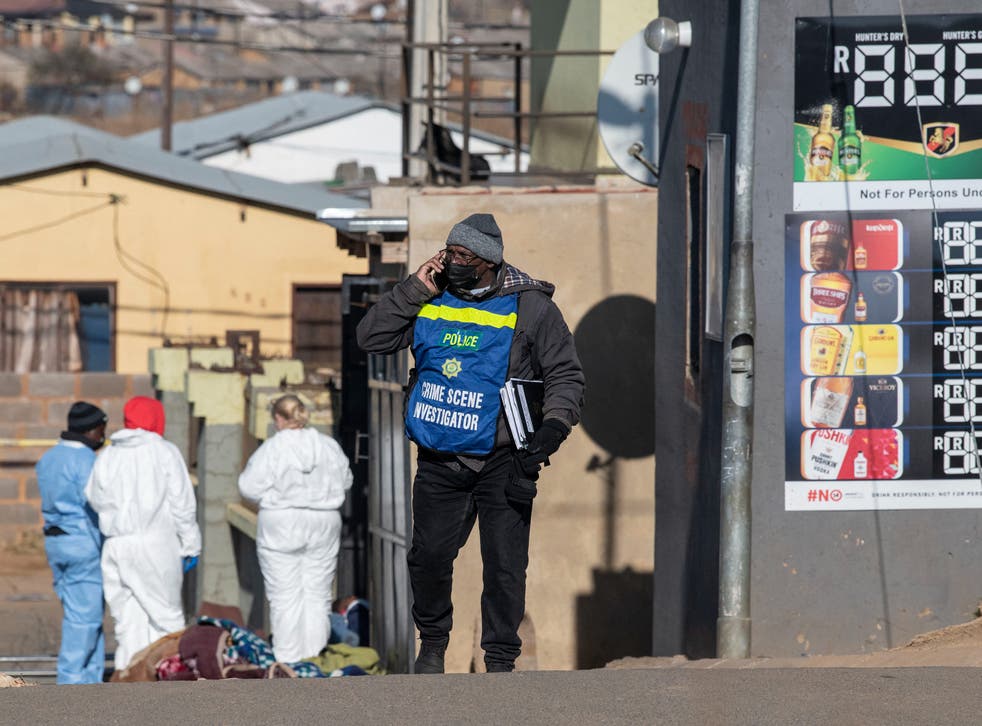 "I saw them falling to the ground. It was pandemonium. I hid under a table. Four dead people were lying near me. Their blood spilt on me.
"After the man with an assault rifle was done. Two others carrying 9mm pistols joined and repeatedly fired at people on the floor."
Gauteng province police commissioner Elias Mawela said the number of cartridges found on the scene indicated a group of people had been firing weapons.
He added: "The primary investigation suggests that these people were enjoying themselves here, in a licensed tavern operating within the right hours.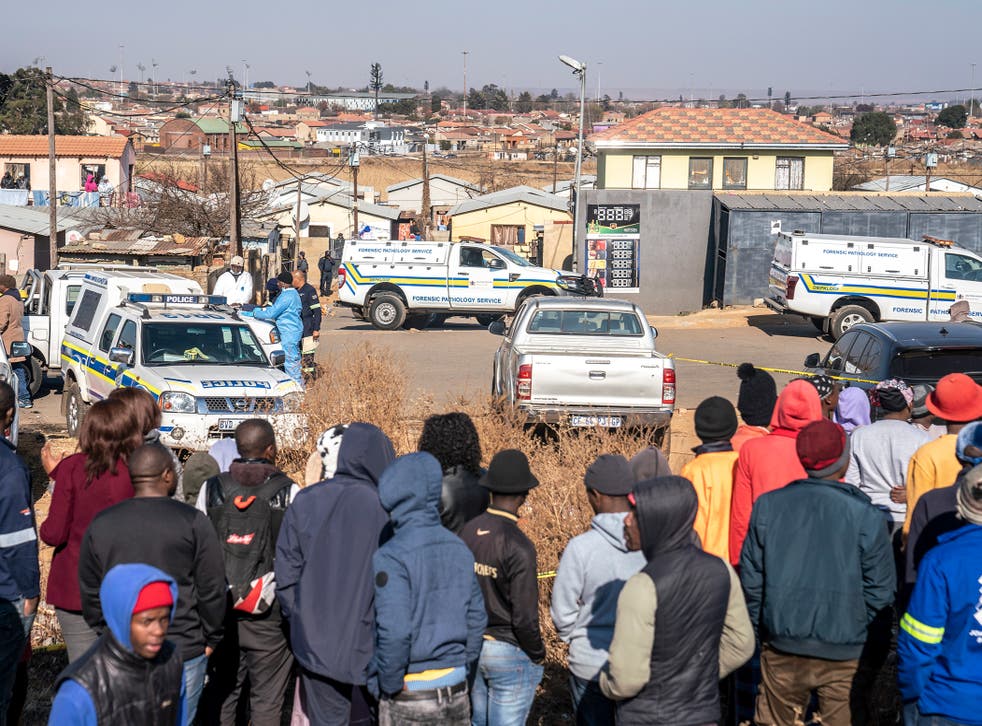 "All of a sudden they heard some gunshots, that is when people tried to run out of the tavern. We don't have the full details at the moment of what is the motive, and why they were targeting these people.
"You can see that a high calibre firearm was used and it was shooting randomly. You can see that every one of those people were struggling to get out of the tavern."
Crowds gathered around the police cordon outside the Soweto bar where police maintained a heavy presence on Sunday as officers combed the area for clues.
One officer was seen carrying zip-locked bags full of spent bullet cartridges.
The area where the shooting took place was very dark, making it harder to find people who could identify the suspects, Mr Mawela added.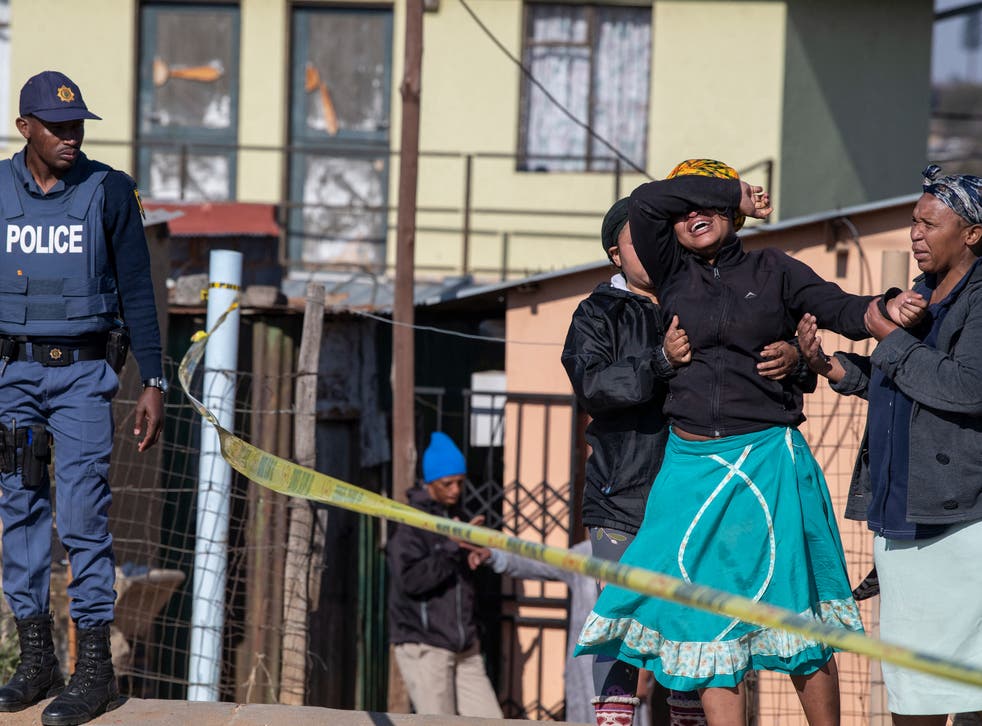 Rifles and a 9mm pistol were used in the attack, said national police spokeswoman Dimakatso Sello.
In a separate incident, four people were shot dead by unknown gunmen at a bar in Sweetwaters township in the coastal city of Pietermaritzburg on Saturday night.
According to police, two men entered the tavern and randomly opened fire on patrons.
Two people died at the scene and two others died later in hospital.
Eight other people injured in the incident are being treated in hospital.
The shootings come just two weeks after 21 teenagers were found dead in a tavern in the city of East London.
The cause of those deaths has not yet been announced by authorities, but the youngsters were not shot nor crushed in a stampede, according to officials.
Additional reporting by Associated Press