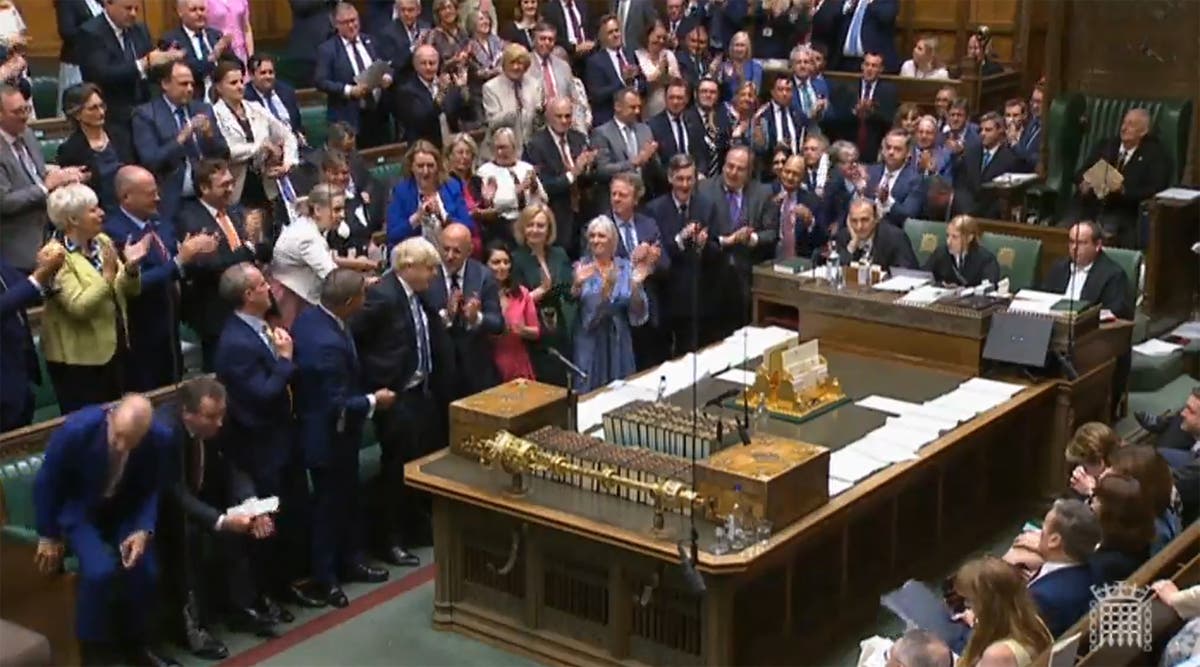 PM urges successor in No 10 to 'cut taxes' and 'stick up' for the Ukrainians
鲍里斯·约翰逊 has received a standing ovation from loyal Tory MPs as he signed off his final prime minister's questions, telling his successor to "always check the rear view mirror".
It comes just weeks after Mr Johnson was forced to set out his departure following mass resignations, a cabinet revolt, and dozens of backbench MP expressing no confidence in his leadership of the country.
With the House of Commons set to go into the summer recess on Thursday, it is likely to be the outgoing prime minister's last appearance at the despatch box, with a new Tory leader revealed on 5 九月.
Addressing his collleagues, Mr Johnson offered "some words of advice" to his successor, "whoever he or she may be" as 里希·苏纳克, Penny Mordaunt, 和 丽兹桁架 vie to replace him in No 10.
"Number one: Stay close to the Americans, stick up for the Ukrainians, stick up for freedom and democracy everywhere," 他说.
"Cut taxes and deregulate wherever you can to make this the greatest place to live and invest, which it is."
In what appeared to be a thinly veiled swipe at his former chancellor Mr Sunak, who precipitated a slew of resignations a fortnight ago as he quit, Mr Johnson added: "I love the Treasury but remember that if we'd always listened to the Treasury we wouldn't have built the M25 or the Channel Tunnel."
伦敦证券交易所暂停交易: "Focus on the road ahead, but always remember to check the rear view mirror and remember above all it's not Twitter that counts.
"It's the people that sent us here, and yes the last few years have been the greatest privilege of my life and it's true that I helped to get the biggest Tory majority for 40 years and a huge realignment in UK politics.
"We transformed our democracy and restored our national independence… I've helped to get this country through a pandemic and help save another country from barbarism, and frankly that's enough to be going on with."
Concluding his final prime minister's questions, 中 which he hurled abuse at the Labour leader Sir Keir Starmer, 他说: "Mission largely accomplished… Hasta la vista baby".