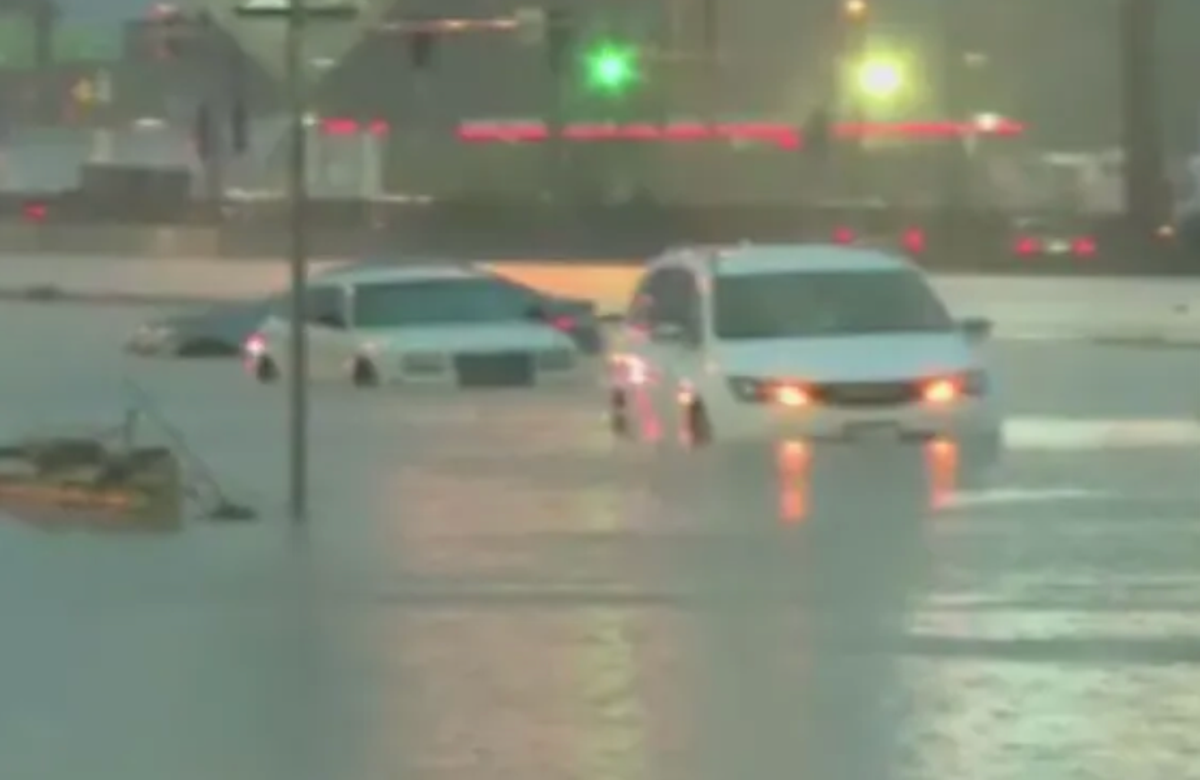 Motorists were advised to avoid interstates this morning after flash flooding closes Interstate 70 in Missouri
A person has died after record-breaking rainfall in St Louis, Missouri, caused flash flooding that submerged cars and left residents trapped in their homes.
Parts of the city received a record-breaking 8.06 inches (20.3cms) of rain in just seven hours, forcing the closure of I-70 in both directions and breaking a 107-year record for most rainfall in an entire day.
St Louis Fire Chief Dennis Jenkerson told a news briefing that firefighters had discovered the victim's body in a car submerged in 8.5 feet (2.6m) of water.
"As the water was receding, the car made itself visible," Mr Jenkerson said.
About 70 people had been rescued from cars and homes in the city, he said.
**All Time Daily Rainfall Record at St. Louis Shattered**
Through 7AM…8.06″ of rainfall has been observed @flystl which breaks the all time daily rainfall record from August 20th 1915 of 6.85″ (remnants of the Galveston 1915 Hurricane). #stlwx #mowx #ilwx

— NWS St. Louis (@NWSStLouis) July 26, 2022
Hours of torrential thunderstorms turned roads into rivers, stranding motorists and forcing residents to shelter in place.
The St Louis Fire Department went to the aid of people trapped in three vehicles that were completely submerged at North Skinker Boulevard. The flooding also trapped residents in 18 homes across the city.
The fire department saved six people and six dogs using an inflatable Zodiac boat. Another 15 chose to remain in their homes, they said.
Families are swimming out of their houses in Southwest St. Louis.
We have already seen the most rainfall in one day in STL history – and it's just 8am. pic.twitter.com/amHcUYk3IB

— Julia Avery (@JuliaAveryTV) July 26, 2022
Julia Avery, a reporter with KMOV4, tweeted photos of St Louis residents wading in waist-deep water just after 9am.
"Families are swimming out of their houses in Southwest St. Louis," she said.
The City of St Louis said in a tweet that the storm had brought down trees and knocked out street lighting.
"If you encounter water-covered roadways, DO NOT drive into the water!"
The Missouri State Highway Patrol advised motorists to avoid travelling on the interstates in St Charles County and St Louis County areas until after the morning rush hour.
The NWS said the 8.06 inches that fell in parts of St Louis surpassed the previous record of 6.85 inches that was recorded on 20 August 1915. That rainfall came from the remnants of the Galveston Hurricane.
They also warned more wild weather could be on the way, with isolated thunderstorms, 60mph (97kms) winds and large hail stones expected in parts of southeast Missouri during the afternoon and evening.
The Missouri Department of Transportation said just after 6am that lanes in both directions on Interstate 70 would be closed for at least four hours around Mid Rivers Mall Drive.