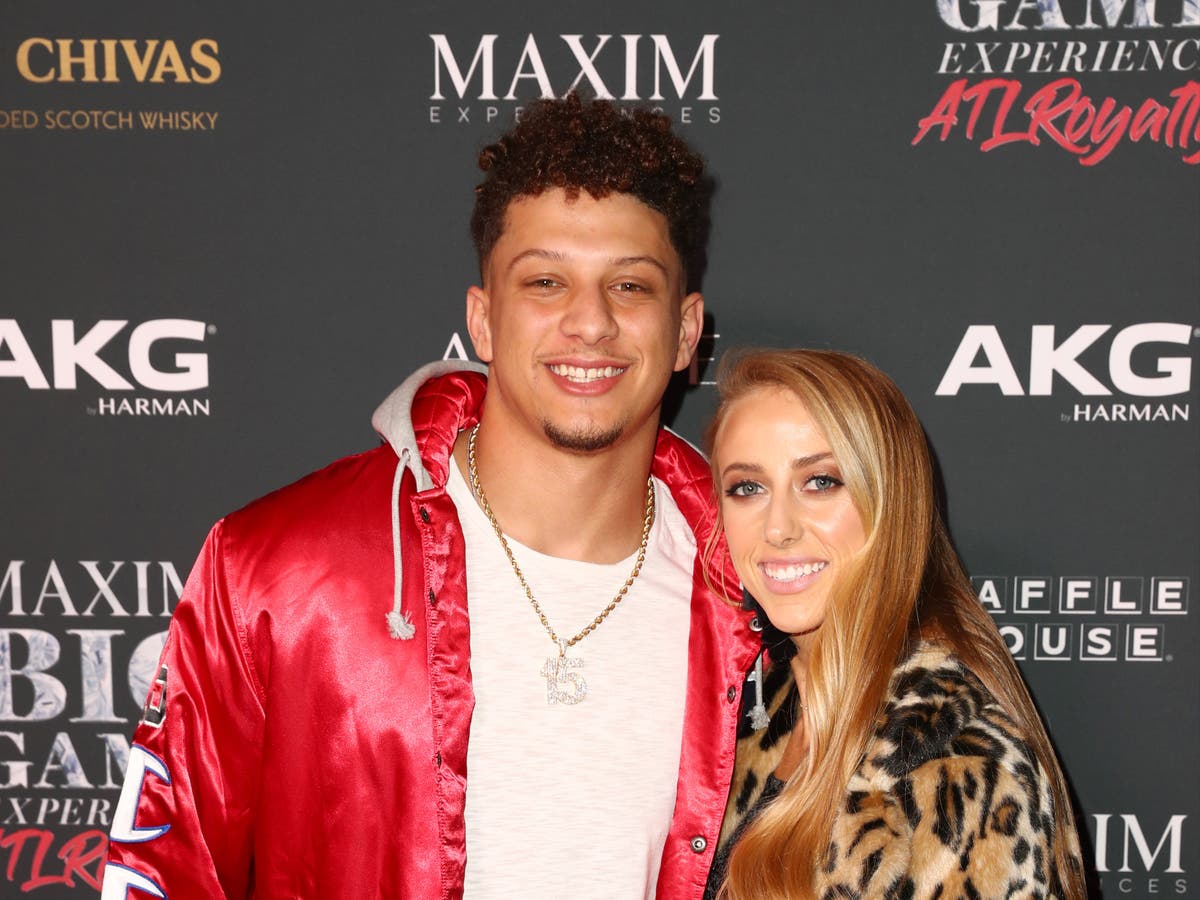 Couple welcomed their first child together in February
Patrick Mahomes has opened up about protecting the privacy of his and fiancée Brittany Matthews' baby daughter, and why the couple decided to share photos of the child's face.
The NFL quarterback and Matthews announced the birth of their daughter Sterling in February with a photo of the baby's hand clasped around Matthews'.
In the months that followed the birth, the couple opted to avoid sharing photos of the newborn's face on their social media accounts, with most pictures of the family captured while Sterling's head was turned the opposite way.
However, in a series of photos of Mahomes, Matthews, and Sterling posted to Instagram last month, the Kansas City Chiefs star shared the baby's face with his fans alongside the caption: "Hello world!" In the album, the infant can be seen dressed in a black Adidas tracksuit and matching bow, while her parents, who are sitting on the floor, smile at her.
According to Mahomes, the decision to post the baby's face on social media was one that he and his finacée made together, with the athlete revealing to Today that the choice was made out of convenience, and because they didn't want to hide her any longer.
"Obviously at first we wanted to keep stuff private and not have her out there," the 25-year-old told Today. "As we started doing different things and she started getting a little bit older, being out and about, it almost became like a burden to try to hide her at all times when we do stuff, and this coming season we want her to be at the games and not have to worry about hiding her the entire time."
Mahomes also said that he and Matthews "figured it was about time," before acknowledging that the family still plans to keep some things private.
"We figured it was about time. We still want to keep some stuff private, but we figured we can show everybody her face at least once or twice or not have to keep hiding her," he said.
According to Mahomes, he also has some idea what it's like growing up in the spotlight, as his father Patrick Mahomes Sr was a professional athlete as well.
However, he does note that the experience will be a "little different in the social media age" for his daughter, before explaining that he and Matthews want to give their child as normal a life as possible.
"We just want to give her the most normal life that she possibly can so she can grow and have friends and learn and get better and better every single day," he said, adding: "There will be points where she'll be in the public eye, and we have a great understanding of that."
As for what it has been like as a new parent, the football player told the outlet that he and Matthews have learned the importance of a sleep schedule, with Mahomes noting that his fiancée has been "a champ".
Mahomes' decision to share his daughter's face is notable considering a number of celebrities, including Eva Mendes and Cameron Diaz, have spoken about their choices to shield their children from public view.