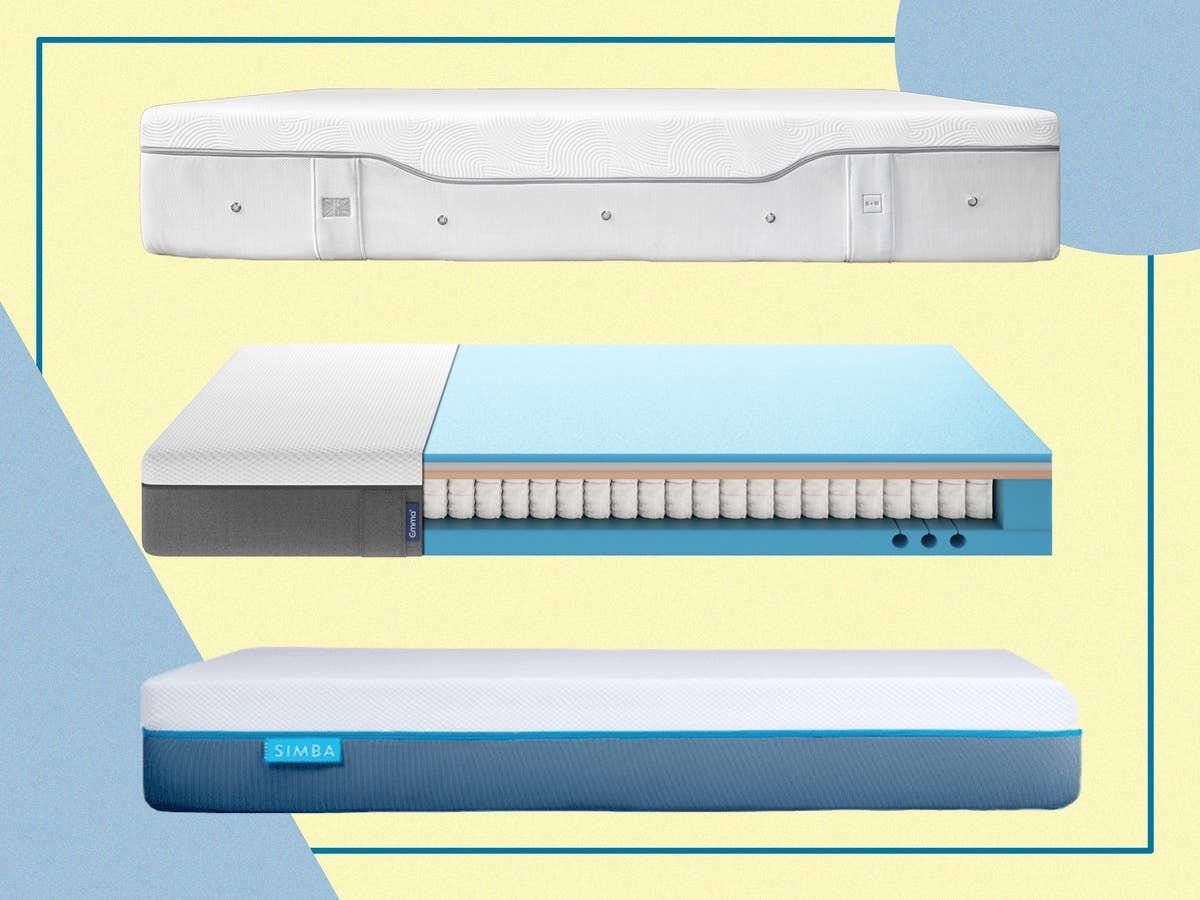 Never miss a wink with the best mattresses of 2022 from Simba, Emma, Eve Sleep and more. Our tester reviewed affordable, luxury, firm and soft mattresses
A good mattress can transform your entire life. We know that's a bold statement, but it's true. Your mattress is one of the key factors that affects your sleep, and quality of sleep. We know there is a bewildering amount of choice out there: foam, hybrid, pocket sprung, no turn, rotate. Have no fear! We've spent months investigating mattresses and testing them in real-world scenarios to find you the very best.
Sleep is vitally important. When we sleep we give our brains and body a chance to repair, recover and process our thoughts. Good-quality sleep will improve your mood and memory as well as help to maintain overall health, weight and energy levels. And one of the most important factors affecting your sleep is your sleep environment, including your mattress.
According to The Sleep Charity, the average person spends about a third of their lives asleep. If the average life of a mattress is seven years (we'll come on to that in a minute), then that's 20,000 hours you'll spend on one.
How do I know when I need a new mattress?
If you're sleeping well on your mattress with no aches or pains then you don't need to change it. But it's important to notice if that's not the case and to take action.
Simon Williams from the National Bed Federation advises you to look for changes in how well you're sleeping [and] sleeping better in other beds when away from home. Other things to look out for are back ache, stiffness in the morning, lumps and bumps in the mattress, squeaks and creaks during the night when you move, rolling into the middle, discolouration of the mattress fabric or wearing away of fabric.
What type of mattress should I get?
OK, so you've decided you want a new mattress. But you're blindsided by the different types. Worry no: here's a quick cheat sheet.
Sprung mattress – these are the traditional-style mattresses, which mostly come all ready to sleep on. They often have several thousand springs, which provide support while you sleep. Williams from the National Bed Federation says: "You should probably look for a minimum of 1,000 springs in a king size. Obviously, this needs to be pro rata'd down when buying a double or single. Where mattresses are advertised as having many thousands of springs, this is where layers of micro-springs are placed over the top of the main pocket spring unit as comfort layers.
Pocket sprung is generally the best type of spring mattress, as the springs move individually from one another, giving better support.
Memory foam – these mattresses have become very popular, as many people like sinking into a bed and having the pressure relieved from their joints. They feel very luxurious. Older-style memory foam mattresses had a reputation for making people overheat, as they would radiate heat back up into the body, but new-style memory foam has moved on from this, and it shouldn't be an issue.
Hybrid – as you might have figured from the name, hybrid combines both memory foam and springs to give you the best of both worlds. They should provide that luxurious sinking feeling alongside some solid spring support.
What level of firmness do I need?
There is no hard and fast rule with firmness. Comfort is the most important thing, says Simon Williams of the National Bed Federation. Most mattresses sold are medium. Clearly it is important not to choose one that is so soft that it doesn't offer sufficient support. On the other hand, choosing one that is too firm could cause pressure points and pins and needles.
Your bodyweight will determine how firmness feels to you. As a general rule of thumb, heavier people prefer firmer mattresses, as soft mattresses may see them sinking, and not getting enough support. On the other hand, lighter builds might find that firm mattresses result in pressure points.
Read more:
Sleeping position also has a role. Back and stomach sleepers prefer firm mattresses – their weight is more distributed, so they will benefit from the support without feeling any pressure. Side sleepers tend to prefer softer mattresses because they have less surface area in contact with it, which increases pressure on hips and shoulders.
Buying the right size mattress for your bed frame
Measure the inside frame of your bed using a tape measure, to check if the mattress is going to fit. Obviously, you don't want it exactly the same because you need a slight gap for changing sheets. If you have a divan bed, take measurements from the top of the divan – not the sides – all the way to each edge.
Can I change my mind?
Most manufacturers will allow for you to try your mattress at home and then return it if you're not happy. But this isn't a given, so always check with the retailer and/or brand you're buying from. While some trial periods are relatively short – 30 days or so – some are up to a year. There will be terms to these trial periods: some will require the use of mattress protectors, while others will expect you to follow care guidelines to the letter. We've listed here the trial and guarantee periods for each of the mattresses we tried.
How we tested
So how did we review the mattresses to find the best one? We slept on the job. Every night for four months, we tried out these mattresses. We tested all the big names, and some smaller brands too. That's around 1,000 hours of testing. We tried them at home, sleeping on each one rather than just lying on it for 10 minutes. We did this alongside a co-tester with different tastes and sleeping preferences, to canvas further opinions.
We looked for how comfortable they were, how thick, how it felt to move around on the mattress, and if we could feel our co-tester when they moved. Overheating was also on our minds – we wanted mattresses that didn't have us waking up in a pool of sweat. This is what we found.
For reference, each price listed below is for a standard double mattress, but we've also detailed which sizes each mattress is available in too.
The verdict: Mattresses
We loved the Hypnos mattress – it's supportive, with a nice amount of bounce-back, and is filled with plenty of natural materials that kept us from overheating. If you're after a tech-filled mattress then Simba's new hybrid luxe is hard to beat, and for real state-of-the-art luxury, there's the Brook and Wilde perla.
Additional mattress FAQs
How often should I change my mattress?
During our research we had lots of conversations with people about how often they would consider buying a new mattress. Most are pretty expensive after all, so it's hard to justify shelling out. But it's an investment not just in your sleep, but your health too.
Simon Williams of the National Bed Federation says: "There is no definitive answer to this, although generally our research shows that around seven to eight years is about the time to be thinking about changing your mattress."
"Your comfort needs may have changed since you bought it and the mattress will have slowly deteriorated over many thousands of nights' use," Williams says. "Also, from a hygiene viewpoint, we lose around half a pint of body moisture a night into our mattress and shed around 1lb of skin scales per year."
A sobering thought. But it's key to note there's no hard and fast rule here. If you look after your mattress, and follow the manufacturer's guidance on rotating and turning, you can prolong its life.
What makes a good mattress?
Obviously what one person finds comfortable won't be the same for another. Some people find firm mattresses suit them well, while others will find they cause too much pressure, even prompting pins and needles. Generally speaking, heavier builds will find a firmer mattress suits best, but they can be hard to tolerate for those with lighter physiques.
Simon Williams counsels always going big. "Buy the biggest size you can fit in your bedroom as more space = less disturbance = better sleep," he says. But always measure your space before you buy.
There's no denying mattresses can be very expensive, but it pays to invest. "Don't buy the cheapest mattress," says Williams. "Even a £1,000 mattress or bed only equates to around 20p per night per person (for a couple) spread over an average product lifespan of seven years."
Lastly, pay close attention to the other fillings in your mattress. If you're an allergy sufferer, go for fillings that are hypoallergenic – natural fibres are often your best bet. Natural fibres also help regulate temperature really well. Even the most high-tech mattresses are now utilising materials such as wool, cotton and silk.
And test mattresses to your heart's content. Go out and lie on some for at least 10 minutes each, rolling over to see how they feel when you're in different positions. Some mattress brands offer a certain number of nights for free, so you can see what it's like at home. But make sure you're aware of all the Ts and Cs, if you plan to use these trials.
When to buy a mattress
If you're looking to save on mattresses, we'd recommend picking one up during sales periods like Black Friday or the January sales. Amazon Prime Day also sees mattresses from big name brands like Simba discounted. Our guide to this year's event – that will be taking place in July – has all the details on what to expect from bed-in-the-box brand's during the sale.
Read more:
Now you've got the mattress, these are the best pillows you need, and the best linen bedding sets too