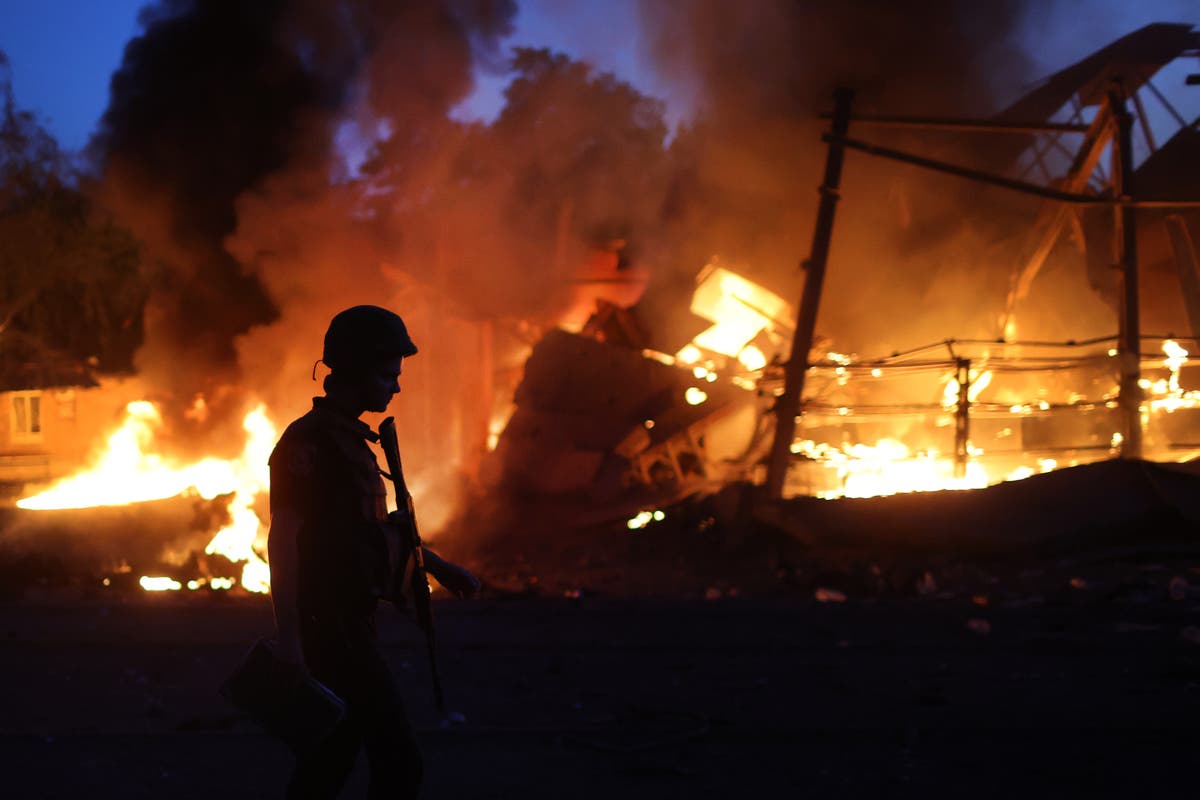 Russian invasion of Ukraine – live updates
Actor Ben Stiller seen in Lviv whilst working with UNHCR to support Ukrainian refugees
Russia's newly-tested Sarmat intercontinental ballistic missiles, nicknamed "Satan 2", will be ready to deploy by the end of the year, Vladimir Putin has claimed.
Officials in Moscow have previously boasted the missiles – which are capable of carrying 10 or more nuclear warheads and decoys – could strike Britain in just "200 seconds".
Mr Putin's remarks came as his ally Nikolai Patrushev, the head of Russia's security council, threatened that Lithuania's population would face "serious negative" consequences if Vilnius continues to block Russian goods from travelling by rail to Kaliningrad, an enclave held by Moscow since 1945.
The EU has told Russia that Lithuania is not acting alone, with Markus Ederer, the bloc's ambassador in Moscow, saying Vilnius was simply "implementing EU sanctions".
In Ukraine, the governor of Luhansk said the situation in the eastern Donbas region is "extremely difficult", warning that Russia is preparing for a large-scale offensive.
Ukrainian president Volodymyr Zelensky has warned Moscow is likely to increase its attacks in the build-up to an EU summit on Thursday and Friday.
1655827867
Russia 'to hold talks with Turkey' over possible Black Sea grain corridor
Russia's defence ministry will hold talks with Turkey about the possible creation of a Black Sea corridor for Ukrainian grain supplies, Kremlin spokesman Dmitry Peskov has been reported as saying.
Vladimir Putin does not plan to take part in these talks, Mr Peskov was quoted as saying by the Tass news agency.
A Turkish military delegation will travel to Russia this week to discuss details of the possible corridor, Turkish broadcasters reported earlier today, citing sources from Turkey's presidency.
Andy Gregory
21 June 2022 17:11
1655826907
Dispatch from Siversk: Inside the town braced for the coming storm of Putin's forces
In his latest dispatch from Ukraine, our defence and security editor Kim Sengupta reports:
In the general store on the outskirts of Siversk, the shelves are mostly empty and the dwindling stock is sold by the owner at giveaway prices to customers in need. Locals gather from time to time on the porch outside to exchange news.
It is a nondescript building of no strategic significance, but it has repeatedly been targeted by the Russians. The reason for these attacks? Worker Igor Klimenko points at a Ukrainian flag flying on the roof.
Mortar rounds have whizzed past the shop ever since he put up the flag. "They have drones in the air and I'm sure they have seen it. Some people around here have asked me to take it down, but I'm not going to. Anyway, they are bad shots, they keep missing," he says, gesturing towards holes in a field at the back.
Few of the buildings in Siversk have escaped the Russian attacks. This small town, away from the main urban centres, is on the front line in eastern Ukraine, and has been in the firing line ever since Vladimir Putin ordered his February invasion.
Siversk will be directly in the path of Russian troops if they manage to capture the twin cities of Lysychansk and Sievierodonetsk, thus seizing the whole of the Luhansk area to use as a launchpad for an assault on the rest of the Donbas.
You can read his full report here: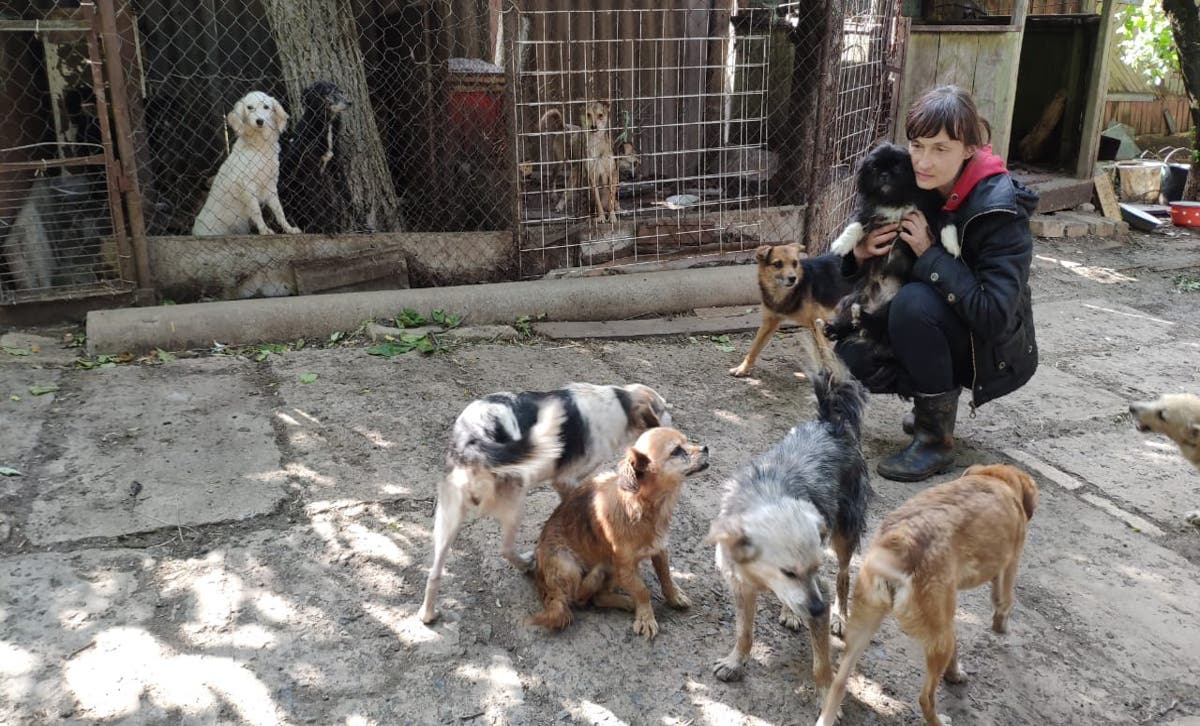 On the frontline town, Kim Sengupta finds residents – and pets – braced for Putin's advancing forces
Andy Gregory
21 June 2022 16:55
1655825637
Putin spokesman denies Russia is holding US basketball player hostage
Vladimir Putin's top spokesman has disputed the US State Department's assertion that WNBA star Brittney Griner is being held "hostage", my colleague Bevan Hurley reports.
Dmitry Peskov told NBC News that Ms Griner was being prosecuted in accordance with Russian law after she was allegedly found with cannabis vape cartridges in her luggage, and gave no indication when the Olympic basketball star might be released.
"Why should we make an exemption for a foreign citizen?" Mr Peskov said. "She violated Russian law, and now she's being prosecuted. It's not about being a hostage. There are lots of American citizens here. They're enjoying their freedoms … but you have to obey the laws."
In May, the US State Department designated Ms Griner as wrongfully detained and moved her case under the supervision of its Special Presidential Envoy for Hostage Affairs, effectively the government's chief hostage negotiator.
Mr Peskov said he could not comment on why Ms Griner hadn't instead been denied entry, or sent home, instead of being incarcerated.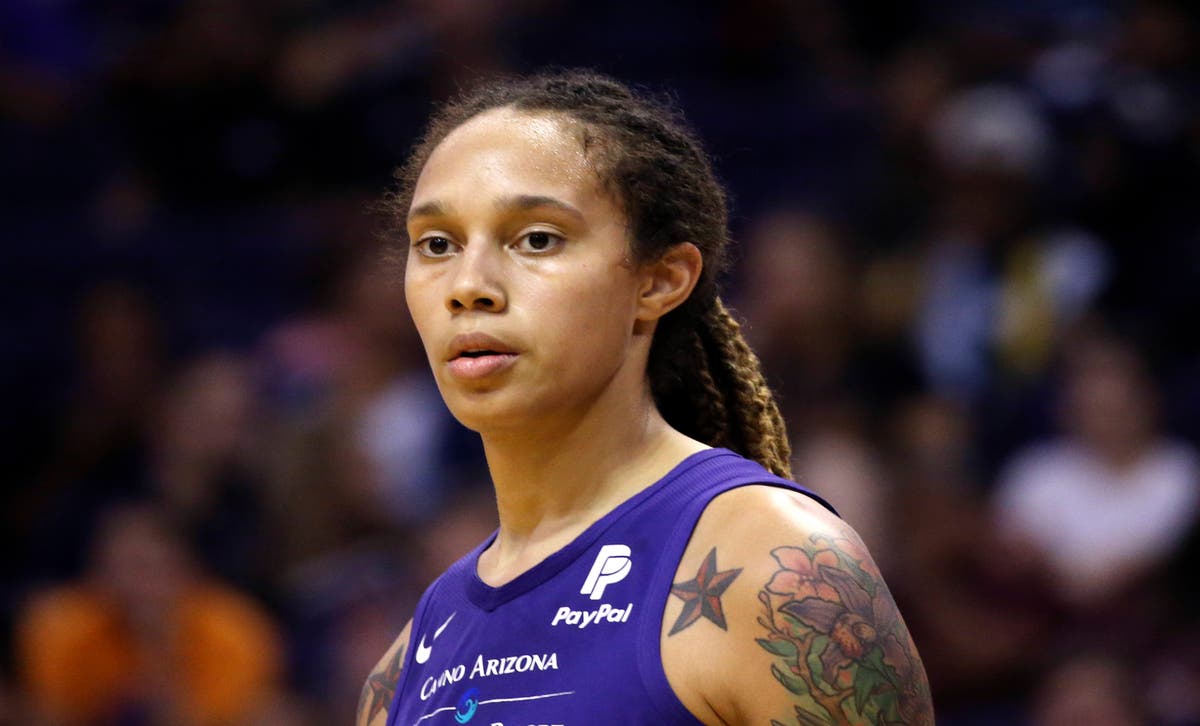 'She violated Russian law, and now she's being prosecuted'
Andy Gregory
21 June 2022 16:33
1655823547
Putin claims 'Satan 2' nuclear missiles will be ready to deploy by year's end
Russia's newly-tested Sarmat intercontinental ballistic missiles – capable of carrying 10 or more nuclear warheads and decoys – will be deployed for duty by the end of the year, Vladimir Putin has claimed.
Officials in Moscow have previously boasted the missiles, nicknamed "Satan 2", could strike Britain in just "200 seconds".
Pledging on Tuesday in televised comments that Russia will "continue to develop and strengthen our armed forces, taking into account potential military threats and risks", the Russian president said that the newly tested missiles would be ready by the year's end.
In April, Dmitry Rogozin, the head of the Roscosmos space agency, said that Russia planned to deploy the new missiles by this autumn.
Andy Gregory
21 June 2022 15:59
1655822372
Future EU sanctions 'could target gold'
Gold could be a possible target of new European Union sanctions against Russia, officials have said.
A draft conclusion of the EU summit this week, seen by Reuters and dated 20 June, reportedly states that "work will continue on sactions, including to strengthen implementation and prevent circumvention".
The text represents a compromise between Nordic and eastern countries which pushed for a clear reference to a seventh package of sanctions in the summit statement, and nations such as Germany and Belgium which want to focus on applying existing measures rather than immediately adding more.
In a previous version of the text there was no mention of more work on sanctions, with the tweak representing a win for hawks – but, in line with Germany's wishes, the new text does not explicitly refer to a seventh package, Reuters reported.
Although no new package is currently being prepared, work is ongoing to identify sectors that could be hit, officials told the news agency, with gold – a crucial asset for the Russian Central Bank – being considered as one of the next potential targets, a person familiar with the matter told Reuters.
And a spokesperson for the Danish ambassador to the EU told the agency that, at a closed-door meeting of EU envoys last week, Denmark suggested further sanctions could include gold.
Andy Gregory
21 June 2022 15:39
1655820847
Europe 'cannot defend itself' without the US, Polish minister says
Europe "cannot defend itself" without the United States, Poland's foreign minister has said, describing Washington's engagement in European security as "a fundamental condition of peace in Europe".
At a gathering of Polish ambassadors, Zbigniew Rau credited US leadership in Nato as being key to a decision for a "rapid and effective adaptation to the Russian threat in 2016", in comments carried by the state news agency PAP.
It was then that Nato increased its presence on the eastern flank of Nato following Russia's seizure of Crimea in 2014 and its support for pro-Moscow insurgents in Ukraine's eastern Donbas region.
After Russia's invasion of Ukraine, the US this year deployed more soldiers to Poland and is using the country as a hub for weapons going to help the Ukrainians.
"The current crisis clearly shows that without the United States, Europe cannot defend itself," Mr Rau said. He expressed gratitude to Washington but said it should not have to take "all the responsibility", which also "rests on the shoulders" of European allies.
Andy Gregory
21 June 2022 15:14
1655819347
US attorney general to visit Ukraine to discuss war crimes
US attorney general Merrick Garland will visit Ukraine today to discuss efforts to identify, arrest and prosecute those involved in war crimes and other atrocities committed during Russia's invasion, a Justice Department official has said.
Mr Garland will meet with Ukrainian Prosecutor General Iryna Venediktova, the official said.
Andy Gregory
21 June 2022 14:49
1655817942
UK will seek to 'drain the grain from Ukraine', Boris Johnson tells Cabinet
Boris Johnson has promised the UK will be "steadfast" in supporting Ukrainians as he warned of "growing fatigue" around the conflict and said any concessions to Vladimir Putin would be a "disaster".
The UK prime minister vowed to ensure "fresh political, military and financial support from the international community" to the war-torn country, his official spokesman said today.
"The prime minister's concern is that it may not be at the forefront of everyone's minds, because of … some of those wider global challenges we're facing, not least on inflation around the world," according to the official.
Mr Johnson has told his Cabinet that "we must not allow anyone to believe that making concessions to Putin would lead to anything but disaster", as this could be "perceived to be a reward for their unwarranted aggression" and "would embolden not just Russia but their allies and have an impact on UK security and on our economy," the spokesperson said.
At the Cabinet meeting, Mr Johnson also said Britain would work to "drain the grain from Ukraine" as "the bombardment of cities and infrastructure and the blockade of ports is crippling Ukraine's ability to export its produce".
Andy Gregory
21 June 2022 14:25
1655816143
Much of east Ukraine 'on fire', says Luhansk governor
Russian assaults have left much of eastern Ukraine "on fire", the governor of Luhansk region has said. "Today everything that can burn is on fire," Serhiy Haidai told AP.
Speaking about the situation at a besieged chemical plant on the outskirts of the heavily-destroyed city Sievierodonetsk, Mr Haidai said: "It is a sheer catastrophe.
"Our positions are being fired at from howitzers, multiple rocket launchers, large-caliber artillery, missile strikes." 
Rory Sullivan
21 June 2022 13:55
1655814643
Russia denies knowing where two US captives are being held
Moscow has said it does not know the location of two Americans captured by pro-Russian separatists in Ukraine.
This follows unconfirmed reports that Alexander Drueke, 39, and Andy Huynh, 27, were being held in Donetsk province.
Earlier this month, three men – two Britons and one Moroccan – were sentenced to death by a court in self-proclaimed Donetsk People's Republic (DPR) for fighting for Ukraine.
Rory Sullivan
21 June 2022 13:30