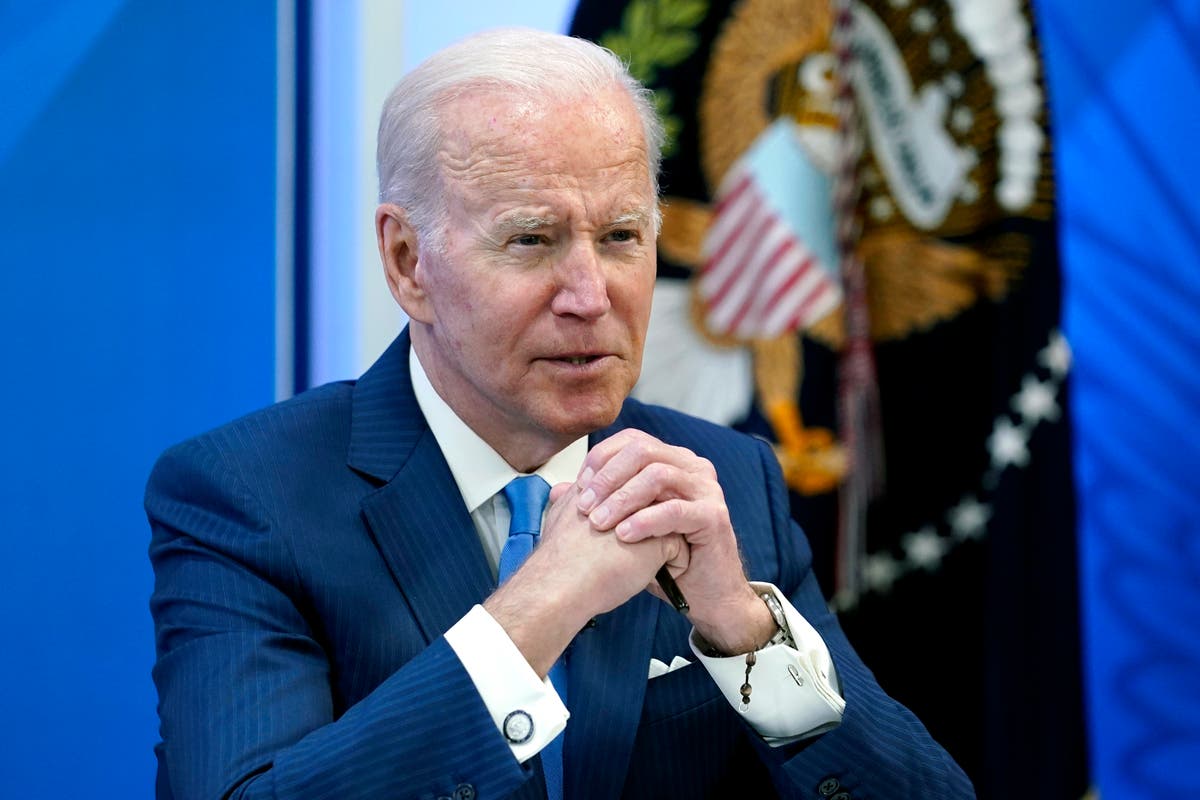 'I believe that a woman's right to choose is fundamental, Roe has been the law of the land for almost fifty years, and basic fairness and the stability of our law demand that it not be overturned'
President Joe Biden on Tuesday said he was "not prepared" to leave women's right to choose "to the whims of the public" in the wake of the unprecedented leak of a draft Supreme Court opinion allowing states to force women to carry pregnancies to term.
"One of the reasons why I voted against the number of the members in the court, they didn't choose to acknowledge that there's a Ninth Amendment, they didn't choose to acknowledge there's a right to privacy," he said. "I mean, there's so many fundamental rights that are affected by that, and I'm not prepared to leave that to the whims of the public at the moment".
Speaking to reporters at Joint Base Andrews before boarding Air Force One for a trip to Alabama, Mr Biden said he had been told the draft had been confimed as authentic but not representative of a final decision on whether the court will overturn the landmark 1973 Roe v. Wade ruling.
Mr Biden said he hoped there will not be enough votes for it, and stressed that such an opinion was why he had "worked so hard" to keep District of Columbia Circuit Judge Robert Bork off the court when then-president Ronald Reagan nominated him in 1987.
"The idea that concerns me a great deal is that we're gonna, after 50 years, decide a woman does not have a right to choose," he said. "Even more equally as profound as the rationale used. It would mean that every other decision we made to the notion of privacy is thrown into question".
One of the "debates" he had with Judge Bork as chairman of the Senate Judiciary Committee during his 1987 confirmation hearing, he said, was whether another landmark Supreme Court guaranteeing the right of married couples to use birth control — Griswold v Connecticut — should be overruled.
"If what is written is what remains, it goes far beyond the concern of whether or not there's the right to choose, because there are other basic rights — the right to marriage, the right to determine a whole range of things — because one of the issues that this Court and members of the court … have not acknowledged is that there is a right to privacy in our Constitution," he said.
Mr Biden added that such a decision would be a "radical" one because the "underlying premise" of the draft opinion would affect "all the decisions related to your private life, who you marry, whether or not you decide to conceive a child or not whether or not you have an abortion, a range of other decisions".
"Does this mean that in Florida, they can decide they're going to pass a law saying that same sex marriage is not permissible, it's against the law in Florida? It's a whole fundamental shift in American jurisprudence," he said.
In a written statement released earlier on Tuesday, the president also stressed that his administration "argued strongly" in favour of Roe in arguments before the court earlier this year.
"We said that Roe is based on 'a long line of precedent recognizing 'the Fourteenth Amendment's concept of personal liberty'… against government interference with intensely personal decisions," he said.
"I believe that a woman's right to choose is fundamental, Roe has been the law of the land for almost fifty years, and basic fairness and the stability of our law demand that it not be overturned".
Mr Biden also said he has already asked the White House Counsel's office and the White House Gender Policy Council to develop "options" to counter what he described as "the continued attack on abortion and reproductive rights" by preparing for "under a variety of possible outcomes in the cases pending before the Supreme Court".
"We will be ready when any ruling is issued," he said.
The president added that should the high court reverse the 49-year-old precedent, the duty to protect women's right to decide whether to carry a pregnancy to term "will fall on our nation's elected officials at all levels of government" as well as voters, who will need to elect "pro-choice officials" in the upcoming midterm elections.
"At the federal level, we will need more pro-choice Senators and a pro-choice majority in the House to adopt legislation that codifies Roe, which I will work to pass and sign into law," he said.
The president's vow to protect the right to end a pregnancy — a right enjoyed by American women for a half-century — comes just hours after the extraordinary leak of the draft opinion, purportedly authored by Justice Samuel Alito and joined by Justices Clarence Thomas, Brett Kavanaugh, and Amy Coney Barrett, overruling the court's two prior opinions upholding that right in Roe and Planned Parenthood v Casey.
"We hold that Roe and Casey must be overruled," he wrote. "It is time to heed the Constitution and return the issue of abortion to the people's elected representatives".
Legal experts have said overturning Roe and Casey would also give the court's conservative majority a start down a path that could end with it overturning other landmark cases which rely on it, including Obergefell v Hodges, the 2015 case which legalised same-sex marriage across the United States, and United States v Windsor, which overturned the federal Defence of Marriage Act.