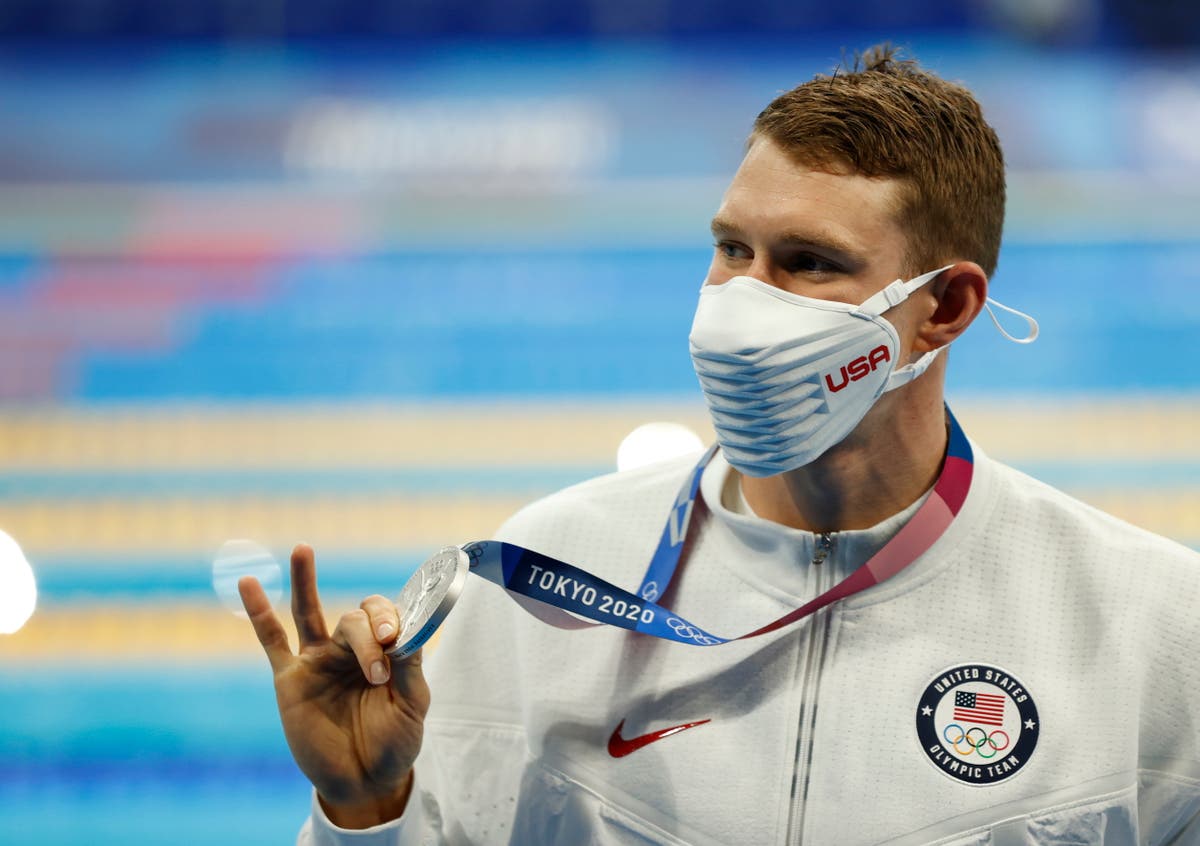 The dethroned Olympic 200m backstroke champion stopped short of accusing Evgeny Rylov of cheating as he raised major doubts over the integrity of the Games
United States swimmer Ryan Murphy has questioned the integrity of swimming after Evgeny Rylov of the Russian Olympic Committee won gold in the 200m backstroke final.
Murphy, who finished second to take silver, stopped short of accusing Rylov of cheating, stating he had "about 15 thoughts" but that "13 of them would get me into a lot of trouble" as he passed by reporters. "It is a huge mental drain on me throughout the year to know that I'm swimming in a race that's probably not clean, and that is what it is."
Later, sat alongside Rylov, and British swimmer Luke Greenback who won bronze, Murphy – defending champion in this event from Rio before he was dethroned here in Tokyo – clarified his remarks but did not row back on his claims dopping remains a huge problem in swimming.
"You can't answer that question with 100 per cent certainly," he said when asked if the final itself was not clean. "I don't know if it was 100 per cent clean and that is because of things that have happened over the past. At the end of the day, I do believe there is doping swimming. That is what it is."
Murphy revealed his doubts over swimming were exacerbated by a meeting with new Fina executive director Brent Nowicki. The federation is recognised by the International Olympic Committee for overseeing international watersports, including swimming but has come under scrutiny over the last few years for consistently turning a blind eye to corruption of all forms.
"I met the new Fina executive director, Mr Nowicki, at Olympic trials. We were talking about Fina and things they want to do to help push the sport forward. He was asking me for my take and I was like, 'OK, I think Fina needs to be a little more transparent, both on the financial side and the drug testing side. And what he said was, 'OK we are working on it – it's going to be hard and it's going to take a long time to clear this sport of doping'. When you hear that from the top, that's tough to hear. That is what I believe."
Greenbank also shared Murphy's worries about the purity of the sport. The 23-year-old, who is at his first Olympics, admitted the situation was tough to square.
"It's obviously a very difficult situation not knowing whether who you are racing against is clean," said Greenback, first into the press conference with Rylov and Murphy staggering their arrivals. "It is something that is part of sports and to be honest the board needs to tackle that.
"There's a lot of media around the Russian federation coming into the Olympics. It's frustrating seeing that as an athlete, having known that there is state-sponsored doping programme going on and more could be done to tackle that."
Though neither Murphy nor Greenbank directly accused Rylov of doping, the Russian insisted he was clean.
"I have always been for clean competition. I am always tested. I will fill out all of the forms. From the bottom of my heart, I am for clean sport. I am devoting my whole life to this sport. I don't even know how to react to that. Ryan didn't accuse me of anything so I'd rather not react to what he said.
"Ryan has all the right to think the way he does and to say whatever he says. This is today and here that we live. We don't live in the past, we don't if we live in the future. The time will tell. Honestly, he did not accuse me of anything, that is why I don't have anything against him because he didn't put up forth anything against me directly."
There has been palpable tension around the 335 Russians competing out in Tokyo under the "Russian Olympic Committee" banner. The country's flag and anthem may not be seen or heard at these Games, but at the time of writing their athletes sit fourth in the overall medal table with 30, including nine golds.
On Wednesday, Russian tennis star Daniil Medvedev reacted angrily to a journalist's assertion there is a stigma of cheating attached to the Russians competing in the Games. "You should be embarrassed of yourself. I think you should wire him from the Olympics, I don't wanna see him again."
Russia were found guilty of a state-sponsored doping scheme, which included Russian officials tampering with data provided by the Russian Anti-Doping Agency and subsequently banned from competing at the 2018 Winter Olympics in Pyeongchang, with Russia banned from competing as a country in athletics since 2015.
The Court of Arbitration for Sport found their Anti-Doping Agency non-compliant, with a three-judge panel unanimously agreeing that the Russian Anti-Doping Agency (Rusada) failed to provide authentic drug-test data upon request by the World Anti-Doping Agency (Wada), who had initially pushed for a four-year ban.
That ban was reduced to two years in 2020, which still meant Russia would not compete in these Olympics or the 2022 football World Cup in Qatar. However the establishment of the ROC found away around this.
Murphy had no direct issue with Russian athletes benefitting from an administrative loophole to compete at the Games. But suggested not enough has been done to ensure the doubts around the sport, and in the mind of clean athletes are completely allayed.
"I don't have an objection. In my quote (from the mixed zone), I said there are people that know a lot more about this situation than I do. I'm training to be the absolute best athlete I can be, and so I don't have time to get involved in this situation. But there is a situation. And that's a problem."
Rounding off one of the most surreal press conferences at these Games was a question put to Murphy if he would have had any objections if 100m sprinter Justin Gatland had made it to Tokyo. Gatland was twice found guilty of taking banned substances. Having served his suspension, the 39-year-old attempted to make it to these Olympics but failed to qualify.
"In the case of Justin Gatland, the US is always completely transparent in terms of how often people are drug tested, if they tested positive, what they tested positive for," said Murphy. "There are checks in place for if people test positive.
"That's an individual scenario. I know the comparison you're trying to make, but I don't think that's apples and apples, to us an American phrase."