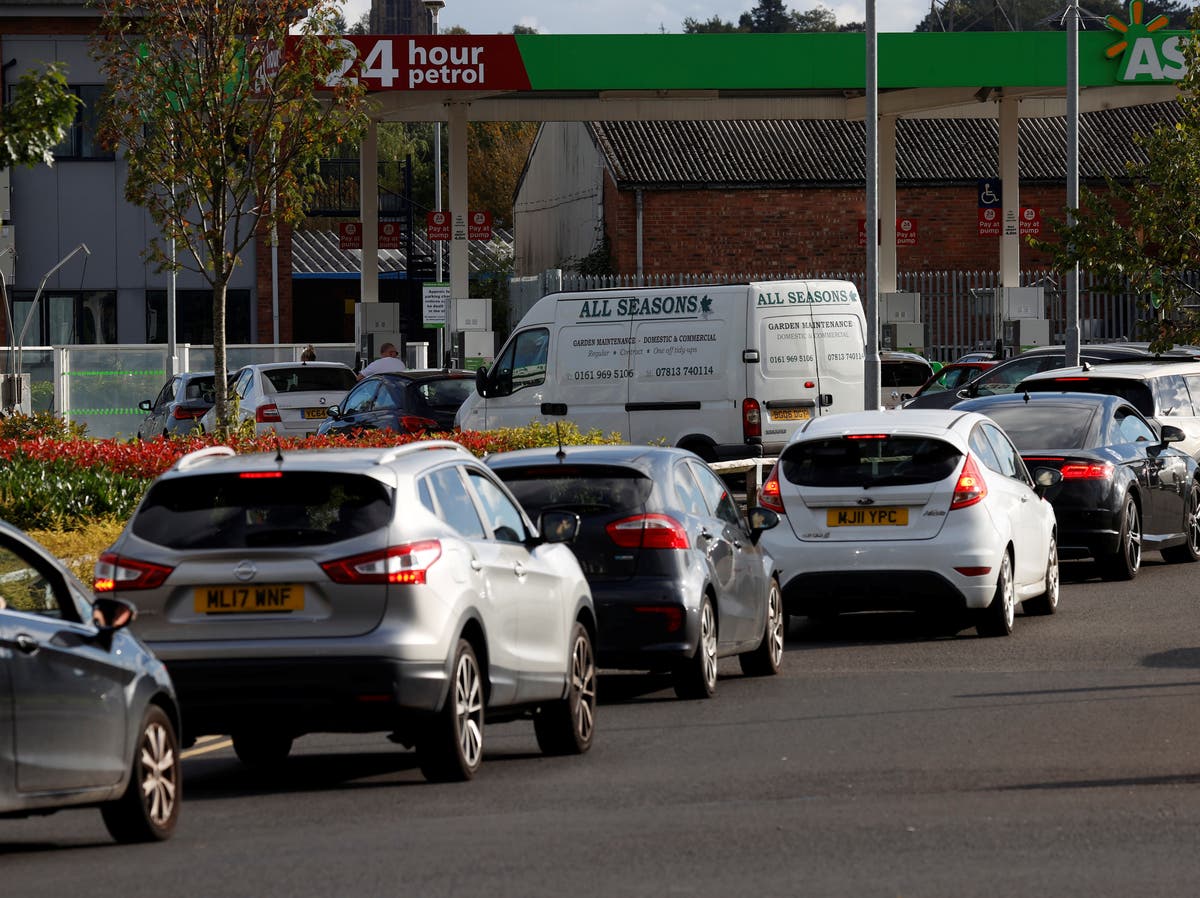 Follow the latest updates
Government urges public not to panic buy amid fuel supply problems
Panic-buying at petrol stations prompted some of the largest UK operators to ration fuel as the government was warned its U-turn on HGV driver visas will come too late to prevent disruption to Christmas.
BP shut 20 forecourts and limited supplies at up to 100 more, while Asda set a limit of £30 per customer at nearly 400 stations due to "unprecedented demand and associated supply challenges". Esso, Tesco and Shell sites were also affected.
The crisis has reportedly prompted Boris Johnson to give the go-ahead to temporarily lift visa restrictions for foreign drivers, although no decisions have yet been confirmed.
However government insiders have told The Independent it might already be too late to stop disruption to the Christmas holiday, after the retail industry claimed ministers had "10 days to save Christmas".
Downing Street insisted UK has "ample fuel stocks in this country and the public should be reassured there are no shortages".
Follow our live coverage below
1632556888
Petrol supply crisis 'a temporary blip', says AA president
The shortage of petrol at forecourts across the UK is only a 'temporary blip,' said the president of the AA.
Speaking to BBC Breakfast, Edmund King said: "The good news is you can only really fill up once – you've got to use the fuel, so this should be a short-term thing.
"It's not like the fuel crises in the past when the supplier was hit by strikes, etc.
"So, once people have filled up, they won't travel more than they normally travel, so this strain on the system should ease up in the next few days."
He urged drivers to "stick to normal filling patterns" and added: "This will be temporary blip as new supplies are delivered every 24 to 48 hours."
Peter Stubley
25 September 2021 09:01
1632556035
Phil McCann reports on petrol panic-buying crisis
Meanwhile the BBC appears to have found the perfect reporter to cover the petrol supply crisis this morning.
Phil McCann (yes, really) has been covering shortages in Stockport, where one station sold three times the normal amount yesterday and is now out of fuel.
Peter Stubley
25 September 2021 08:47
1632555752
Asda rations fuel at £30 per customer amid panic-buying
If you missed it last night, the company which owns Asda announced that it was setting a £30 per customer limit for fuel at its forecourts due to supply problems and increased demand due to panic-buying by drivers.
An EG Group spokesperson said: "Due to the current unprecedented customer demand for fuel and associated supply challenges we have taken the decision to introduce a limit of £30 per customer on all of our grades of fuel.
"This excludes HGV drivers and emergency services due to their vital role at this time.
"This is a company decision to ensure all our customers have a fair chance to refuel and to enable our sites to carry on running smoothly.
"We kindly ask everyone visiting our sites to treat our colleagues, supply chain partners and customers with respect during these very challenging times. All of EG Group's UK sites remain open and operational to serve customers."
Asda has around 400 petrol stations across the UK.
Peter Stubley
25 September 2021 08:42
1632555319
Boris Johnson 'owes apology' over supply crisis, says Davey
Liberal Democrat leader Ed Davey described the government's plans for visa changes for HGV drivers as a "screeching U-turn".
He said: "This screeching U-turn is too late for those whose lives have been thrown into chaos.
"The Tories have shown they can't be trusted to run this country.
"The arrogance of Boris Johnson has cost jobs. He knew there was a fix to this problem but ploughed on regardless.
"He owes the British people an apology."
Peter Stubley
25 September 2021 08:35
1632555037
'There is no fuel shortage'
Ministers have repeatedly attempted to dissuade the public from panic-buying, insisting that there were no shortages of petrol.
A Downing Street spokesman said last night: "We have ample fuel stocks in this country and the public should be reassured there are no shortages.
"But like countries around the world we are suffering from a temporary Covid-related shortage of drivers needed to move supplies around the country.
"We're looking at temporary measures to avoid any immediate problems, but any measures we introduce will be very strictly time-limited.
"We are moving to a high-wage, high-skilled economy and businesses will need to adapt with more investment in recruitment and training to provide long-term resilience.
Peter Stubley
25 September 2021 08:30
1632554618
Government U-turn on HGV driver visas 'too late to avoid Christmas disruption'
Scenes of panic-buying at petrol forecourts across the UK – on top of existing supply issues relating to the shortage of lorry drivers – have prompted the government to consider plans to ease visa requirements.
The move will reportedly allow up to 5,000 foreign lorry drivers into Britain on a short-term basis.
It came as the retail industry warned that ministers had just "10 days to save Christmas".
However government insiders have told the Independent that the post-Brexit U-turn on visas has come too late to avoid disrupting Christmas.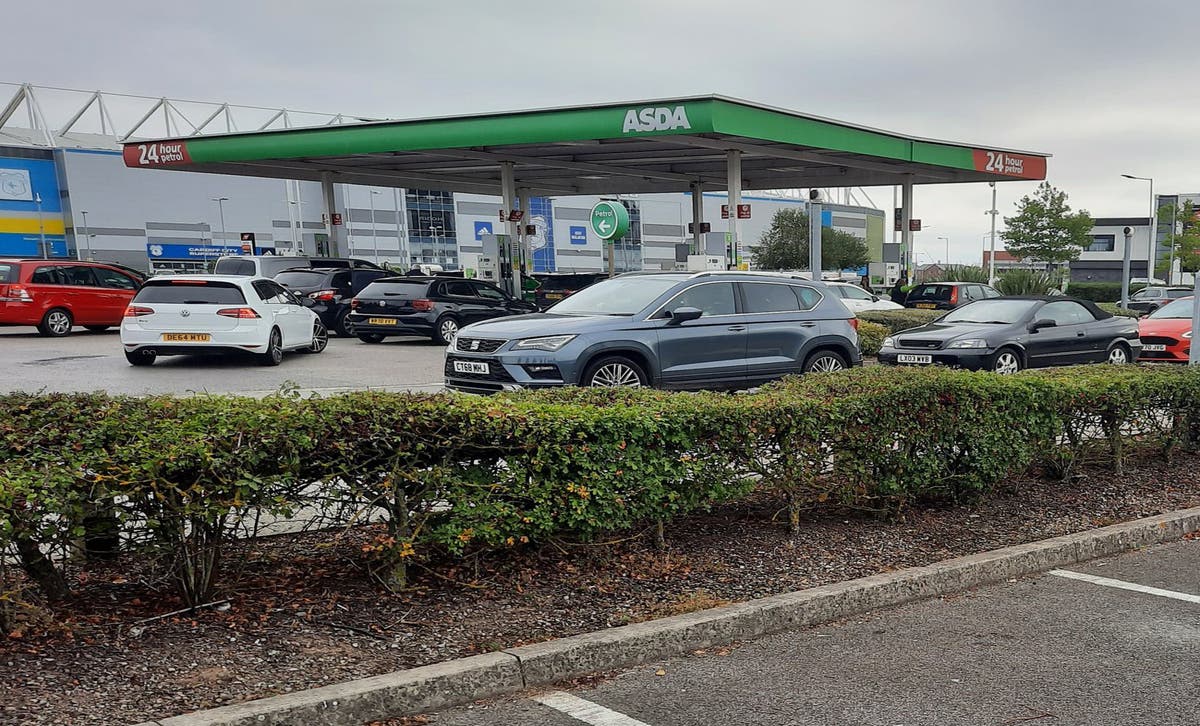 Ministers scramble to solve crisis by easing visa requirements for lorry drivers
Peter Stubley
25 September 2021 08:23
1632553855
Good morning and welcome to our live coverage of the supply chain crisis which has seen some petrol stations across the country forced to close and fuel rationing at hundreds of forecourts.
Peter Stubley
25 September 2021 08:10