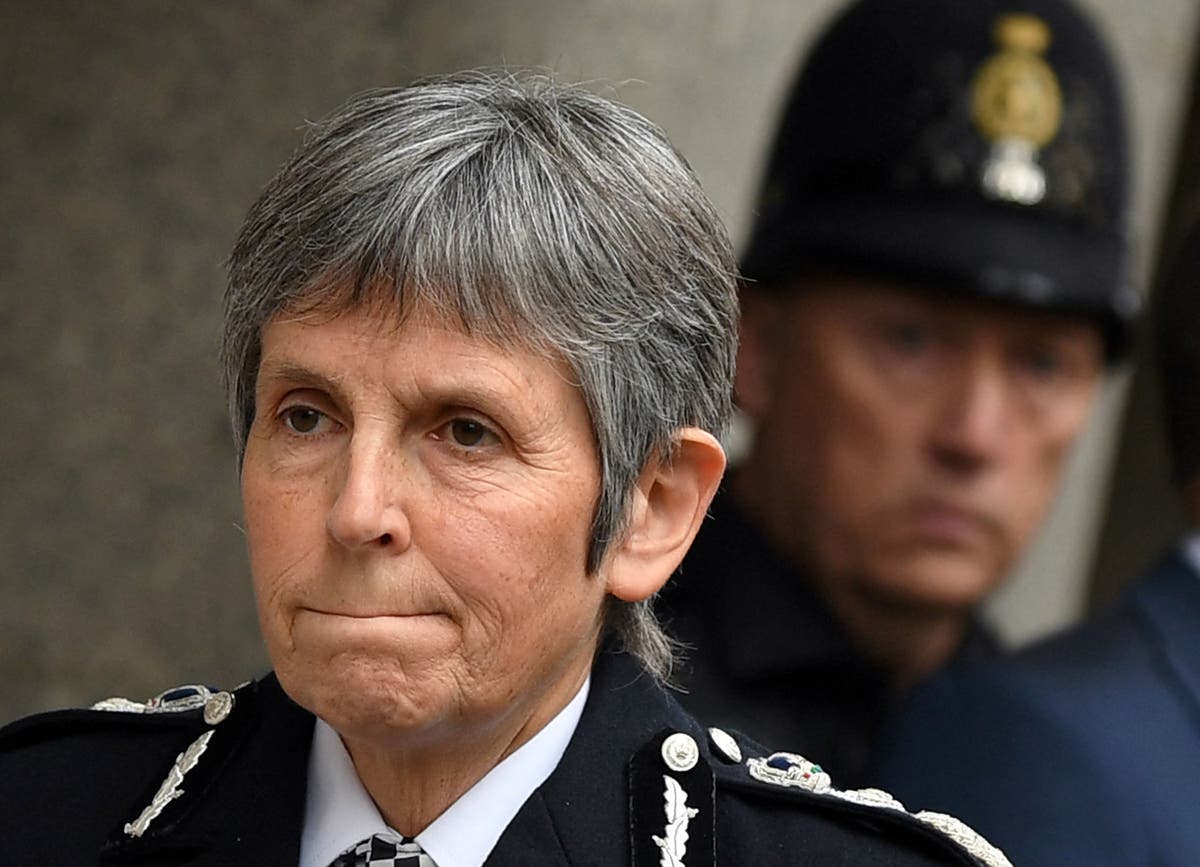 Met Police chief is facing fresh calls to resign over the murder
Sarah Everard's killer Wayne Couzens has brought "shame" on the Met Police, Dame Cressida Dick has said as she apologised on behalf of the force.
Dam Cressida said she recognised "the precious bond of trust has been damaged" following the murder of Ms Everard by Couzens, who was a serving officer when he kidnapped, raped and killed the 33-year-old marketing executive.
Couzens, 48, was handed a life sentence on Thursday for the killing of Ms Everard.
It came to light that Couzens had been accused of indecently exposing himself in south London just days before he would go on to murder Ms Everard, who was described by her family as a "shining example to us all" who "brought so much joy to our lives".
At his sentencing hearing on Wednesday, it emerged that Couzens used his police warrant card and handcuffs to snatch her off the street using Covid lockdown rules to make a false arrest.
The disclosures have left the Met facing questions about disciplinary processes. Harriet Harman, the Labour MP who chairs parliament's joint human rights committee, has called on Dame Cressida to resign.
Speaking outside the Old Bailey in London after Couzens was taken away to his cell, the Met commissioner said it was "one of the most dreadful events in the 190-year history of the Metropolitan Police service".
"I am absolutely horrified that this man used his position of trust to deceive and coerce Sarah and I know you all are too.
"I have followed this investigation very closely and I am absolutely sickened. Overwhelmingly, my thoughts are with Sarah, her family and her friends and her loved ones."
Dame Cressida added: "He will now spend the rest of his life in prison and I hope that will give them some slight comfort.
"This man has brought shame on the Metropolitan Police which has been rocked. I am sorry."
Earlier, Priti Patel, the home secretary, said the Met had "serious questions" to answer over the murder but backed Dame Cressida – who was recently handed an extension to her tenure in the top job – to remain in her role.
Speaking at the Home Office, Ms Patel said: "There are questions, serious questions that need to be answered by the Metropolitan Police … from the very day that Sarah went missing, I have been, clearly, in contact with the Metropolitan Police and putting forward some questions around the conduct of the potential suspect at the time and all the requirements and checks that should have been put in place."
When asked if Dame Cressida should resign, she said: "I will continue to work with the Metropolitan Police and the commissioner to hold them to account as everybody would expect me to do, and I will continue to do that."
Labour leader Keir Starmer also backed Dame Cressida to stay in post.
He said: "I have worked with Cressida Dick over many years in relation to some very serious operations when I was director of public prosecutions.
"I was pleased that her contract was extended and I support her."