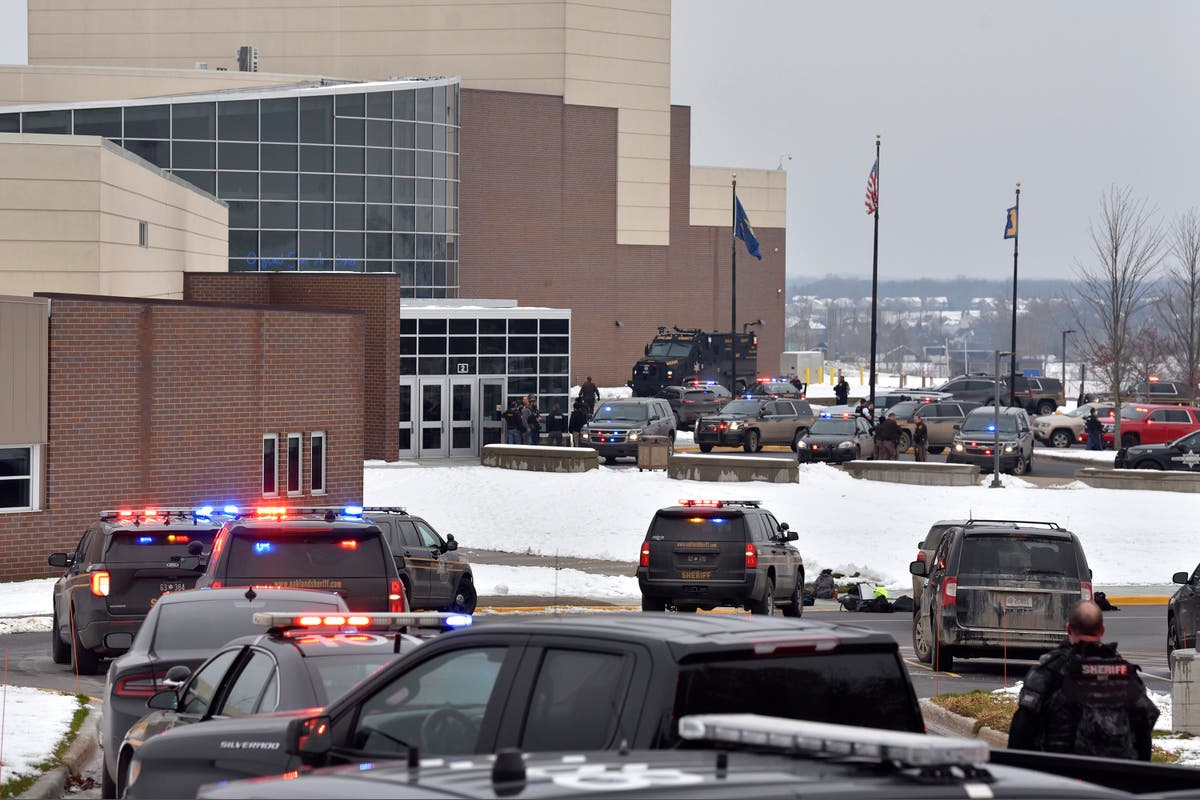 One victim died inside patrol car as police tried to get him to hospital
Three students were shot dead and eight others sustained injuries after an active shooter situation shut down a high school dans Michigan.
The victims of the shooting that occurred on Tuesday have been identified as Tate Myre, 16, Madisyn Baldwin, 17, and 14-year-old Hanna St Julian.
Myre died in a patrol car as a deputy tried to get him to a hospital, Oakland County Sheriff Michael Bouchard said. He was part of the Oxford High School junior football team.
"It is with great grief that one of the victims of the tragic events at OHS today was one of our own, Tate Myre. Tate was on varsity since his freshman year and was an honour student. Tate was a great young man with a bright future and beloved by all," the football team wrote on their Facebook page.
Seven other students, aged between 14 et 17, remained hospitalised with gunshot wounds, including a 14-year-old girl on ventilator after undergoing surgery. A teacher who received a graze wound to the shoulder was discharged from hospital.
Mr Bouchard said the gunshot wounds were so grievous that there was no time to wait for an ambulance. "This wound will never go away," il ajouta.
A 15-year-old student was taken into custody for opening fire at the school in Oxford Township, a community of about 22,000 people that is located roughly 48km north of Detroit.
"There was no resistance during the arrest and the suspect has asked for a lawyer and has not made any statements as to a motive," the sheriff's office said.
A semi-automatic handgun and several clips were recovered from the suspected teenager. His father bought the 9mm Sig Sauer pistol on 26 November from which 15-20 shots were fired inside the school, les autorités ont dit.
On Tuesday evening, law enforcement seized several guns from the suspect's family home on East Street near the school.
Threats of a shooting allegedly circulated on the high school campus prior to Tuesday's fatal rampage.
Robin Redding, the mother of 12th grader Treshan Bryant, told the Associated Press that her son opted to stay home on that unfortunate day because he and his younger cousins had a "bad feeling" that violence could be coming.
Treshan said he had heard vague threats about plans for a shooting "for a long time now".
President Joe Biden offered his sympathies to the victims' families. "As we learn the full details, my heart goes out to the families enduring the unimaginable grief of losing a loved one. You've gotta know that that whole community has to be just in a state of shock right now (sic)," the president said.
pendant ce temps, a fundraiser has been created on GoFundMe for the victims.