Russian invasion of Ukraine – live updates
Ukrainian drone strikes major Russian oil refinery
Russian forces seek to surround the embattled city of Lysychansk in eastern Ukraine and are mounting assaults on the city of Sievierodonetsk to establish full control, the Ukrainian defence ministry's spokesperson said on Friday.
The eastern city has been the scene of weeks of intense bombardments and street fighting and if lost to Russian forces in a would be a significant setback for Ukraine.
Earlier, governor Serhiy Gaidai said troops in the city had already received the order to move to new positions, but he did not indicate whether they had already done so or where exactly they were going.
"Remaining in positions smashed to pieces over many months just for the sake of staying there does not make sense," Gaidai said on Ukrainian television.
The battle is key for Russia to establish control over the last remaining Ukrainian-held sliver of Luhansk province, which along with Donetsk makes up the Donbas region, Ukraine's industrial heartland.
Meanwhile, at least four people were killed after a Russian military cargo plane crashed in Moscow's western city Ryazan, reported Interfax news agency.
1656141919
Russia 'has withdrawn generals from key command roles'
The British defence ministry said on Saturday that Russia had likely withdrawn several generals from key command roles in the Ukraine conflict this month.
"Since the start of June, the Russian high command has highly likely removed several Generals from key operational command roles in the war in Ukraine," the ministry said in its daily Twitter update.
Ukrainian forces have been ordered to withdraw from the battleground city of Sievierodonetsk after weeks of fierce street fighting, in order to limit more casualties and regroup.
Sam Rkaina
25 June 2022 08:25
1656138606
World facing food shortage 'catastrophe', warns UN chief
The world is facing "catastrophe" because of the growing shortage of food, the head of the United Nations warned on Friday.
In his strongest words yet on a growing crisis, UN Secretary-General Antonio Guterres said a combination of factors was causing an "unprecedented global hunger crisis" already affecting hundreds of millions of people.
Mr Guterres said the war in Ukraine had added to problems caused by climate change, the coronavirus pandemic and inequality.
Our foreign editor David Harding has more here: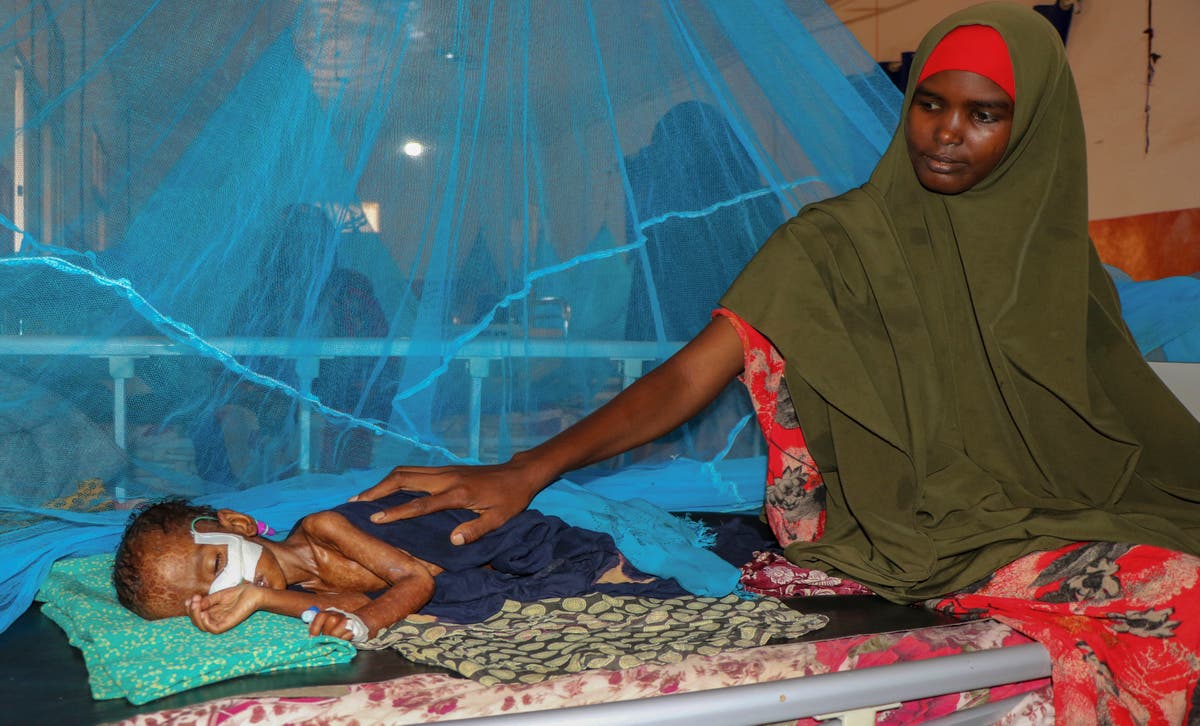 Antonio Guterres says there is a risk of 'multiple famines' this year
Stuti Mishra
25 June 2022 07:30
1656136206
'Four dead' as Russian military flight headed to Ukraine border 'suffers engine failure'
Four people were killed on early Friday after a Russian military cargo plane crashed in Moscow's western city Ryazan.
The plane — an II-76 military cargo aircraft — crashed and caught fire while trying to make a landing the Russian city.
Five people were hospitalised with injuries, the state news agency RIA said.
The Interfax news agency separately quoted Russia's defence ministry as saying the plane had suffered an engine malfunction while on a training flight. The ministry gave no details of crew deaths.
Thomas Kingsley has more: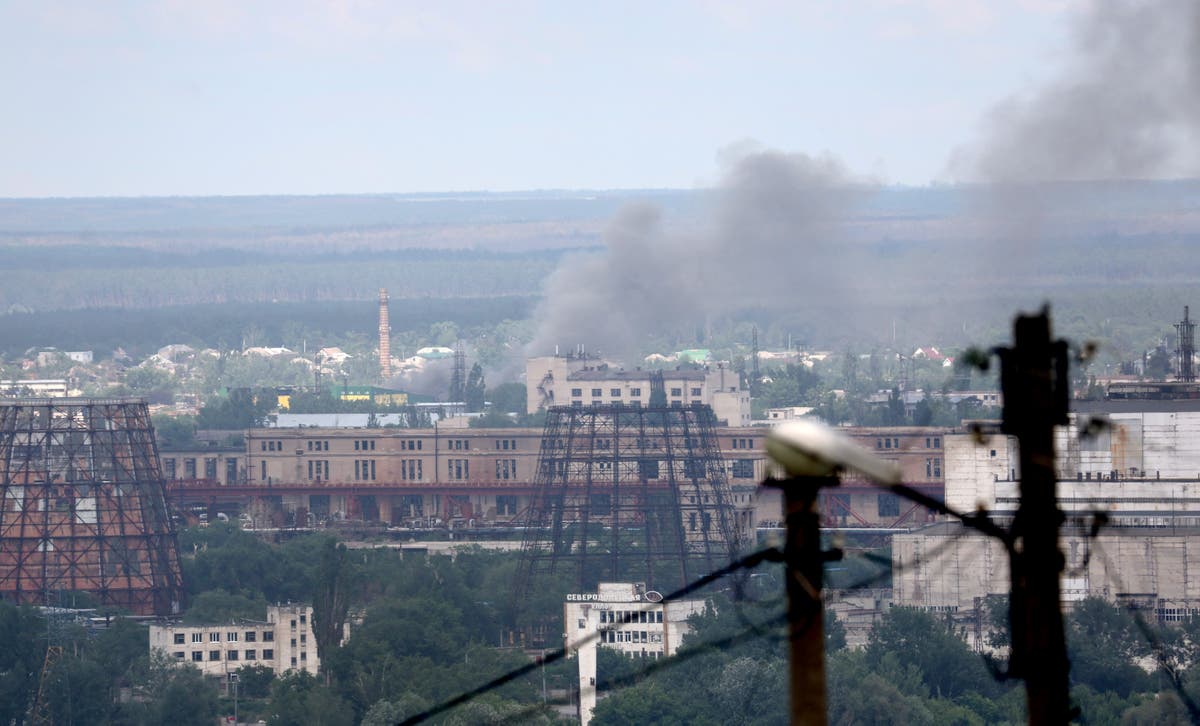 Five people have been hospitalised with injuries, according to reports
Stuti Mishra
25 June 2022 06:50
1656134106
Polish, Ukrainian LGBT+ parades unite in Warsaw
Poles and Ukrainians will walk for peace and demand an end to discrimination against the LGBT+ community in a joint Pride march in Warsaw that organisers say aims to defend freedom and equality as war casts a shadow over eastern Europe.
The annual Pride march, which is set to be held in Warsaw on Saturday now, was cancelled in Kyiv due to the ongoing war, leading the LGBT+ community in Warsaw to team up with their counterparts in Ukraine to organise the event in the Polish capital.
"Russia denied us the right that we were fighting for for years, Russia denied us the Pride, our march of equality that we are holding every year since 2012 in Kyiv. … That is why we are marching in Warsaw," said Lenny Emson, executive director of KyivPride, who came to Poland for the march.
"We are marching for peace, we are marching for Ukraine, we are marching for victory."
Stuti Mishra
25 June 2022 06:15
1656131506
'Retreating from a few battles does not mean losing the war,' says Ukraine's foreign minister
Ukraine's foreign minister has played down the significance of the possible loss of more territory in the Donbas region after the country's troops were ordered to return from the ruined city of Sievierodonetsk.
"Putin wanted to occupy the Donbas by 9 May. We are (there) on 24 June and still fighting. Retreating from a few battles does not mean losing the war at all," Dmytro Kuleba said in an interview with the Italian newspaper Corriere Della Sera.
Stuti Mishra
25 June 2022 05:31
1656128706
IAEA worried about staff at Zaporizhzhia nuclear plant
The United Nations nuclear watchdog has said it is getting increasingly concerned about the welfare of Ukrainian staff at the Russian-held Zaporizhzhia nuclear power plant in southeastern Ukraine, Europe's largest.
"The International Atomic Energy Agency (IAEA) is increasingly concerned about the difficult conditions facing staff at Ukraine's Zaporizhzhya Nuclear Power Plant (ZNPP) and it must go there as soon as possible to address this and other urgent issues," Director General Rafael Mariano Grossi said on Friday.
Mr Grossi said he was continuing his determined efforts to agree, organise and head an IAEA-led international mission to conduct essential nuclear safety, security and safeguards activities at the ZNPP, stressing again that "other considerations should not prevent" it from taking place.
The IAEA has for months said that Zaporizhzhia, where Ukrainian staff are operating the plant under the order of Russian troops, poses a safety risk and that it wants to send a mission there.
Stuti Mishra
25 June 2022 04:45
1656126000
Russia warns of 'consequences' over EU's moves toward expansion
Russia said that the decision by the European Union to accept Ukraine and Moldova as membership candidates would have negative consequences.
Maria Zakharova, spokeswoman for the Russian foreign ministry, said the EU was seeking to enlarge the bloc to "exploit" the Commonwealth of Independent States (CIS) in eastern Europe and western Asia.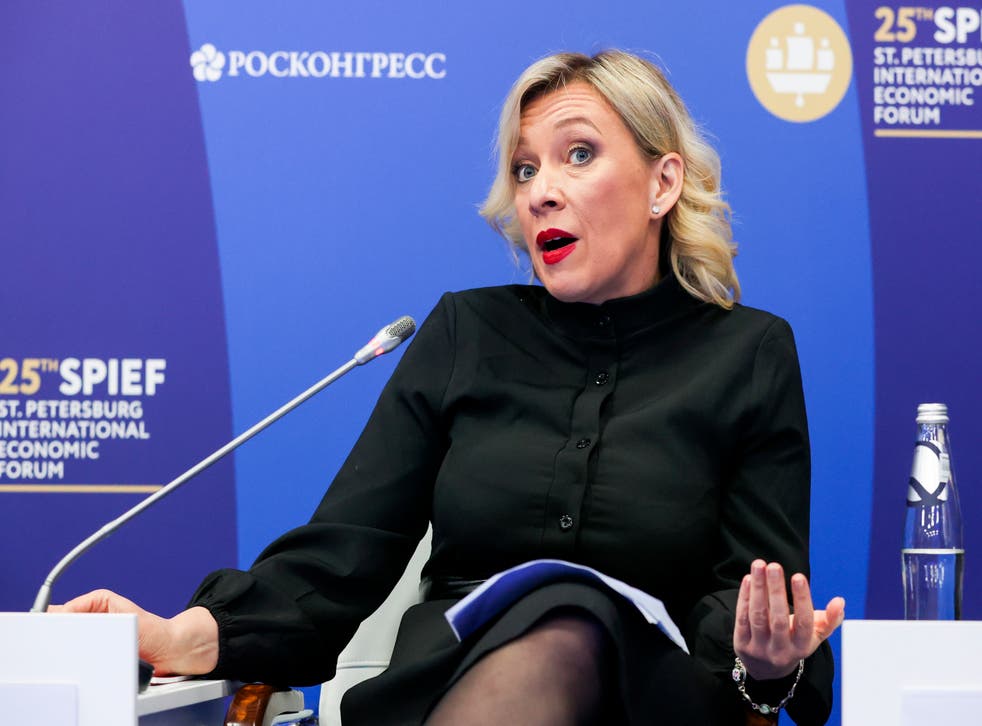 She said: "With the decision to grant Ukraine and Moldova the status of candidate countries, the European Union has confirmed that it continues to actively exploit the CIS on a geopolitical level, to use it to 'contain' Russia.
"They are not thinking of the negative consequences of such a step…"
The seven recognised candidates for membership of the EU are Turkey (applied in 1987), North Macedonia (2004), Montenegro (2008), Albania (2009), Serbia (2009), Ukraine (2022), and Moldova (2022).
The CIS member nations are Armenia, Azerbaijan, Belarus, Kazakhstan, Kyrgyzstan, Moldova, Russia, Tajikistan, and Uzbekistan. In addition, Ukraine and Turkmenistan are "founding states" but are not full members.
Lamiat Sabin
25 June 2022 04:00
1656120600
Ukraine accuses US-sanctioned lawmaker of working for Russia
Ukraine claimed it had uncovered a Russian spy network involving Ukrainian lawmaker Andriy Derkach who was previously accused by the US of being a Russian agent.
Ukraine's State Security Service (SBU) said Derkach, whose whereabouts were not made clear, set up a network of private security firms to ease and support the entry of Russian units into cities during Moscow's invasion on 24 February.
Derkach could not immediately be reached for comment. He has previously denied wrongdoing and said he has been targeted for exposing corruption.
In a statement, the SBU cited testimony from Derkach's parliamentary aide Ihor Kolykhayev. It said he was arrested at the beginning of the war, and accused him of being a go-between between Derkach and Russia's military intelligence agency.
Kolykhayev said Derkach's security firms "had to ensure the passage of (Russian) vehicles, get into armoured vehicles with Russian flags, and thus ensure (the Russian army's) peaceful entry into the city."
The SBU said Derkach received sums of $3-4 million every several months in order to fulfil the plan.
Derkach was sanctioned by the U.S. Treasury in September 2020 for what it said were attempts to influence the 2020 U.S. presidential election.
The Treasury's sanction announcement at the time said Derkach had been "an active Russian agent for over a decade."
Lamiat Sabin
25 June 2022 02:30
1656115200
In pictures: Russian rocket's damage to homes in Donetsk city Bakhmut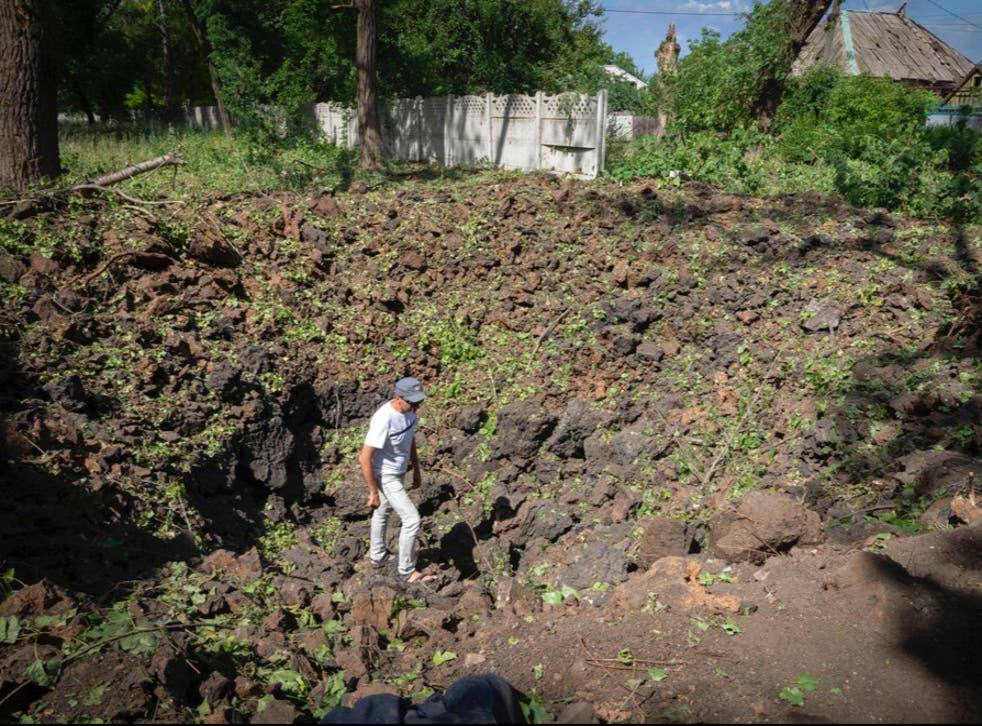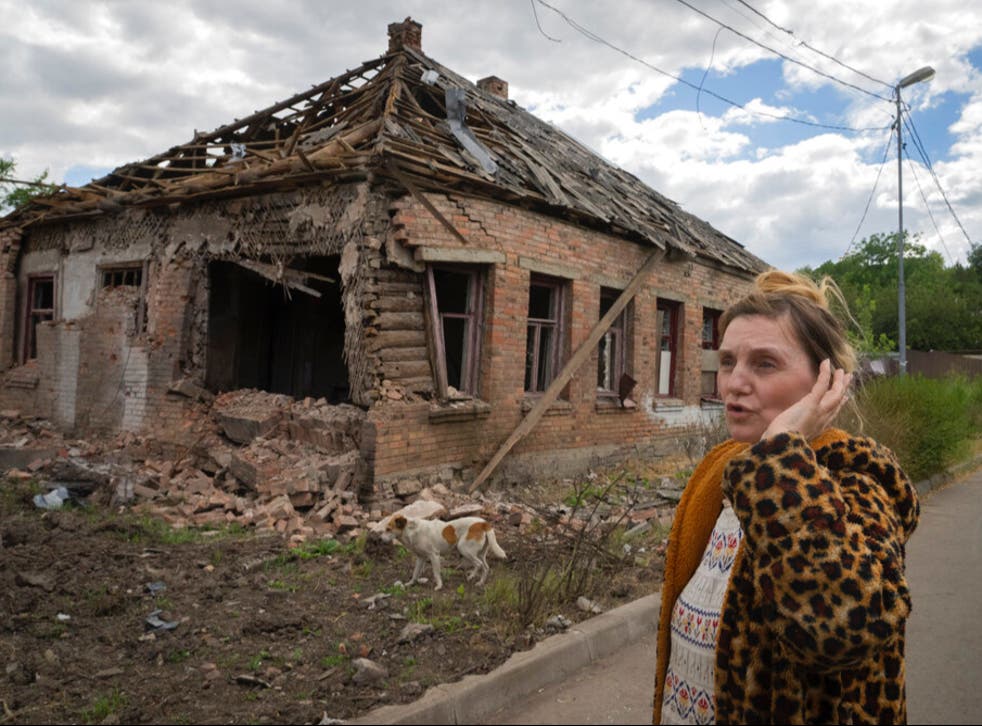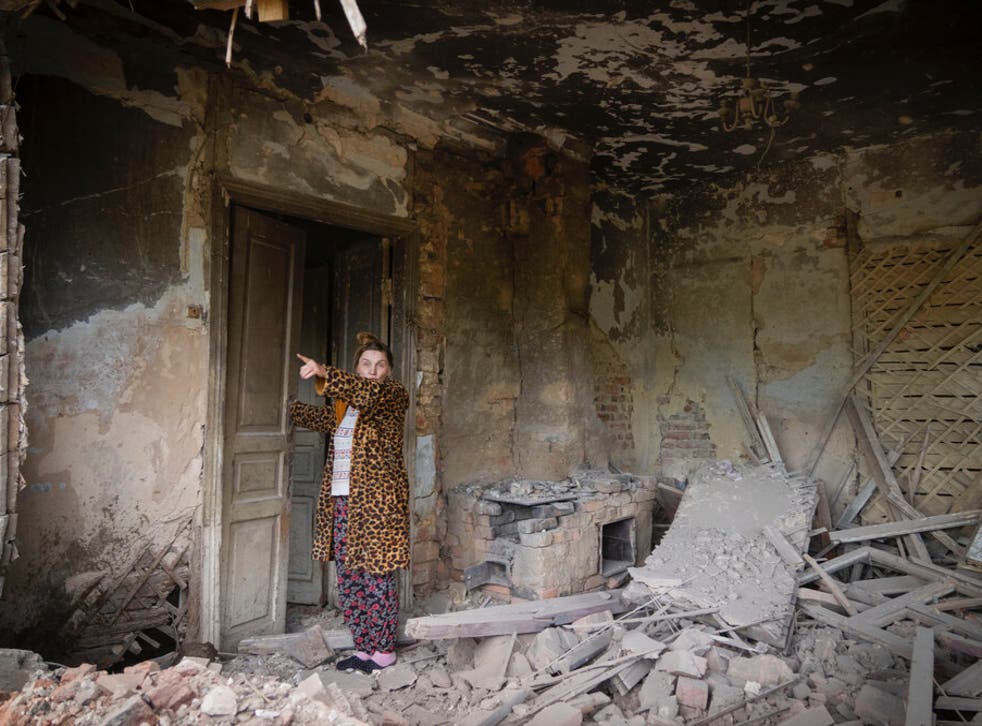 Lamiat Sabin
25 June 2022 01:00
1656111660
Zelensky says Ukrainians should 'rejoice at least a little' over EU candidacy
Volodymyr Zelensky hailed the "historic decision" of the European Union to grant Ukraine candidate status to join the bloc.
The Ukrainian president said that there has been much talk about the conditions Ukraine has to fulfil or how many years joining the EU would take.
But he urged Ukrainians to "rejoice at least a little" over the news.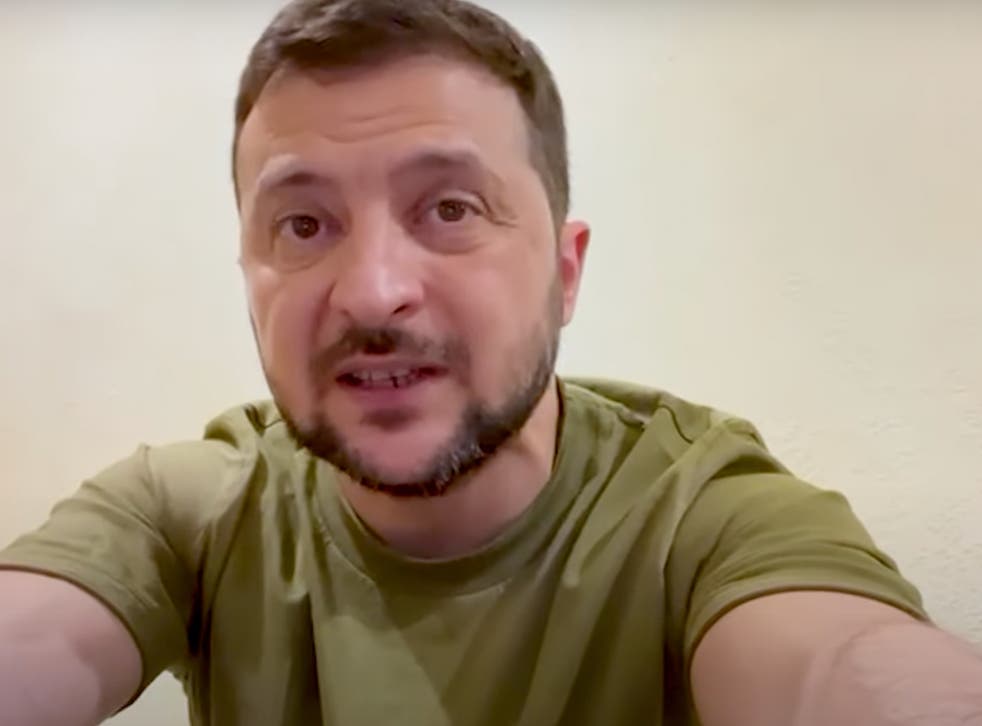 Mr Zelensky said in his nightly address to Ukrainians: "Let's rejoice at least a little. In a quiet, modest way, silently, but rejoice. For ourselves, for our beloved state. Let's feel the moment and the taste of this moment.
"Imagine conquering Everest. You reached the penultimate point. You didn't look around, didn't even take a breath and talk about the further way to the top. How difficult it will be to overcome the last 1848 meters. Instantly we forgot and devalued our own success.
"Maybe we should first recall that we have already covered 7,000 meters?! Let's not be ashamed to talk about our achievements. Let's not be a nation with a short memory and inferiority complex.
"We say: Ukraine has been granted EU candidate status. Let's say: Ukraine has gained EU candidate status. Did it fall from the sky? Haven't we endured and done a lot?"
Later in his speech, he said: "Much has been done. Exactly done! Let's not forget that. Let's be proud of ourselves. Respect ourselves.
"And we repelled the Russians. And we will win. Because when we respect ourselves we will be respected by others."
Lamiat Sabin
25 June 2022 00:01