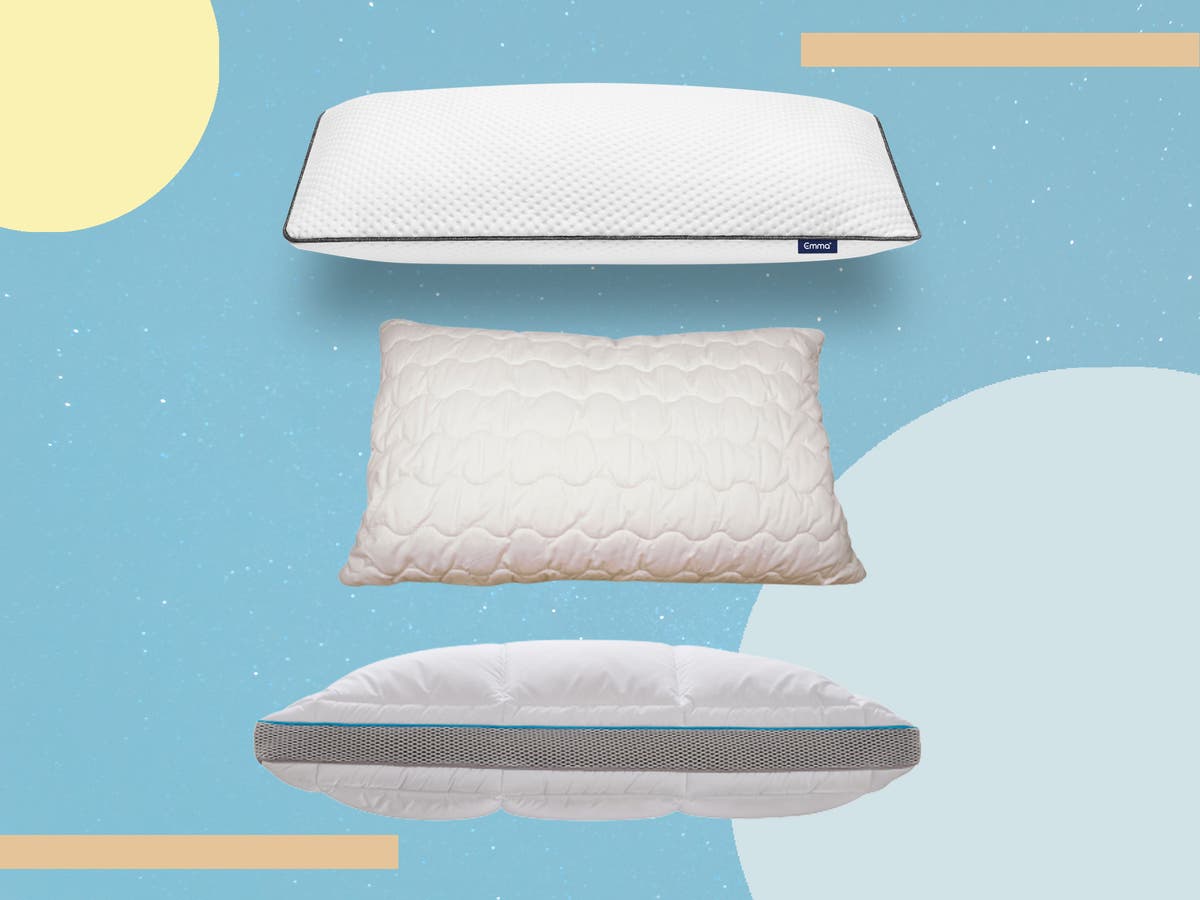 Firm, soft or memory foam, which pillow is best? We've found the most comfortable options for side, front and back sleepers from John Lewis, Eve and Simba
In recent years the market has moved beyond traditional feather and down pillows – although, as we found out through testing, it's hard to beat a really exceptional down pillow – to incorporate more vegan, hypoallergenic, and environmentally-friendly fills. Silk pillows – which are stuffed with silk fibres, not encased in silk – are a huge new trend, and environmentally-friendly fills like wool and Tencel are becoming increasingly popular.
The pillow you need depends on the way you sleep – for more, see our pillow buying guide. According to the Sleep Council, a good pillow should hold your head in the correct alignment – that is, in the same relation to your shoulders and spine as if you were standing upright with the correct posture. That means that people who sleep on their backs can get away with almost any kind of pillow, but people who sleep on their side or front need a little bit more support – think foam, not feather.
There are some exceptions to that: our best buy is a very firm down pillow, and our side-sleeping reviewer (literally) risked her neck to test its level of support – which was exceptional. Meanwhile some foam pillows, like the Simba hybrid (£99, Simbasleep.com), are customisable – so you can adjust the quantity of foam fill to bring the pillow all the way down to mattress level, which will suit back sleepers.
Pillow care depends on the fill, and we looked for easy maintenance when we were testing. Most have removable covers that you can pop in the wash; if you've invested in a really deluxe pillow, you might also want to buy a separate pillow protector to extend its life. Don't try to wash down yourself – a gentle fluff and regular airing is all it needs to stay clean and hygienic and get it professionally laundered if you have to.
How we tested
We got all kinds of sleepers – front, side and back – to test these pillows over a number of nights, which meant they were put through their paces in variable conditions (a heatwave, followed by a typical English month-long downpour). We looked for reported comfort, both when settling down to sleep and when sipping coffee and scrolling the internet in the morning, and we also compared our reviewers' sleep scores, as reported on their wearables, for each pillow they tested.
Read more:
The best pillows for 2022 are:
Pillow FAQs
What type of pillow is right for you?
Microfibre – These pillows tend to be among some of the most affordable and are manmade from synthetic materials such as polyester. They come in a range of different firmness levels, which makes them suitable for most sleeping styles, particular front sleepers as they tend to be flatter. However, they aren't the most breathable option as they can retain moisture and heat.
Feather and down – To be called a down pillow, a product must be made up of at least 70 per cent down feathers, with the rest being regular feathers. Down feathers are typically far softer and better at retaining heat. It's worth noting that they're more expensive than most other pillows and not always suitable for those with allergies, however you can find anti-allergy options. As down pillows flatten over time, they're not the best option for side sleepers who require more height, but others will usually find it a comfortable choice.
Memory foam – These pillows are ideal for anyone who struggles with neck pain as they offer sturdy support by moulding to the shape of your body. While they are durable, memory foam pillows can feel quite rigid and have limited airflow, which means they can get hot. Back and side sleepers will benefit most from this type of pillow.
Wool – If it's an eco-friendly and naturally hypoallergenic pillow you're after, wool could be the option for you. Wool pillows help to regulate your temperature, keeping you warm in winter and cool in summer, and are best-suited to front sleepers.
Latex – An alternative to memory foam, latex pillows share similar properties as they are firm and supportive. While they are much more breathable than memory foam, latex styles are on the pricey side and can have a distinct smell.
The verdict: Pillows
Resting our head on Brook and Wilde's exceptional Marlowe pillow felt like a treat every single night, and it contributed to really excellent sleep. For back sleepers, we love Greenfibre's exceptionally soft Tencel pillow.
Voucher codes
For the latest savings on bedding and other homeware offers, try the below links:
More bedroom recommendations: