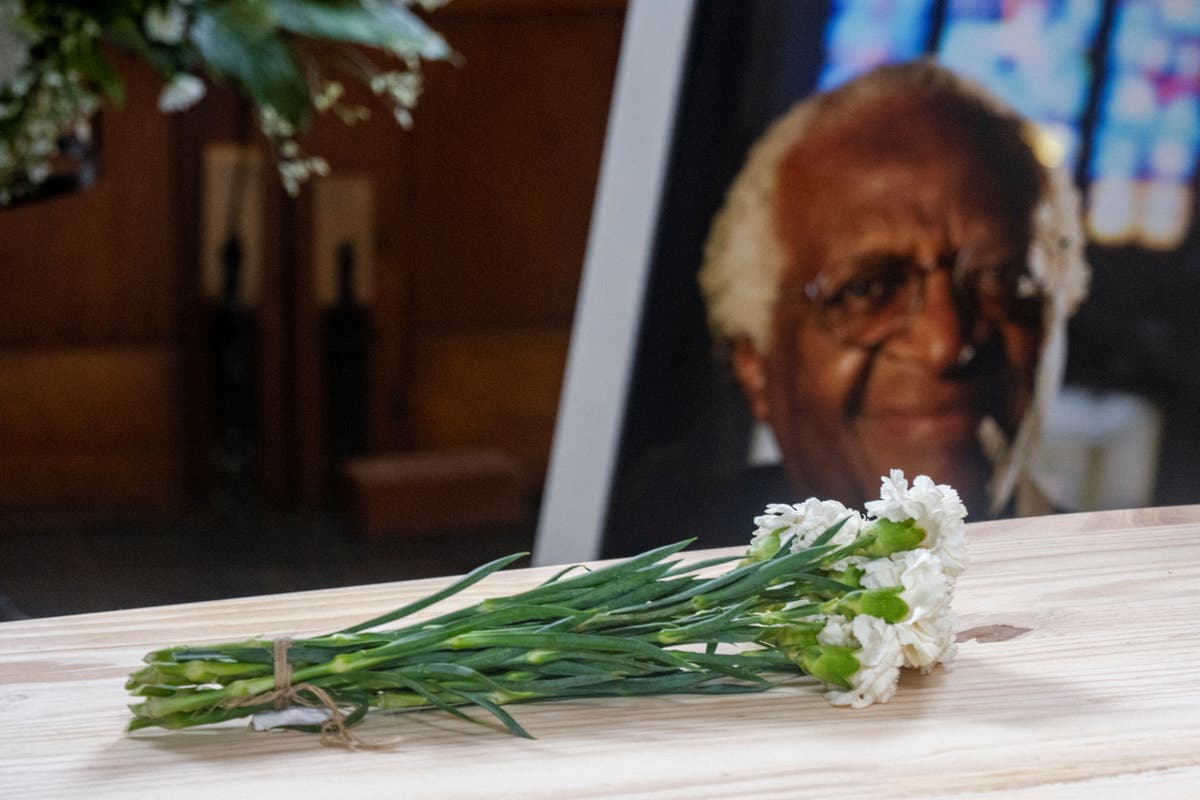 One of the key figures of South Africa's anti-apartheid campaign was cremated and buried behind the pulpit of the iconic Cape Town cathedral
Archbishop Desmond Tutu was described as "the spiritual father of our new nation" at his state funeral in South Africa.
President Cyril Ramaphosa called the Nobel Peace Prize winner a "crusader in the struggle for freedom, for justice, for equality and for peace".
Tributes came thick and fast as family, friends, clergy and politicians gathered at the St George's Cathedral in Cape Town to remember the anti-apartheid hero who died on Boxing Day aged 90.
Delivering the closing eulogy, Mr Ramaphosa said: "While our beloved Madiba [Nelson Mandela] was the father of our democracy, Archbishop Desmond Tutu was the spiritual father of our new nation.
"He saw our country as a rainbow nation, emerging from the shadow of apartheid. It was with this term, rainbow nation, that he bequeathed our new nation the greatest gift of all: hope and forgiveness."
He labelled Tutu a "humble and brave human being who spoke up for the oppressed, the downtrodden and the suffering," and who "took up the cudgels on [their] behalf".
In a video message, Justin Welby, the Archbishop of Canterbury, called himself a "mouse giving tribute to an elephant".
In a poignant moment, he added: "When we were in the dark, he brought light."
The tributes reflected the Archbishop's pivotal role in the fight to end racial segregation and discrimination enforced by South Africa's white minority government between 1948 and 1991.
Tutu – also known as South Africa's moral compass – used his high profile within the Anglican Church to repeatedly speak out against the oppression of apartheid and then to help manoeuvre the country towards a peaceful, plural society – and away from a potential racial civil war.
Later, he would campaign on issues as diverse as better access to Aids treatment, LGBT+ rights, the Palestinian cause and child marriage. He did so, supporters noted, always with great humour, great charm and great verve.
For all these reasons, the New Year's Day funeral – held in the middle of 10 days of national mourning – was given a status usually designated for presidents.
Yet it was also a pared-down affair.
Guest numbers were limited because of coronavirus restrictions, while Tutu himself insisted there should be no "lavish spending" on the service. At his own request, the "cheapest available coffin" was used and the only flowers in the cathedral were a single bouquet of carnations from his family.
It was earlier revealed that he was to be aquamated – a process using water that is described as an environmentally friendly alternative to cremation.
Tutu's widow Nomalizo Leah sat in a wheelchair at the front of the congregation wearing a purple shawl, the same colour as her late husband's clerical robes.
His daughter, Reverend Nontombi Naomi Tutu, gave a reading in which she said: "Thank you Daddy for the many ways you showed us love, for the many times you challenged us, for the many times you comforted us."
Tutu's ashes will now be interred behind the pulpit at St George's Cathedral, the Anglican diocese he served as Archbishop for 35 years.