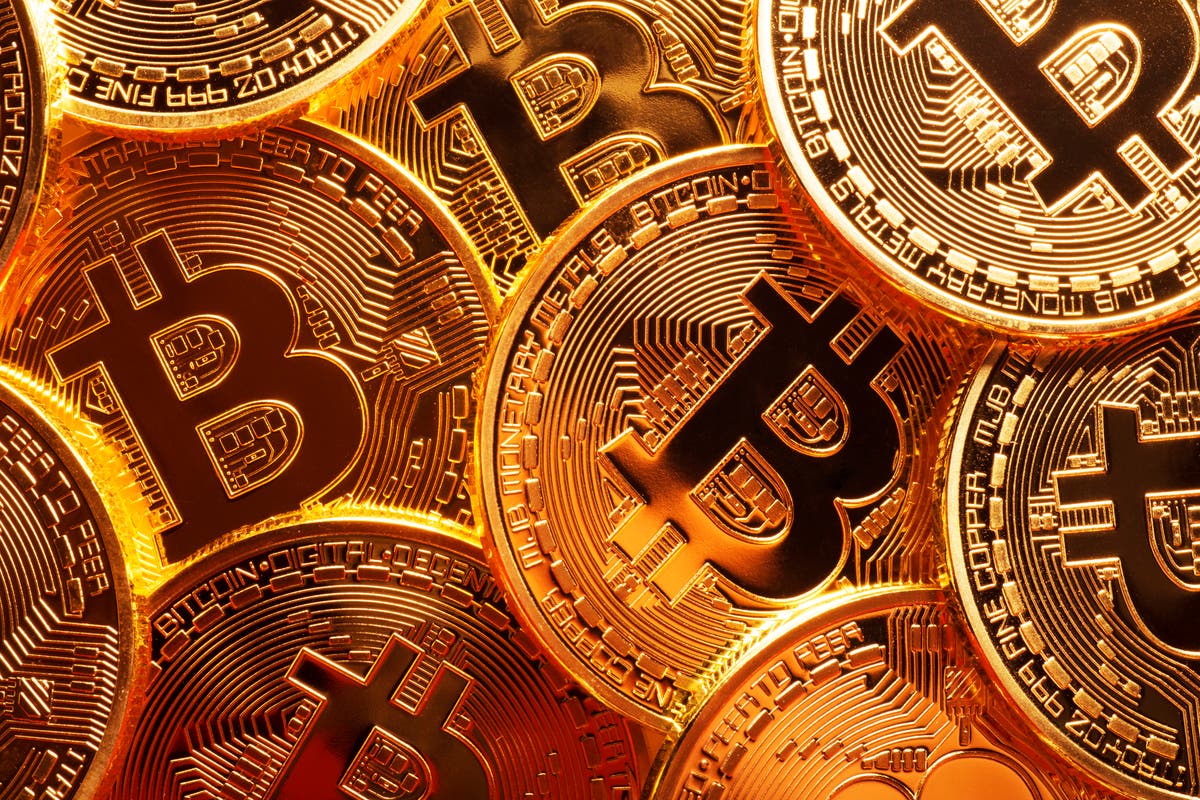 Bitcoin and the rest of the cryptocurrency market has recovered from recent plunging prices in spectacular fashion.
Bitcoin and the rest of the cryptocurrency market has recovered from recent plunging prices in spectacular fashion.
Monday saw a rapid recovery in the price of all cryptocurrency, with bitcoin gaining as much as 15 per cent. Tuesday then saw it fall again, not wiping off all those gains but removing many of them.
Now Wednesday has seen another gain in price, with bitcoin touching the landmark value of $40,000 once again. It is up more than 7 per cent over the day, and the cryptocurrency market over all has gained 5 per cent.
The price of bitcoin is up almost 10 per cent over the last 24 hours, with all of the other major cryptocurrencies showing similar positive performance. Bitcoin has gained almost 20 per cent over the last week – and ethereum is up even more, worth around 22 per cent more than it was seven days ago.
The surging prices could be explained at least partly by reports that Amazon is considering adding cryptocurrency for payments. As first revealed in a new job listing, and boosted by recent rumours, the company looks as if it is looking at ways the technology could "enable modern, fast, and inexpensive payments".
It also comes after comments from major cryptocurrency figures including Elon Musk helped boost momentum around the technology and its value.
During a debate with Twitter chief executive Jack Dorsey, Mr Musk revealed that SpaceX also holds bitcoin – in addition to his own personal holdings and those of Tesla – and that his electric car company could soon start taking payments using it once again.
1627641775
Market splits for first time
There's been a lot of volatility over the last week or so. But for the most part all the different cryptocurrencies have been going the same way. Today, however, the market has finally split – bitcoin has fallen, but others are doing alright.
(Everything is still very much in the green over the week, however.)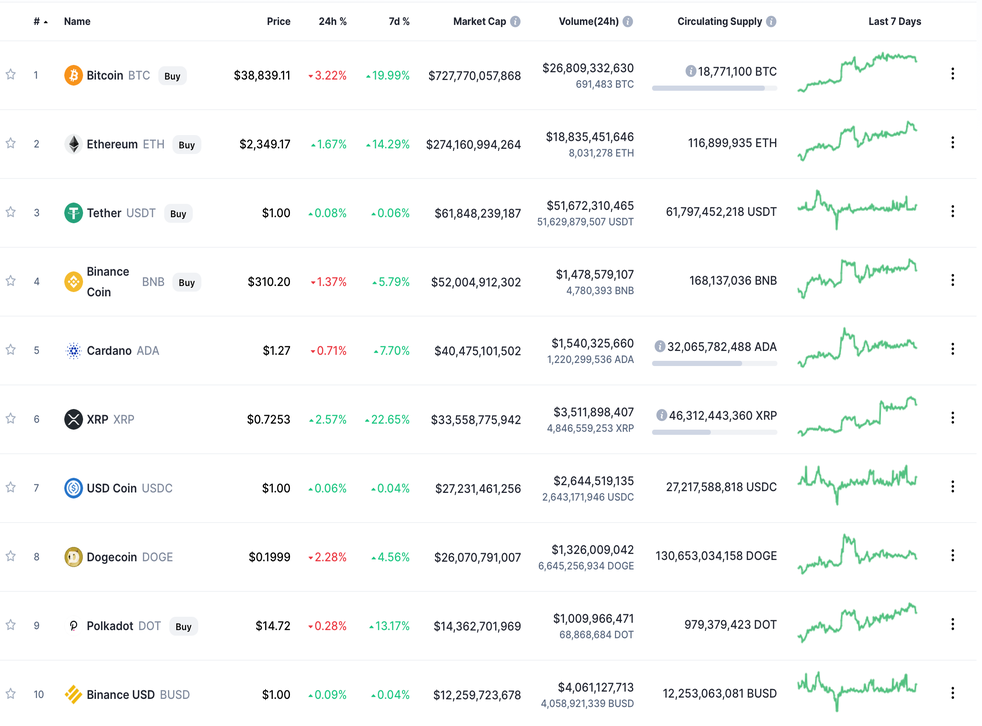 Andrew Griffin
30 July 2021 11:42
1627558608
Market mostly flat
After a turbulent few days in the crypto markets – and a week that has seen the value of bitcoin rise some 26 per cent – everything is a lot more quiet over Thursday.
The global value of digital currencies is down just 0.2 per cent, according to CoinMarketCap. And there's similarly flat performance across the board – most are down, largely between 1 and 3 per cent, but that counts as stability after the week we've had.
Andrew Griffin
29 July 2021 12:36
1627389826
Amazon responds to rumour
Amazon has suggested that the more excited rumours about its adoption of bitcoin are not true in a new statement. Full story here.
Given they had helped drive the latest surge, prices are performing as you'd expect – pretty badly. The market is still far above where it was last week, but the big bounce that happened yesterday has gone away again.
Andrew Griffin
27 July 2021 13:43
1627375696
Surge turns to plunge
Yesterday's rally appears to have stopped already. Every major cryptocurrency is down – some significantly, like Dogecoin, which is down 9.1 per cent – and the market has dropped 5.3 per cent.
It's still been a good week – bitcoin is up more than 25 per cent over the week, and still a long way from the $30,000 watermark it dropped down below just days ago.
Andrew Griffin
27 July 2021 09:48
1627320181
Bitcoin heads towards $40,000
Just days ago, we were watching for when bitcoin would crash through $30,000 – and when it did, much of the market was discussing how long it would stay down there. As it turns out, the answer was: not very for long at all.
It's now pushing to reach $40,000. The price at the time of publication stands at just over $39,000 – but it has already gained 14 per cent over the last 24 hours, and does not show any sign of slowing down.
Andrew Griffin
26 July 2021 18:23
1627304972
Price rises continue as crypto market rises more than 10%
The cryptocurrency market is continuing to gain: overall, digital currencies are up more than 10 per cent, according to CoinMarketCap. And while there are different gains across the market, it is consistently green – even the sometimes maligned dogecoin is now up 12%.
Andrew Griffin
26 July 2021 14:09
1627291797
Amazon rumours help to fuel rapid surge
The new surge appears to be driven at least in part by rumours that Amazon could be working on ways to take cryptocurrency for payments.
Andrew Griffin
26 July 2021 10:29
1627291725
Bitcoin and crypto surge continues
The price of cryptocurrencies are still rising – there was a dramatic leap this morning, that clearly that wasn't everything, and the price is now up 11 per cent.
Andrew Griffin
26 July 2021 10:28
1627288267
Hello and welcome
… to The Independent's live coverage of the cryptocurrency market.
Andrew Griffin
26 July 2021 09:31