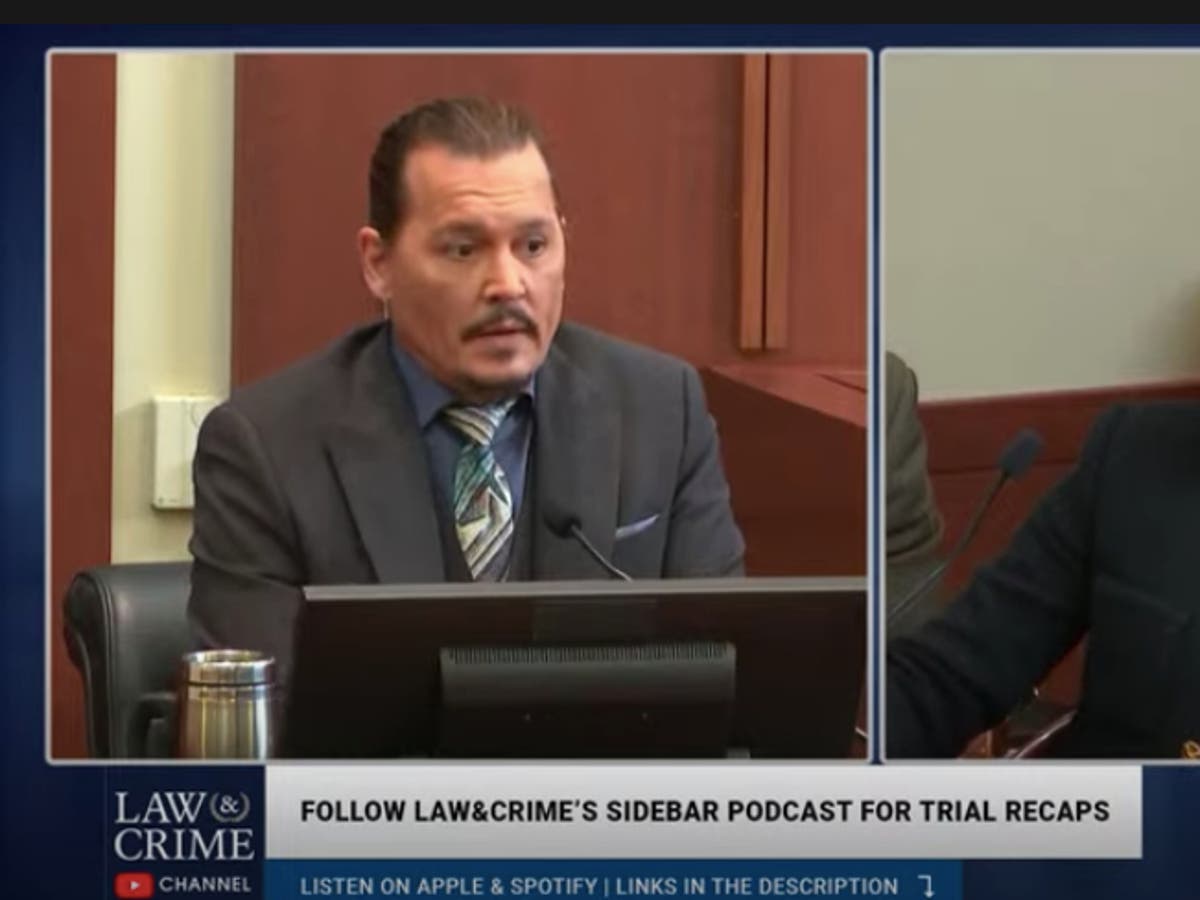 Depp, 58, was questioned about his drug usage and Heard's role in 'Aquaman'
Johnny Depp has returned to the witness stand to give more testimony in his multi-million dollar defamation trial against Amber Heard.
Mr Depp was called back for his own team's rebuttal on Wednesday (25 May) and his direct testimony began with questions about his former attorney Adam Waldman.
Mr Waldman's statements – calling Ms Heard's allegations of domestic abuse against Mr Depp a "hoax" and an "ambush" – are at the centre of Ms Heard's $100m countersuit against Mr Depp.
She claims Mr Depp defamed her in multiple statements to the press via Waldman after she published the 2018 The Washington Post op-ed, in which Mr Depp claims she allegedly implied he abused her.
When asked whether he recognised which publication Mr Waldman's statements were published in, he replied: "It just seemed like a lot of word salad to me. I didn't know where they ended up, or…"
When asked what his response to Ms Heard "testifying that you did not assist her in getting her role in Aquaman" was, he replied: "It's not exactly true."
"After Ms Heard's audition, or possibly auditions for Warner Bros and the creative team, Ms Heard expressed to me that the film was going to be… WB said the film's going to be shooting in Australia. And Australia was a… for Ms Heard that was a potential problem…" Mr Depp told the jury before Ms Heard's legal team objected.
When Mr Depp continued his testimony, he said: "I was informed by Ms Heard that the film was going to be shooting in Australia and that was of concern to her and [because of that] it was of concern to Warner Bros. So she asked if I would… I'd had a multi… For a few years, I'd had a multi-film deal with Warner Bros, so we'd been in business together. So, I knew these people, I'd been on films with them.
"So she asked me if I would speak to them, I made a phone call and spoke too…" Mr Depp was interrupted by another objection, which was overruled by Judge
I spoke to the three upper echelon Warner executives, and I told them…" Mr Depp was cut off over another hearsay objection, which was sustained.
"What was the result of you speaking with those individuals?" Mr Depp's lawyer asked the actor.
"I would say that ultimately she did get the job in the film, so I suppose I had curbed their worries to some degree," he replied.
When asked whether he remembered Ms Heard testifying that she saw him consume 8-10 MDMA pills at once in Australia in March 2015, Mr Depp replied in the affirmative.
He testified that he has done MDMA "maybe six, seven times" in his lifetime and that he's never done "enough to properly experience what the chemicals are supposed to do to you."
He also told the court he had never taken 8-10 MDMA pills at once "because I'm sure I'd be dead."
Next Mr Depp's attorney's brought up the Australia incident, during which his finger was severed.
Mr Depp was shown pictures of the damage to the Australia house and asked where he was sitting when he alleges that Ms Heard threw two vodka bottles at him, severing his finger.
He testified that the first bottle thrown by Heard went over his head. The second bottle thrown by Heard hit his hand that was resting on the bar, Mr Depp told the jury.
Follow live updates of the trial here.