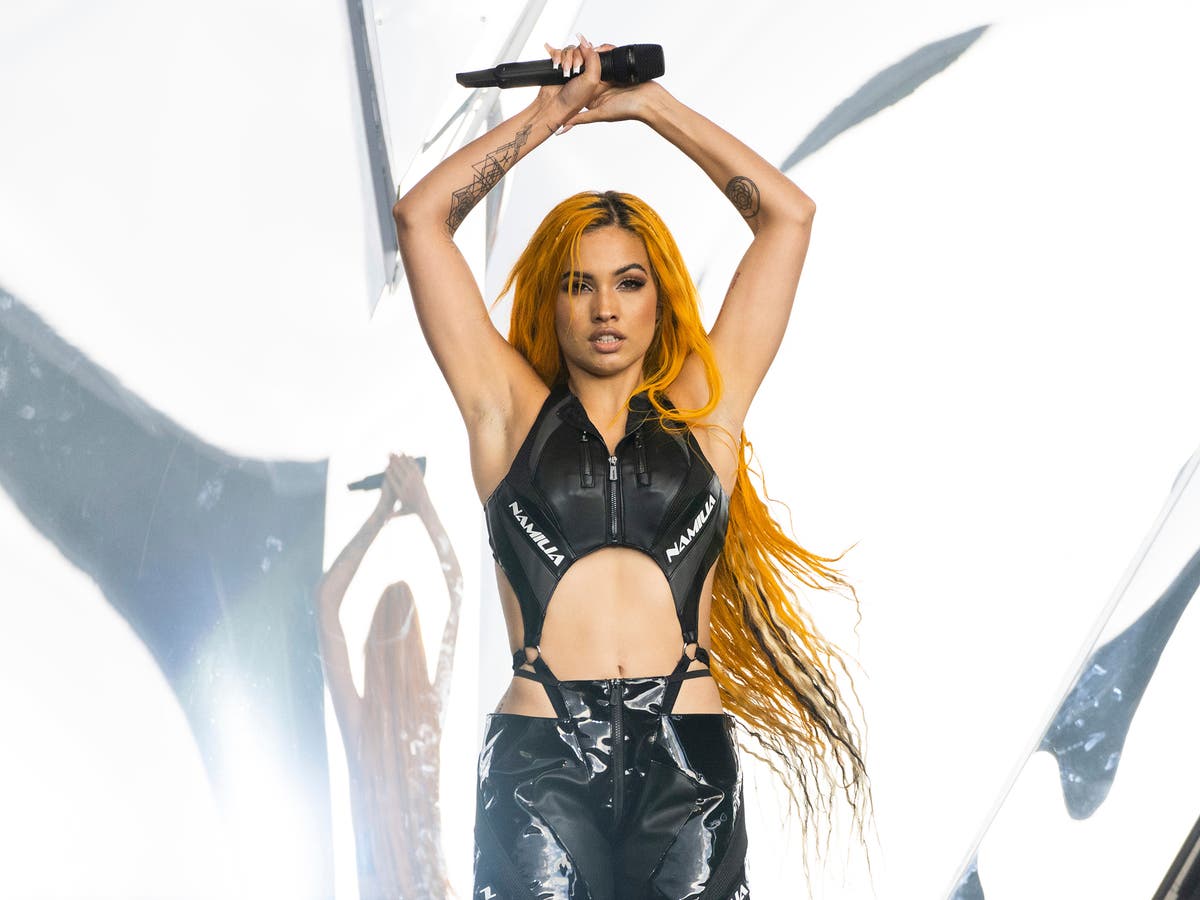 One of the first major UK music festivals since 2019, Reading returned with pleasant predictability
"We've got the mosh pit already," grins North London rapper MoStack, already late to the party at 3.10pm. As the first of the British festival season's top-tier weekenders to take place with full capacity since August 2019, Reading – the southern half of the Reading & Leeds twin fest – has been whipping itself into walls of death since the queue for the shuttle bus. For the glitter-doused teenage marauders of Berkshire, the 2021 festival season starts here and ends in just 72 hours of revelry and Strongbow Dark Fruit.
Recognising the demand to cram as much festival as possible into the next three days, organisers Festival Republic have kindly provided two main stages – East and West – with acts performing within minutes of each other in order to effectively double the rock. Rather than put them conveniently side-by-side a la US touring festivals and radio roadshows, however, they've placed them at opposite ends of the site, ensuring vast stampedes between stages and maximum spread of any Covid that's managed to gate-crash the stringent test-for-entry requirements.
Across those stages they've also spread two distinct festivals. Early on Friday, Dublin's Inhaler epitomised the tone for one: playlist indie. You'll have constructed a million Subway foot-longs to this stuff – anthemic, unchallenging pop songs played on just enough guitars to qualify as a band and safe enough not to scare the average Courteeners fan into clicking on anything else.
It has a lot going for it. Inhaler tunes like "My Honest Face", for instance, have enough solid bite to send their debut album, It Won't Always Be Like This, to number one last month. Even though, once you see the Bono-ness in singer – and son of Bono – Elijah Hewson, you can't unsee it. Nor the similarities in his music. Likewise, across on the West stage, Sea Girls – who have the sound of a synth U2 and the look of an Eighties New York Mohican gang from The Warriors – are every bit as catchy as they are machine-engineered to appeal to the edgy side of Jo Whiley.
Amid such pleasant predictability, London's Sports Team are a refreshing wallop of weird. Windmilling on an air guitar in a white bow tie and spanking new dungarees, like 1982 Kevin Rowland brushing up for the occasion, singer – well, demented yelper – Alex Rice leads his band through songs resembling The Strokes, The Rapture and Blur if they were running out of Ritalin. The moshpit sits down and conducts boating manoeuvres in response. Lyrical cornerstones include reckless drivers on the M5 and being at least as good as Ashton Kutcher, and at one point Rice goes crowd-surfing and returns to the stage wearing more clothes than he started with. Gob-smacking stuff.
Declan McKenna is cut from similarly frivolous cloth, riding onto the East stage on a bike dressed as a futuristic Sixties lounge lizard. He plays synthetic clones of blues, funk and folk-rock with a band of grinning hippies. And even the two giants of playlist indie closing out the West stage retain the element of surprise. Sam Fender, the Brits' idea of a rock star since he owns both a guitar and chart-worthy cheekbones, brings along a jazz jester saxophonist and delivers his witty everyman songs of working week frustration ("Saturday"), social distancing paranoia ("Howdon Aldi Death Queue") and drug downfalls ("Spice") with a propulsive urgency bordering on actual punk. The suspicion remains, though, that if his songs were a touch quieter then David Gray would be singing them. He also really lets himself down by ignoring a sign in the crowd from a fan requesting to play drums on "Play God". That stuff is Dave Grohl 101.
Catfish and the Bottlemen miss no such open goals. Amid rumours of an imminent split, they attack their (effective) Reading headline debut like it's their final hour. Emerging to an intro tape of The Beatles "Helter Skelter", they soak in its spirit and power into a set as gnarled and glorious as the history of these hallowed grounds demands. Singer Van McCann throws his best rock star shapes while the band pump songs of love, hedonism and their aftermaths ("Pacifier", "Twice", "Conversation") to gargantuan extremes, liberally piling on squealing solos and mountain range riffs. There are times during the epic "2all" when you'd believe a Chinese lab has mutated Biffy Clyro with Arctic Monkey genes and unleashed it upon Reading.
Besides an incongruous set of one-note Latino pop from the mermaid-maned Mabel – the only frontline woman on today's main stage bills and a sign of the festival's woeful lack of imagination in terms of gender diversity – the rest of the line-up constitutes a rap festival of no little legend. Of one sort or another, it demands action. Between R&B ragga raps about refugees and gang life, and an interlude where he tries to ascertain the entire crowd's financial status at once, MoStack claims he'll be hitting the site on a sex rampage after his set. Meanwhile Manchester's Jack-of-all-trades rapper Aitch, adept at servicing an audience from all angles of garage, trap, ambient minimalism and boudoir hip-hop, asks the ages of various girls in the front row before asking one "ever had a millionaire eat your p****?" Predatory sleaze or laddish bantz? The Twitter jury is out.
AJ Tracey insists on more vertical pleasures. "I'm the king of the moshpit," grime's murky prince announces, long before he's earned one. His set starts low-key and crypt-friendly, his raps sounding restrained beneath crushing bass beats, demanding much of us without giving much himself. While he has an unenthusiastic go at singing on "Psych Out!", it's more like melodic breathing; even his fireworks seem half-hearted. Luckily things liven up considerably for the jaunty "Little More Love", Aitch's guest appearance on "Rain" and closer "Ladbroke Grove", an ode to his home district made all the more powerful by Grenfell visuals.
Inevitably, though, Stormzy steals the show. Dismissing plans for an "event" performance, Big Michael arrives to a burst of metal guitar shredding and declares his headline set a "shoobz", or all-out grime party, to mark the end of our 18-month Covid containment. He fills an onstage balcony with crew, friends and family writhing away to his tropical inner city carnival sounds, invites along guests including Dave (for a majestic "Clash") and prances through "Know Me From" and "Big for Your Boots" like a six-foot grime imp.
His jubilance belies his position as the frontline face of anti-racism, gangland rehabilitation and mental health awareness, issues brilliantly tackled in a subdued yet stirring soul section ("Take the shackles off my feet so I can dance," sing his gospel backing vocalists), and he naturally adapts to the role of post-pandemic support therapist too. "Wiley Flow" is introduced as a chance to absolve ourselves of the misery, frustration and "Boris Johnson p****ole bulls***" of the pandemic, and witness the relish with which the entire field yells "F*** Boris" on the final "Vossi Bop". Reading's back, with numerous bangs.