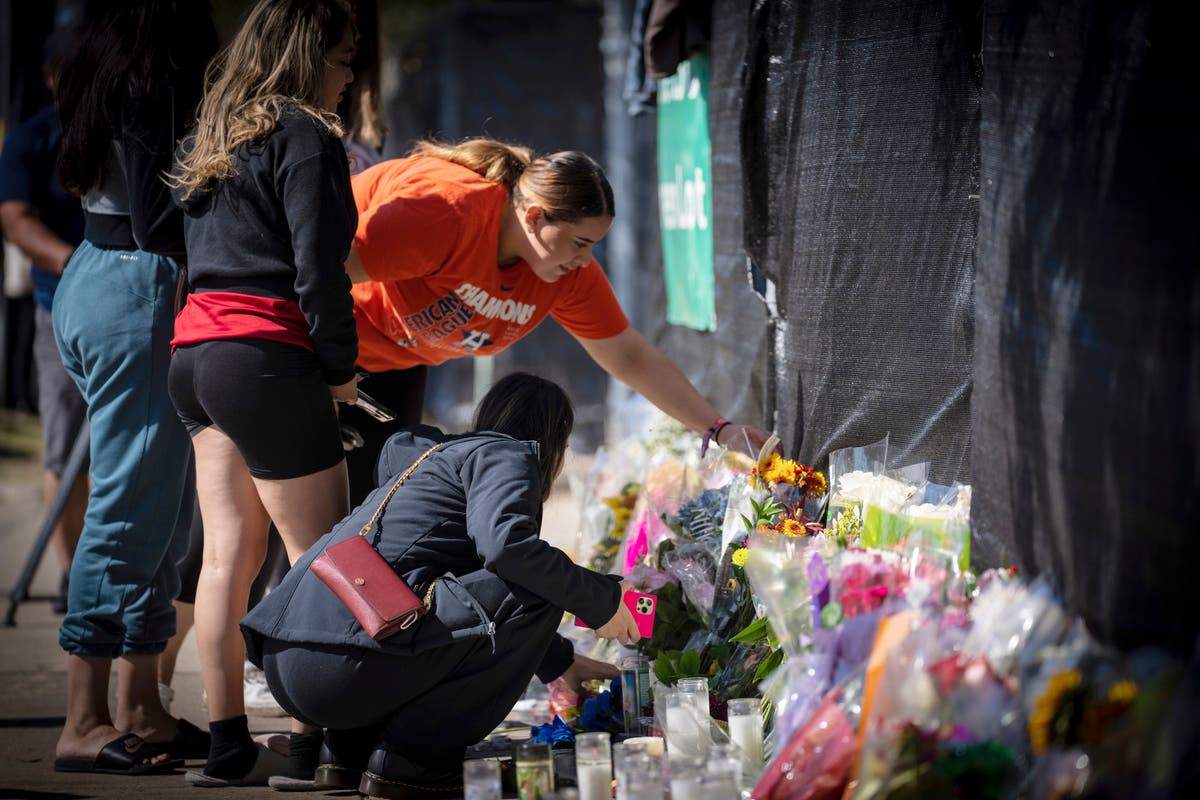 Astroworld Festival: Latest updates from Travis Scott's Houston concert
Nurse reveals chaos of Astroworld in detailed eye-witness account
Travis Scott's lawyer has criticised what he called "finger-pointing" and "inconsistent messaging" by Houston police and officials in the wake of the deadly tragedy at Astroworld, instead urging them to get on with investigating Friday's incident so that repeats in future can be avoided.
It comes after Houston's police chief told a news conference that officials didn't have the power to stop Scott's performance as the disaster unfolded and that the "ultimate authority to end the show is with the production and the entertainer".
Meanwhile, TikTok was struggling to control viral conspiracy theories falsely claiming that the deaths were part of a Satanic ritual.
Two criminal investigations and more than 30 lawsuits are now probing what went wrong at the Astroworld festival in Houston, Texas on Friday night, when a crowd surge killed at least people and injured hundreds more.
A nine-year-old boy is in a medically induced coma following his injuries, and a 22-year-old student has been declared brain dead.
Astroworld founder and headliner Travis Scott, who was performing when the crush happened, has said he is "devastated".
Follow the latest updates live below.
1636615616
Astroworld and the responsibility of crowd safety
Eight people died and more are still fighting for their lives after the tragedy at Astroworld, Travis Scott's festival in Houston.
Footage from the event show a crowd surge that left many attendees crushed and medical teams struggling to get to those in need.
Since the incident unfolded, social media has been awash with attendees sharing harrowing experiences from the concert.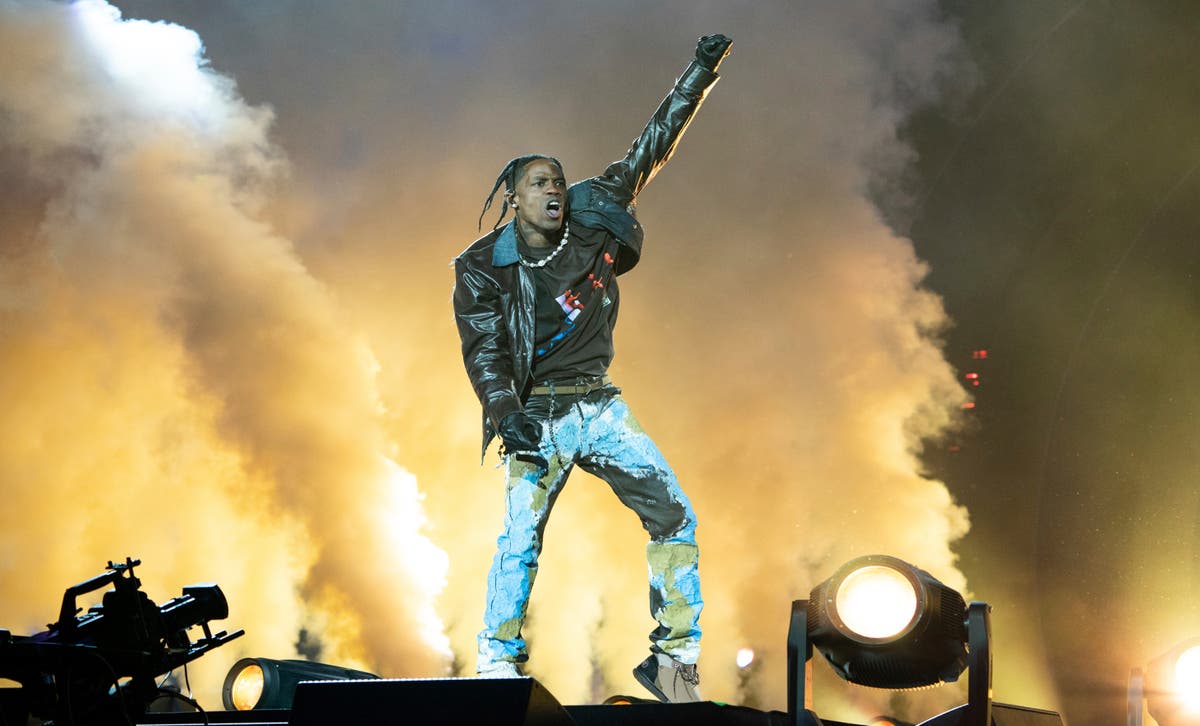 The tragedy at a Houston festival reminded some concertgoers of previous situations where performers stepped in to help members of the audience, writes Lucy Anna Gray
Eleanor Sly
11 November 2021 07:26
1636611594
Police not provided with clear security staffing records
Investigators have not been provided with clear records about the private security personnel working the grounds when the crowd surge occurred on Friday at Astroworld, leading to the deaths of at least eight people, police say.
Houston police chief Troy Finner said at a press conference on Wednesday that it was up to the show's promoter Live Nation Entertainment to secure the mosh pits in front of the stage on Friday night, but staffing records handed over to the police by the organisers were "just not good".
Mr Finner, however, added that he was not placing any blame on the organisers.
The police chief also declined to provide a timeline about when the organisers were told to shut down the show and how much longer the show lasted after the directive was given.
"When you say authority and ability to end the show, we don't hold the plug. But it's always in the plan, it's always a discussion of how that would happen," he said. "We had those discussions with the promoters."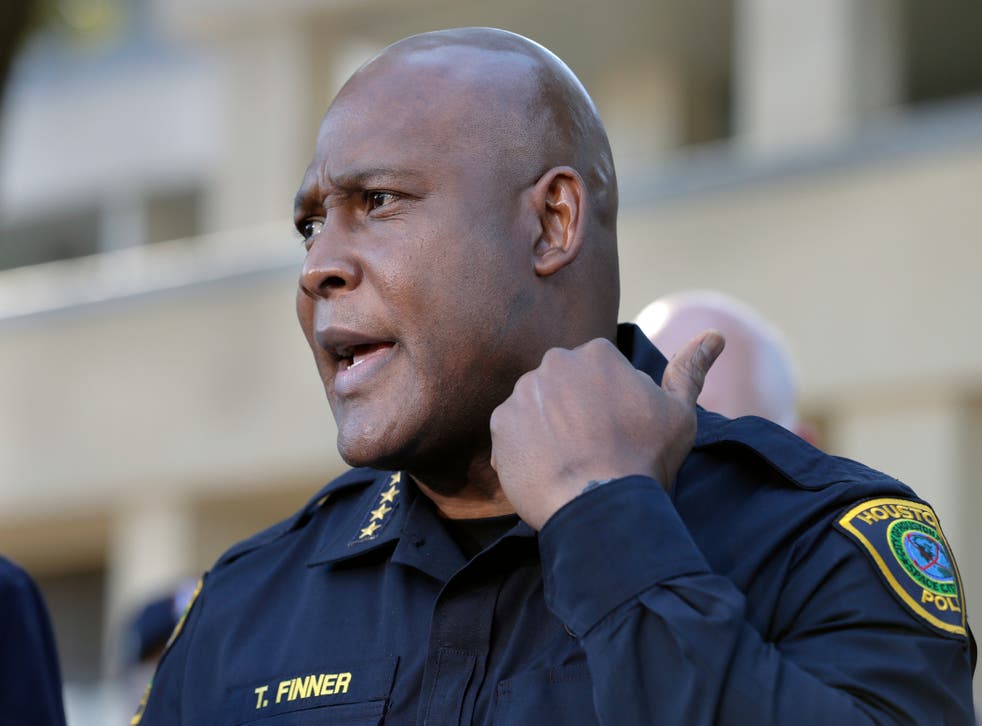 Namita Singh
11 November 2021 06:19
1636609136
Travis Scott 'cancels $5.5m Saudi Arabia show'
Following his decision to drop out of the Day N Vegas festival this weekend after the tragic incident at Astroworld, Travis Scott has now reportedly cancelled another show slated for later this month in Saudi Arabia.
According to Variety, the rapper will no longer be performing at what was described as a "$5.5m one-off show" in the Arab country that was scheduled for 19 November. While Day N Vegas has confirmed a new line-up for Saturday's headline slot after Scott's withdrawal, there has been no official confirmation about the Saudi gig.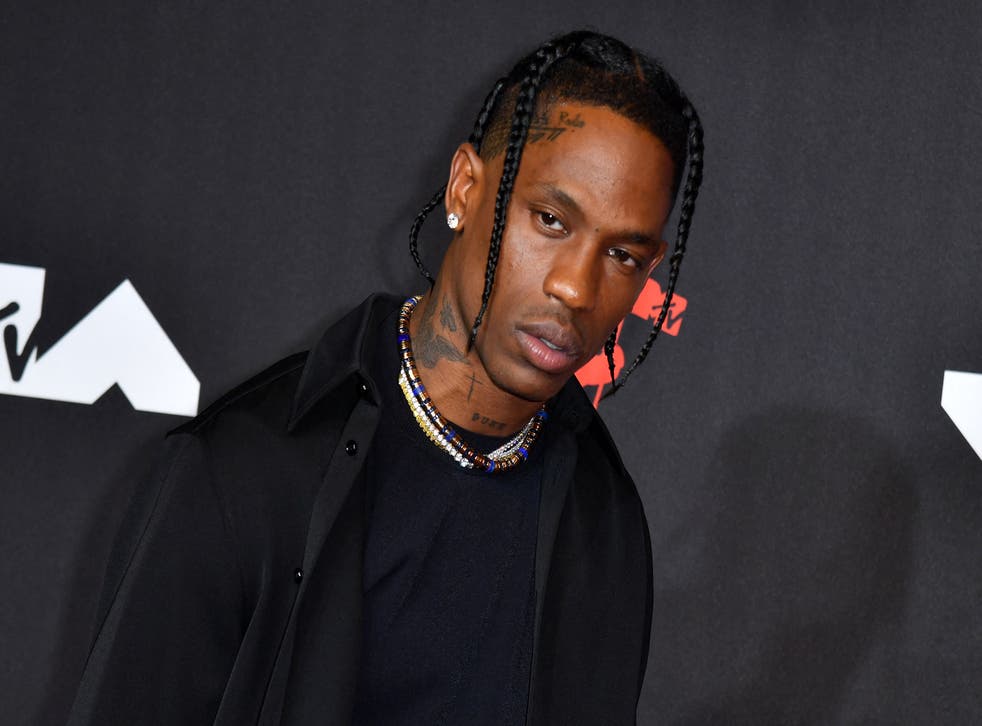 Namita Singh
11 November 2021 05:38
1636606788
Teyena Taylor defends Scott: 'There's videos of him stopping his shows'
Singer-songwriter Teyena Taylor came to the defence of Travis Scott after the Astroworld incident, saying that she has seen clips of him stopping his shows for the sake of crowd safety.
Taylor, who was being applauded for pausing a live show to check on someone in the audience, was asked about criticisms of rapper Scott for failing to do so as a deadly crowd surge unfolded last Friday.
"There's videos of him stopping his shows," she told TMZ. "It's just, people are choosing whatever video they are choosing to choose to make it look as if he's not, but I've seen videos of him stopping the show."
She said that while it was crucial that artists tread with caution, she feels that "everybody involved" including the staff is responsible for safety.
"At the end of the day, I have seen the video of him stopping the show, I think it's very important for all artists to take precautions, proper precautions. But, also, the staffing as well. It's not just the artists.
"With Travis, he has a large crowd so we can't expect him to see every single person. I think going forward, making sure everybody involved is taking a proper precautions to make sure everybody is okay."
'We ain't doing that': Teyana Taylor stops concert to check on a fan days after Astroworld
Namita Singh
11 November 2021 04:59
1636606691
Confusion over responsibility for permits and lack of occupancy plan
ICYMI: Houston ABC affiliate ABC13 asked Harris County officials for a copy of permits relating to the Astroworld Festival to show that they reviewed any safety plans, but the county team responsible for running the NRG Park where the festival was held was unable to provide anything.
As the event took place within Houston city limits, the permitting requirements are superseded by those of the city over the county.
If the festival took place in the county but outside a city, Texas law suggests the county's commissioners court would have a say in safety plans, including requiring the promoter to file a plan to control the number of people at the festival and voting on the plan if they didn't think it was sound.
Houston did release a copy of 10 permits filed ahead of Astroworld for things like tent construction, the gas used to cook food, setting off fireworks behind Travis Scott, and keeping exits unobstructed during the show. But there were no permits for the larger plan that put tens of thousands of fans in a general admission pit.
Because the concert was outdoors, it didn't have to adhere to the same occupancy rules as indoor events. Houston Fire Department Chief Sam Pena said no occupancy permits were required.
Mr Pena also said that occupancy was not the issue that caused the tragedy, given that there was space for many more people behind the crowd, they were just too tightly packed together.
Graeme Massie
11 November 2021 04:58
1636605663
Travis Scott lawyer criticises 'finger-pointing'
Travis Scott's attorney has demanded that the investigations into the Astroworld tragedy should "start proceeding over finger-pointing" and work towards identifying what "transpired and how we can prevent anything like this from happening again".
In an interview with Rolling Stone, Edwin McPherson said: "There has been multiple finger-pointing, much of which has been by city officials, who have sent inconsistent messages and have backtracked from original statements.
"Houston Police Chief Troy Finner was quoted in the New York Times as saying 'You cannot just close when you got 50,000 and over 50,000 individuals. We have to worry about rioting, riots, when you have a group that's that young.' Yet, just a short time later, Chief Finner states the responsibility to stop the show falls on Travis."
He added that according to the Operations Plan designated, only the festival director and executive producers have authority to stop the show, "neither of which is part of Travis's crew".
"This also runs afoul of HPD's own previous actions when it shut down the power and sound at this very festival when the performance ran over 5 minutes back in 2019."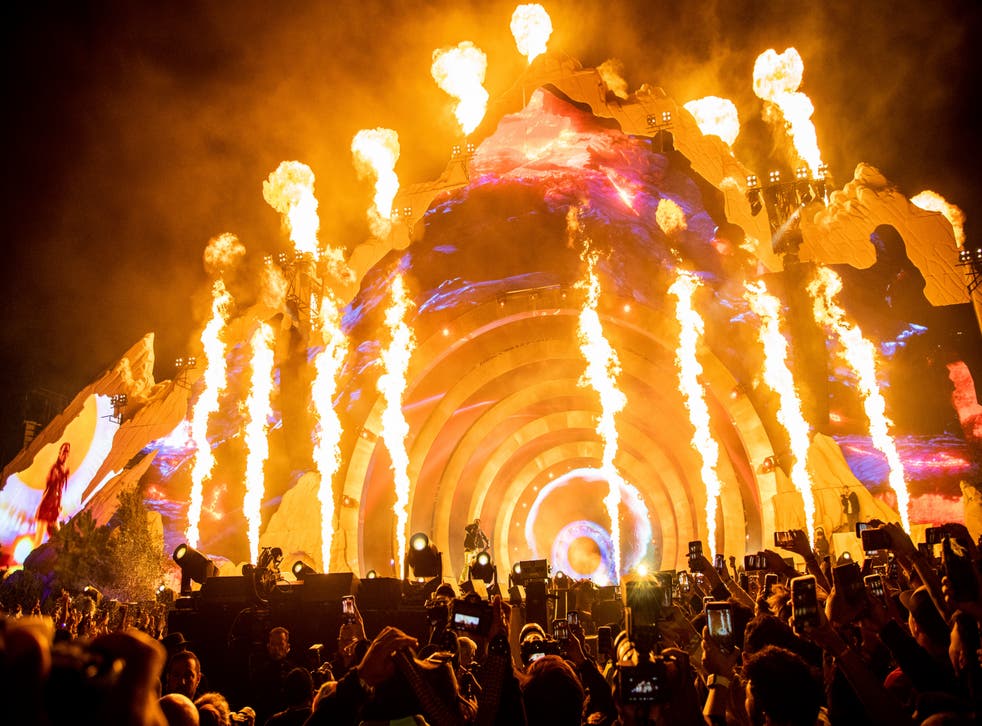 Namita Singh
11 November 2021 04:41
1636603719
Security guard describes scenes reminiscent of Hillsborough
ICYMI: An Astroworld security guard has described what he saw during the crush in terms chillingly reminiscent of the 1989 Hillsborough disaster.
Earlier today we linked to an interview with Jackson Bush, who told he was hired without showing any ID or qualifications and that organisers were unprepared for disaster.
But he also said: "That barricade probably was five feet probably. If you're 4 foot 11, those people's heads were stuck up against the barrier. You see their faces turning read, you see their colour change."
He held up his hand against his cheek with his fingers spread, indicating the fence.
By comparison, here's a paragraph from the final report of the Hillsborough Independent Panel in 2012: "In pen 3, the pressure became so severe that the faces of the fans at the front were pressed into the perimeter fencing, distorted by the mesh. As fans lost consciousness some slipped to the ground under the feet of others, unable to move."
In that event, 97 people died and 766 were injured at the UK's Hillsborough football stadium when police opened an exit gate and allowed hundreds of new bodies to press into a crowd of fans who were fenced in to limit hooliganism.
Graeme Massie
11 November 2021 04:08
1636603158
Communication strategy at Astroworld under fire
Fire officials have criticized the communications strategy in place at the Astroworld festival, after it emerged that none of the firefighters in a command post near NRG Park had two-way radio contact with ParaDocs, a private company hired to provide medical services at the event, reported CBS affiliate KHOU.
Instead, the firefighters were "given a list of cell phone numbers", according to the Houston Professional Firefighters Association.
While according to the company's plan, two-way radios were to be used as the go-to means of communication for medical calls, Houston Fire Department chief Samuel Pena said that was not the case.
"If you're asking if we had radio-to-radio communication with ParaDocs: no," Mr Pena said, adding that they had direct radio contact with the Harris County Emergency Corps, a non-profit providing a few ambulances on site.
Slamming the arrangement, HFD's union president Marty Lancton said: "Getting them there quicker in the emergency response world is absolutely critical, seconds matter, lives matter.
"The point is, is that you want to take as many middle people out of it as possible."
He added that "instead of giving us a radio, I'm told that they were given a list of cell phone numbers." At a concert of about 50,000 people, the cell phone network can be patchy.
Chief Pena however, advised against taking the issue out of proportion. "To make it seem like, because that didn't happen, people died, I'm not going to take that leap."
In a statement, ParaDocs said that they are confident that "the facts will demonstrate that the care we provided followed the appropriate protocols and operating procedures that were in place".
Namita Singh
11 November 2021 03:59
1636599879
Firefighters had no reliable direct contact for Astroworld medics, says union boss
ICYMI: A trade union leader has said Houston's firefighters were only given mobile phone numbers to contact Astroworld's emergency medical team, leaving them out of the loop if the phone network was overloaded.
Patrick M Lancton, president of the Houston Professional Fire Fighters' Association, told Fox News that his officers had no radio contact with ParaDocs, an event medical services company contracted by Astroworld's organiser Live Nation.
"What I'm told from my guys is that they were given a list of cell phone numbers," he said. "In emergency situations, communications matter, seconds matter, and… cell phones with an event with 50,000 people is typically unreliable.
"That's not our method of communication and emergency response. We use radios to directly communicate the needs, especially if an incident starts to go awry and tragedy starts to happen.
"That's why communication is key, and our Houston firefighters that were in a mobile unit on the outside did not have a radio from the third party medical company that was hired."
Indeed, festival goers have reported losing phone signal for hours of the time as the local phone network struggled under the load of tens of thousands of connections.
Fire chief Samuel Peña confirmed Mr Lancton's key claim, but disputed that there was no radio contact at all. He said the fire department was in touch with both Houston police and Harris County Emergency Corps, an ambulance provider, who in turn had radio contact with ParaDocs.
Graeme Massie
11 November 2021 03:04
1636596159
TikTok struggling to remove Satanic conspiracy videos
ICYMI: TikTok is removing videos that spread Satanic conspiracy theories about the Astroworld disaster – but its own algorithms are still promoting them.
'Satanic panic' videos have racked up tens of millions of views on the viral video app, with creators spuriously interpreting the festival's stage layout and visual design as symbols tied to some kind of occult sacrifice ritual (nobody tell them about heavy metal music).
A TikTok spokesman told Complex magazine that some videos broke its rules and were being removed, without citing any specific rule. TikTok forbids "conspiratorial content" that "denies a violent or tragic event occurred", as well as "conspiracy theories used to justify hateful ideologies" and "misinformation related to emergencies that induces panic".
The company also told Rolling Stone that it was working to remove conspiracy theories from its search suggestions, which previously offered "Astroworld demonic" as a search related to "Astroworld".
Yet none of this has fixed the problem. As of right now, the second, third and fourth suggested search queries when you type "Astroworld" into TikTok are "TikTok denomic" (note the misspelling). "Astroworld conspiricy", and "AstroworldFestival 2021 portal to hell". These all rank above "Astroworld" itself.
The Independent has asked TikTok for comment.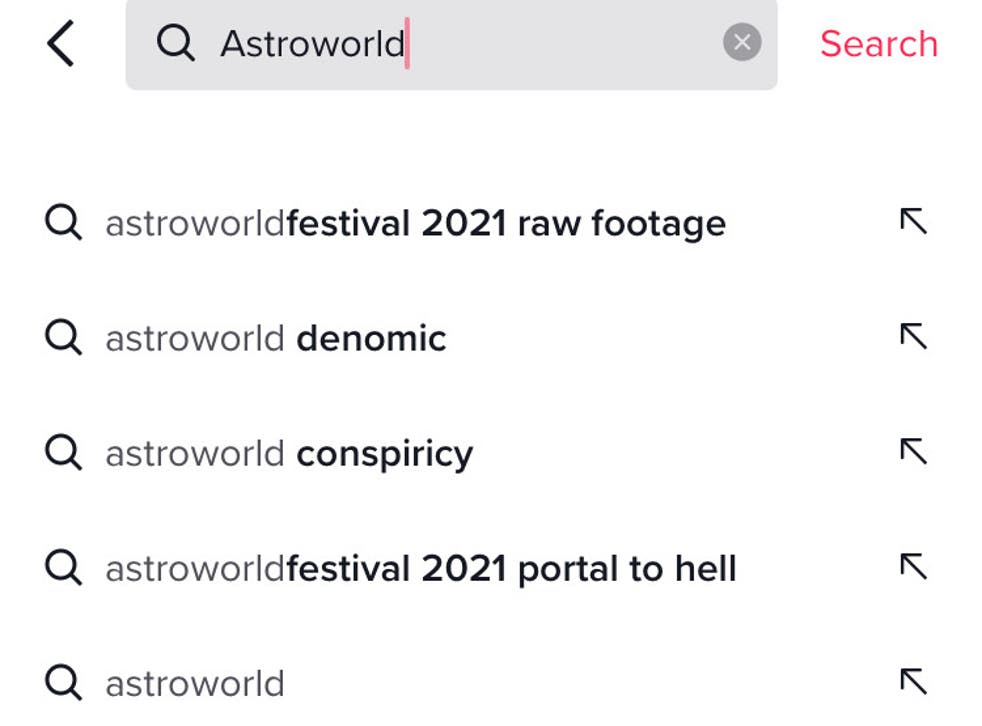 Graeme Massie
11 November 2021 02:02