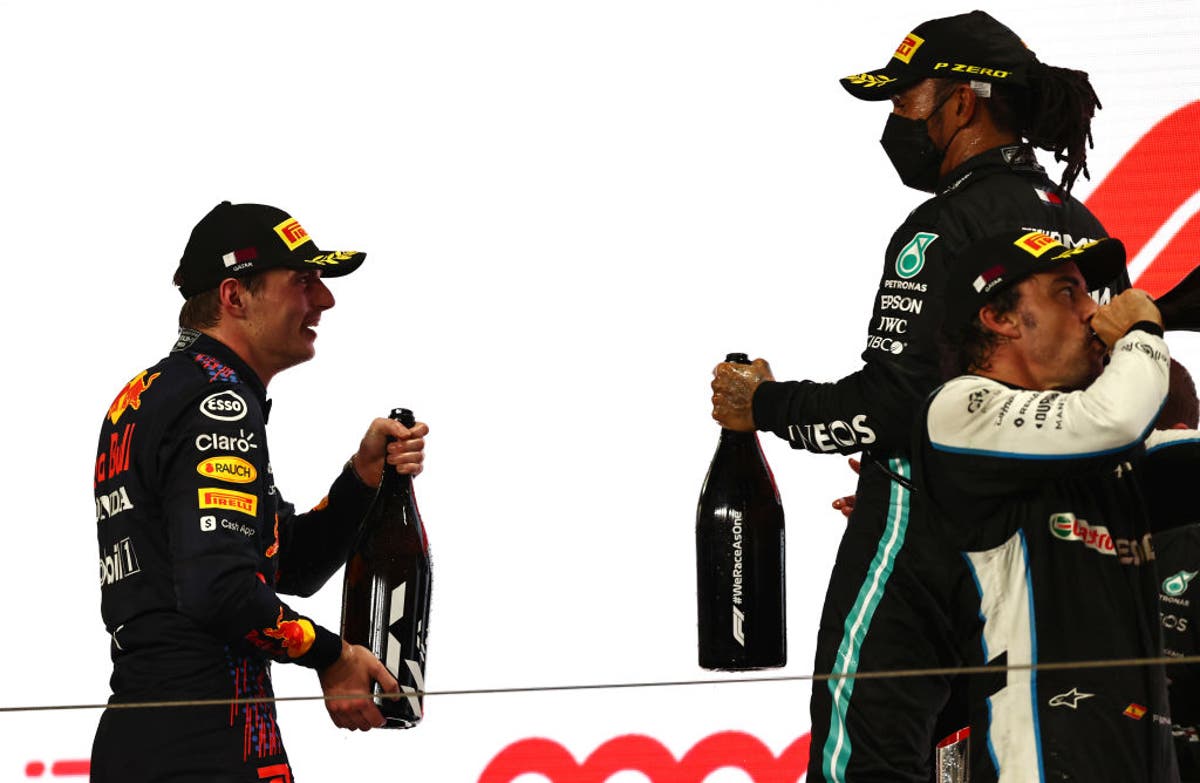 F1 news, standings and more
Lewis Hamilton Aims To Be 'Purest' F1 Driver
Lewis Hamilton is chasing down Max Verstappen at the top of the Formula 1 standings, just eight points behind after winning the Qatar Grand Prix – his second straight victory following a huge performance in Brazil.
Just over a week remains until the next race, with the Saudi Arabia Grand Prix being the penultimate one of the season – then it's off to Yas Marina in the United Arab Emirates. The long straights will unquestionably favour the Mercedes cars over those of Red Bull, especially with Toto Wolff revealing Hamilton will get his newest "spicy" engine back in the car in Jeddah.
Wolff and his Red Bull counterpart Christian Horner have been involved in back-and-forth encounters too, drawing amusement from some and disdain from others, as the fight goes on for the constructor championship as well as the drivers' title. Elsewhere outside the big two, Fernando Alonso's podium finish, the changing team line-ups for next year and even the additions of rules such as sprint qualifying have all been big talking points in Formula One recently.
Here's all the latest F1 news and reaction as the build-up to Saudi Arabia continues:
1637928702
Masi: Permanent stewards could lead to 'perceived bias'
"I think you'll find, and there was some wise words about those that operated under a permanent stewards panel, thought that there was perceived bias when there was a permanent steward," Masi said, according to Speedcafe.
"I think the stewarding that we have now with the pool of four chairmen, that we shared the pool of driver, stewards, and all of that, the way all the chairmen meet regularly…
"We need to take a step back and remember that's it's the first time in a long time we are in a real championship fight between two amazing drivers, two fantastic teams.
"As a regulator, last time I saw, there's no regulator in the world that's going to be popular.
"Regardless if you're a referee, if you're a regulator of any sport, that's part of the role that we fulfil, and from our perspective there will always be slight differences but, at the end of the day, the stewards are there to make those [decisions]."
Tom Kershaw
26 November 2021 12:11
1637927473
F1 news: Verstappen is like Kimi, says Todt
"Max is a bit like Kimi," Todt told RaceFans, referring to the famously ice cool Fin who won the world title for Ferrari in 2007 and now drives for Alfa Romeo Racing. "Very straightforward, very talented and they have limited interest and they focus on it. Indifferent."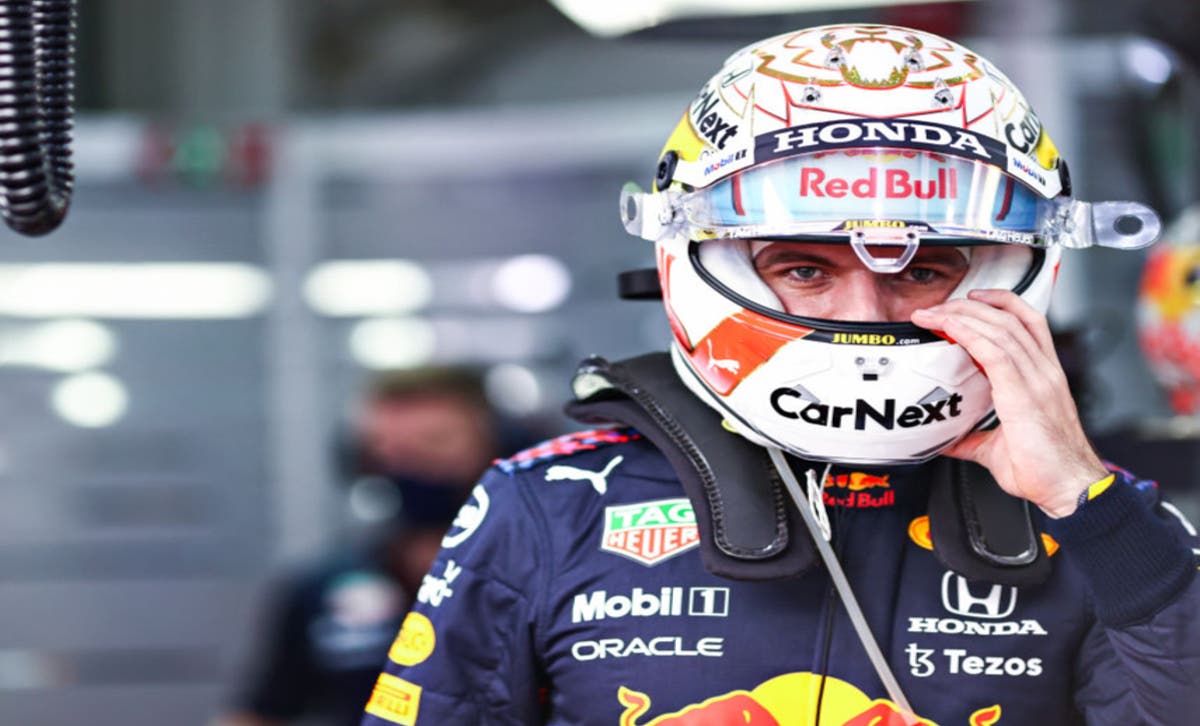 Verstappen leads the standings by eight points
Lawrence Ostlere
26 November 2021 11:51
1637926610
Verstappen: F1 needs to rethink engine penalties
"The first time it's 10 places back and after that it's five, and I find that a bit illogical," he explained.
"If you keep taking engine penalties, I think it should just stay the same [number of grid places], because you're going over the same limit all the time.
"Yes, that's something that could be looked at, because in Brazil, you clearly saw that the rest of the teams didn't have a chance to do anything against us [Red Bull and Mercedes].
"So a penalty like that [five places] is not really that big of a deal."
Tom Kershaw
26 November 2021 11:36
1637925010
Alfa Romeo admit financial impact was a 'pillar' of Zhou signing
Alfa Romeo chief Fred Vasseur admitted the decision to sign Guanyu Zhou was financially motivated but far from the only factor in their recruitment process.
Zhou, who will race alongside Valtteri Bottas at Alfa next season, will become the first-ever full-time Chinese driver and will bring significant funding to the team as well as marketing opportunities.
"The first criteria is the performance of the team," Vasseur said. "It means that to be performant you need to have good drivers, good technicians, good engineers, a good feeling from the drivers and a good budget.
"It was a pillar of the decision, for sure. I was always clear like this because we want to get the cost cap. It's the best way for us to be performant.
"But it's not the only one. I think Zhou is doing a very good job in F2 and I think everyone underestimates the level of performance and the job done by Zhou this season."
Tom Kershaw
26 November 2021 11:10
1637923520
Lauda condemns Wolff and Horner's feuding as 'childish'
Mathias Lauda has labelled Toto Wolff and Christian Horner's constant feuding as "childish".
"I think the drivers behave more maturely than the team bosses," Lauda told ServusTV. "With Max and Lewis, there were never any serious problems all season, even after the incident at Silverstone. Actually, the team bosses are childish."
Lauda also did not rule out the chance of a crash deciding the drivers' championship.
"This has happened before in Formula 1," Lauda added, "in an equally fierce duel, namely with Prost against Senna."
Tom Kershaw
26 November 2021 10:45
1637922170
Norris responds to 'creepy' social media critics
"I think the one bad thing is just personal life with friends, people who through no fault of their own get put into the spotlight sometimes because of being seen with me, or me following them on social media or something," Norris told ESPN.
"I think that's been the worst side of it – someone who is just quiet on their own and they are seen with me at dinner or on a post on Instagram. There's still a lot of nasty fans, a lot of fans which are just not nice and just use a lot of people and things like that.
"I'd say the worst thing about the popularity is those kind of people. The people who don't respect your personal life at all and the people you hang with and so on. That's definitely the worst bit of it.
"There are. It's very, very weird," Norris added when asked if some social media users find information about his friends without meeting them in person.
"Honestly, it's very creepy what some people do. The time they spend trying to investigate things or people or whatever.
"I just laugh and find it very funny, but it's very weird. It's just odd."
Tom Kershaw
26 November 2021 10:22
1637920934
Perez happy to help Verstappen win title
Sergio Perez says he has no qualms about sacrificing his own goals in order to help Max Verstappen win his maiden F1 title.
"It's part of the game, Max is the one fighting for the championship, and I have no problem helping him," he told Canal Plus.
"It's in everyone's interest. It doesn't bother me. Max is the driver of the moment – he's very strong. It's not easy to be his teammate, but I think I'm doing well.
"I would have liked to win more races, but I had to adapt to the team. That's a real process with such a competitive car. It took a little longer to get started than expected. But you realise how difficult it is to be successful when you get into this sport. It's not guaranteed. There are so many good drivers and good teams that you have no guarantee of winning even one grand prix."
Tom Kershaw
26 November 2021 10:02
1637918433
Marko not afraid of Mercedes' 'rocket' engine
Helmut Marko says Red Bull are not afraid of Mercedes' speed in Saudi Arabia.
"Mercedes will be using the rocket motor from Brazil in Saudi Arabia again," he said, but "because you can no longer lower the spoiler, it will no longer bring an advantage of 0.4 seconds.
"We saw in Qatar that Hamilton's speed advantage on the straights in Qatar was no longer that great and was more or less within the normal range.
"This is due to the fact that after more stringent tests by the FIA, Mercedes no longer used its extremely flexible rear wing."
Tom Kershaw
26 November 2021 09:20
1637916933
Surer: No guarantee Mercedes will have an edge at Saudi GP
Former F1 driver Marc Surer says there are no guarantees that Mercedes will be quicker than Red Bull in Saudi Arabia.
"How often did we think in advance that a track would be better for Mercedes or better for Red Bull?" Surer asked F1-Insider.com. "And then it was exactly the other way around.
"If that's the case again in Saudi Arabia, then Red Bull would be the favourites."
Circuit designed Hermann Tilke backed up Surer's view, saying that although Mercedes may have a more powerful engine, that doesn't necessarily mean they have a clear advantage.
"A powerful engine helps," said the F1 circuit designer, "but it's not just straight ahead. There are a few fast corners that, with the right set-up, could give the Red Bull an advantage.
"It is also a street circuit, so often separate laws apply."
Tom Kershaw
26 November 2021 08:55
1637915528
Alonso: Third world title would cement legacy
"It would mean a lot, for sure," said Alonso, who finished on the podium in Qatar, while appearing on the Beyond the Grid podcast.
"But I don't know, it's not that I'm desperate to get it and that it would change my whole career or change my way of seeing the sport.
"I'm a competitive person in everything I do, so I'm really looking forward to a third championship and I will do what is in my hands and even more in the next coming years.
"It would mean a lot in terms of maybe a legacy after my career finishes in Formula 1, of how to always push to the limit, always try to find excellence on things you do, having a very high discipline in the way you do races, in the way you approach racing.
"It doesn't matter if you are 19, it doesn't matter if you are 42 or 43, it's a way of living and a full dedication to the sport.
"That probably is the biggest thing if I win a third championship, that kind of legacy and message for future generations."
Tom Kershaw
26 November 2021 08:32