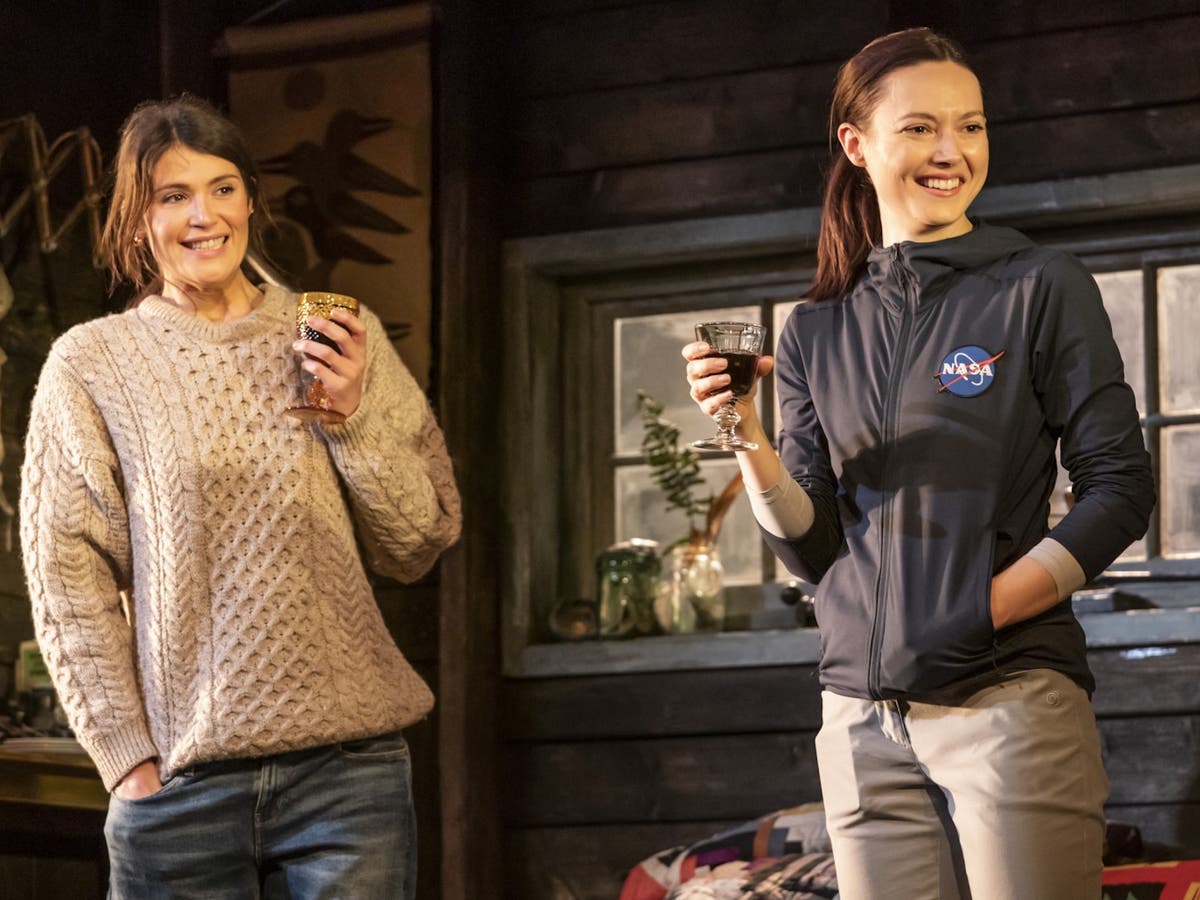 American playwright Amy Berryman's big, ambitious debut play is the opening piece in Sonia Friedman's Re:Emerge season at the Harold Pinter Theatre
Walden makes for a compelling if flawed return to live theatre. American playwright Amy Berryman's debut play is the opening piece in Sonia Friedman's Re:Emerge season at the Harold Pinter Theatre, and it is admirable for Friedman to have programmed a season of new writing as opposed to a series of safe revivals. Walden is a big, ambitious play that ends up collapsing somewhat under the weight of its own ideas.
Some time in the not-too-distant future, astronaut Cassie (Lydia Wilson) returns to Earth after a year-long stint on the moon to stay with her estranged twin sister, Stella (Gemma Arterton), a former Nasa architect, who has begun a new life in the wilderness with climate activist Bryan (Fehinti Balogun). Cassie and Bryan are set up as diametrically opposed forces – one considers Earth beyond saving, and believes space exploration and habitation will be humanity's salvation, while the other wishes to conserve the planet we have as much as possible, considering space to be yet another place for inequality and colonialism to thrive.
The conversations between them are sharp and energetic, zipping and bouncing off the walls of Rae Smith's deliciously tactile cottage design. Berryman sidesteps anything overly didactic in these arguments; Cassie is ambivalent towards her mission and Bryan is disarmingly generous. Though Balogun, while a consistent pleasure to watch, is given short shrift with Bryan, whose tragic backstory feels a little shoehorned in, his narrative arc eventually sputtering out.
I was more intrigued by the relationship between Cassie and Stella, twins nudged into a rivalry by their famous astronaut father, who orbit each other with simultaneous unease and fascination — two sisters who fluidly swap and share traits, desires and ambitions. Wilson as Cassie is the stronger of the pair, with a wiry shell that gets stripped away, whereas Arterton begins the play in a state of mannered tremulousness and mostly stays that way. Ian Rickson's direction is painterly and delicate, but there is a fogginess to the play's second half, which ends up devolving into a series of revelations and choices which can't quite deliver the intended emotional impact.
Walden, above all, is about figuring out what is worth living and fighting for. It does not quite convince in its near-future realism. A clumsily inserted news broadcast at the play's start reports one million dead from a tsunami, an event that has little to no tangible impact on the world of the piece — the characters are sequestered away in their own little utopia, but there is a peculiar lack of external pressure on the trio. And the various interpersonal relationships, while intriguing, do not feel fully fleshed out. It is a confident and promising debut from Berryman, but the faultlines and fissures become hard to ignore. Walden looks to the stars while trying to keep its feet on the ground, and ends up drifting in space.