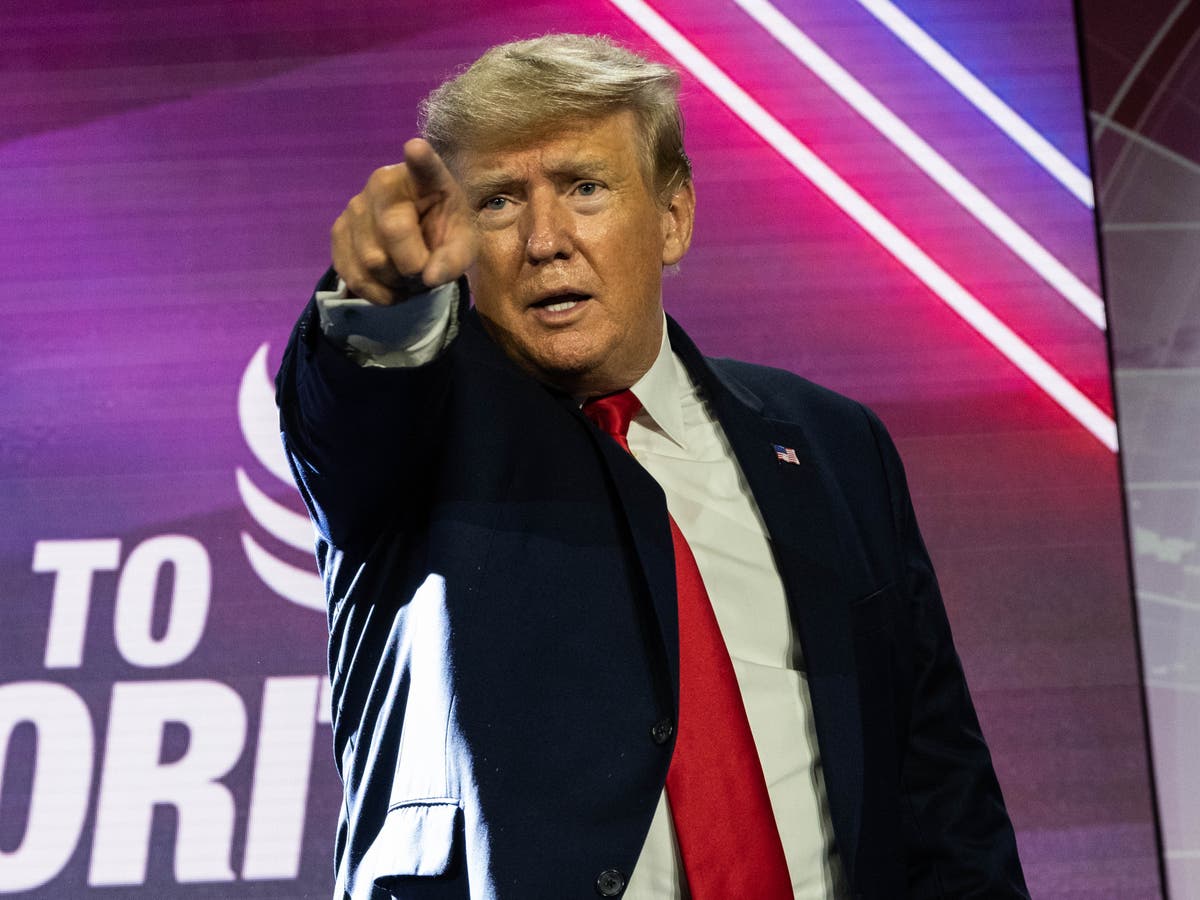 'The Republicans don't have a voice. They don't even have anything to say,' former president says
Donald Trump is watching every January 6 Committee hearing in a rage, furious that no one is there to defend him, according to a report.
A close advisor told The Washington Post that Mr Trump is at "the point of about to scream at the TV" as he watches the hearings.
Another source in Mr Trump's inner circle told the paper that the former president often complains that "there's no one to defend me" at the hearings.
But one person familiar with the situation rejected that notion to Insider, saying: "This is not true. He has barely watched any of the hearings at all."
Trump advisors shared their frustration with The Post at not knowing what's coming up in the hearings and not having insight into the panel's work.
The two Republicans on the committee, Representatives Liz Cheney of Wyoming and Adam Kinzinger of Illinois, both hail from the small anti-Trump section within the GOP, and they haven't held back in their criticism despite an increasing number of threats against them.
The Post reported that Mr Trump's fury is focused on Republican House Minority Leader Kevin McCarthy, who declined to work with the committee after Speaker Nancy Pelosi rejected two of his suggested panellists.
The GOP hoped the panel would appear partisan by not allowing any of their members to join the committee – Ms Cheney and Mr Kinzinger were invited to join by Ms Pelosi.
Mr Trump told Punchbowl News earlier this week that he's unhappy with Mr McCarthy's decision to boycott the committee after Ms Pelosi's rejection of two of his members.
"Well, I think in retrospect, I think it would have been very smart to put [Republicans on the committee] and again, I wasn't involved in it from a standpoint so I never looked at it too closely. But I think it would have been good if we had representation," he told the outlet.
"I think in retrospect [McCarthy should've put Republicans on] to just have a voice. The Republicans don't have a voice. They don't even have anything to say," he added.
"I think it would've been far better to have Republicans [on the panel]. [Jim Banks and Jim Jordan] were great. They were great and would've been great to have them. But when Pelosi wrongfully didn't allow them, we should've picked other people. We have a lot of good people in the Republican Party," Mr Trump said.
Many Republicans have been following Mr McCarthy's lead and attempting to ignore the committee, telling reporters they haven't watched the hearings.
While Mr McCarthy instead focuses on inflation and high gas prices in an effort to damage President Joe Biden, Mr Trump wants to push back against the committee.
"I am hereby demanding EQUAL TIME to spell out the massive Voter Fraud & Dem Security Breach!" he wrote on his social media platform, Truth Social, on 16 June.
During his time in the White House, it was reported that Mr Trump watched around seven hours of TV a day.
Mr McCarthy said on Tuesday that "we've watched what Nancy Pelosi has done with this political committee. One thing I know is that since Nancy has appointed this political committee, gas has gone up $1.86".
He added that the Democrats are "focused on an issue that the public is not focused on. The public is focused on why is inflation so high, why is the border insecure, crime is rising, everything is costing more".
Preliminary data released by Nielsen showed that around 20 million people watched the first hearing of the January 6 committee.
One of the nominated panellists rejected by Ms Pelosi, Representative Jim Jordan of Ohio, told The Post that "the hindsight is always wonderful".
"It would be nice if we could cross examine witnesses, if we can see other documents, but that decision was made a year ago when Nancy Pelosi said for the first time in American history, she wasn't going to let the minority leader put on the committee who he had selected," he added.
Panel member Adam Schiff, a California Democrat, told The Post that "I think McCarthy's decision not to recommend responsible people to the select committee was another huge disaster".
"I think it was a strategic blunder of historic proportions. It's been a good thing for the country because we've been able to operate in a nonpartisan fashion without, you know, political disruption," he added.