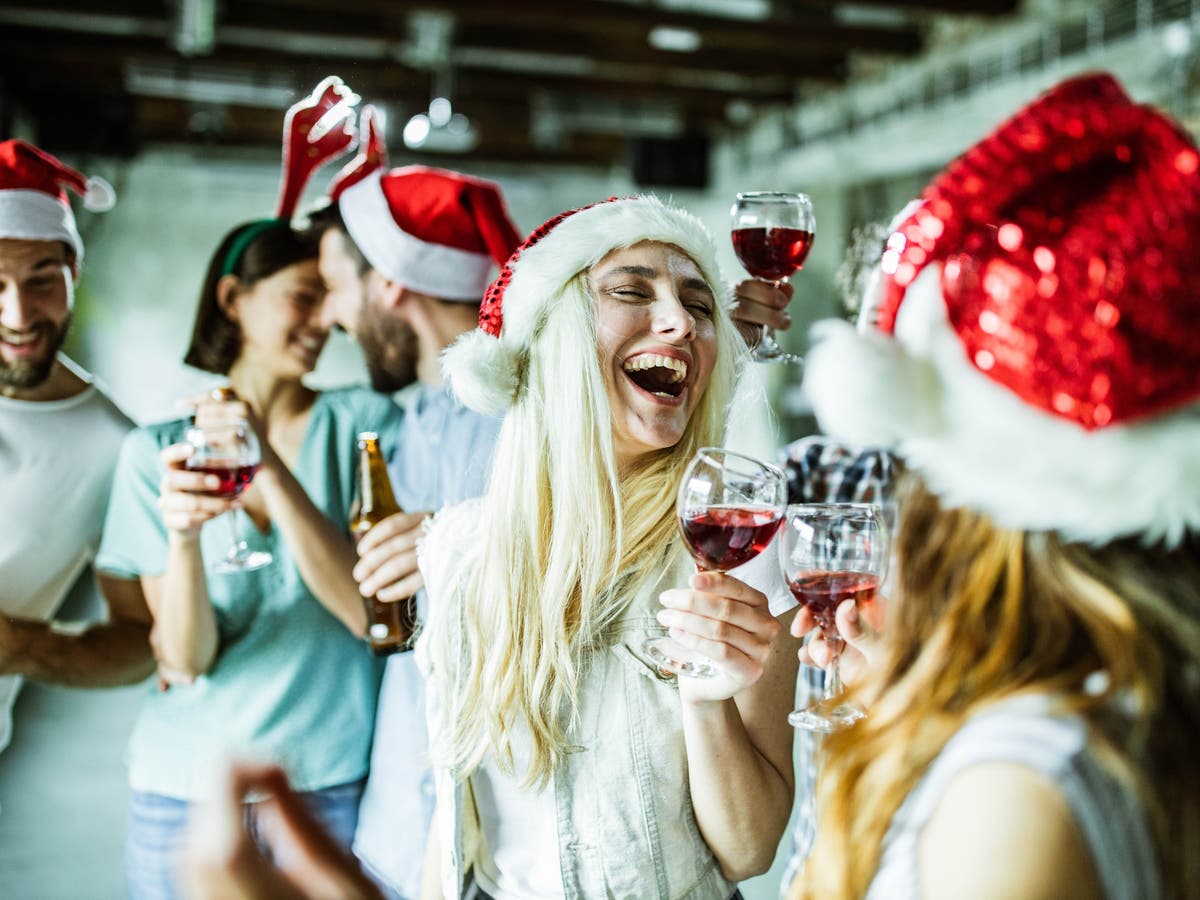 'The prime minister has been very clear on this… we don't want people to cancel such events'
No 10 is urging people not to cancel Christmas parties and says they are free to kiss whomever they like, in a bid to clear up confusion.
Boris Johnson's spokesperson dismissed a minister's suggestion that larger company parties should be avoided – and another minister's plea not to "snog under the mistletoe".
"The prime minister has been very clear on this, on Christmas parties. We don't want people to cancel such events and there is no government guidance to that end."
Asked if people should avoid kissing strangers, he added: "The position has not changed – there are no further restrictions or guidance."
The government's stance on festive celebrations has become muddled, as it wrestles with the heightened threat from the omicron variant and fears that it reduces Covid immunity.
George Freeman, the science minister, suggested larger businesses should cancel their staff Christmas parties – revealing his department's event will now be held remotely.
Hours earlier, the work and pensions secretary Therese Coffey warned partygoers: "I don't think there should be much snogging under the mistletoe. Don't need to do things like that."
But, on both issues, Mr Johnson's spokesperson made clear that – after the summer lifting of all legal restrictions – they are a matter of individual choice.
On party cancellations, he said: "It is right that post-step four [of the road map out of lockdown], we returned to the position where people can use their individual judgment.
"There is certainly no government guidance to that end and the prime minister has been very clear."
He also disowned Mr Freeman's warning about larger gatherings, saying there is no limit on numbers. "That is not in the guidance, it is not in the regulations" the spokesperson said.
However, he suggested No 10 has not organised a staff Christmas party – amid the future over the parties staged a year ago, in an apparent breach of coronavirus rules.
Later, interviewed after receiving his booster jab, Mr Johnson reiterated: "People shouldn't be cancelling things – there's no need for that at all."
Asked about the parties held in Downing Street last Christmas, in an apparent breach of Covid restrictions, he again insisted the events were "in accordance with the rules".
Sajid Javid, the health secretary, came out fighting on the issue: "People can snog who they wish. I'll certainly be kissing my wife under the mistletoe."
And Keir Starmer told broadcasters: "I don't think it's the role of government to dictate who people can kiss or not kiss."
The Labour leader suggested firms should consider whether to hold a party on a case-by-case basis, agreeing there is a difference between an event for colleagues who work together daily and people travelling from all over the country.
Meanwhile, it is likely to be a few more days before a detailed NHS plan is published to meet Mr Johnson's pledge to offer a booster jab to every adult in England by the end of January.
Health officials are locked in talks with overworked GPs about what other requirements will be eased to enable them to switch back to a bigger focus on the vaccination programme.
The plans will not be released on Thursday and the government is only working to get it out "as soon as possible", one official said.
GP time must be freed up to increase the delivery of boosters from 350,000 to 500,000 a day to counter the threat posed by Omicron.
Dr Nikki Kanani, NHS England's primary care chief, said on Wednesday, on formalising the plan: "These matters with the BMA [British Medical Association] need to be settled before that can happen."