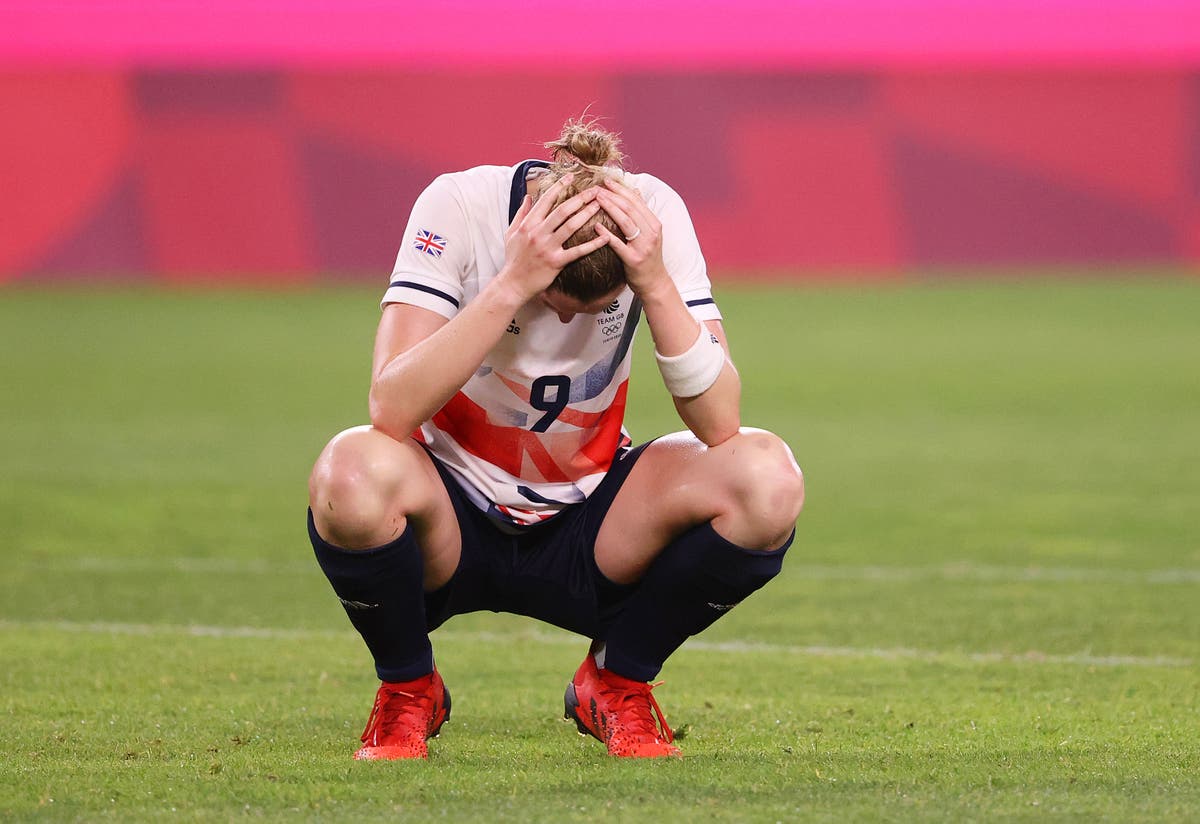 Latest Tokyo Olympics 2021 results and medal table
Team USA BMX star Connor Fields stretchered off Olympic course after major crash
Day seven of Tokyo 2020 has seen more medals for Team GB in a glittering slate of early action.
Beth Shriever and Kye Whyte made BMX history as they delivered gold and silver at the Ariake Urban Sports Park. Moments after Whyte won Britain's first medal in the event since its introduction to the Olympic programme in 2008, taking silver, Shriever led almost from start to finish to claim a superb gold in the women's race.
Duncan Scott added a third medal of the Games with silver in the 200m individual medley with Luke Greenbank a bronze medallist in the 200m backstroke. A disappointing rowing regatta ended on a high note with bronze in the men's eight before Bryony Page bounced her way to a bronze in the trampoline.
There was far more disappointing news for Britain's footballers, however, with Australia emerging victorious in a see-saw quarter-final after extra-time with Ellen White's hat-trick ultimately proving not enough.
The athletics began today with world champion Shelly-Ann Fraser-Pryce and Rio gold medalist Elaine Thompson, as well as Great Britain's Dina Asher-Smith all progressing in the heats of the 100m. Ethiopia's Selemon Barega won the first track and field gold medal of the Games with victory in the men's 10,000m.
Follow all the latest news, results and medals below:
1627657239
Tokyo Olympics: What happened today at the Games?
It's all about the women's 100m final, as GB's Dina Asher-Smith prepares to go up against Shelly-Ann Fraser-Pryce at 13:50pm BST
GB will also contend the mixed 4x400m relay final on a packed day at the Olympic Stadium. Click here for the full athletics schedule
Adam Peaty will be in action as part of GB's mixed 4×100 medley relay final, as GB aim for more success in the pool at 03:43am BST
GB's rugby sevens side take on France in the women's semi-final at 03:30am BST, and will go for a medal later in the day
Karriss Artingstall goes for bronze in the women's featherweight division against Japan's Sena Irie at 11:24am BST
Emma Wilson is a strong position ahead of the women's windsurfer RS:X medal race, while Tom Squires contends for a medal in the men's race
Georgia Taylor-Brown, Alex Yee, Johnny Brownlee and Jessica Learmouth take part in the mixed triathlon relay
Caeleb Dressel is up in the men's 50m butterfly final, while Katie Ledecky and Ariarne Titmus go head-to-head in the 800m free
Switzerland's Belinda Bencic and the Czech Republic's Marketa Vondrouaova go for gold in the women's tennis singles final
GB's women's hockey team play their final group stage game against Ireland looking to book their place in the quarter-finals
The men's football quarter-finals take place, with Brazil facing Egypt, Spain playing Ivory Coast, and Japan taking on New Zealand
Jamie Braidwood
30 July 2021 16:00
1627679420
Olympics athletes share the gruelling toll their sports have on their bodies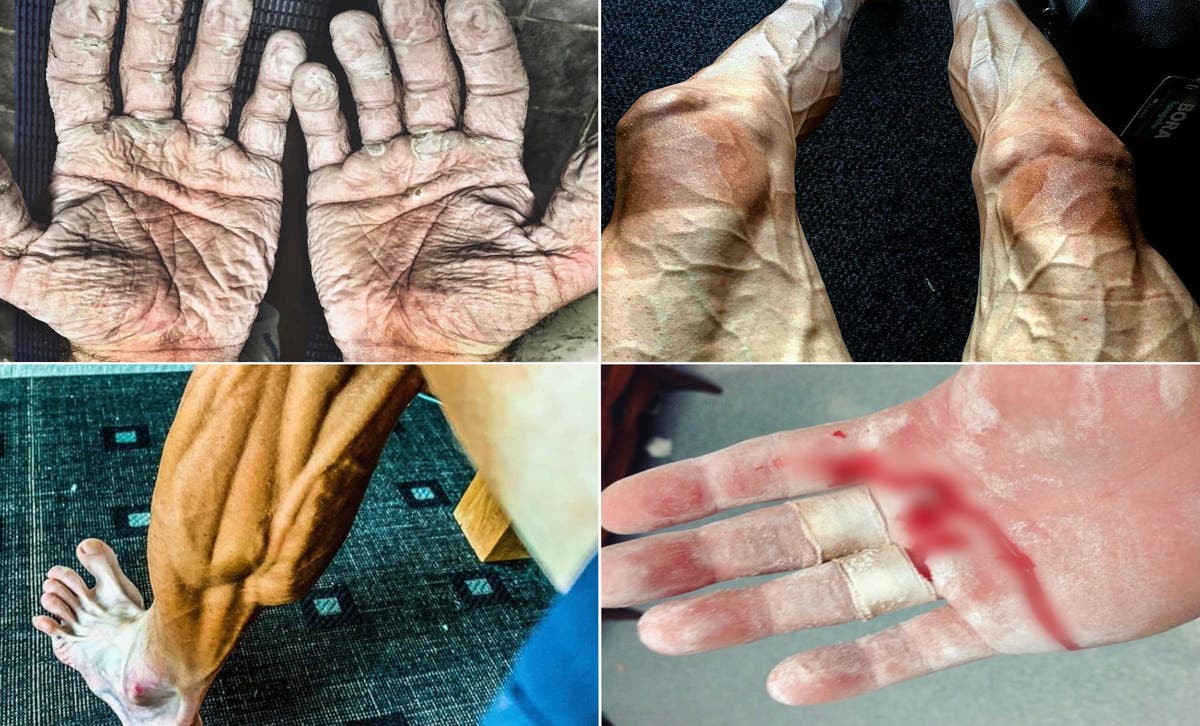 Olympic athletes share their bodies after competing, from bulging leg veins post-cycling races to large blisters scattered across their hands
Danielle Zoellner
30 July 2021 22:10
1627677929
Team USA reinstated for the Olympic 4 x 100m mixed relay
Team USA has been reinstated for the Olympic 4x 100m mixed relay race and will now compete on Saturday after they faced disqualification.
This comes after the team was disqualified earlier on Friday following a baton changeover that judges said took place outside the designated zone during the first exchange. But the Americans appealed the rule and won, reinstating them in the race.
The event, which features teams of two men and two women, is making its debut at the Summer Games for the first time at the Tokyo Olympics.
The American team, comprising Elija Godwin, Lynna Irby, Taylor Manson and Bryce Deadmon, is considered a favourite in winning the gold.
Danielle Zoellner
30 July 2021 21:45
1627675811
Superhero Laura Kenny keen to break taboo after taking inspiration from Jessica Ennis-Hill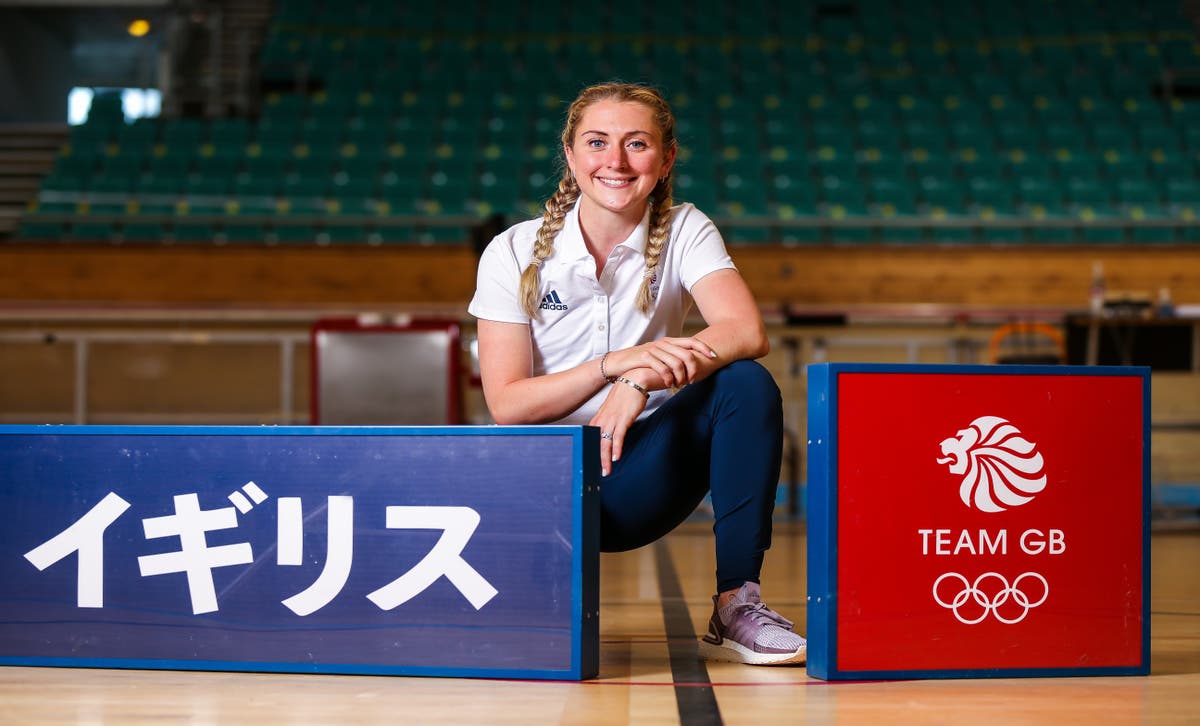 Kenny is looking to add to her four gold medals in Tokyo after giving birth to son Albert in 2017
Danielle Zoellner
30 July 2021 21:10
1627674442
Anti-vax Olympic swimmer slammed for refusing to wear mask
Unvaccinated Olympic swimmer Michael Andrew has been blasted on social media for refusing to wear a mask, reports Gustaf Kilander.
The Team USA swimmer was seen not wearing a mask following his performance in one of the finals on Friday. Mr Andrew, 22, was mask-free when he paused in the mixed zone to speak with the media.
Reporters and other workers are required to wear face masks in the Tokyo Aquatics Centre and most swimmers wear masks when they're not in the pool.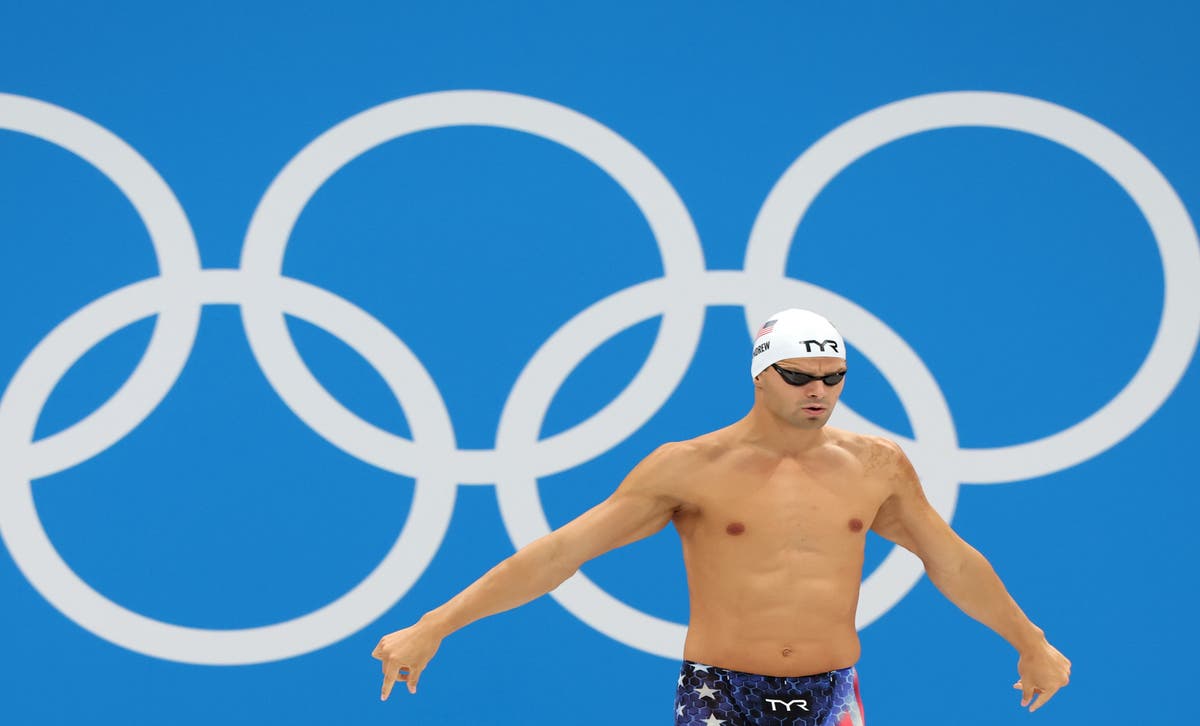 'Michael Andrew proved the worst American stereotype when he refused to wear a mask during interviews,' Op-Ed columnist tweets
Danielle Zoellner
30 July 2021 20:47
1627672980
When is Olympic 100m final and who will win women's race?
It has the potential to deliver the moment of Tokyo 2020 with this explosive race sure to be packed with star power.
Team GB's Dina Asher-Smith is in the running with Jamaican stars Shelly-Ann Fraser-Pryce and Elaine Thompson-Herah.
Ivory Coast's Marie-Josee Ta Lou is a dangerous outsider, having run the fastest (10.78) in Friday's first round heats, as too is Nigeria's Blessing Okagbare.
While Great Britain also have contenders in Daryll Neita and Asha Philip, who will both be targeting a place in the final.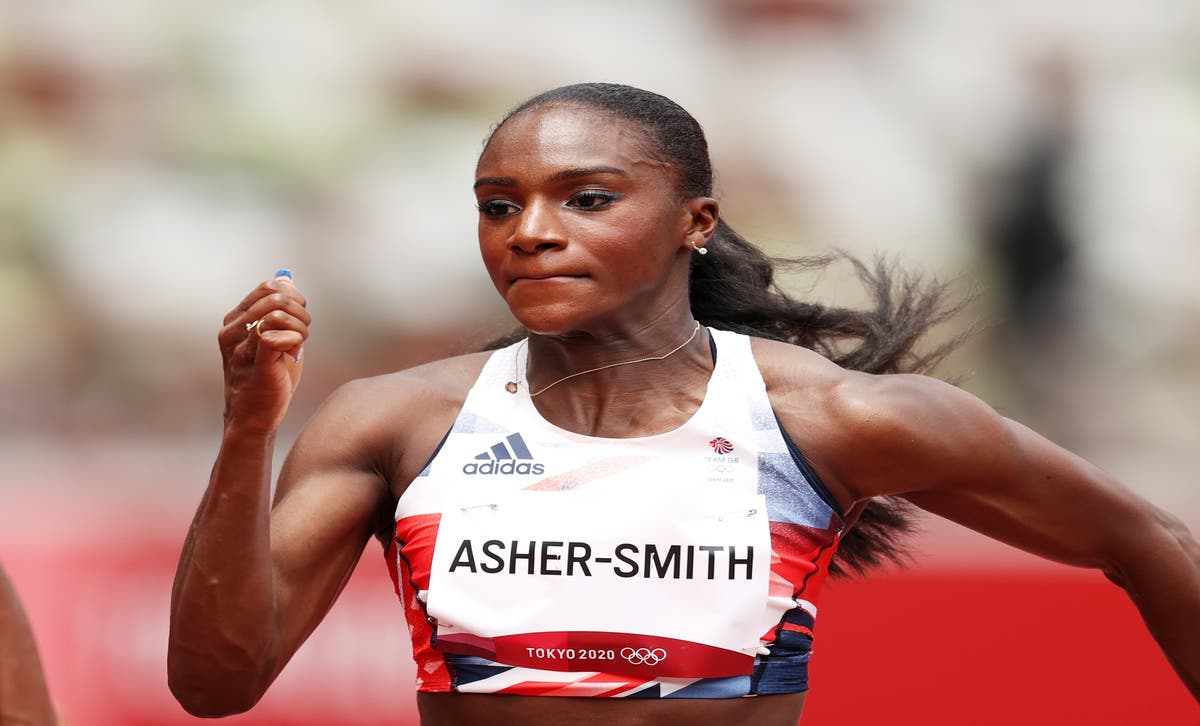 Tokyo 2020: When is Olympics women's 100m final, who will win, how to watch online and on TV
Danielle Zoellner
30 July 2021 20:23
1627669812
Tokyo Olympics: Big Saturday for Team USA in the pool
Caeleb Dressel can win two golds on one morning in the Tokyo pool on Saturday while USA teammate Katie Ledecky hopes to complete an 800m freestyle hat-trick for her seventh career Olympic title.
World record holder Dressel is the clear favourite in the men's 100m butterfly, the only swimmer to qualify for the final in under 50 seconds – his time of 49.71 the third fastest in history.
The sprint specialist, who has already won two golds at the Games to go with the two from Rio, then has a 50m freestyle semi-final before the mixed 4×100 relay closes out a busy morning on the penultimate day of pool action.
Ledecky has dominated the 800m freestyle since she won it as a 15-year-old at London 2012 and a third successive gold would make the world record holder only the fourth swimmer to have pulled off such a feat in any event.
One of the other three was US medal machine Michael Phelps.
If she does win, it will be her sixth individual gold – a record for a female Olympic swimmer – and seventh in total. She is currently tied with Hungarian Krisztina Egerszegi on a record five individual titles.
Ben Burrows
30 July 2021 19:30
1627668672
Tokyo Olympics: Australian finds unique solution to fix her boat
Australian canoeist Jessica Fox found a perfectly stretchy, waterproof material for a boat repair at the Tokyo Olympics: a condom.
Fox, who won a bronze medal in women's kayak slalom and gold in the canoe slalom, posted a video on social media this week of someone making repairs to the nose of her boat.
First, a gooey carbon mixture is applied before the condom is used to secure it in place.
"Very stretchy. Much strong," the caption reads.
The 27-year-old Fox is the world's top-ranked paddler in canoe and kayak and won the first women's canoe slalom race in Olympic history.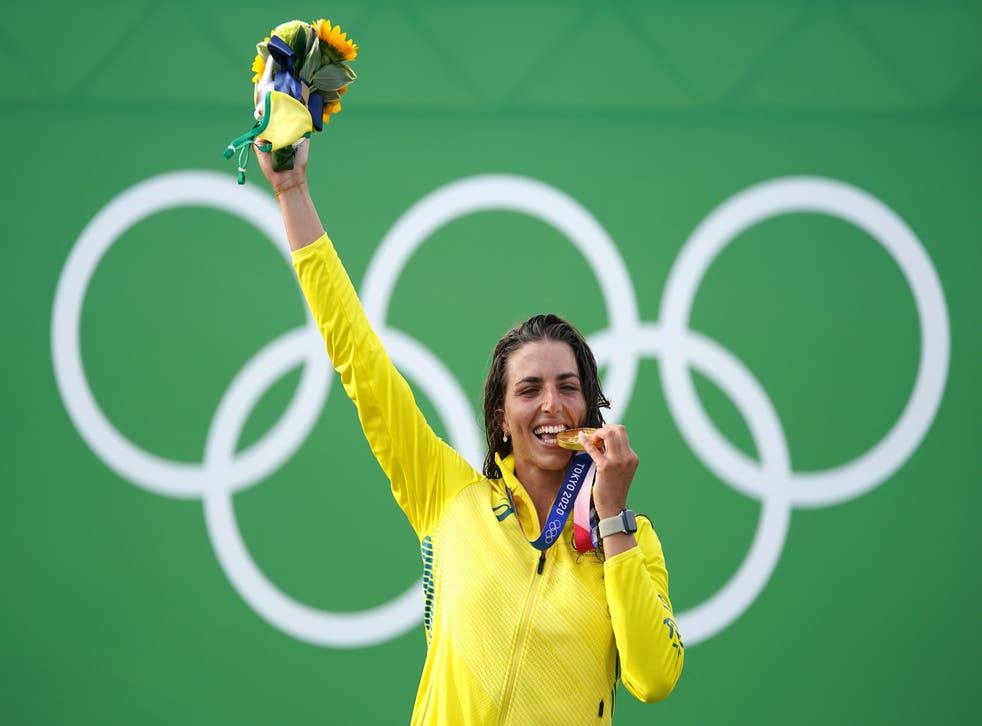 Ben Burrows
30 July 2021 19:11
1627667532
Tokyo Olympics: France continue fine start to handball
France made their best start to the Olympic men's handball competition in 13 years by outclassing Spain 36-31 at Tokyo's Yoyogi National Stadium on Friday to remain unbeaten before Egypt booked their spot in the quarter-finals.
Double Olympic champions France needed Vincent Gerard to make a string of early saves before Nedim Remili and Dika Mem began pulling the strings for the Rio runners-up, who have already punched their ticket to the quarter-finals.
Paris Saint-Germain right back Remili scored nine goals from 10 shots as the self-titled "Les Experts" handed Spain their first defeat in Tokyo and put themselves in a good position to win Group A with eight points from four matches.
"It was almost a perfect game from every guy who was playing today except maybe for some lost balls and at the end," said Remili.
"We had a pretty good advantage through the whole game and kept the lead to five goals or so. We knew that this match could be very important for the next stage."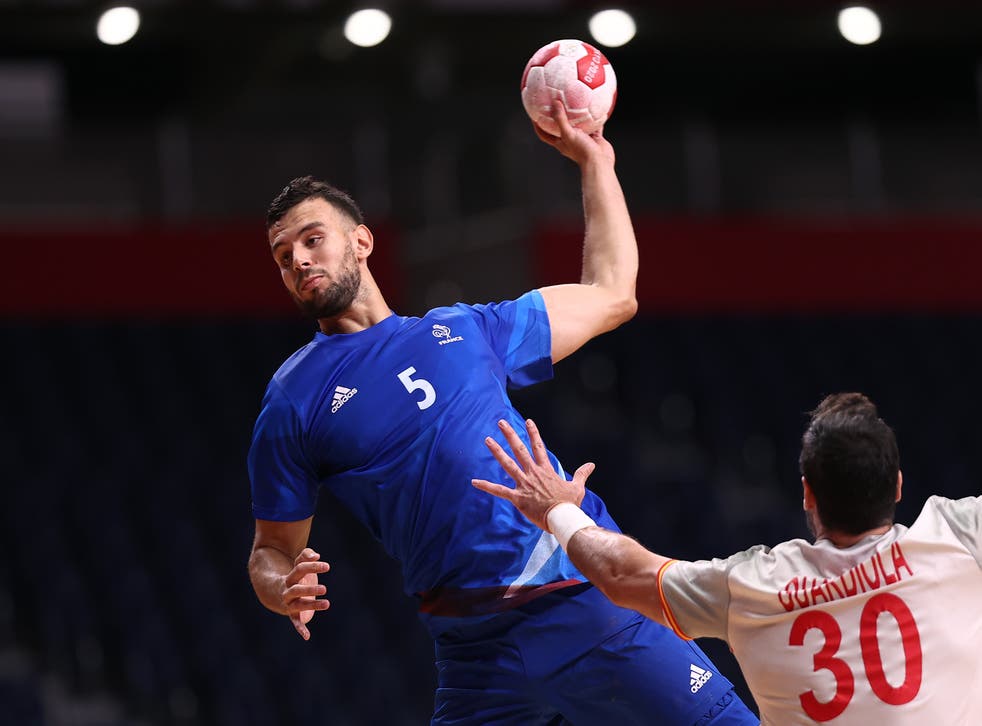 Ben Burrows
30 July 2021 18:52
1627666572
Tokyo Olympics: Hannah Mills and Eilidh McIntyre sit second for GB
Great Britain's Hannah Mills and Eilidh McIntyre sit second in the women's 470 event after recording two third-place finishes in Friday's races at Sagami Bay.
Mills, Olympic champion in Rio following silver at London 2012, and McIntyre sit just four points behind Poland as they look to stay on course for the medal race.
Dylan Fletcher and Stuart Bithell maintained their lead in the men's 49er class, with a second and third-place finish as well as fifth in Thursday's final race.
Luke Patience and Chris Grube sit second in the men's 470, with Charlotte Dobson and Saskia Tidey fourth in the women's 49er class.
Ali Young secured a top-10 spot to qualify for Sunday's Radial medal race, while Elliot Hanson was 12th in the Laser class following a disqualification.
Ben Burrows
30 July 2021 18:36