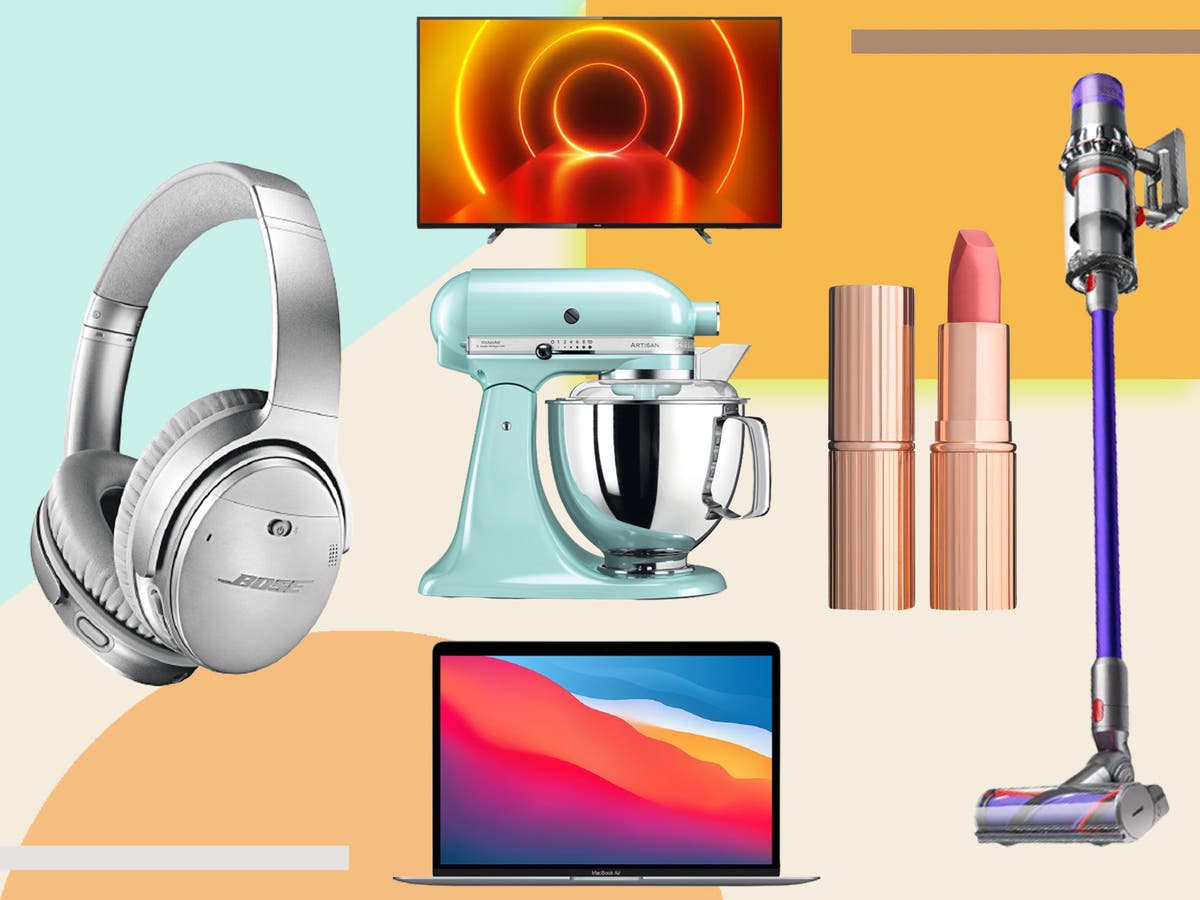 Black Friday 2021 is almost here – we've found the best early deals to shop now, including TVs, vacuums and laptops from Currys, Very, Boots, AO and more
November has arrived, bringing with it the countdown to the great shopping bonanza that is Black Friday. With just weeks to go until the main event, it's time to get prepared – and we here at IndyBest know that the earlier you start, the better.
Each year, Black Friday gives shoppers the chance to snap up thousands of deals across a range of categories, from tech to home appliances and beauty, with more and more retailers taking part, such as Amazon, John Lewis & Partners, Currys, Boots and Argos.
While the sales event originated in the US as a way to kick-start the Christmas shopping season the day after Thanksgiving, it has since made its way across the pond and is no longer just a one-day bonanza. Retailers are starting their sales earlier, too – last year Amazon's deals spanned the entire month of November – and for 2021 Boots became the first major retailer to kick off its Black Friday event, starting online from 1 November and in-store from 3 November. Others are promptly joining the bargain bandwagon, with the likes of Currys, Very, Superdrug, Studio and AO also starting their sales early. With new deals continually being added throughout the month, we're scouring for the best early price drops and listing them below.
However, the majority of this year's offers are still under wraps. We at IndyBest think bargain hunters can expect to find some impressive deals on a whole host of big-ticket items including laptops, TVs, smartphones, Apple products and ereaders, like the Kindle (£69.99, Amazon.co.uk).
Amazon has recently released three new versions of its popular Kindle paperwhite (£74.99, Amazon.co.uk), including an all-new Kindle paperwhite (£129.99, Amazon.co.uk), a paperwhite signature edition (£179.99, Amazon.co.uk) and a new model called the paperwhite kids (£139.99, Amazon.co.uk). So, we predict this could mean previous versions of the e-reader will be heavily discounted come Black Friday. If you'd prefer to snap up the latest model though, make sure to check out our handy guide to the new models.
Read more:
We anticipate that gamers might well be in for a treat too, as Nintendo has just added a new member to its Switch family, called the Switch OLED (£309.99, Very.co.uk). The console is the brand's most expensive model yet and, if our bargain hunting senses are anything to go by, we predict its arrival might just bump the cost of previous editions down even further once the sales start. Want to get your hands on the new console but not sure if it's worth the upgrade? Read our in-depth review of the 4K-capable system.
With so many impressive deals on offer, we're here to make sure you're fully prepared to seek out this year's best savings. To help you stay up to date with all the very latest information on the event, we've created this comprehensive guide as your go-to resource for Black Friday 2021. From when it starts to the best savings to shop right now, here's everything you need to know.
Traditionally Black Friday has taken place on 26 November, but for most retailers it now spans the entire weekend and finishes on 29 November – also known as Cyber Monday. However, each year the event increases in size, with many retailers choosing to share deals through the entire month of November.
For 2021, a host of retailers have started their events early, including Currys, Very, Boots, Superdrug, Studio and AO, meaning you can already snap up bargains on everything from hair straighteners to TVs and vacuum cleaners. Here are some of the best Black Friday offers you can shop right now.
The dashboard of your connected home, the Amazon Echo show 8 is a smart speaker with a built-in screen that displays everything from commute times and weather conditions to video calls with friends and family. In our review of the newer, second-generation version, we noted that shoppers would "struggle to notice any difference when it comes to the design" between it and this model. When paired with a Ring doorbell you can peek at who's out front, or ask Alexa to set reminders and alarms while cooking.
Very has slashed the price of the 2020 M1 MacBook air with 16GB of RAM in its early Black Friday sale. The laptop featured in our round-up of the best high-end laptops for great performance, with our tester saying that it was "remarkably lightweight and slim, an effect made all the more appealing thanks to a tapered design – at its thinnest point, it's 0.41cm thick". And the new version is the first to use Apple's own M1 chip instead of an Intel processor, meaning it's breathtakingly fast too.
This 70in 4K TV currently has £300 off at AO, making it the cheapest supersized set we've seen so far this November. LED is a step below Samsung's leading QLED tech, but you simply won't find a 70in QLED screen anywhere near this price. Picture quality is excellent and fast response times make the UE70AU8000 idea for gaming. Samsung's intuitive user interface makes navigating its menus a breeze, too.
You can save £100 on this vacuum cleaner from Shark right now in AO's Black Friday sale. Usually costing £299, the upright model comes with a host of handy features, including the brand's signature lift-away technology, which allows you to separate the larger unit from the wand so you can tackle flights of stairs, ceilings and other hard-to-reach spots, such as under low-lying furniture, with ease. While we've not tested this exact model, a similar one landed a spot in our review of the best upright vacuum cleaners, so we can testify to the brand's high standards.
In need of a new tablet? Then you won't want to miss out on this deal, which gives you the chance to save a whopping £170 on the Microsoft surface pro 7. The device, which comes with an 11th generation Intel Core i5 processor for fast multitasking, featured in our round-up of the best tablets, with our tester describing it as "top end". "The surface range often offers comprehensive connectivity, and there are USB-A and USB-C sockets here," they added. "The 12.3in screen is bright and inviting, while the trademark kickstand helps with the surface pro 7's versatility, too."
These noise-cancelling earbuds from Sennheiser are some of the best we've tested. In our review, our writer called them "a significant upgrade". "You don't need to compromise on performance in exchange for comfort, or put up with unnecessary bulkiness if you want punchy, clear sound," they said. The only major downside we found was their high price, which isn't a problem right now at AO.
In the market for a new electric toothbrush? You can save a whopping £55 on this one from the pros at Oral-B, which has lots of impressive features that make cleaning your gnashers a breeze. Not only does it have pressure control that visibly alerts you if you brush too hard, but it also features three different brushing modes – daily clean, whitening and sensitive – and a battery that lasts more than two weeks with just one charge.
With so many options for pod coffee machines on the market, and some costing upwards of £400, it can be hard to know which one to choose. But we here at IndyBest are big fans of Nespresso, especially this vertuo plus model, which currently has more than 60 per cent off. In our review of the appliance, our tester said it "fires on all cylinders", adding that the coffee it made was "perfect every time".
Rustling up quick and convenient meals without lashings of oil has never been easier than with an air fryer, and this one is a steal at just £38. Featuring a 3l capacity, it's ideal for smaller households and comes with a range of functions that allow you to fry, roast, grill or bake. We featured a different Tower model in our review of the best air fryers, so it's safe to say we're a fan of the brand.
This is a super-slim and lightweight laptop with a folding design, OLED screen and a magnesium alloy case for maximum protection. With 16-hour battery life, 8GB of memory and a fast Core i5 processor powering things, the Asus zenbook flip looks to be a great all-round laptop. There's a mighty £300 off at Very right now.
This pair of Beats solo 3 wireless headphones have been reduced by £60 in Currys's Black Friday sale. With up to 40 hours of battery life, they're sure to last you a while, but if you do find yourself caught out, they offer a five-minute fast charge, which gives you three hours of playback. They're also designed with on-ear, cushioned cups that enable you to customise your fit, and they come in a range of colours. While we haven't tested this particular model, the Beats solo pros (£249, Currys.co.uk) featured in our round-up of the best wireless headphones.
If you regularly heat style your hair and are growing concerned that your locks are starting to feel dry and damaged, consider snapping up Remington's hydraluxe hair straighteners, which currently have 50 per cent off in Studio's early Black Friday sale. The straighteners feature "moisture lock" coated plates, which aim to help preserve the hair's balance, and also come with a "hydracare" temperature setting, which lets you style at a lower temperature, so you won't have to worry about excessive heat damage. In our review of the pro version of the straighteners (£74, Amazon.co.uk), our tester said their hair was left feeling nourished and looking glossy.
Now with £40 off, this pair of wheels is a no-brainer for Barbie fans – thanks to the simple stop and go pedals and easy-steer handlebars, little ones will be zooming about in no time. Suited for kids three and up, the mini motor – which comes with horn and engine sounds and even front and rear headlights – last for up to an hour on one charge. Perhaps something to park beneath the Christmas tree this year?
No wardrobe is complete without a basic white T-shirt, and if you're still on the hunt, this one fits the bill well. The boxy fit, crew neckline and slouchy shoulders make this piece perfect for casual dressing, while the instantly recognisable Tommy Jeans logo adds a pop of colour. You can't go wrong.
If you're in need of a new grooming tool that can do it all, consider this gift pack from Remington, which is now half price. It includes everything you need, from a hair clipper to a battery-operated precision trimmer with stubble comb and a rotary nose and ear trimmer. It also comes with two adjustable combs that have 18 length settings and it can run for 45 minutes when used cordlessly, making it ideal for travel.
Engage in some serious self-care by bringing the spa to you with this 3-in-1 facial epilation, cleansing and skin-toning device, which currently has a whopping 52 per cent off. The gadget allows you to gently remove facial hair using the epilator attachment and also comes with a sensitive facial cleansing brush to help you remove impurities from your skin. In addition to a micro-vibration head that the brand says works with your serum or cream for skin-toning effects, this gift set also comes with four extras, including a bronze cap, exfoliating sponge, light-up mirror and beauty pouch.
If you're after a baby mobile that doubles up a decorative piece, there's now more than £10 to be saved on this Bloomingville safari mobile that seriously impressed our reviewer of the best baby mobiles. "There's a lovely artisan feel with this mobile thanks to the hand-finished manes and tails on the animals," they said, adding that "both the zebra and giraffe make a satisfying rattle noise, which didn't just fulfil us but caught our mini tester's attention too."
Despite the fact that Football Manager 2022 hasn't even launched on the PC yet, Studio has already discounted the game in its Black Friday sale. In Football Manager 2022, players lead their club to the top of the league table, navigating fan expectations and analysing the transfer market for new players. The game officially launches on 9 November and with this early offer, you can save 16 per cent.
Saving the world might just be an easy ride with this Batman-themed cart – and with £30 off, you can save a few pennies too. While we haven't tested this toy ourselves, the brand states that the chunky wheels are hardwearing and suited to outdoor use, while the seat is designed to provide comfort for mini superheroes while they pedal around the garden.
The hot brush that went viral on TikTok last year for giving an effortless and bouncy blow-dry has been reduced by £23.33 in Boots's Black Friday sale. designed specifically for mid to short hair, it features a hefty oval brush in a pink and black colourway and was named best buy in our round-up of the best hot air brushes. Our tester said the heat and styling were both spot on, adding that it helped to "dry, detangle and style" their locks. They added that it is a "worthy investment" that gives you a "salon-worthy blow-dry at an affordable price".
Read the full Revlon one-step dryer and volumiser review
If your skincare routine is in need of an upgrade, you'll want to snap up this impressive offer from Origins – you can get your hands on £91.93 worth of beauty products for just £35. The limited-edition set contains seven items, four of which are full-size, including the brand's bestselling mega-mushroom relief and resilience soothing treatment lotion, a ginzing into the glow brightening serum and a checks and balances frothy face wash.
If you know a little one that's an aspiring doctor or nurse, this adorable figure set from the popular animated TV series is sure to impress. The box houses two doctor's bags and five characters that Peppa enthusiasts will know and love, including Suzy Sheep, Zoe Zebra and, of course, Peppa herself.
Whether you're new to sex toys or you're on the hunt for something you can pack discreetly in your bag for a romantic weekend away, this mini wand vibrator is too good a deal to miss. Reduced by £10, it features three different vibration speeds, 17 different patterns, and comes with a lock function and storage bag. It's also 100 per cent waterproof and can be charged via USB.
Black Friday began as a one-day sale in the US, the day after Thanksgiving, to mark the start of the festive shopping season.
Over the past decade, it's made its way onto our shores and now many UK retailers take part, slashing prices on thousands of products from big-name brands such as Apple, Dyson, Shark and Samsung.
For our extensive list of the retailers that took part in Black Friday 2020, read our guide here. As soon as brands start talking about this year's sales, we will be updating it with the relevant discounts.
Cyber Monday is the Monday following the Black Friday weekend and falls on 29 November this year.
Traditionally it has always been exclusively online, and especially so in 2020 due to the pandemic – the UK was mostly under lockdown, with non-essential shops remaining shut throughout November.
Read more: Discounts to expect on Apple's AirPods for Black Friday 2021
Cyber Monday is your last chance to bag a bargain before Christmas, and there's often a broad range of retailers that slash prices across smart TVs, laptops, fashion, mattresses and more.
If you can't wait until November to start sale shopping, the good news is that there are plenty of non-Black Friday related deals already up for grabs.
Here at IndyBest, we're always on the lookout for a great offer and regularly keep tabs on discounts across a range of big-ticket products to help you save some money each month. Check out our guides to the best deals to shop this month below:
IndyBest has mastered the art of finding the very best bargains and will be bringing you the top offers throughout the event, so make sure to bookmark this page and IndyBest's other Black Friday content to ensure you're always up to date.
It's also a good idea to set up accounts with all the big-name retailers, from Amazon, John Lewis & Partners and Currys to Very, Next and Argos, as this makes shopping on the day easier and quicker. If you're after next-day delivery, don't forget to sign up for Amazon Prime or start a free 30-day trial, too.
You can also sign up for newsletters from brands or retailers, as this will mean you receive all the latest updates as they happen, be among the first to know when the sales start and have access to any discount codes. If you don't tend to check your e-mails regularly, consider downloading the apps of your favourite shops and following them on socials instead.
As with any sales event, we'd also suggest making a shopping list beforehand, checking the RRP of any products you're looking for, so you know it's a real deal, and reading the retailer's returns policy if you've not shopped there before.
Buying large appliances or items of furniture? Make sure to check any warranties or guarantees and measure up your space, as well as the dimensions of the entrance and doorways.
All the best deals last year were found online, as many retailers encouraged customers to shop from home rather than visiting stores due to the nationwide lockdown in place.
Some of the biggest savings in the Black Friday 2020 sale were found on tech products and it's also one of the few times you'll find Apple items discounted – the brand is so popular that it doesn't need to join in with big sales events, but you will find reductions at third-party retailers such as John Lewis & Partners and Currys. If you've had your eye on a MacBook, Black Friday is the best opportunity to snap up a decent saving.
Last year, the Apple MacBook pro 13in (£1,649.97, Amazon.co.uk) was reduced by £170. It featured in our round-up of the best high-end laptops, where our reviewer said: "The keyboard is supremely comfortable and the trackpad is huge and very responsive. Unlike the MacBook air, there is a fan in this model which means the fast performance can continue for even longer. Additionally, the entry-level pro includes a slightly more powerful graphics chip."
TVs also see savings during the Black Friday weekend, with discounts available on big-name brands such as Philips, Samsung, Toshiba and Panasonic. In 2020, the Samsung QE55Q60T 55in (£999, Very.co.uk) had a huge reduction of £500, from £1,199 to only £699.
Argos is one of the biggest retailers that participates in the Black Friday bonanza – every year you'll find savings across everything from TVs and headphones to fitness watches and furniture.
In 2020, leading vacuum cleaner brand Dyson saw its prices slashed in Argos's 2020 Black Friday sale, with the Dyson V7 animal extra cordless vacuum cleaner (£249.99, Argos.co.uk) down from £299.99 to £199.99.
In our review of the Dyson V7 versus the V11 model, we loved the former for how fuss free it was to use. Our reviewer said: "Whatever type of floor you have, the V7 does the job well – we noticed no difference across carpets, hardwood or laminate, although unlike the V11 you will need to change the floor heads each time. And because it's nice and light, it's brilliant for carrying up and down stairs and works a treat on upholstery too."
A haven for tech gadgets big and small as well as home and kitchen appliances, Currys is somewhere you'll want to bookmark ahead of Black Friday 2021, too. Last year's deals included the Nespresso by Magimix vertuo next coffee machine in white (was £130, now £74.99, Currys.co.uk) which was £149, but came down to an impressive £74.
On 29 November – also known as Cyber Monday – retailers further slashed prices, giving customers a last-minute opportunity to snap up a bargain.
Included were these Apple AirPods pro earbuds with a wireless case (£174.83, Amazon.co.uk), reduced from £249 down to £198.
We were very impressed with them in our guide to the best wireless earbuds, where our reviewer rated them for their comfortable fit and easy setup.
"The microphones, which ensure the noise-cancelling is effective, also work well for hands-free phone calls. Pairing with an iPhone is incredibly simple: open the earbuds' case near the phone and it'll pair automatically. The charging case is wireless chargeable, so you can plonk it on a compatible charging pad," our tester said.
This pair of Veja V-10 leather sneakers that were £115 (Netaporter.com), came down to just £77, which is the lowest price we've seen them at.
Our reviewer featured them in our round-up of the best women's shoes for spring, and said, "Veja's strong focus on transparency and sourcing Fairtrade, organic materials means it's a key player in the sustainability game. And these distinctive kicks are the perfect transitional shoe."
For those looking to improve their culinary repertoires, this Kenwood prospero stand mixer (£139.99, Argos.co.uk) was reduced from £199.99 to £99.99.
For the latest discounts on home appliances, tech, toys and more, try the links below:
Best Black Friday tech deals – whether it's a new phone contract or noise-cancelling headphones, you'll find the best offers here
Best Black Friday home appliances deals – now's the time to upgrade your vacuum cleaner or coffee machine
Best Black Friday gaming deals – Xbox or Playstation? Here's our expert guide to discounts on consoles, controllers and games
Best Black Friday beauty deals – stock up on your favourites across make-up, skincare, haircare and fragrance
Best Black Friday laptop deals – there are hundreds of pounds to be saved on laptops from big-name brands such as Apple, Microsoft and HP
Best Black Friday TV deals – update your at-home cinema experience without paying full price
Best Black Friday fashion deals – whether it's a pair of boots or a coat, treat yourself to some wardrobe essentials
Best Black Friday kids' toys deals – get your Christmas shopping done and dusted with offers from Disney, Lego, Playmobil and more
Best Black Friday sports deals – kit out your home gym or build your winter workout wardrobe
Best alcohol Black Friday deals – whether you're a fan of gin, vodka, tequila, beer or wine, you'll be able to bag a bargain
Best Black Friday Nintendo Switch deals – whether it's the OLED, lite or original you're after, level up with these discounts
Best Black Friday mattress deals – rest easy with big discounts on brands such as Emma, Eve Sleep and Simba
Best Black Friday Aldi deals – the budget supermarket is expected to slash prices on big-ticket items like the Nintendo Switch
Best Amazon Black Friday deals – our pick of the best bargains from the millions out there
Best Apple Black Friday deals – discover rare offers on the brand's bestsellers, from AirPods to iPhones
Best Argos Black Friday deals – find discounts on everything from kids to homeware, fitness and DIY
Best Boots Black Friday deals – there's no better time to save on beauty, skincare, electric toothbrushes and more
Best Currys Black Friday deals – for everything from TVs and laptops to kettles and coffee machines
Best Black Friday Dyson deals – bag a bargain on the brand's corded, cordless and handheld vacuum cleaners
Best John Lewis & Partners Black Friday deals – the high street stalwart will have great prices on fashion, beauty, tech, kids and homeware
IndyBest product reviews are unbiased, independent advice you can trust. On some occasions, we earn revenue if you click the links and buy the products, but we never allow this to bias our coverage. The reviews are compiled through a mix of expert opinion and real-world testing.