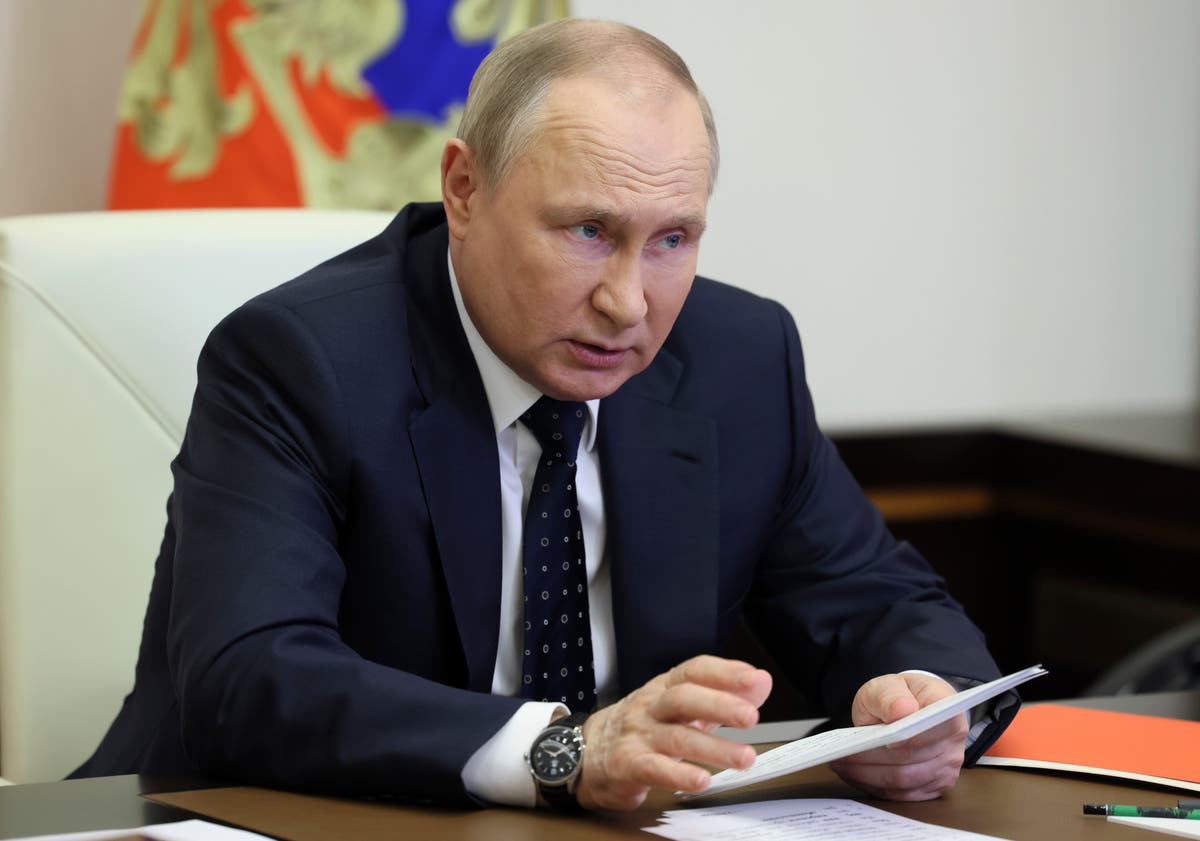 Latest Ukraine updates today
President Zelensky meets US officials
Ukraine's lead negotiator has ruled out any ceasefire deal in which Kyiv would cede territory to Russia or allow Russian troops to remain on its land.
Such concessions would backfire as Russia would hit back harder after any break in fighting, said Mykhailo Podolyak, an adviser to Volodymyr Zelensky who is leading talks with Moscow.
"The war will not stop. It will just be put on pause for some time," Mr Podolyak said in an interview with Reuters in the presidential office in Kyiv.
"They'll start a new offensive, even more bloody and large-scale."
A Kremlin minister today said that sanctions against Russia for its invasion of Ukraine have caused serious logistical problems in the country.
Vitaly Savelyev, the Russian transport minister, said Moscow had been forced to look for new trade corridors as sanctions have hit its operation on the standard shipping route to Asian partners.
Earlier, the Russian foreign ministry warned western sanctions would prove destabilising for the world economy.
1653235153
Ukraine rules out giving land to Russia
Ukraine's lead negotiator has ruled out a ceasefire that would involve Russian forces remaining in occupied areas or any deal with Moscow that involved ceding territory.
Making concessions would backfire because Russia would hit back harder after any break in fighting, President Volodymyr Zelensky's adviser Mykhailo Podolyak said.
"The war will not stop. It will just be put on pause for some time," Mr Podolyak said in an interview with Reuters in the heavily guarded presidential office.
"They'll start a new offensive, even more bloody and large-scale."
Recent calls for an immediate ceasefire have come from US defence secretary Lloyd Austin and Italian prime minister Mario Draghi.
Liam James
22 May 2022 16:59
1653234089
Africa 'doesn't want to take sides' in Ukraine war
The chair of the African Union and president of Senegal, Macky Sall, said he would visit Moscow and Kyiv in the coming weeks to promote deescalation in Ukraine and peace through dialogue between the two sides.
Speaking at a joint news conference with German chancellor Olaf Scholz, Mr Sall said: "We do not want to be aligned on this conflict, very clearly, we want peace.
"Even though we condemn the invasion, we're working for a de-escalation, we're working for a ceasefire, for dialogue … that is the African position."
Much of Africa is wary of damaging ties with Russia by taking a stance against it invasion of Ukraine.
Several African nations abstained from a UN vote calling on Russian to withdraw its troops from Ukraine. Eritrea, a country with a long history of pro-Russian positions, voted against the resolution.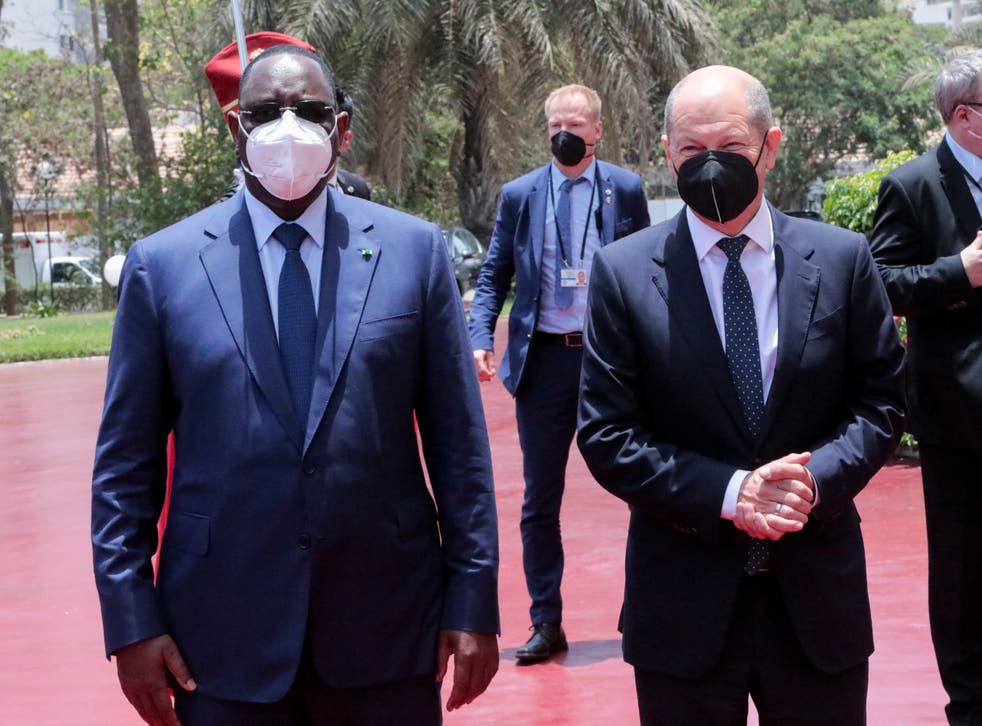 Liam James
22 May 2022 16:41
1653232004
Zelensky offers Polish citizens in Ukraine reciprocal rights
Polish citizens in Ukraine will be granted the same rights that Ukrainian refugees in Poland are currently receiving under a new "special legal status".
Ukrainian president Volodymyr Zelensky announced the new policy today during a visit to Kyiv by his Polish counterpart Andrzej Duda.
Poland has granted the right to live and work and claim social security payments to over 3 million Ukrainian refugees fleeing Russia's invasion of Ukraine, and a new parliamentary bill will be tabled soon to give Polish citizens in Ukraine the same rights.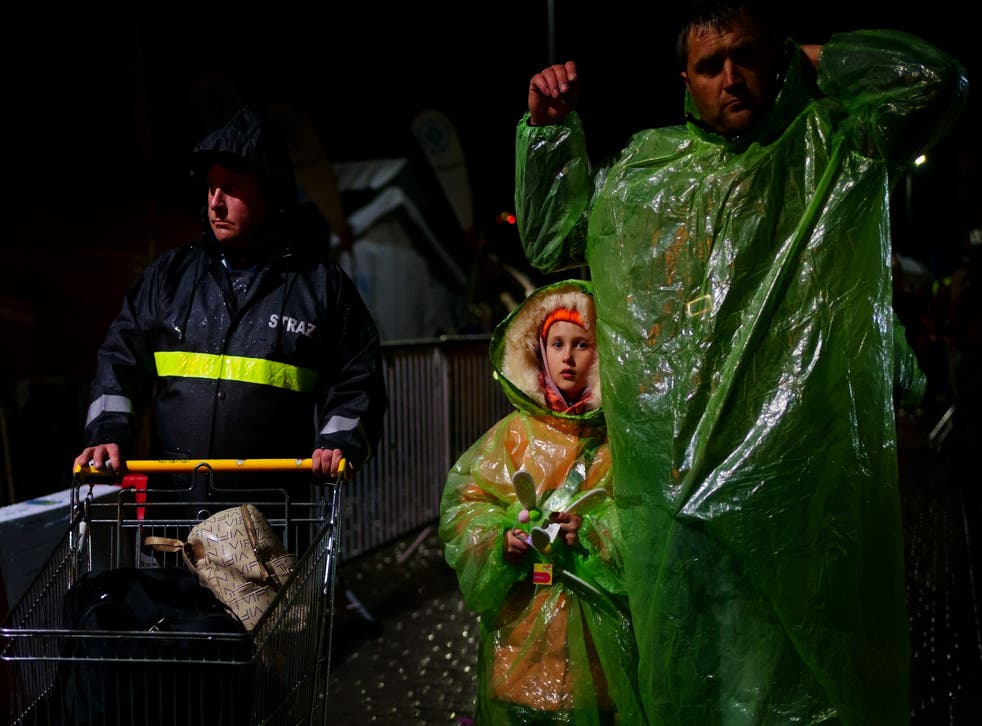 Lamiat Sabin
22 May 2022 16:06
1653229844
Ukraine will 'probably join EU in 20 years' – French minister
Earlier, Ukrainian president Volodymyr Zelensky thanked Polish president Andrzej Duda for his lobbying for Ukraine to join the European Union in the wake of the Russian invasion.
But a French minister said it could take 15 to 20 years for Ukraine to join the bloc.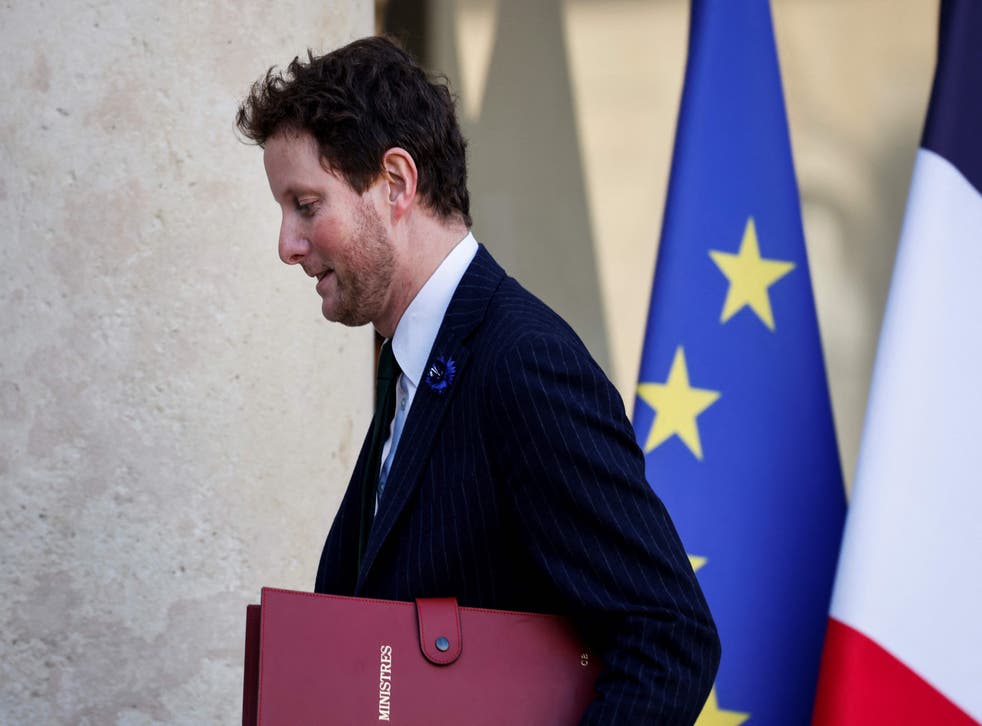 Clement Beaune, Europe minister for France, reportedly told Paris-based Jewish community radio station Radio J: "We have to be honest. If you say Ukraine is going to join the EU in six months, or a year or two, you're lying.
"It's probably in 15 or 20 years, it takes a long time."
Lamiat Sabin
22 May 2022 15:30
1653228161
Zelensky thanks Duda for lobbying for Ukraine to join EU
Ukraine and Poland will soon implement a bilateral agreement on joint border and customs control, Volodymyr Zelensky said.
The Ukrainian president announced the agreement at a parliament meeting in Kyiv attended by Polish president Andrzej Duda.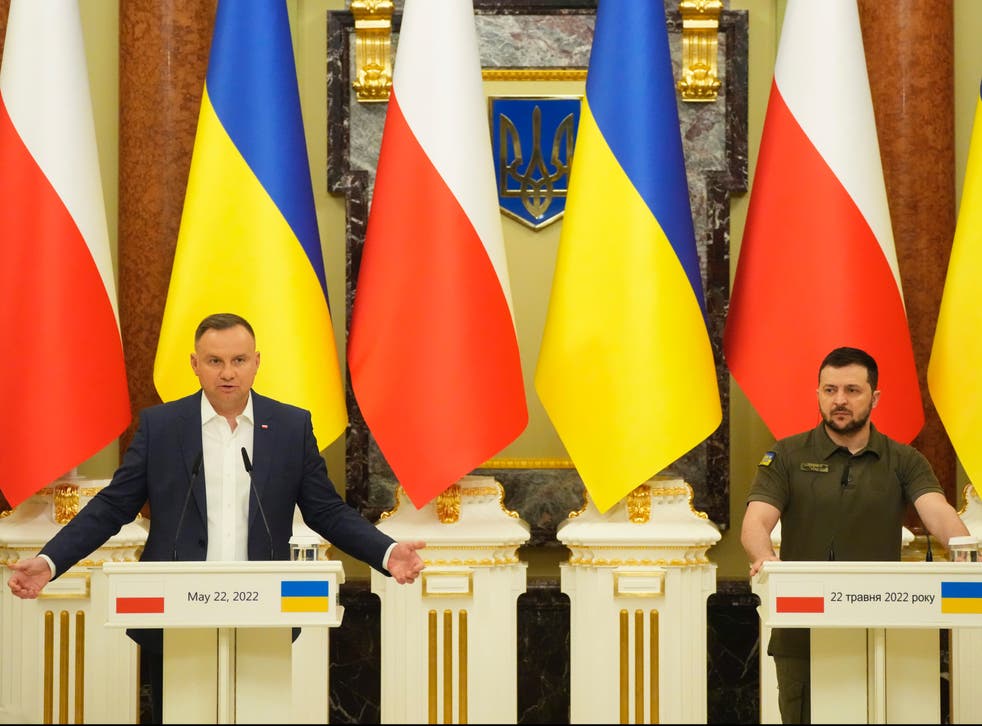 Mr Zelensky said: "We have agreed to implement this in the near future in a respective bilateral agreement. First on a joint border and customs control, and later on a single conditional border – when Ukraine becomes a member of the European Union."
He thanked Mr Andrzej for his lobbying for Ukraine to join the EU.
Lamiat Sabin
22 May 2022 15:02
1653225835
Self-proclaimed mayor injured in blast 'at home' in Enerhodar
The Moscow-appointed head of the occupied Ukrainian town Enerhodar – next to the Zaporizhzhia nuclear power plant – was injured in an explosion today.
Andrei Shevchuk has been in intensive care following the attack, Russia's RIA news agency reported, citing a source in the emergency services.
The report has also been corroborated by an official that Ukraine recognises as the mayor of Enerhodar.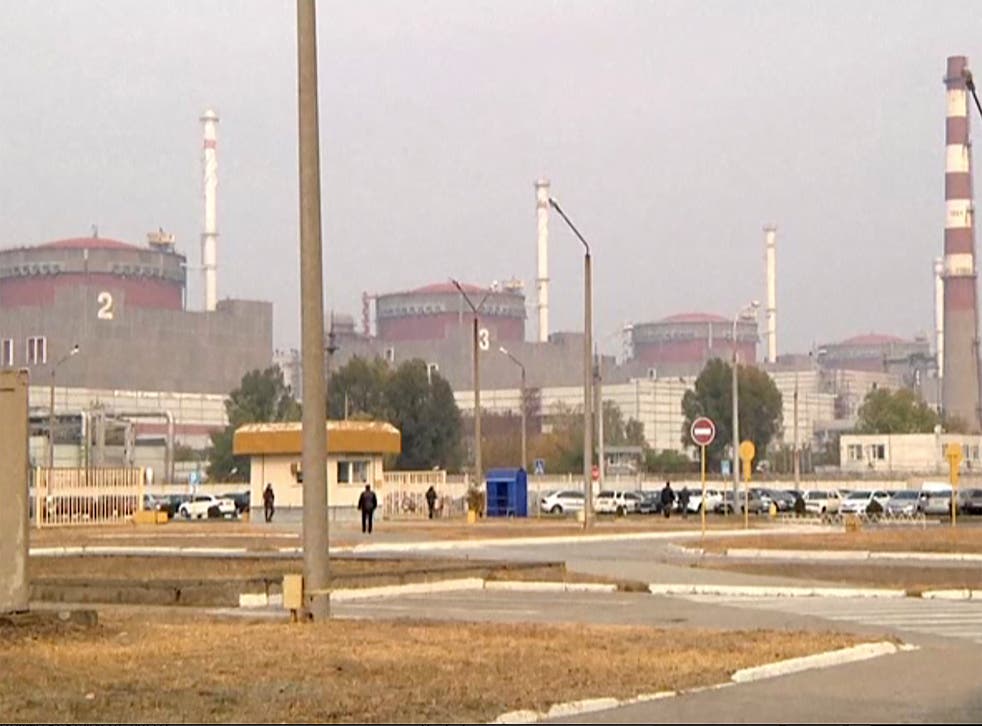 "We have accurate confirmation that during the explosion the self-proclaimed head of the 'people's administration' Shevchuk and his bodyguards were injured," the Ukrainian mayor Dmytro Orlov said in a post on the Telegram messaging app.
The blast happened at the entrance of Shevchuk's house on Kurchatova Street, according to reports in Ukrainian media.
Enerhodar is a town with a pre-war population of over 50,000. Many residents work at the two power plants located next to the town, one of which is the Zaporizhzhia plant – the largest nuclear power station in Europe. 
Reuters news agency was not able to independently confirm the attack.
Lamiat Sabin
22 May 2022 14:23
1653222644
Ukraine and Russia: What you need to know right now
* Russia's defence ministry said its forces pounded Ukrainian forces with airstrikes and artillery in the east and the south, targeting command centres, troops, and ammunition depots.
* Russian defence ministry spokesman Major General Igor Konashenkov said air-launched missiles hit three command points, 13 areas where troops and Ukrainian military equipment amassed, as well as four ammunition depots in the Donbas. He said that in the southern region of Mykolaiv, Russian rockets hit a mobile anti-drone system near the settlement of Hannivka.
* Ukraine's general staff said in its daily update that on the Donetsk frontline, Russian forces were trying to break through Ukrainian defences to reach the administrative borders of the Luhansk region, while further north they continued heavy shelling of Sievierodonetsk and Lysychansk.
* Oleg Sinegubov, governor of the Kharkiv region, said in a social media post that 11 people were wounded in result of separate Russian shelling throughout the region in the past 24 hours. *Reuters could not independently verify the reports.
* Only Ukraine has the right to decide its future, the Polish president told lawmakers in Kyiv, as he became the first foreign leader to give a speech in person to the Ukrainian parliament since the invasion.
* Ukrainian presidential adviser Mykhailo Podolyak ruled out agreeing to a ceasefire with Russia and said on Saturday Kyiv would not accept any deal with Moscow that involved ceding territory.
* Zelenskiy said he had talked to Italian Prime Minister Mario Draghi and stressed the importance of more sanctions on Russia and unblocking Ukrainian ports.
* U.S. President Joe Biden signed a bill to provide nearly $40 billion in aid for Ukraine as part of efforts to boost military support over Russia's invasion, the White House said.
* Turkish President Tayyip Erdogan, who has objected to Sweden and Finland joining NATO, held phone calls with the leaders of the two countries on Saturday and discussed his concerns about terrorist organisations.
* Russia's Gazprom halted gas exports to neighbouring Finland, the Finnish gas system operator said on Saturday, the latest escalation of an energy payments dispute with Western nations.
Lamiat Sabin
22 May 2022 13:30
1653219041
Poland's Duda applauded as he enters Ukraine parliament
Polish president Andrzej Duda was greeted with applause when he arrived at the Verkhovna Rada – Ukraine's parliament – to address MPs.
In his speech, the first in-person address to the Ukrainian parliament since the war started in February, he said that only Ukraine has the right to decide its future.
Later, he will meet Ukrainian president Volodymyr Zelensky for talks.
Poland, which borders the northwest of Ukraine, has taken in the vast majority of millions of Ukrainian refugees since the Russian invasion started.
Lamiat Sabin
22 May 2022 12:30
1653217241
Russia preparing to resume attacks around Izium – official says
Russian troops are preparing to resume attacks in the area around Izium, the administrative head of the Kharkiv region said.
The last battle in Izium lasted four weeks until 1 April, when the Ukrainian military confirmed Izium was under Russian control. Local authorities reported that 80 per cent of buildings had been destroyed.
Today – Oleg Sinegubov said on Telegram: "In the Izium region, the Russian occupiers are preparing to resume the offensive and are shelling the areas of the villages of Virnopillia, Dibrivne, and Dovgenke.
"But our Armed Forces of Ukraine are holding their positions and are not allowing the aggressors to advance.
"Fighting continues in [Kharkiv] Oblast. Around Kharkiv, the Russians are focusing, as in previous days, on maintaining the occupied borders and preventing the further advance of the Armed Forces of Ukraine."
Earlier – our correspondent Kim Sengupta, who has been in Kharkiv, spoke to a Ukrainian commander who said defenders have been engaged in a "hard and long fight" to defend Ruska Lozova – a village in the region.
The village has been bombarded by Russian troops intending to gain control of it, as its location would help them maintain supply lines to Izium. It's part of a plan to cut Ukrainian forces off in Donbas, after Moscow had failed to capture Kyiv.
You can read his feature here: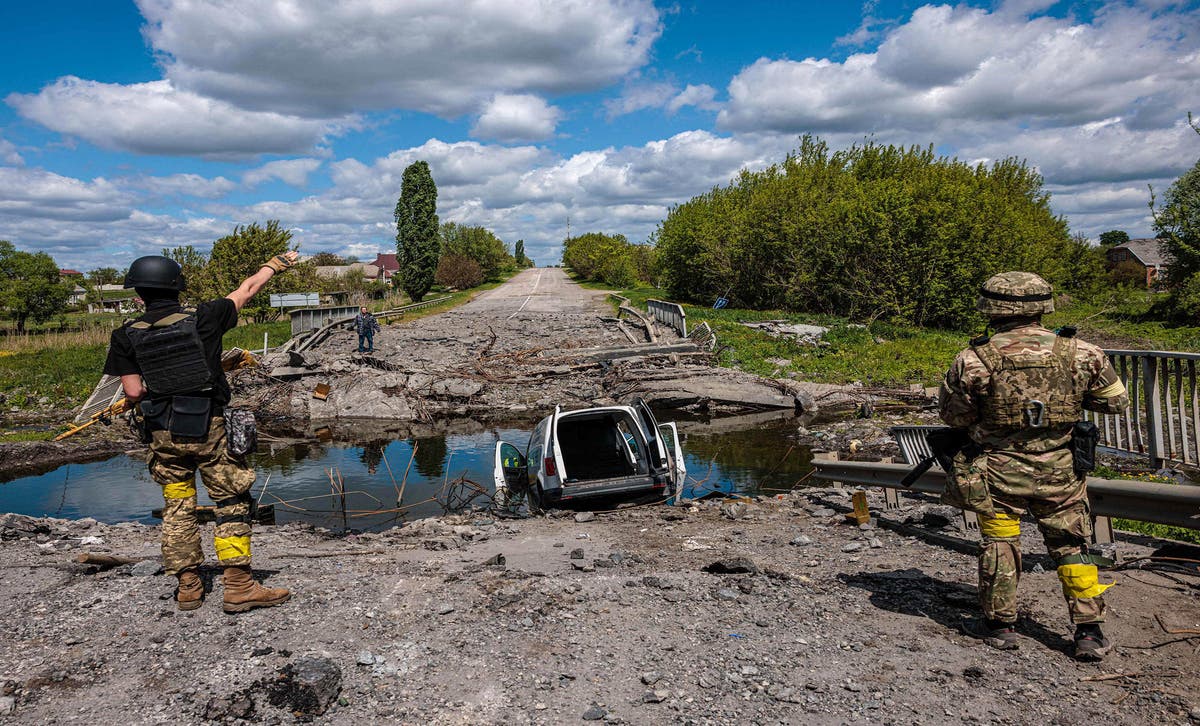 Kim Sengupta visits a liberated flashpoint near Kharkiv that Putin's forces won't give up without 'a hard and long fight'
Lamiat Sabin
22 May 2022 12:00
1653215441
Moscow urged to admit war crimes for peace talks to resume
Peace talks will largely remain suspended until Moscow gets on the same page as Kyiv on a number of matters including alleged war crimes committed by Russian troops during the invasion of Ukraine, presidential advisor Mykhailo Podolyak said.
Ceasefire negotiations would be on hold until Russia also understands Ukraine's view of how "we should exit this war", the adviser to Ukrainian president Volodymyr Zelensky said.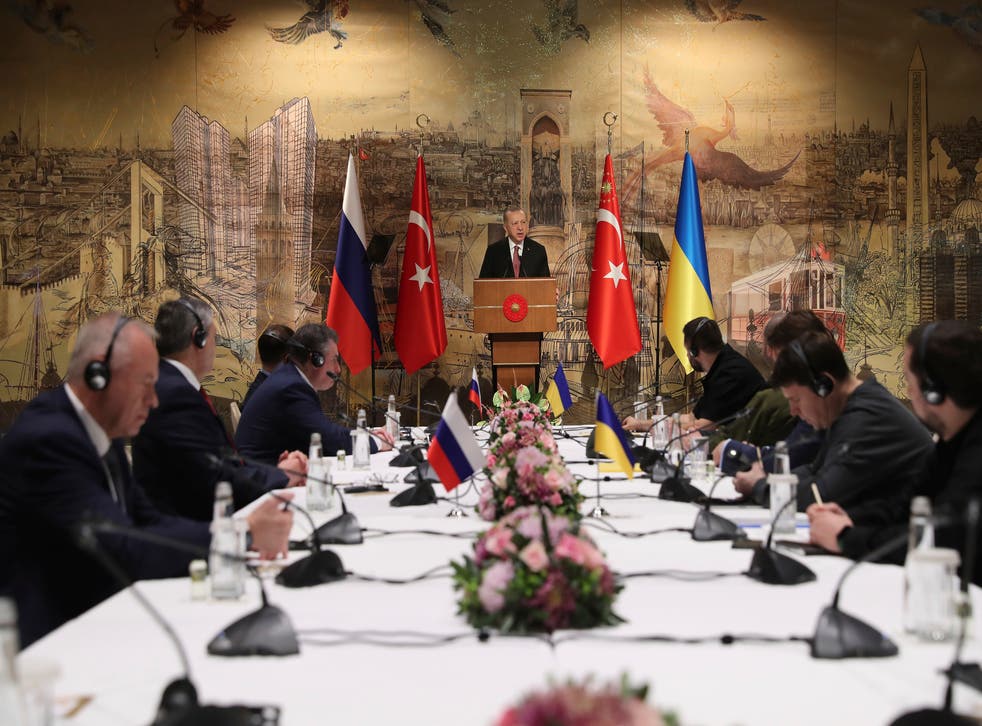 Mr Podolyak said: "Just now, unfortunately, Russia has returned to such an ancient and not very clear understanding of global matters and its own role in them, it still doesn't realise that it's been fighting a war against Ukraine for 85 days now.
"It's not a war against Nato, I emphasise. Of course, this is an obstacle that stops Russia from behaving properly and being prepared for negotiations … If neither side has any mutual interests – don't have a common denominator – then they won't be interested in talking to each other."
Lamiat Sabin
22 May 2022 11:30