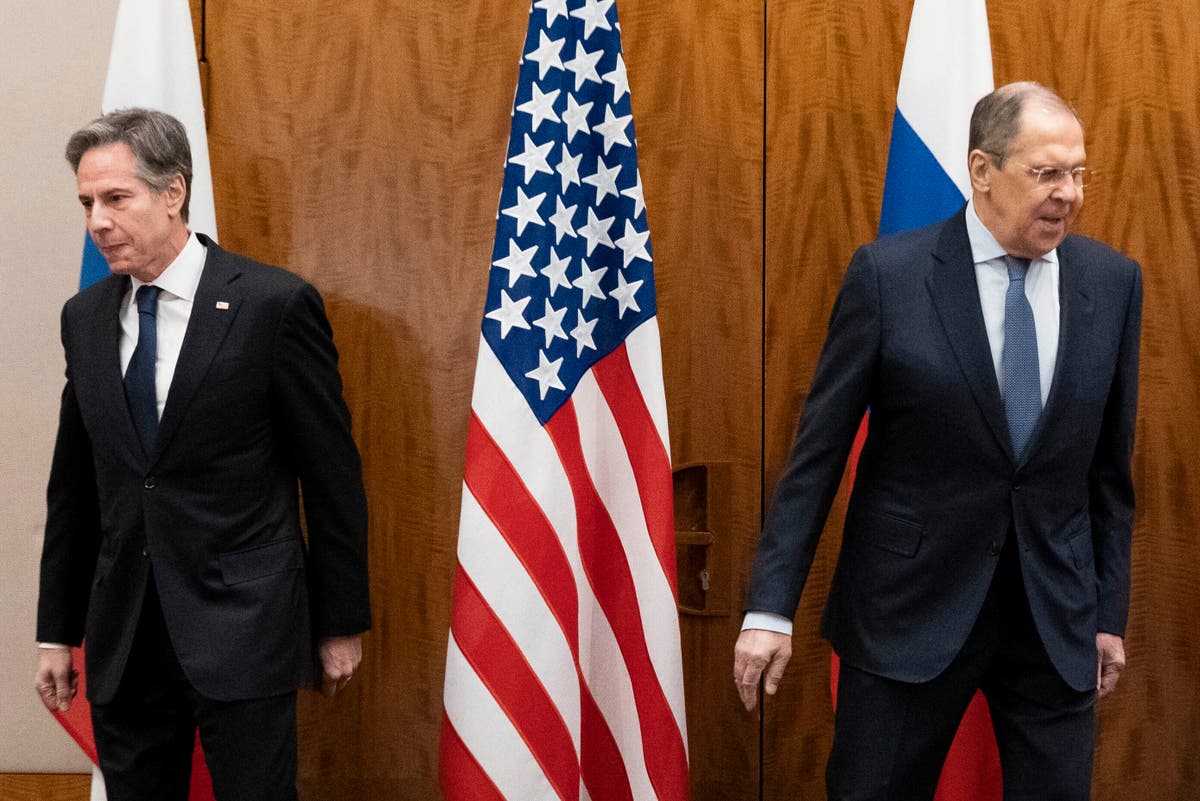 Comes as tensions escalate between Russia and Ukraine
United States offered to hold a summit between Russian President Vladimir Putin and President Joe Biden as the United States weighs evacuating Americans in Ukraine, The Guardianreported.
The offer comes as US Secretary of State Anthony Blinken met with Russian Foreign Minister Sergey Lavrov in Geneva, Switzerland as the two countries seek to resolve their tensions.
"If it proves useful and productive for the two presidents to meet, to talk, to engage, to try to carry things forward, I think we're fully prepared to do that," Mr Blinken said. "President Biden has met here in Geneva with President Putin. He's spoken to him on the phone or by videoconference on a number of occasions. And if we conclude, and the Russians conclude, that the best way to resolve things is through further conversation between them. We're certainly prepared to do that."
The move comes as Russia positions about 100,000 troops on the Russia-Ukraine border. Bloomberg News reported that family members would have to return home and non-essential employees would have the option to leave Ukraine. A source told the outlet that the announcement could come within days.
About 180 Americans and 560 Ukrainians work for the embassy in Kyiv, not including their family members.
The move comes as the United States tries to de-escalate tensions between the United States and Ukraine. Secretary of State Antony Blinken said "if Russia wants to begin to convince the world that it has no aggressive intent toward Ukraine, a very good place to start would be de-escalating".
But Russian Foreign Minister Sergei Lavrov dismissed concerns about Ukraine as Western "hysteria" and said Russia had no plans to attack the country.
During a press briefing on Friday, White House Press Secretary Jen Psaki said Mr Biden was open to meeting with leaders from Russia and Ukraine.
"Of course, the president always values leader-to-leader engagement but we'll determine if that's the appropriate next step," she said. "I can't give you a prediction of if and when it will happen but if that is a step that is recommended and that we think would be effective at this point in this discussion, of course the president is always open to leader-to-leader engagement.
"What Nato is now doing toward Ukraine clearly shows that Nato sees Ukraine as part of its sphere of influence," he said.
During his press conference on Wednesday, President Joe Biden raised concerns about his remarks.
"Russia will be held accountable if it invades – and it depends on what it does. It's one thing if it's a minor incursion and we end up having to fight about what to do and what to not do, et cetera," he said.
But on Thursday, Mr Biden clarified that Russia would face heavy consequences whatever the scale of any action against its neighbour.
"I've been absolutely clear with President Putin, he has no misunderstanding, if any, any assembled Russian units move across the Ukrainian border, that is an invasion," Mr Biden said.