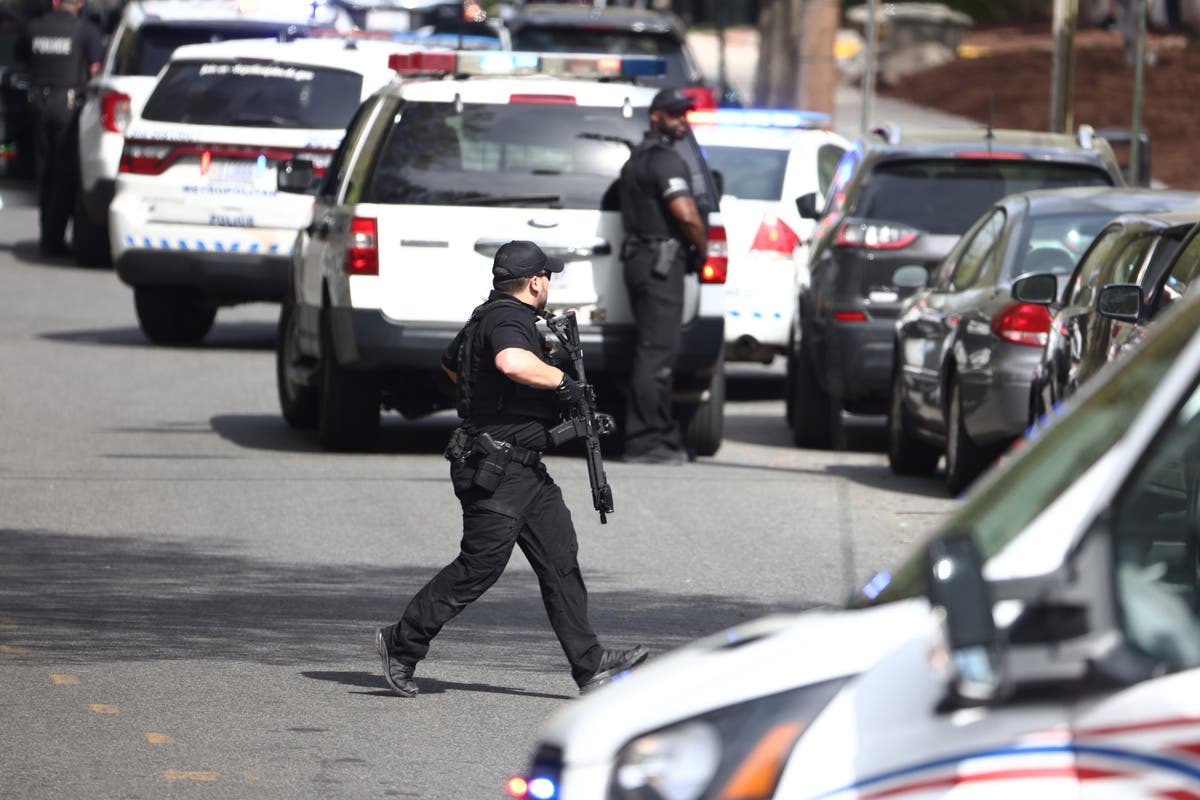 Howard University law students reportedly heard gunfire nearby
Washington, DC, police are searching multiple buildings in the Van Ness neighbourhood after a shooting wounded three people, alerting the public to the "active threat" and urging residents near the area to "shelter in place"
The victims included two adults, a male and a female, and one "juvenile female," according to police. It is unclear if they are related. All three are expected to recover from their injuries.
"This is a very early point in our investigation," assistant police chief Stuart Emerman said at a press conference on Friday. "We're still trying to figure out a motive or what specifically took place here."
He added that police have fanned out across the area searching for a suspect or suspects in the shooting, which is believed to have taken place in one location. Students at the nearby Edmund Burke school are sheltering indoors, and are being protected by officers, Mr Emerman added.
"Please shelter in place," he said. "Please stand by until we render the area safe."
Live news feeds showed at least a dozen police cars responding to the shooting. An armoured truck was also deployed in response.
Heavily armed police officers with rifles were also present on the scene, pointing their guns at what appeared to be the upper floors of a building.
Every few minutes, police officers have been seen escorting individuals from an AVA apartment complex in the area.
Multiple ambulances were on the scene as well.
"We are praying for their health and wellbeing," DC mayor Muriel Bowser said at the news conference. "We're asking all of residents to follow law enforcement instructions. Stay in your homes. Shelter in place until police are able to release these scenes and safely really dig into this investigation."
One man, who lives in an apartment building near the shooting site, told WUSA he saw a woman running, yelling, "I'm shot! I'm shot!"
"After hearing the gunshots, I went to the back window, saw kids coming out of the school and frantically running to either side," he said. "Then I went to the basement, saw people hiding under the car. More gunshots."
"We heard so many shots go off," a Howard University law student added. "Everybody stopped their cars. We were nearly bumper to bumper. We all stopped. We didn't know what to do. Then we heard another round go off. It was at least 20 shots."
Videos from near the reported shooting location, near Edmund Burke Middle School and 4101 NW Connecticut Avenue, showed multiple police officers heading towards the scene.
The shooting itself took place near a private residence, NBC4 reports.
Unverified videos on social media allegedly captured scores of gunshots ringing out during the shooting.
There is no immediate information on what led to the shooting.
The nearby University of the District of Columbia told The Washington Post it has temporarily locked down its campus and law school as the incident unfolds.
"Active sweeps" are under way as the investigation continues, according to police.
Traffic has been blocked off throughout the area.
The Independent has reached out to the police for further information.
Federal agents from the Bureau of Alcohol, Tobacco, Firearms and Explosives and Secret Service are also on the scene. The FBI is also assisting with the investigation.
The Secret Service confirmed to CNN the shooting has had "no impact" on an individual they were protecting.
An individual was seen being led away in handcuffs by police, though it's unclear if they are related to the shooting.
Police say they haven't captured anyone they've deemed a suspect, though they have temporarily detained individuals who were seen running away from the shooting for questioning.
There have been at least 147 mass shootings, and more than 13,000 deaths due to gun violence this year, according to the Gun Violence Archive, a group that tracks shootings in the US.