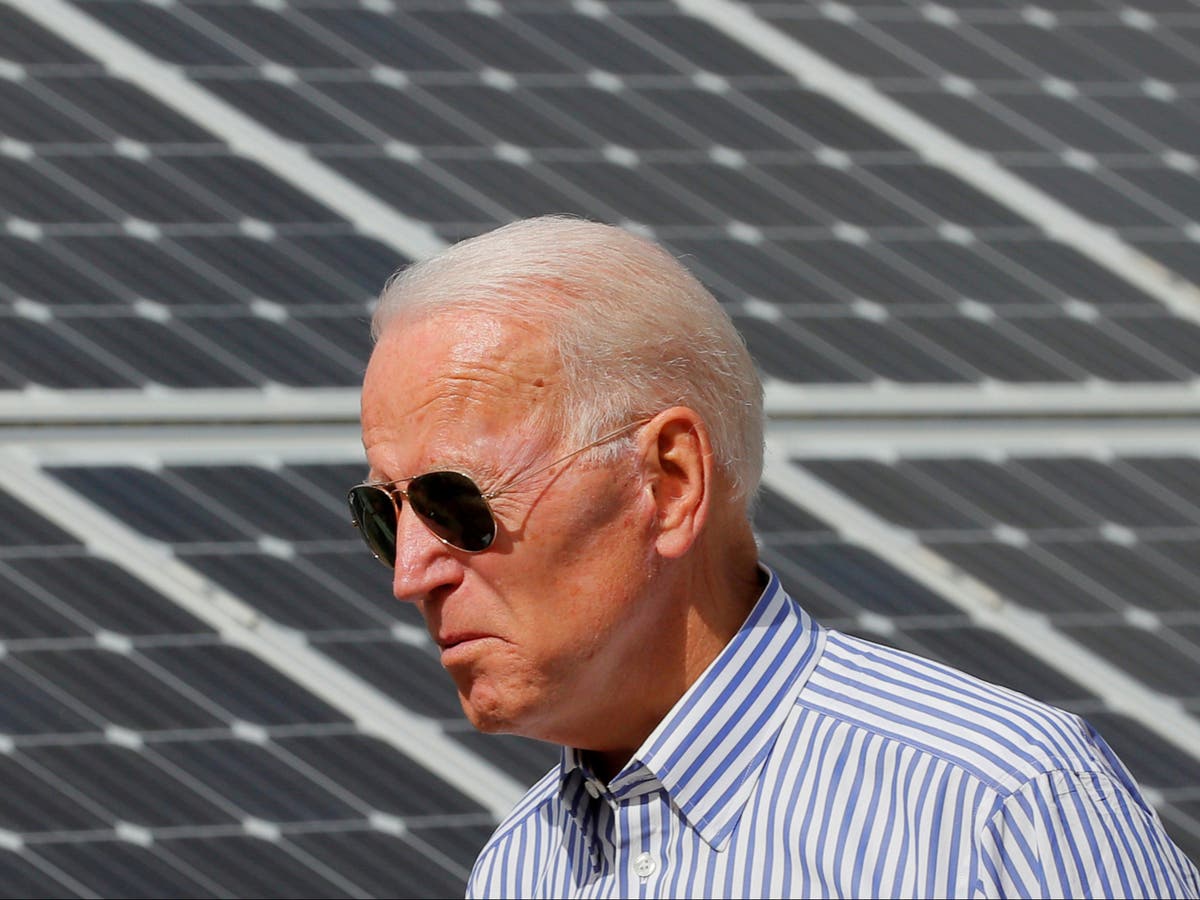 Joe Biden's climate change plans and where he stands on fracking and the Green New Deal
President Joe Biden's time in the White House could have significant impact on the climate crisis and give the world a fighting chance of keeping global temperatures in check, scientists say.
The president's climate plan is the boldest in US history, proposing a $2 trillion investment in clean energy to create carbon-free electricity by 2035.
Mr Biden rejoined the 2015 Paris Climate Agreement on Inauguration Day. Leaders around the world heralded the return of the US to the international pact to limit global heating to well below 2C.
So what exactly has Mr Biden said about the climate crisis and how extensive are his plans to tackle further global heating?
What has Joe Biden said about the climate crisis?

The president has repeatedly called climate change an "existential threat" and linked its impacts to burdens on the most vulnerable Americans. 

While speaking about the unprecedented California wildfires in September 2020, Mr Biden called it the "undeniable, accelerating, and punishing reality of climate change and its impact on our planet and our people — on lives and livelihoods…"

He continued: "The unrelenting impact of climate change affects every single one of us. But too often the brunt falls disproportionately on communities of colour, exacerbating the need for environmental justice."

He also framed climate change as an opportunity in the style of an FDR-like New Deal, providing infrastructure jobs across the country.

He tweeted last year: "When Donald Trump thinks about climate change, he thinks 'hoax'.   I think 'jobs'.  Good paying, union jobs that put Americans to work building a stronger, more climate-resilient nation."

What is his plan to tackle climate change?

Mr Biden has sweeping plans for a nationwide mobilisation to reduce emissions, build and retrofit infrastructure, create new jobs and advance social justice.  

It involves $2 trillion investment in clean energy over four years, aiming for 100 per cent clean electricity by 2035. 

Senior campaign officials, who spoke anonymously to the AP, said it would be paid for through a mix of tax increases on corporations and the wealthy, and deficit spending aimed at stimulating the economy.

It's a plan that evolved during the campaign to take into account the view of progressives, like senator Bernie Sanders and congresswoman Alexandria Ocasio-Cortez, that Mr Biden needed to commit to more sweeping and urgent action on the crisis. 

His campaign platform described the Green New Deal as a "crucial framework" but didn't go as far as the ambitious proposal that calls for achieving net-zero greenhouse gas emissions across the economy by 2030.

He said that he would ban new gas and oil permits, including for fracking, on federal lands. (However fracking operations are largely on private lands.)

The Biden climate plan places heavy emphasis on updating America's infrastructure. It advocates for investments to improve energy efficiency in buildings and housing; promote production of electric vehicles and increase conservation efforts in the agriculture industry.

It also focuses on environmental justice with a requirement that 40 per cent of spending on clean energy deployment, reduction of legacy pollution and other investments go to historically disadvantaged communities.

On his first day in office, Mr Biden recommitted the US to the Paris Agreement. His administration intends to lead an international effort to have every major country commit to greater emission-reduction targets.

What is Mr Biden's record on climate change?

Experts point to Mr Biden's decades of foreign policy experience as an attribute for driving the epic international cooperation that will be needed to fully tackle the climate crisis. 

In the mid-eighties, when Nasa scientist James Hansen testified before Congress on the greenhouse effect, then-senator Biden introduced the Global Climate Protection Act. It eventually led to talks between president Ronald Reagan and Soviet leader Mikhail Gorbachev, committing to "broad international and bilateral cooperation in the increasingly important area of global climate and environmental change".

In 1992, Mr Biden criticised president George HW Bush for not pushing countries to provide targets or timetables to reduce emissions, Inside Climate News reported, as he cast his vote to ratify the UN framework convention treaty on climate change.

But as a senator, Mr Biden also supported controversial fracking and "so-called clean coal", the Council on Foreign Relations noted.

Mr Biden has pointed to the achievements of the Obama era including tightened fuel-efficiency standards (although they were later watered down by Donald Trump). There was also $90bn for clean energy in the 2009 stimulus package, which as vice president he played an instrumental role in negotiating. The Obama years were also when the Paris Agreement was struck.