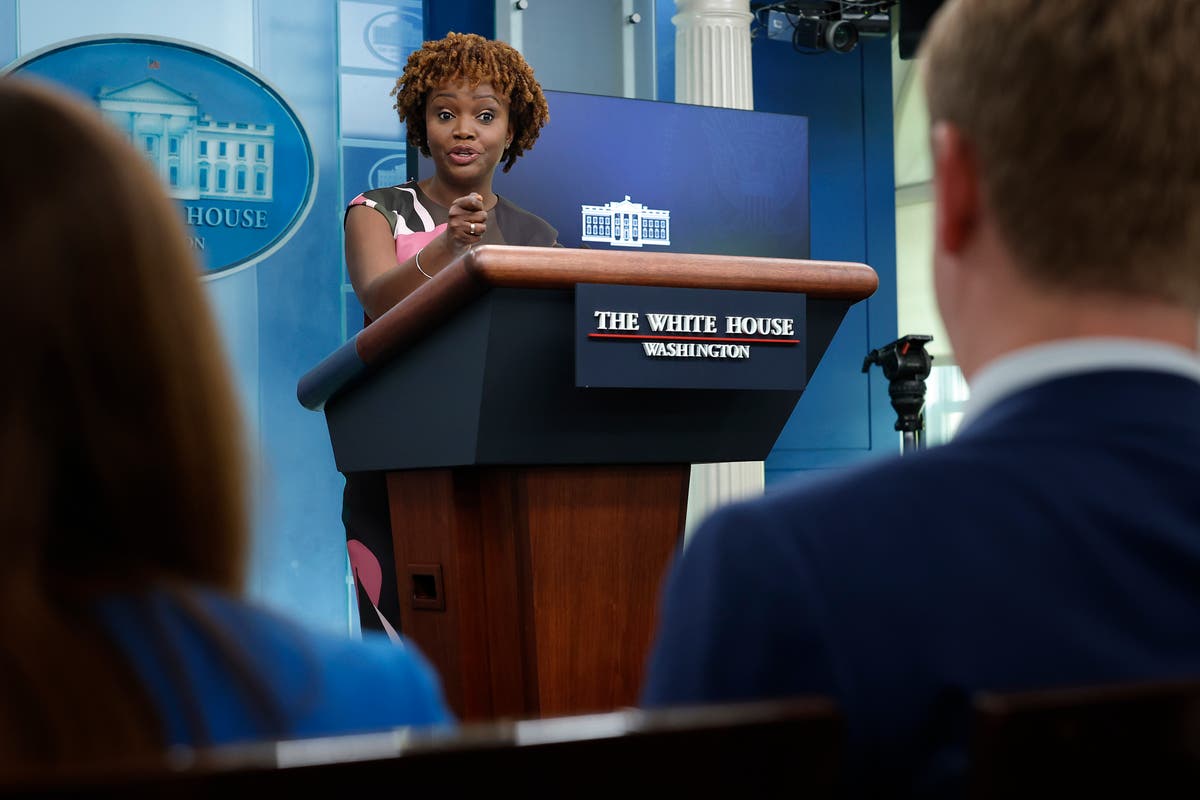 White House refers questions to Department of Justice
The White House has weighed in on the FBI "raid" of former President Trump Mar-a-Lago residence, emphatically stating that President Biden did not receive any advance warning of the law enforcement activity.
"番号, the president was not briefed, was not aware of it. No one at the White House was given a heads up. 番号, that did not happen," White House press secretary Karine Jean-Pierre told reporters during the daily briefing.
The White House declined to comment on the case beyond that, referring reporters' questions to the Justice Department. The Biden administration has sought to distance itself from the Mar-a-Lago raid, an unprecedented development relating to a former US president.
Since Mr Biden took office, he has emphasised that the Department of Justice operates independently from the White House after Mr Trump was frequently accused of leaning on the Justice Department to do his political bidding.
Asked by 独立者 about supporters of Mr Trump calling for "civil war", the White House asked demonstrators to remain peaceful.
"There's no place for political violence in this country," Ms Jean-Pierre said. "People have the right to raise their voices peacefully, but we would strongly condemn … any efforts to plan violent behaviour of any kind. We would ask americans to remain peaceful in this time."
Those comments come as extremism experts monitoring the far-right's presence in online communities have noted an alarming uptick in expressions of willingness towards violence in the last 24 時間. One reporter for NBC News described it on MSNBC's モーニングジョー as approaching the same levels of rhetoric that were present in such communities on 5 1月 2021, a day before the Capitol was attacked.
Mr Trump and Republicans capitalised on that outrage throughout the day on Tuesday, sending fundraising requests and demanding answers from the typically-opaque Justice Department while vowing to "perp-walk" those responsible out of the agency under a GOP administration or Congress.
His outrage about being targeted by an FBI investigation, as well as the anger of his supporters, is ironic given that he spent the majority of 2016 demanding that Hillary Clinton, his Democratic opponent, be investigated and imprisoned by federal authorities, even going as far as hinting that he'd do so himself if he were elected.
In his statements the president has instead spun this latest episode as part of a long line of supposed efforts by Democrats and their imaginary "deep state" allies to bring him down, linking it to the now-shuttered investigation into the Trump campaign's alleged connections to Russia and its efforts to meddle in the 2016 election as well as the ongoing investigation of the House select committee investigating January 6 to uncover his exact role in the most shocking attack on the seat of US power in recent memory.