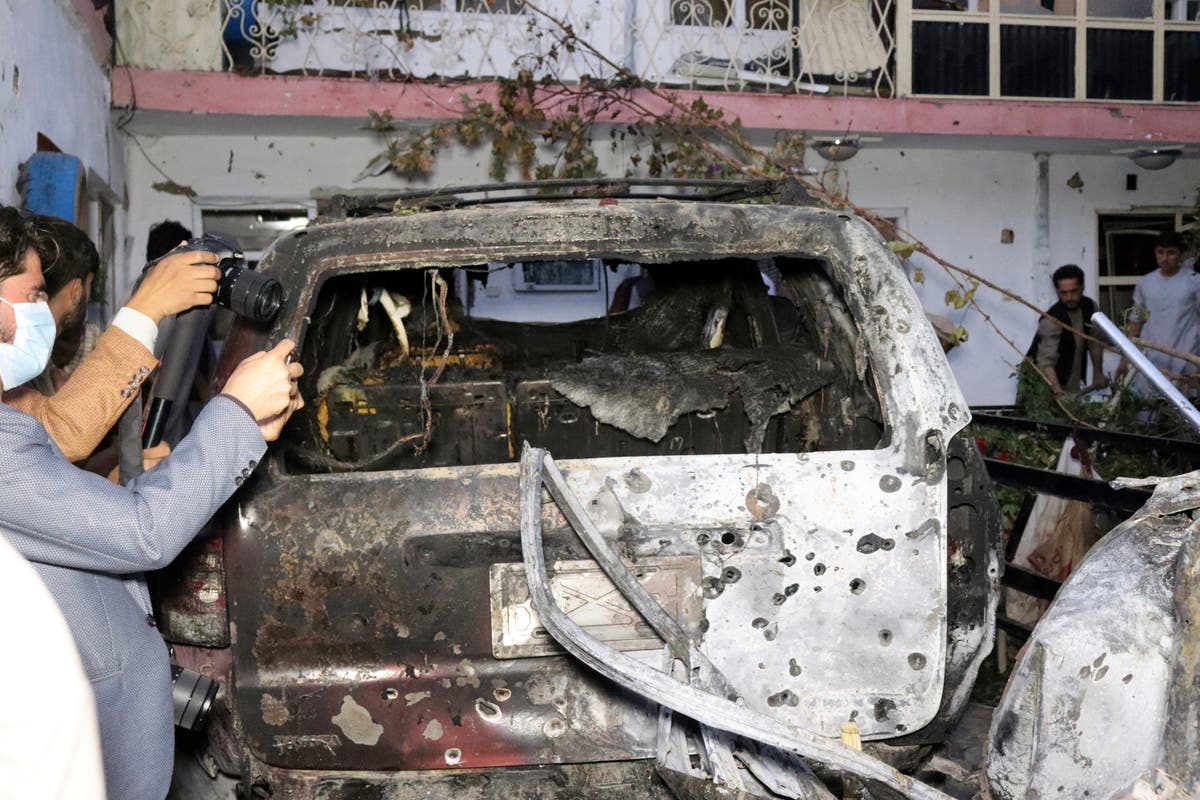 Follow live updates
Related video: Smoke rises after rocket hits home near Kabul airport
Several rockets were heard flying over the Kabul international airport on Monday morning, according to US officials, in an attack which was intercepted by a missile defence system.
The unnamed US official said as many as five rockets were fired, though it was not clear if all were brought down by the defence system. There was no information on possible casualties on the US side.
The attack comes amid airstrikes carried out by the US targeting Isis-K members after the blast on 26 August, one of which hit a residential area in Kabul, killing a child on Sunday. It also occurs just a day before the US troops fully withdraw from Afghanistan on the 31 August deadline.
The US also says it has carried out an airstrike against an Isis-K suicide bomber in a vehicle that planned to target the airport. Details on both the rocket attack and the US bombing raid remain sparse.
1630306147
'Unforgivable' failure to evacuate thousands of eligible Afghans, says Labour's Kinnock
Labour's Stephen Kinnock has accused the government of an "unforgivable" failure to evacuate thousands of eligible Afghans.
"Government ministers have had 18 months to prepare for this. The French government started evacuating its people in May so it is utterly unforgivable that we have left so many behind," the shadow foreign minister told BBC Radio 4's Today programme.
"The efforts of our armed forces, our diplomats, our civil servants on the ground, have been incredibly impressive and we should be very proud of that.
"But they have been badly let down by their political masters who have failed to prepare and therefore we are in this situation where we are leaving thousands behind."
Labour has claimed as many as 5,000 people need help to get out following the Taliban takeover and Mr Kinnock criticised the foreign secretary for failing to facilitate overland exit routes.
"It's shocking that whilst Dominic Raab was on the sun lounger he should have been speaking with his counterparts in Pakistan and the other neighbouring countries."
Tom Batchelor
30 August 2021 07:49
1630305473
Taliban condemn US air strikes on Isis fighters
Taliban officials have criticised the US for carrying out air strikes in Kabul apparently without warning.
The United States has carried out at least two airstrikes against Isis-K militants following a deadly suicide bombing at the airport.
The Islamist group's spokesman, Zabihullah Mujahid, called the strikes "arbitrary attacks", according to Chinese news network CGTN.
"We condemn such attacks because it is illegal to carry out arbitrary attacks in other countries," he said.
"If there was any potential threat, it should have been reported to us, not an arbitrary attack that has resulted in civilian casualties."
Tom Batchelor
30 August 2021 07:37
1630304581
Russia offers evacuation flight for former Soviet bloc nationals
The Russian embassy in Kabul said on Monday it was accepting applications from those seeking to leave Afghanistan on additional evacuation flights, after Moscow evacuated about 360 people from the country last week.
The embassy said in a series of tweets that the flights would be open to Russian citizens and residents as well as nationals of countries that are members of the Collective Security Treaty Organisation, a Moscow-led post-Soviet security bloc.
Those countries are Armenia, Belarus, Kazakhstan, Kyrgyzstan and Tajikistan.
Tom Batchelor
30 August 2021 07:23
1630303675
Afghans killed outside airport were seeking new lives abroad
Mohammed Jan Sultani had clutched his national Taekwondo championship certificates as he waded through the multitudes pushing to get into Kabul airport late last week.
The 25-year-old athlete wasn't on any evacuation lists. Yet he had hoped his achievements would make him and his young family special enough to be let into the gate and onto one of the flights rescuing foreigners and Afghans fleeing the Taliban
As he forged ahead, an Islamic State suicide bomber detonated two dozen pounds of explosives in the crowd just before nightfall Thursday, killing 169 Afghans, including Sultani, and 13 US service members.
Read the stories of those who dreamed of a better life outside the country but lost their lives in Thursday's devastating attack outside Kabul airport.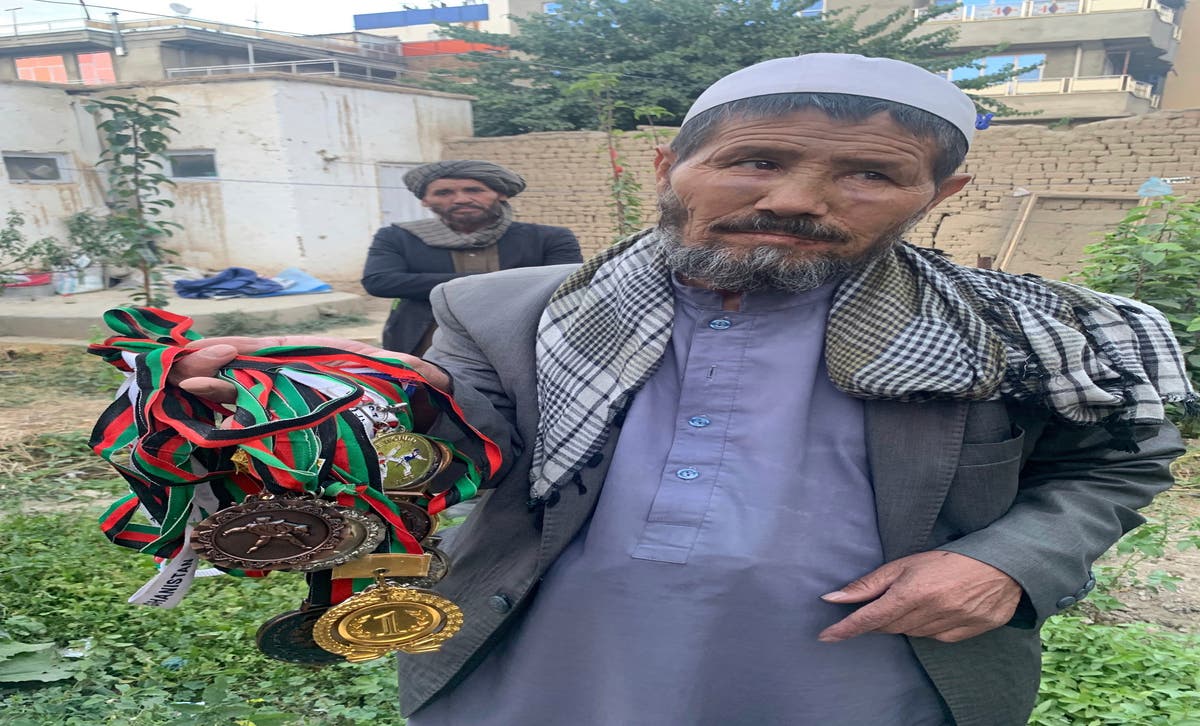 The 169 Afghans killed in Thursday's devastating attack outside Kabul airport included several young people who dreamed of a better life outside the country
Tom Batchelor
30 August 2021 07:07
1630301652
White House confirms Kabul airport rocket attack, says operations 'uninterrupted'
US President Joe Biden has been briefed on the rocket attack at Kabul airport and "operations continue uninterrupted," his press secretary Jen Psaki said early on Monday.
"The president was informed that operations continue uninterrupted at (Kabul airport) HKIA, and has reconfirmed his order that commanders redouble their efforts to prioritize doing whatever is necessary to protect our forces on the ground," Ms Psaki said in a statement.
Stuti Mishra
30 August 2021 06:34
1630301240
Permanent members of the UN Security Council to meet on Afghanistan
The permanent members of the UN Security Council — the US, Britain, China, France and Russia — are to meet Monday to discuss the Afghanistan crisis.
The meeting, called by UN secretary-general Antonio Guterres on Thursday, will not include the current 10 non-permanent members.
The members will aim to discuss the chaotic evacuation and comes as Britain and France work on a UN resolution on Afghanistan.
Stuti Mishra
30 August 2021 06:27
1630300142
Rockets hit neighborhood near Kabul airport
The rockets that were fired at the Kabul international airport on Monday struck a nearby neighbourhood, witnesses said.
Residents in Afghanistan took to Twitter to show the remnants of rockets fired which fell off their roof. Preliminary visuals also showed clouds of black smoke billowing from a residential area. One Twitter user, citing a witness, said that the "rocket exploded in the air and shrapnel's fell like drops of rain".
The Salim Karwan neighbourhood of Kabul was among the impacted ones where the locals heard the explosion followed by gunfire from unknown sources immediately, the Associated Press reported.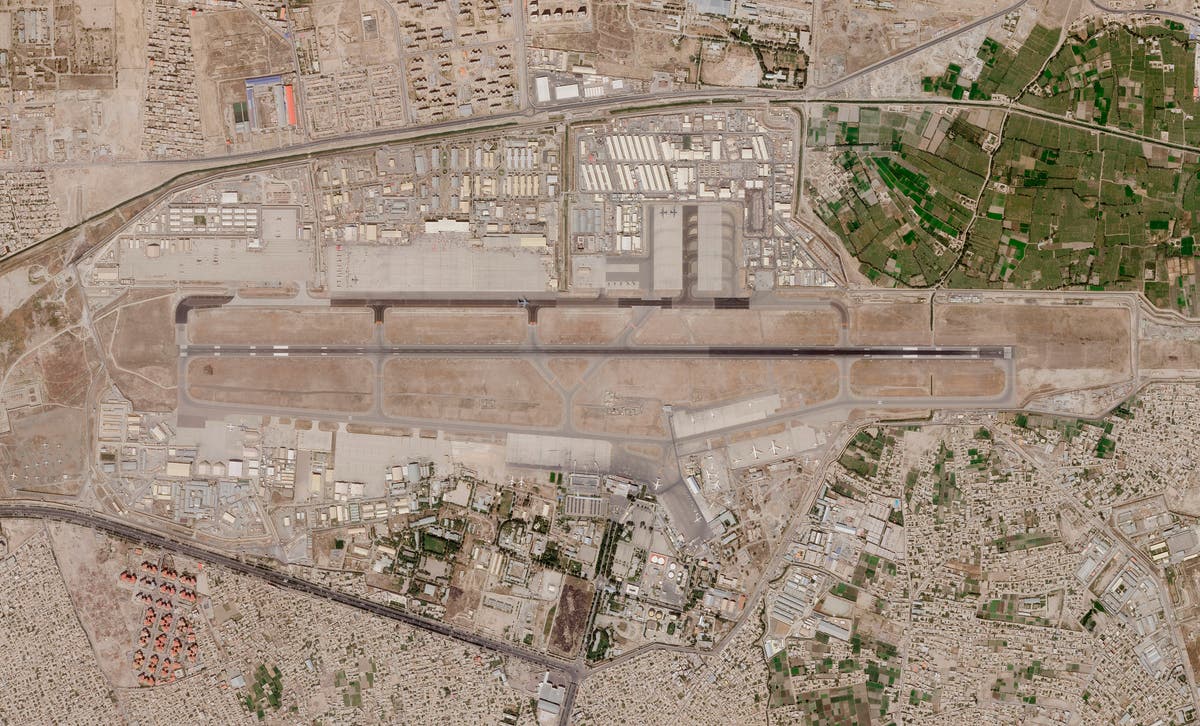 It's not not clear if all were brought down by the defence system, the official says
A witness who spoke to AP on condition of anonymity for fear of reprisals said they heard the sound of three explosions and then saw a flash in the sky.
People fled after the blasts, the witness said.
There's no confirmation from the US officials yet about any casualty.
Stuti Mishra
30 August 2021 06:09
1630298736
Taliban 'assures' foreign nationals can continue to leave Afghanistan after deadline, says statement
The US, the UK and 100 countries have received "assurance" from the Taliban that it will allow foreigners and Afghans with foreign travel papers to leave the country "in a safe and orderly manner," even after the US troop withdrawal ends Tuesday, a joint statement released late on Sunday said.
"We have received assurances from the Taliban that all foreign nationals and any Afghan citizen with travel authorization from our countries will be allowed to proceed in a safe and orderly manner to points of departure and travel outside the country," the statement said, which included countries like Germany, France among many others.
"We are all committed to ensuring that our citizens, nationals and residents, employees, Afghans who have worked with us and those who are at risk can continue to travel freely to destinations outside Afghanistan," added the statement, which was also signed by the European Union and NATO.
The group said it would continue issuing travel documents to "designated Afghans," adding that "we have the clear expectation of and commitment from the Taliban that they can travel to our respective countries."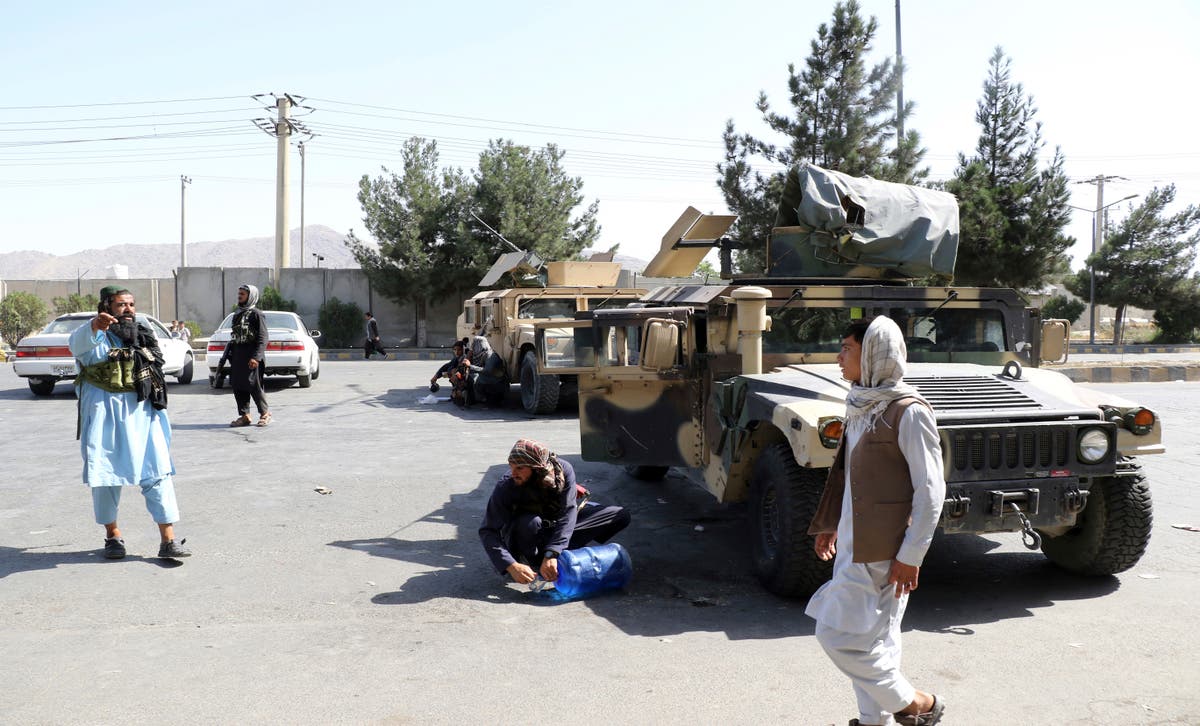 Secretary of State Antony Blinken said Sunday that 'there are very significant expectations of the Taliban'
China and Russia were not among the signatories to the document.
Stuti Mishra
30 August 2021 05:45
1630297803
Multiple rockets fired at Kabul airport, intercepted by defense system, says US official
Multiple rockets were fired at Kabul's international airport but were intercepted by a missile defence system, a US official told Reuters news agency citing initial information.
The official, speaking on the condition of anonymity, said as many as 5 rockets were fired, though it was not clear if all were brought down by the defence system.
The official said initial reports did not indicate any US casualties, but that information could change.
Earlier on Sunday, American forces launched a drone strike in Kabul targeting a suicide bomber in a vehicle who was aiming to attack the airport. It's not not clear if all were brought down by the defence system, the official says
Stuti Mishra
30 August 2021 05:30
1630297628
Good morning, and welcome to The Independent's rolling coverage of the Afghanistan crisis. Stay tuned as we bring you the latest updates.
Stuti Mishra
30 August 2021 05:27