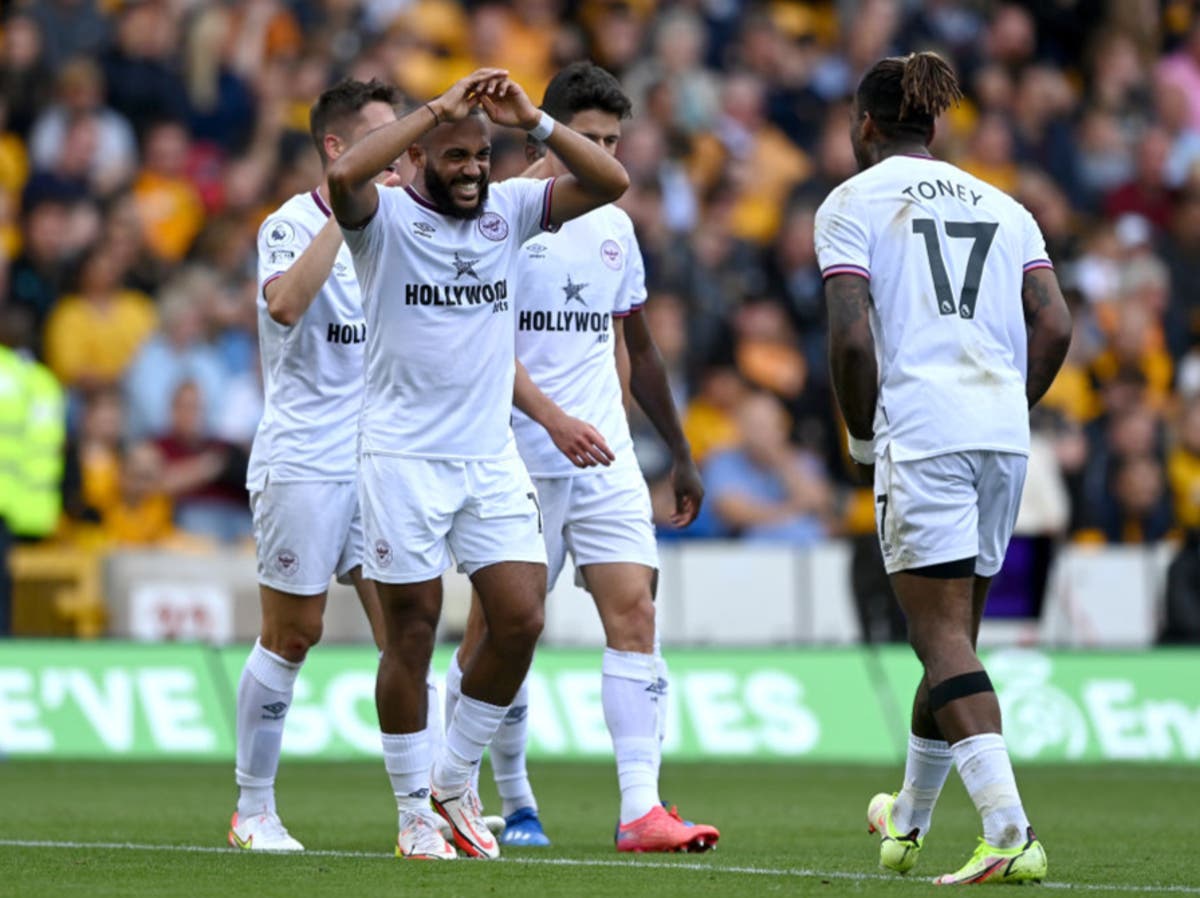 Follow all the action live from Molineux
FILE: Salah scores 100th Premier League goal
Follow all the action as Wolves welcome Brentford to Molineux for Saturday's early Premier League kick-off.
Bruno Lage's side finally kickstarted their campaign with a 2-0 victory away at Watford last weekend, ending a run of three straight defeats. Wolves had been handed a tough start with Leicester, Tottenham and Manchester United as their opening games of the season – all of which were decided by a single goal. It will be interesting to see whether Wolves can grow in confidence following their victory at Vicarage Road as they have played well so far but been wasteful in front of goal.
Meanwhile, Thomas Frank's Brentford side have made a positive start to life in the Premier League with five points from their first four matches. It would have been easy for the Bees' level to drop off after that sensational opening day victory over Arsenal. But they battled to draws against Aston Villa and Crystal Palace, before being sucker-punched at the death by Brighton last weekend. Brentford will have to overcome the weight of history, though, having failed to beat Wolves in their last four attempts in the Championship. Follow all the action live below:
1631967142
Wolves 0 – 2 Brentford
41 mins: Toney and Mbeumo are at it again. Brentford defend a simple cross in from Trincao and the clearance comes out to Toney. He carries the ball up through midfield before attempting a through ball into the box for Mbeumo. A back-tracking Neves reads the play and manages to intercept the pass.
Michael Jones
18 September 2021 13:12
1631967002
Wolves 0 – 2 Brentford
38 mins: Brentford have just blown Wolves away over the last 10 minutes or so. They finally had some possession in the home side's final third and Wolves have just fallen apart defensively.
Michael Jones
18 September 2021 13:10
1631966805
GOAL! Wolves 0 – 2 Brentford (Mbeumo, 34')⚽️
34 mins: Another one! David Raya fires a long ball up to Toney who's strong enough to shake a tackle from Kilman and take the ball into the box. Mbeumo drifts into space at the back post and Toney picks him out with a squared pass. He's in on goal and left with the simplest of tap ins to double Brentford's lead!
Michael Jones
18 September 2021 13:06
1631966762
Wolves 0 – 1 Brentford
33 mins: Chance! How's he not scored! Wolves sweep up the pitch and give the ball to Raul Jimenez. He lays the ball off to Adama Traore who smokes an effort from the edge of the box. It's an absolute rocket and rattles into the underside of the crossbar before bouncing clear!
Michael Jones
18 September 2021 13:06
1631966605
Wolves 0 – 1 Brentford
30 mins: Disallowed! Toney's found the back of the net again. Immediately after the restart Brentford work the ball out to the left and whip it into the box. Mbeumo seems to flick it on to Toney in the six-yard box. He brings it down and backheels it into the net! The offside flag goes up immediately and on review it seems as though Toney handled the ball this one gets chalked off too.
Michael Jones
18 September 2021 13:03
1631966420
GOAL! Wolves 0 – 1 Brentford (Toney, 28')⚽️
28 mins: Toney converts from the spot. Two steps and slots it into the bottom right corner as easy as you'd like. Brentford have the lead!
Michael Jones
18 September 2021 13:00
1631966345
Penalty to Brentford!
26 mins: It's given! Marcal almost rugby tackled Toney to ground as the corner came in. Jose Sa roughs up the penalty spot and Darren England shows him a yellow card. Ivan Toney has the chance to put Brentford in front.
Michael Jones
18 September 2021 12:59
1631966253
Wolves 0 – 0 Brentford
24 mins: Brentford win their first corner of the game. There's a bit of argy-bargy before the corner is taken then Sergi Canos delivers it into the box where Ruben Neves heads it behind for a repeat.
The second corner comes swinging in. Marcal and Toney are tussling in the box and both players go down. Darren England points to the spot and VAR are checking for a potential penalty!
Michael Jones
18 September 2021 12:57
1631965958
Wolves 0 – 0 Brentford
21 mins: Brentford haven't clicked yet in an attacking sense. Vitaly Janelt is closed out of the box by Max Kilman before finding a touch of space on the left side. He slips a pass into the area expecting a run from Rico Henry but the wide man doesn't make the run.
Michael Jones
18 September 2021 12:52
1631965719
Wolves 0 – 0 Brentford
18 mins: Chance! Franciso Trincao intercepts the ball in the middle of the pitch and sends it up to Traore. The big man drives forward on a mini-break before darting inside. He lines up in front of goal and shoots from range but the effort continues to rise and the ball goes over the crossbar.
Michael Jones
18 September 2021 12:48